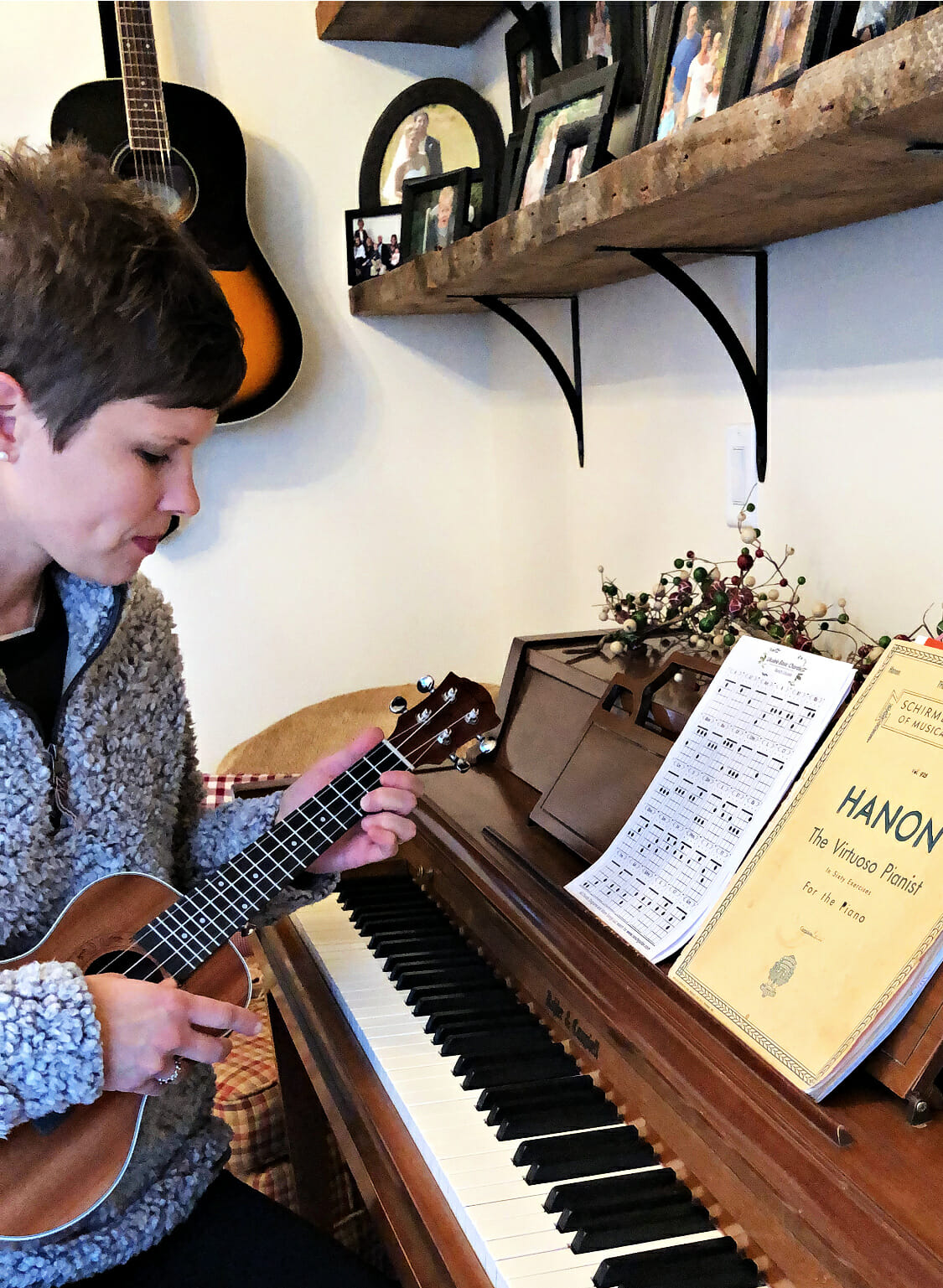 Welcome to 2021 — another brand new year, full of possibilities and… exciting changes (keep reading to learn more!)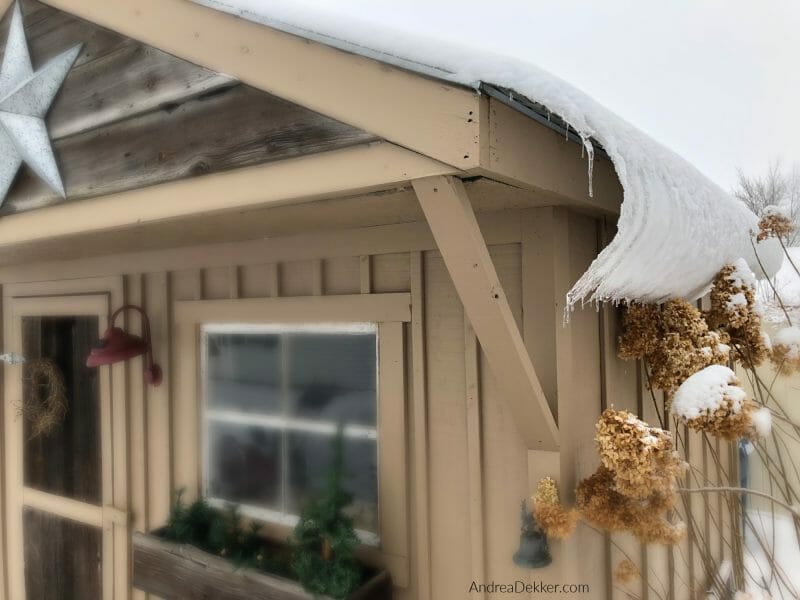 Our family enjoyed a very relaxing, yet fun-filled Christmas break.
Dave and the kids got 2 full weeks off of school. The first week was jam-packed with parties, holiday prep, and other festivities, but the second week was spent mostly in our pajamas at home.
It was just what we needed after the craziness of 2020.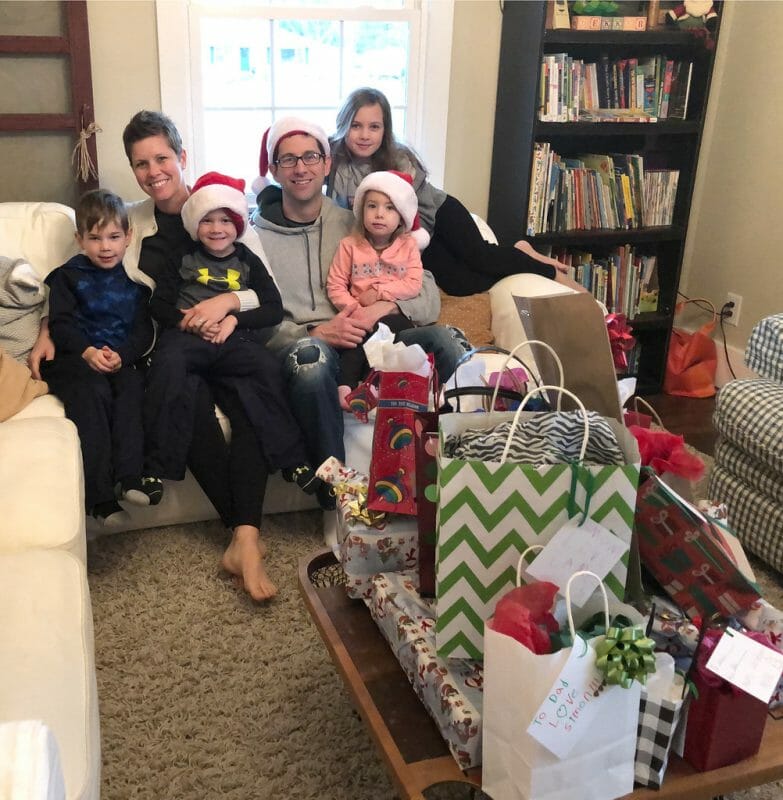 The kids got several fun toys, books, games, and crafts; and Christmas break offered plenty of lazy days at home to explore everything.
Nora spent as much time as possible with her new baby cousins, Simon was outside every chance he got, James built a ridiculous number of LEGO creations, and Clara ate lots and lots of desserts!
Meanwhile, Dave and I enjoyed catching up on our growing pile of books, watching a few of our favorite Christmas movies, and practicing the guitar and ukulele.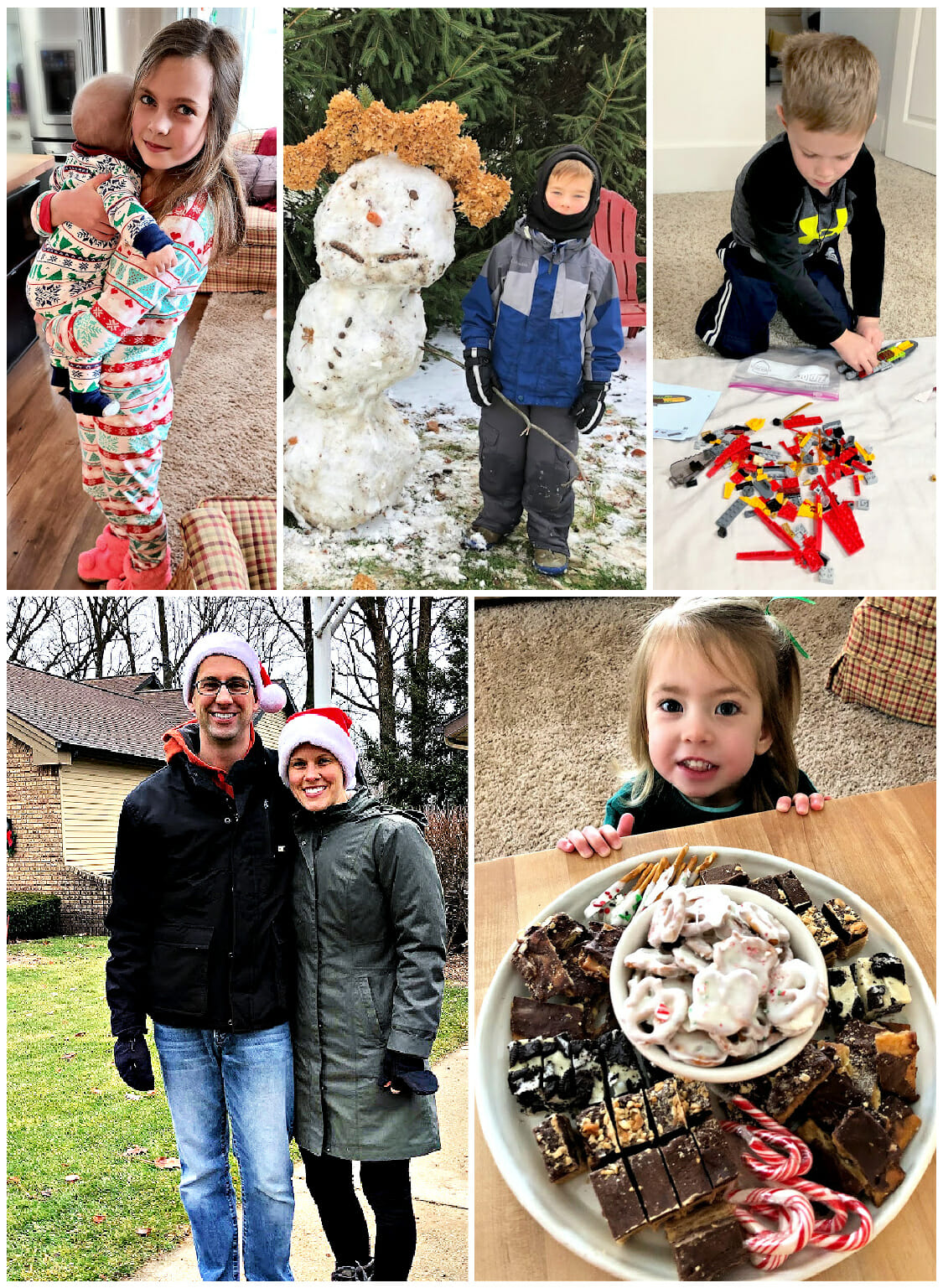 ---
Two New Changes for 2021!
I have so many new ideas for the blog and my business…
I'm not sure how many of them I'll actually implement this year (hey, I'm just being honest!) but I'm kicking things off today with a new format for my Favorite Things posts AND a new surprise for my email subscribers.
NOTE: If you're not a part of my email community, you can join below.
I send out a short email every Tuesday morning with a link to my new blog post and inspiration to simplify your life in some small way.
PLUS, starting this year, each email will also include exclusive video content from me!
I'm so excited to do more with video (without the pressure of YouTube critics or social media strangers). Instead, only my lovely email community will get these more personal messages from me.
Back to my favorite things…
Believe it or not, I've shared my monthly favorites every single month since the beginning of 2013… but I'll be honest, I've struggled to come up with more "things" that are true favorites.
We just don't buy or use that much stuff… and what we do use, I've already shared with you at some point over the past 7+ years.
That said, my Favorite Things posts are regularly one of my most popular posts each month…
So while I DO want to continue sharing my favorites with you, they won't all be "things" anymore.
You'll see… just keep reading!
FAVORITE MOMENT = Our First Big Snow
We got our very first big snow of the season over Christmas break and the kids had so much fun playing outside.
It was really wet snow, perfect for snowman-making… and just so pretty hanging from the trees and rooftops!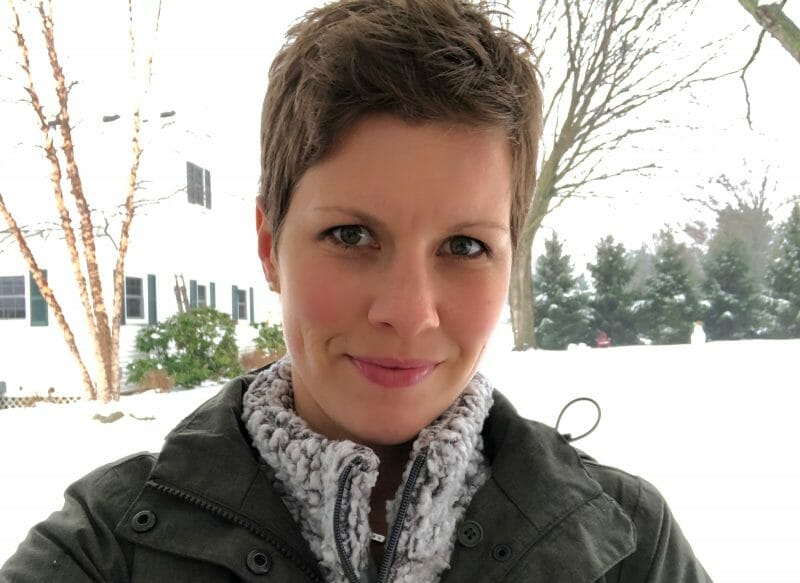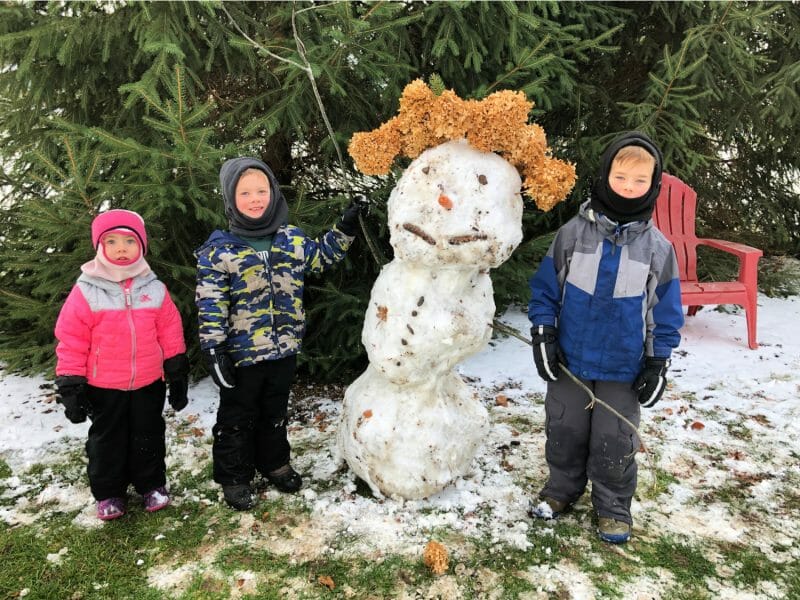 Come March, I'll certainly be less excited about snow but right now, it still feels fresh and new!
FAVORITE ROUTINE = Reading After Meals
Our entire family looks forward to reading together after every meal — normally just breakfast and dinner during the school week, but thanks to extra time off during Christmas break, we've enjoyed reading together after all 3 meals.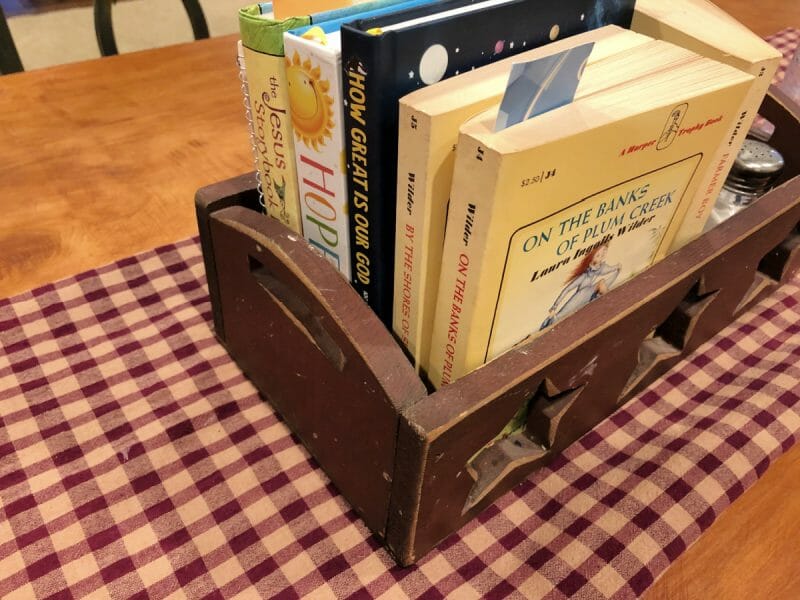 We're still working our way through The Little House Series, and it's just so fun.
Dave and I love re-reading these classics and the kids are a great age for these new-to-them stories.
Nora often initiates playing "little house on the prairie" and the boys love pretending they are Royal and Almanzo. Even Clara gets into the stories and will ask me questions about "Pa" and "Ma" throughout the day.
Our family read-aloud time is currently one of my most family "daily routines". It's such a simple and meaningful way to spend more time together — and it makes mealtimes with young children more enjoyable (especially if you have pokey eaters like we do!)
FAVORITE CLOTHING = Sherpa Pullover
Anyone who has seen me over the past 6 weeks has probably seen me wearing one of my 2 sherpa pullover sweatshirts.
Seriously, I would sleep in them if I didn't have to wash them!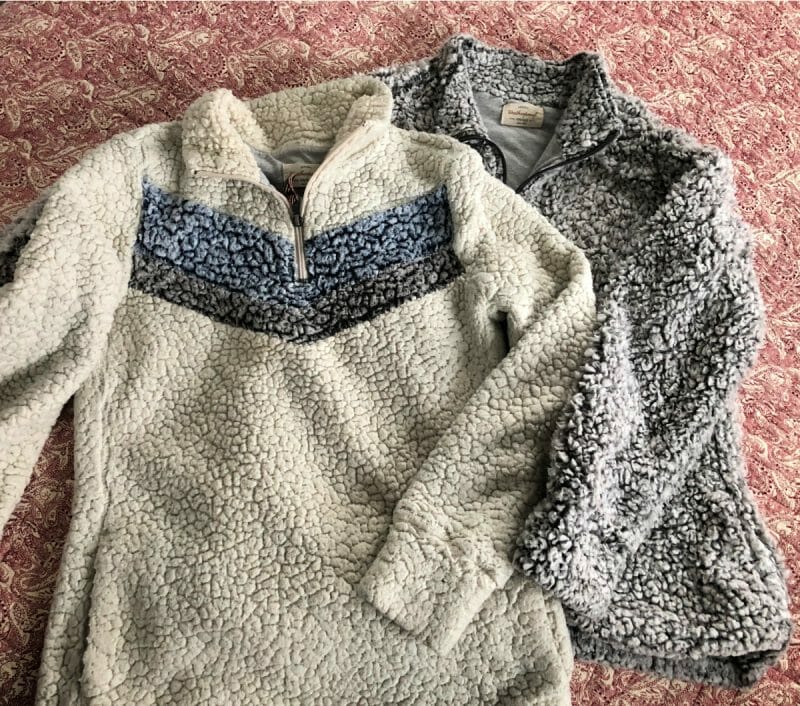 I actually found mine at Costco for $7.99 a piece, but here's a link to several similar pullovers on Amazon.
Oh my goodness — they are SOOOOOOOO warm a cozy!
I've honestly never been so toasty warm throughout a West Michigan winter before. It's glorious. Plus it makes getting dressed each morning a very simple decision — I just choose grey or cream! 😂
If you're constantly cold, I highly suggest wearing anything "sherpa" (and also possibly getting your Thyroid checked.)
---
FAVORITE BOOK = Anything by Jennie Allen
I've had Jennie's newest mega-bestseller (Get Out of Your Head) on hold at the library for about 8 weeks now… in the meantime, I decided to read all her other books first.
For the last month, I've had a stack of Jennie Allen books on my desk… and I just finished the last one. (I've also been a fan of her Podcast for the last 5 months).
Her books are so inspiring and thought-provoking.
I'm re-reading Restless and taking more notes as I work through the pages. Now, I'm excited to read Get Out of Your Head!
Have you read any of Jennie's books? If not, I'd highly recommend searching for them at your local library!
Read Jennie's Books
---
FAVORITE MEDIA = The Office Ladies Podcast
If you enjoyed watching The Office comedy 10 to 15 years ago, you will LOVE The Office Ladies Podcast. Jenna Fischer (Pam) and Angela Kinsey (Angela) dive deep into every single episode of the office (there are 201 episodes total) sharing so many funny behind-the-scenes stories, interviews with writers and co-stars, and various other hilarious audio clips.
It's such a light-hearted podcast that I enjoy listening to while making dinner or doing something that requires very little concentration.
Dave always knows when I'm listening to The Office Ladies because I will literally laugh out loud multiple times per podcast!
---
FAVORITE (new) HOBBY = The Ukulele
It was tricky for me to choose just one hobby this month because I've started a few new hobbies over the past 6 months as a way to fill the time I normally spent online (more on this in future posts).
However, the Ukulele is my newest hobby, and I'm having so much fun!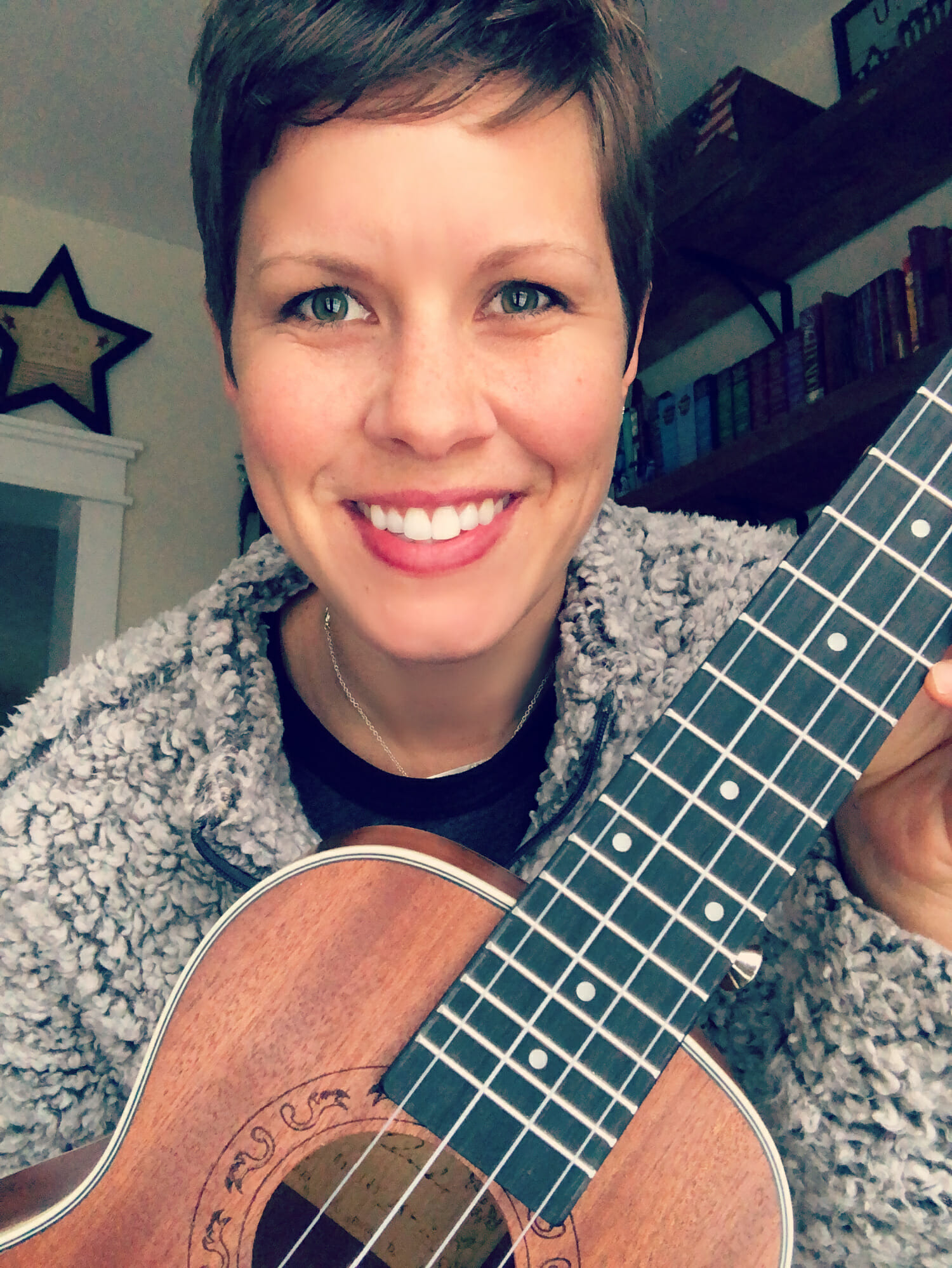 I've always wanted to play a string instrument — but since my mom is a band director, I grew up surrounded by brass, and played the French Horn from 5th grade through college.
However, I told myself that some day, I'd learn the cello.
Well, the cello will probably need to wait a bit longer… in the meantime, I decided the Ukulele would be a good compromise.
I have a couple of friends who play the Ukulele, and everything I read online says it's a great instrument for beginners — and it really is!
I've already learned about a dozen chords — plenty to play so many songs with!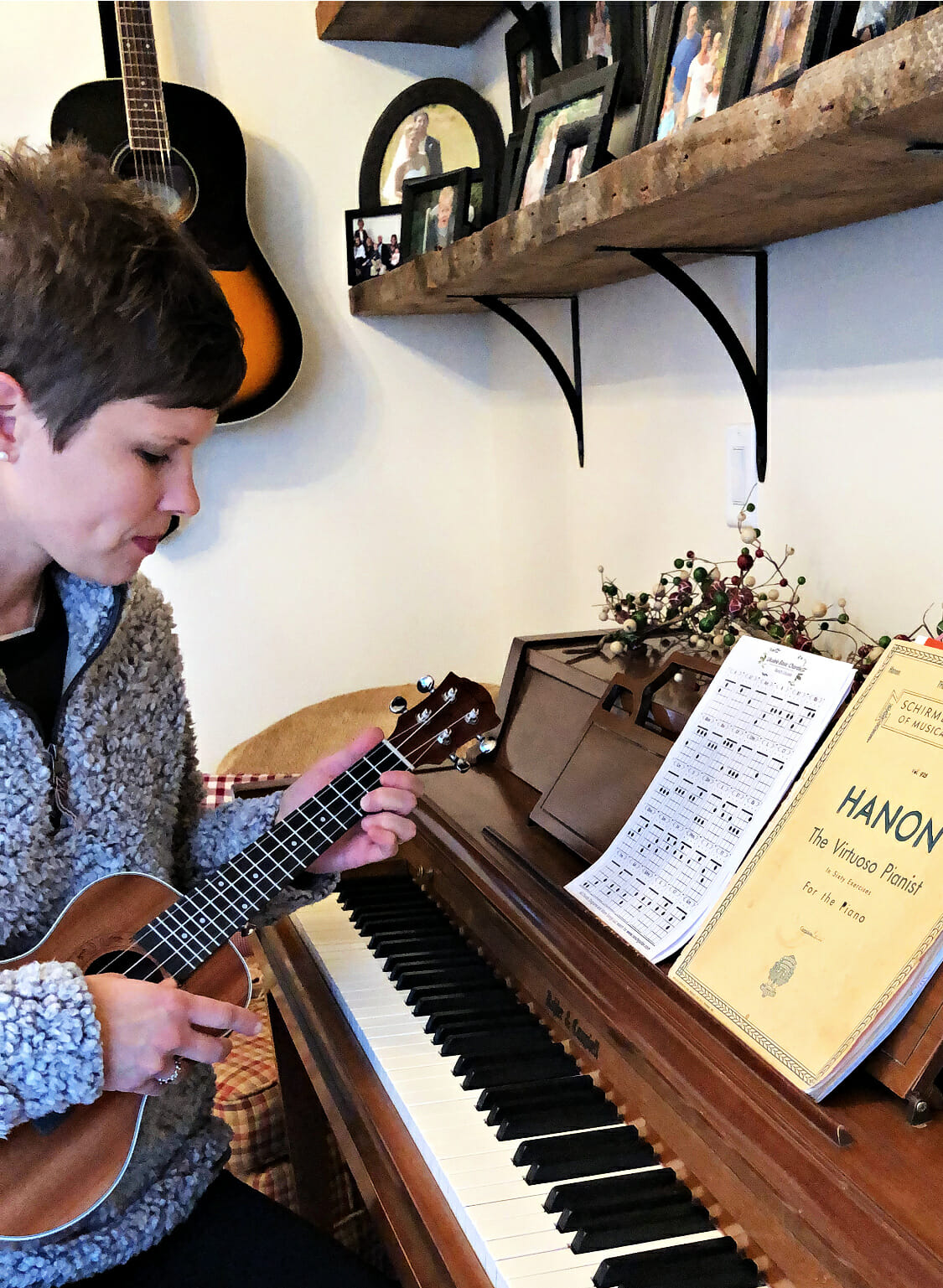 The Ukulele I purchased from Amazon comes with a case, a handy tuner, a strap, extra strings, a chord sheet, and 12 free online lessons. All for right around $65 (not bad!)
If you or your kiddos are looking for an affordable at-home hobby to pick up this winter, try the Ukulele! It definitely beats watching TV or scrolling through social media.
FAVORITE RECIPE = Zoodles
It's that time of year — everyone is more health conscious. Right?
If you'd like to lighten a few of your favorite pasta dishes, I encourage you to try zoodles (zucchini noodles).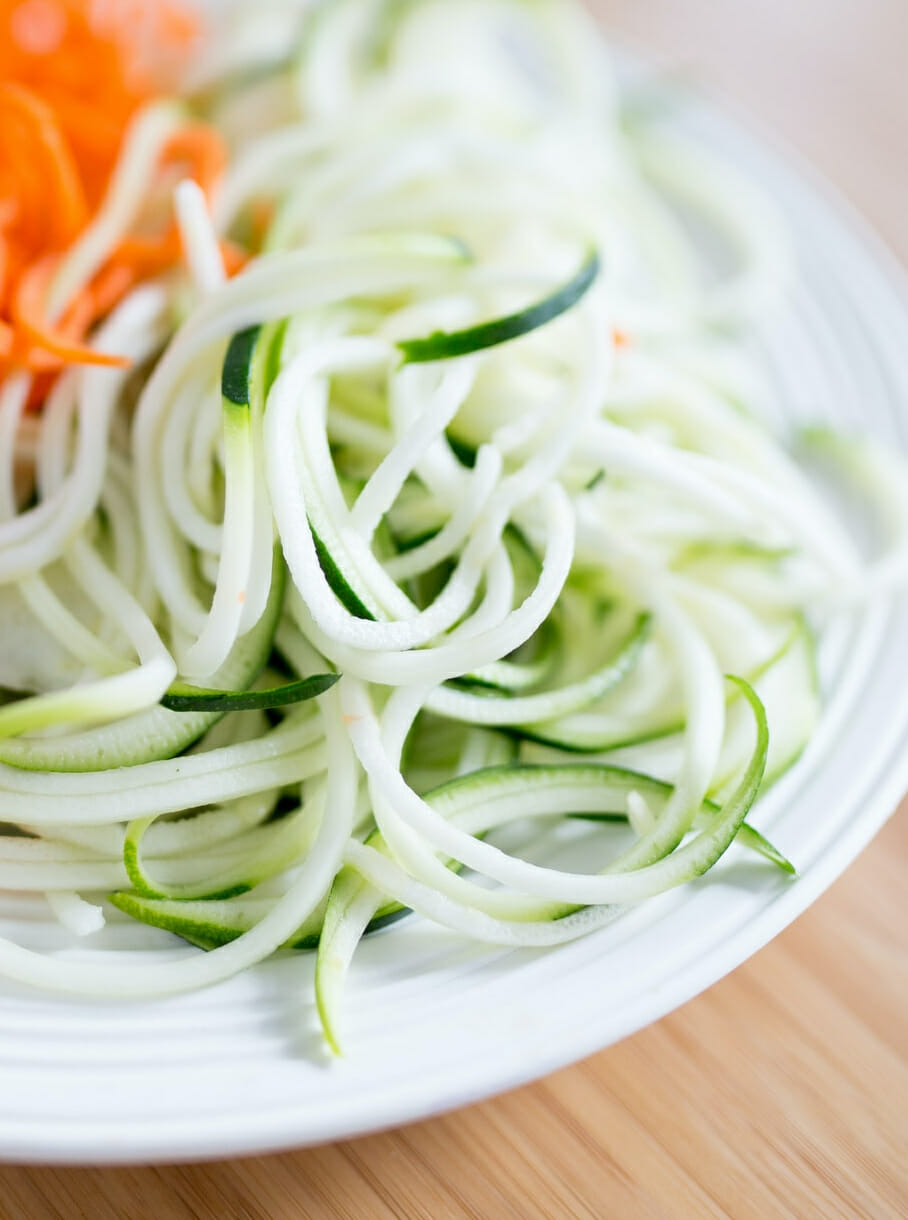 Zoodles are amazingly delicious, nutritious, and only a fraction of the calories of regular pasta noodles.
The texture is surprisingly similar to pasta (you could start with half zoodles and half pasta if you're concerned you won't like them).
I've been swapping zoodles (and spaghetti squash) in place of pasta for a few years now and I feel so much lighter and less "bloated" after eating many of our favorite Italian dishes.
FAVORITE QUOTE = John 16:33
"I have told you these things, so that in me [Jesus] you may have peace. In this world you will have trouble. But take heart! I have overcome the world. "
This verse really sank in for me back in June (on my 35th birthday).
It was the day I announced I was taking the summer off from the online world… and honestly, I felt very bogged down by so many worldly "troubles".
I just couldn't deny the fact that this verse was speaking so clearly to me at that specific point in my life.
And… from a grammatical perspective, I love the exclamation point!
"But take heart! I have overcome the world."
None of us know what 2021 has in store for us… but we can find peace in knowing that God DOES. He's got this. We don't need to worry.
What a wonderful way to start off another New Year!
NOTE: I've enjoyed reading from my childhood NIV Adventure Bible for the last few months — the extra explanations and commentary for kids have been helpful for me too!
FAVORITE ARCHIVED POST = The Power of One
I'm a huge advocate of making SMALL positive changes in my home and life, but I also know how difficult it can be to actually follow through.
If you struggle to stick with your goals, or if you don't think small goals will ever make a difference, think again my friend!
I've been making small (sometimes TINY) changes for years, and they have totally transformed my life!
Whew — that's all for me this month. 😆
Future months' Favorite Things won't be as long (I promise) but I had so many favorites to include this month with the new format… I just couldn't choose!
Speaking of the new format… what do you think? Feel free to leave suggestions (or your own current favorite things) in the comments below.
And… join my email community, friends!
There is no spam, no sales pitch, no funnel… you may unsubscribe whenever.
It's just fun and valuable content to help you create a simpler, more intentional home and life for you and your family.
Plus, the new weekly Vlogs are exclusive for you as an email subscriber!
Happy New Year!