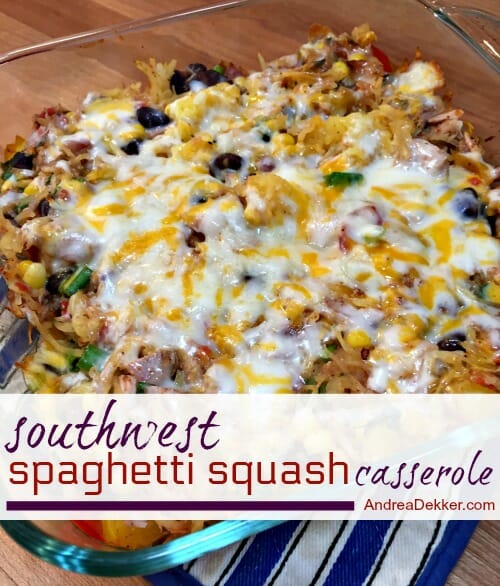 Several years ago, we experimented with growing spaghetti squash in our garden.
We figured we'd get 5 or 6 squash and could give it a try over the summer months… little did we know we would get more than 30 squash from our ONE plant!
At the time, I didn't really know how to prepare spaghetti squash, our family had never eaten it before, and we ended up giving about 20 of our spaghetti squash away as we just didn't know what to do with it (besides make our favorite spaghetti casserole with squash instead of pasta).
Fast-forward 5 or 6 years, and I can't even begin to count how many spaghetti squash I've roasted — we eat it ALL the time!
Last summer, we grew more than 40 squash in our garden, and while we did give a few away, we ate the vast majority of them from August through December (I kept them in a cold part of our basement).
Since then, I've bought 2 or 3 spaghetti squash every grocery trip (depending on the size of the squash) and I've tried so many different recipes — many of which our whole family has gobbled up without any complaints from the kiddos.
Truly, I can't even remember the last time I served actual pasta noodles (besides the occasional box of Mac 'n Cheese). I don't think pasta is bad; we've just come to love the taste of spaghetti squash (it was acquired — especially for the kids) and it's one more way we get a few extra veggies into our bodies!
Today's recipe for Southwest Spaghetti Squash Casserole is one of our favorites.
Since I almost always have a container of roasted, shredded spaghetti squash in the fridge, and several containers of cooked black beans and meats in the freezer, it only takes me a few minutes to have this casserole ready for the oven.
It's perfect for busy afternoons and evenings because you don't really need to prepare any side dishes — just some chips, salsa, guacamole, and maybe a salad if you'd like.
I usually make this recipe in 2 smaller pans as it's a GREAT meal to bring to anyone who is gluten-free or dairy-free (omit the cheese). And it freezes well!
If I still haven't convinced you to try spaghetti squash, or if you have and just don't love it (for whatever reason) feel free to sub pre-cooked pasta, rice, or quinoa in place of the squash in this recipe!
Yield: 8
Southwest Spaghetti Squash Casserole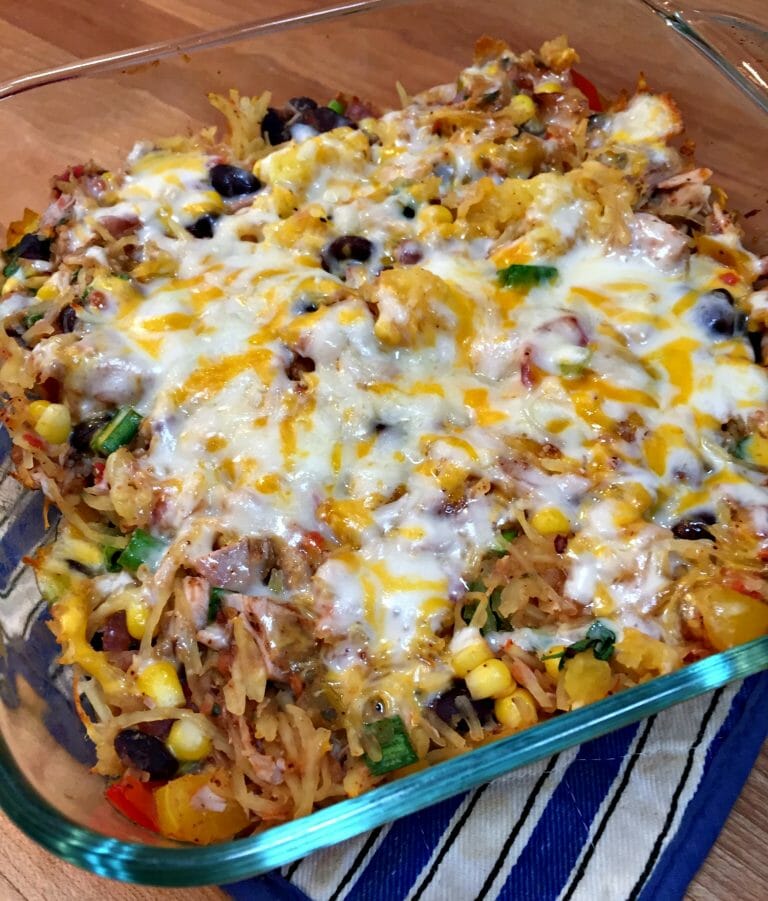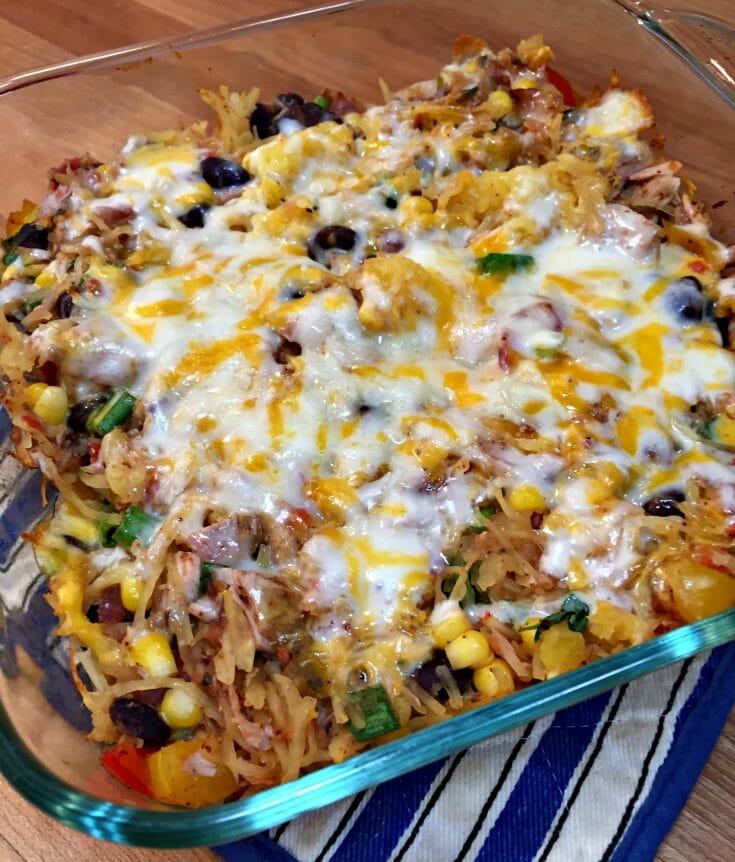 This casserole is one of our family's favorite ways to eat spaghetti squash. It's so easy to make ahead, it freezes well, the leftovers taste great, and it requires very few side dishes to "round out" the meal.
Ingredients
olive oil
1 large bell pepper; diced
1 medium red onion; diced
3 c. spaghetti squash; roasted and shredded
3 green onions; diced
1.5 c. black beans (or a 14.5 oz can)
1.5 c. frozen or fresh corn (or a 14.5 oz can)
2 c. cooked chicken, turkey, or ground beef (or just add more beans and veggies)
1.5 c. salsa (however spicey you want to make it!)
1 tsp. cumin
1 tsp. chili powder
1/2 tsp. salt
2 c. shredded cheese (we like using a mix of cheddar and pepper jack)
1/2 c. fresh cilantro; roughly chopped
OPTIONAL GARNISH: avocado, onions, tomatoes, salsa, sour cream, and cilantro
Instructions
Heat oil in a large skillet, add diced peppers and onions and sauté until soft (5-7 minutes)
While the veggies are cooking, preheat oven to 375ºF. Grease a 9" x 13" baking dish (or 2 smaller dishes) and set aside.
Mix the rest of the ingredients (except cheese and garnishes) in a large bowl -- adding more salsa if necessary.
Add cooked veggies to squash mixture and dump into prepared pan(s).
Top with shredded cheese, cover with foil, and bake in preheated oven for 20 minutes, or until heated through.
Remove foil and bake for 5-10 minutes or until cheese is very melty (but not brown).
Serve with optional garnishes, chips and salsa, and a salad.
Nutrition Information
Yield
8
Serving Size
1
Amount Per Serving
Calories

515
Total Fat

25g
Saturated Fat

9g
Trans Fat

0g
Unsaturated Fat

12g
Cholesterol

92mg
Sodium

822mg
Carbohydrates

44g
Fiber

11g
Sugar

11g
Protein

33g
Nutritional information is approximate and does not account for additional ingredients or added toppings.
Doesn't it look amazing!!
In my own experience, this recipe is NOT watery (which is the biggest complaint I hear from people cooking spaghetti squash.)

I don't know if watery squash means it has been roasted/cooked too long prior to making the casserole — but I honestly haven't had issues with that, so I don't know how to remedy it.

If you feel your squash is very watery, sprinkle a little salt over it (after you roast it) and let it sit in a colander for an hour. Then press extra water out before putting it in the fridge or making this casserole.
I'm excited to grow more squash in our garden again this year — I'm certain this yummy Southwest Spaghetti Squash Casserole will be on regular rotation in our menu plan!
What do you think… will your family eat Spaghetti Squash?
Visit my virtual recipe box for more simple, delicious, family friendly recipes!