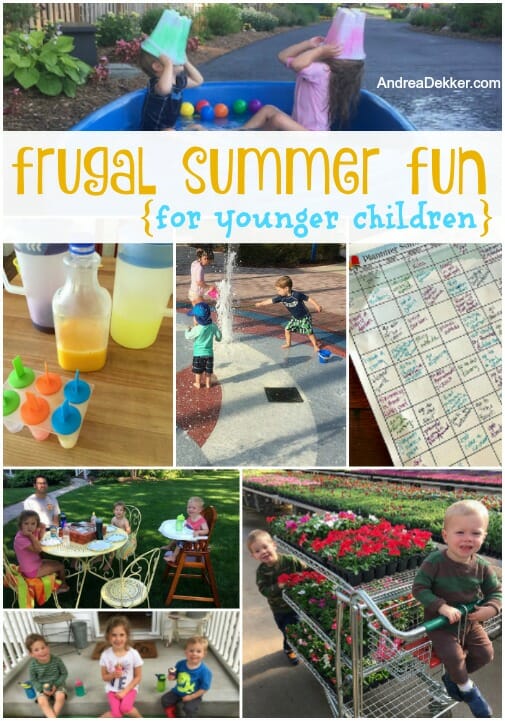 It sort of snuck up on me this year… but summer break is literally only DAYS away for our family!
I suppose it's good that I haven't been counting down the days until Dave and Nora are home on summer break! In the past, I feel like I've been counting every day, starting at Spring Break.
Maybe this means I've finally moved out of "survival mode"!
Whatever the case, I'm excited to have everyone home again for the summer; but I also realize our schedule and routine will look very different (which is always challenging for me in the beginning).
I'm trying to prepare by having lots of different fun activities for us to do as a family — many of which are completely free (or very frugal).
I used the Planning Summer FUN printable I got from Organize 365 when I took the 100 Day Organizing Class over the winter… it's the perfect spot to write everyone's ideas down. I used a different color pen for each child so they could all have their ideas heard and recorded.
We have a few spaces left, which is good as the kids continue to add more and more to our list, and then our goal will try to do at least one thing from our list each day of the summer (several of these are very simple like "play outside" or "eat cake and ice cream"!)
Obviously, we will not stress out about completing one thing each day — but everything on our list is very do-able for a family with 4 young children, so I'm looking forward to plugging away at our "Summer Bucket List" this year!
I know our bucket list won't be exciting or doable for every family (particularly working parents or families with older children) but for those of you looking for a few fun, frugal, family activities to add to YOUR summer bucket list, I hope today's post will help!
1. Eat anywhere but at the table.
I don't know why, but my kids LOVE eating anywhere other than the kitchen table — there is just something so fun about being somewhere different (and no, it doesn't need to involve an expensive restaurant bill.)
Here are a few ideas we like to use:
eat dinner outside — either at your house or anywhere else
have snacks on the front porch
pack a picnic lunch and eat at a park (or even just someone else's home)
go out for donuts (SO much cheaper than ice cream or a full meal) and then deliver donuts to a couple friends and relatives
make a fort or a "nest" (blankets on the ground) and eat in there
have breakfast in bed
visit a parent or grandparent at work and bring lunch along to eat with them
have popsicles or ice cream cones on the back deck
walk or bike to the dollar store and let everyone pick out a special treat… then eat it outside
enjoy popcorn, peanuts, candy, and a movie on the couch
pack a special snack in the car on a longer drive or while running errands
make s'mores and eat them outside
bring trail mix, dried fruit, and special water bottles (not their everyday water bottles) along on a hike through the woods
.
2. Do vacation things… at home.
I'm sure we will get more adventurous as our children get older, but for now, it is too much work for Dave and me to even consider any sort of vacation with our family right now.
We did venture 1 mile down the road to stay in a hotel for a night over spring break, but even then, I slept at home with James and Clara while Dave stayed at the hotel with Nora and Simon.
That said, we still do quite a few fun "vacation-like" activities at home — and we have several more on our summer fun list this year.
camp in the backyard (or even in the house) complete with hotdogs and s'mores over a fire (or in the microwave)!
we regularly create a "water park" in the backyard with a combination of our Bestway Costco swimming pool, a slip 'n slide, sprinklers, kiddie pool, water balloons, buckets of water, water guns, etc.
go on a scavenger hunt (inside or outside) and have a special prize or reward at the end
check the local movie theaters to see if they offer free kids movies in the summer (most Cinemark theaters do)
drive to a local airport and watch planes land and takeoff
pretend to be tourists and walk through a touristy area of your town or city
take a cab, train, or city bus somewhere, simply as a different mode of transportation
have a slumber party in the living room (or let all the kids sleep in one bedroom)
stay up extra late watching a movie, reading, playing games, or even just watching the stars
.
3. Take day trips.
Not up for overnight stays or week-long vacations with young children? I TOTALLY understand! We're not either!
Instead, we've enjoyed taking day trips (or even just hour-long trips) to many local attractions — most of which are quite frugal, especially compared to a full-blown vacation.
various parks, splash pads, water parks, and nature centers
local fairs or 4-H events
zoos and aquariums
play centers (PlayWorld, Rebounders, Chuck E. Cheese, etc.)
open gym times for gymnastics centers, dance studios, or fitness centers
open swim times at area pools and aquatic centers
local outlet malls or special shopping centers
local greenhouses (let the kids each buy a flower to plant at home)
free play times at local churches, libraries, community centers, malls, etc (you might be surprised how many of these are offered)
If all else fails, contact a friend or relative who lives slightly further than you'd normally travel and see if they'd like to have visitors for a morning or afternoon. Then pack a lunch and "hit the road" for a super-mini road trip!
.
4. Plan themed days.
I don't do this very often because it's a lot of work, but usually about once a month I'll plan a theme day where much of what we do, eat, and sometimes even wear is based on a certain theme.
I'll tell the kids the night before so they can pick out their clothing accordingly, and then we'll often have special meals and several special crafts, activities, books, shows, etc. all related to that specific theme.
This is getting more challenging for me as the kid's interests are all SO different. However, during the school year, I could pick a day Nora was at school and cater my themes to just Simon and James (which is much easier to pull off!)
For example: Rainbow day
wear multi-colored clothing
put hair chalk in their hair or paint nails bright colors
do rainbow face paint
do a couple different rainbow crafts (these light catchers or even FrootLoop jewelry would be fun)
eat brightly colored pancakes and a rainbow of foods for our meals
we would try to create our own rainbows with water, bubbles, light, etc
watch a show and/or read a few books about rainbows
play a game with colors (Candy Land)
eat Skittles, FrootLoops, Lucky Charms, or rainbow popsicles for a snack
.
5. Figure out what your local area already offers.
This might be a no-brainer, but I couldn't make a list of summer fun ideas without mentioning it. I'm always amazed how many free (or extremely frugal) events are going on within walking distance of my house.
Even if you don't live super close to everything, there are probably a wealth of family-friendly activities within a short drive… you just need to do a little research to find them!
free summer bowling programs for kids
library programs like reading competitions, play groups, music and motion, crafts, etc.
free movies at the local movie theater
free days at the zoo
hot air balloon festivals
fruit picking (and sampling!) at local orchards
window shopping at the mall (with a stop by the play place)
thrift store or dollar store shopping where everyone gets to pick a treasure to bring home
free project days at Home Depot (typically the first Saturday of every month)
events and activities at local farms
kid's days at the mall, at the zoo, and various restaurants
free concerts in the park
local parades
potluck or picnic meals with church, school, or neighborhood groups
If you still can't find anything in your area, head to Pinterest for a few simple craft ideas or baking projects. Here are some of MY favorite mess-free crafts for younger children.
.
I know these activities might not be super exciting for older children, but I can attest to the fact that my 2, 4, and 6 years olds all love every single option on the list above!!
As an added bonus, Dave and I feel we can easily pull off the ideas above without shelling out a bunch of money or spending insane amounts of time planning, preparing, packing, etc.
So, they are basically win-wins for everyone in our family!
Oh, one more thing I should mention and/or clarify… our kids spend an insane amount of time playing with each other and with neighbor kids outside in our yard.

We most definitely do NOT have extravagant plans for them every day, nor do they expect us to have special outtings each day. They would get totally worn out if we were doing special things every single day.

We mix in some of the smaller summer fun ideas (popsicles on the back deck or a picnic lunch in our backyard) with some of the bigger ideas (visiting friends for a day or going to the zoo) for a well-rounded, non-exhausting, frugal and fun summer!
Now, I'd love to know… what are some of YOUR favorite frugal summer fun ideas?