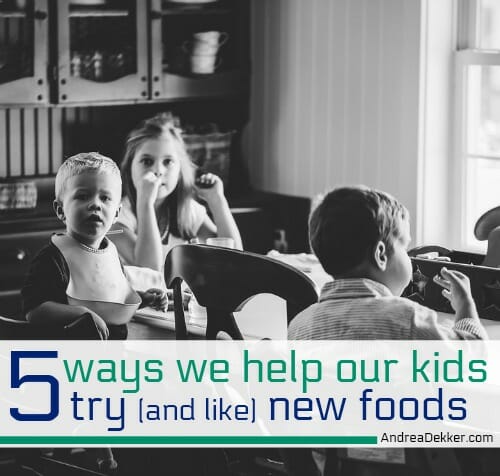 Getting our children to eat has been a battle for our family since day 1, with Nora refusing to eat anything other than breastmilk until she was two (after 2 rounds of food therapy).
Since then, Nora has become an amazing eater and the other 3 kiddos have thankfully been much easier to feed.
However, as with all kids, they still have their "favorite foods", they still need a fair amount of encouragement to eat their veggies, and they still usually protest anything "new" or "different" even before they give it a try.
Can any other parents relate!?!?!
Always and forever in favor of "moderation", I've never been one to set strict food limits for my kids. They have candy every day, they have multiple snacks everyday, we have some sort of dessert after lunch and dinner, and we enjoy occasional trips to Culver's, Arby's, and Little Caesar's.
My kids also eat a wide variety of fruits and veggies with every meal, they often request raw veggies or a banana as their snack, and they wolf down 100% whole grain bread and pancakes like you wouldn't believe.
.
The icing on the cake (pun intended) for me is that they regularly TURN DOWN DESSERT if they feel too full after a meal!
This is so encouraging for me because I know they are listening to their bodies and only eating when they are hungry, not simply because food is there (something most adults should learn to do).
.
I would NOT say our kids are super adventurous eaters… but I wouldn't say they are overly picky either.
I've been impressed with the variety of foods they eat and enjoy. In fact, over spring break, we took the kids to a buffet and Dave and I both mentioned how well the older 3 did choosing appropriate foods (and trying different foods).
This is not to say we never have to force our children to try something… but rather, it's encouraging for us to see some of our hard work actually paying off!
If you struggle to get your children to try (and like) new foods, here are 5 relatively simple (yet effective) tips that have worked for us over the years.
1. Give them ONE bite over and over and over again.
Our kids know that they must eat at least one fairly large bite of every food for that meal, otherwise they won't get second helpings of any of the foods they do like.
I always put all the food on their plates before I bring them to the table, and I put roughly one bites-worth of each food I know they might not love.
Nora is smart and eats all these foods first, Simon ALWAYS saves them until the very end, after he has eaten everything he loves, and after the new foods are cold. Sigh…
Whatever the case, they know that eating the foods I put on their plate will gain them access to unlimited additional helpings of the foods they DO like… and surprisingly enough, they regularly end up liking the new foods they try (maybe not the first time, but after many repetitions, they develop a taste for it).
.
2. Serve plenty of other foods they DO like.
As many of you know from reading our meal plans within my Peek Into Our Week posts, I serve a HUGE variety of side dishes with every single meal.
This is partly because Dave and I enjoy eating a variety of foods for every meal, but also because it assures everyone will like at least a few things I'm serving.
There are always several different types of fruit and veggies at each meal, plus applesauce and fresh bread — and although we do not let them only fill up on fruits, veggies, and bread, we do let them eat a significant amount of these items AS LONG AS they eat at least one large bite of everything else (per #1 above).
Also, I should mention that we try to give them some ownership over what they get on their plates… yes, they all have to try a little bit of the main meat, potato, pasta, casserole, etc. but they they can choose the 2 or 3 fruits and veggies THEY want to have. Sometimes, this is easy as they like all the options I have; other times, they need to choose from options they don't particularly care for, but they know they just need to eat one good-size bite and it's easier to enforce when THEY pick the foods.
.
3. Mix it with something they already like.
Our family switched to maple syrup a few years ago… but Nora absolutely REFUSED to eat it.
I eventually gave in and I told her I would buy one more container of the "old" syrup for her — she felt super special because she got her "own syrup".
As she used up "her syrup" I continually added more and more maple syrup, until I'm fairly confident she was just eating maple syrup out of the Hungry Jacks bottle.
Then, after many MANY months of eating maple syrup from "her bottle" I eventually told her what I did and said we were only eating maple syrup from now on.
She didn't have a fit, she didn't complain, she just looked at me, and then ate her pancakes. We haven't had any issues since then and she has never complained about maple syrup again!
I realize transitioning to new foods might not always be this easy but it has worked wonderfully for me over the years.
I've done something similar to switch my kids over to plain yogurt (mixing it with different amounts of vanilla for many months) and whole grains (mixing it with half all-purpose flour for a while).
I've also gotten them to eat spaghetti squash by first mixing it with regular spaghetti noodles and their favorite sauce + cheese + pepperoni. They gobbled it up!
It's honestly amazing how many new foods I can get my kids to try (and eventually like) just by mixing them in with things they already like!
.
4. Disguise the food and/or packaging.
I guess this is sort of what I did with the syrup mentioned above — but I have so many other examples of how this has worked wonderfully for our family.
I regularly bake chicken with a coating of bread crumbs, herbs, and Parmesan cheese; the kids LOVE this meal and request it often.
About a year ago, I started making Tilapia this exact same way and simply told the kids it was chicken… NO ONE NOTICED!
I eventually told them it was tilapia and they all looked at me like they were going to throw up! They couldn't believe they had been eating (and enjoying) fish!
Similarly, our kids insisted they didn't want "whole grain" anything — no pancakes, no waffles, no bread, etc.
As I mentioned above, I started mixing SOME whole grain flour into our various bread products earlier this year when I began grinding my own grain. I continually added more and more whole grains until I was ready to nix the all purpose flour… but I knew the kids would notice because the whole grain products LOOKED different.
I dodged this issue with a little food coloring and sugar!
I colored their pancakes so they couldn't see the darker color of the whole grain, and I added chocolate chips, fruit, and whipped cream. I also slathered their whole grain bread with butter and my homemade jam as a special treat at dinner.
The kids thought this was the BEST ever, and have honestly never said a word about disliking whole grain foods ever since (even without the extra sugar!)
They still insist they don't like avocados, yet they eat my yummy chocolate, peanut butter avocado pudding (that is essentially ALL mashed avocados with a little bit of peanut butter and cocoa powder).
They can say whatever they want… I'll just keep disguising foods so they eat them!
.
5. Show them that we enjoy those food items.
Obviously, none of my tips above would work if Dave and I weren't also eating (and enjoying) the foods we wanted our kids to eat!
We eat a huge amount of fruits and veggies, we are willing to try almost anything, and I'm always looking for new recipes so we don't get tired of eating the same thing over and over again.
I also think it's important to note that we almost always eat WITH our kids at the table.
Since our kids are still young and don't have many extra curricular activities, we eat dinner together 99.9% of the time. I also eat breakfast and lunch at the table WITH the kids almost every single day. And Dave is home on the weekends and ALL summer long — so it's not uncommon for us to eat 3 meals a day together at the table on non-school days!
.
I know these tips won't work for every family, and those of you with older kids will get MUCH MORE PUSH BACK.
However, I do think they are worth trying… and trying and trying (remember, persistence is key when it comes to developing a new habit or a new preference!)
Like I mentioned above, our kids definitely are NOT the most adventurous eaters around, but they are willing to try new things — and they often surprise themselves by what they end up liking!
What are your best tips for encouraging kids to try new foods?