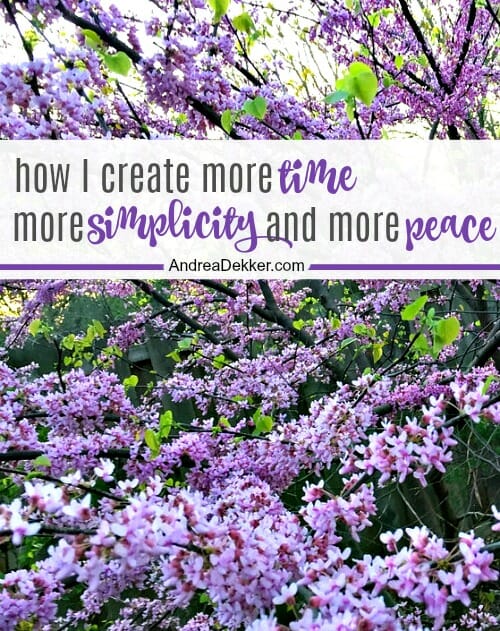 Every time I go out and about with all the kids in tow, I'm stopped by strangers who feel the need to tell me how "busy" I must be… probably at least 4 or 5 times per outing!
I always just smile, give a half-hearted laugh, and make joke about how it's really not all that busy, as long as I have a plan. They smile and keep walking, and I laugh to myself about how UN-BUSY my life seems to be right now.
It's not that I don't have a lot to do (you know my list is always growing) but most days, I truly don't feel all that "busy" with the tasks and obligations I need and want to accomplish.
Yes, there are days (boy are there days) when I feel so frazzled and exhausted by the time Dave gets home from school… and I still have 3/4 of my to-do list to go, nothing planned for dinner, crabby kids watching TV, and the house looks like a bomb blew up.
But those days are rare exceptions… not the rule.
Believe it or not, I've learned a lot these past 6+ years of being a parent, and although it's been a steep learning curve, I think I'm a better, more well-rounded person because of it!
I've learned to be more productive and efficient with the time I do have, and I've learned that not everything absolutely must be accomplished every day.
I have more balance in my life, I've given myself more grace, and I have a lot more fun!
If you're looking for a few relatively simple practices to help you create more time in your schedule, more simplicity in your home, and more peace in your life, I hope that sharing what works for me might also help you!
1. I have lower expectations for myself, my home, and my family.
I know this sort of sounds like a cop-out excuse… but truly, lowering my expectations for myself, my home, my family (and even my life) has played a HUGELY positive role in my ability to be more content, enjoy my days, and still feel like I'm accomplishing the most important to-dos every day.
I usually always have my Top 5 list of things that absolutely MUST be accomplished (even if I have to stay up until midnight to do so) and then a handful of extra tasks I can tackle if there is extra time.
I don't overload our schedule, I don't overload my to-do list, and I don't overload my children with unreasonable tasks or expectations (example: running 5 different errands without any fun stops for them or expecting them to play nicely on their own all day while I tackle my to-do list).
And at the end of the day, our whole family is so much happier (myself probably most of all).
That's definitely a big WIN in my book!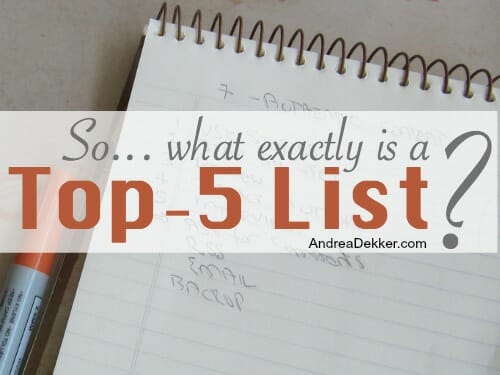 .
2. I automate SO much of my life.
Over the years I've shared how we automate our saving, investing, bill-pay, etc. and I can't even begin to calculate how much time this has saved us over the years.
Systems and routines are another way we "automate" our life
There are countless examples of systems and routines we use to automate so many different areas of our life — and while they might sound overly ridged and/or boring to some of you, they all save me loads of brain power, time, energy, and often money (all of which are in high demand these days!)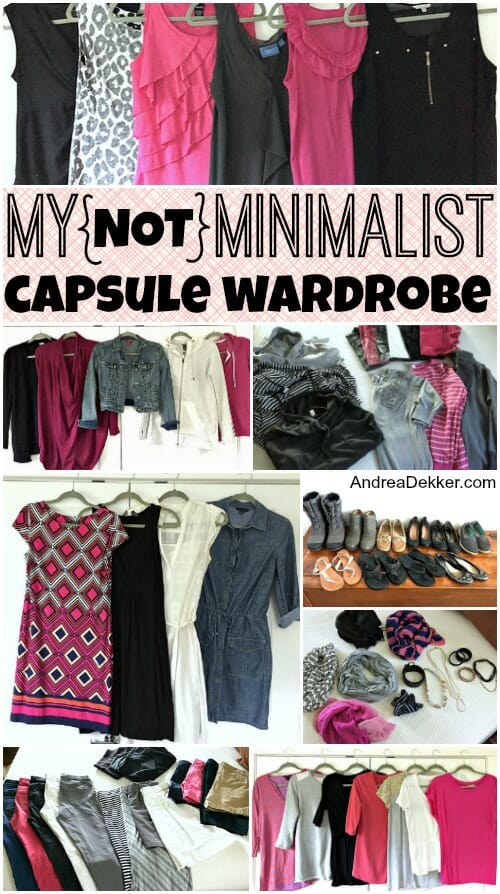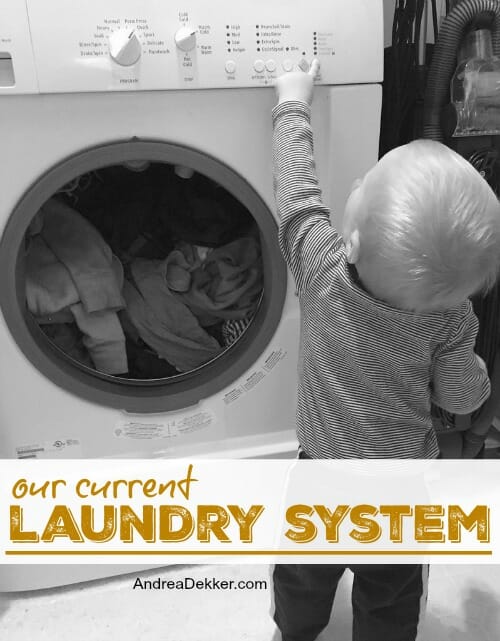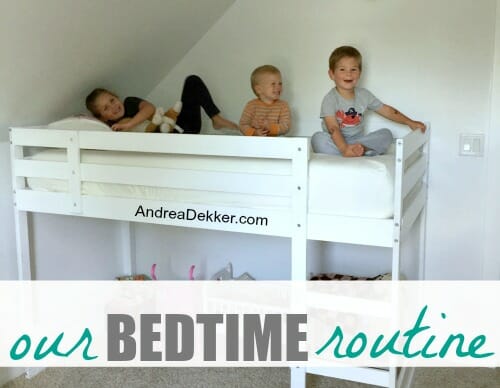 .
3. I always try to leave a space better than I found it.
This is another odd one that might not seem like a time-saver or energy-saver, but all day long I constantly strive to "better my home" (and really whatever environment I'm in) with just a few seconds of effort here and there.
Whenever I leave a room, I look for things that need to be brought to the place I'm going next.
I wipe up any water around the sinks before I leave the bathroom (sometimes I even do this in public restrooms — just out of habit!)
I wipe up the counters and toilets while I wait for kiddos in the bathtub
I load the dishwasher and clean up the kitchen as I wait for my pot to boil
I wash dishes as food is cooking in the oven
I remove anything that doesn't need to be in the van whenever we get home
I restock the diaper bag quickly after arriving home
I keep trash cans and donation bags readily available throughout our home so I can instantly trash or donate something I no longer want, need, use, or love
I pull a few weeds or prune a few shrubs as I'm playing with kids outside.
These are all such little things that they don't even seem like extra work for me at the time… BUT they end up saving me so much time and energy later on when I don't have massive cleaning, organizing, or yard projects weighing me down.
.
4. I actually say 'no' when I can't do something!
I know it's a crazy concept… but when my schedule is full enough, when my body is telling me to stop, or when I know I shouldn't add anything else to my plate, I actually say 'no' (often without an explanation) and stick to it!
Yes, there are always exceptions to my "just say no" policy — but for the most part, I have gotten very good at estimating how much time I realistically have, evaluating my current schedule, and expressing myself in a way that is not rude or negative to the person asking for my time or energy.
None of us can do everything — and if we try, we'll simply burn out and end up disappointing everyone.
Instead I choose the people, activities, and events that fit with my current stage of life and my current schedule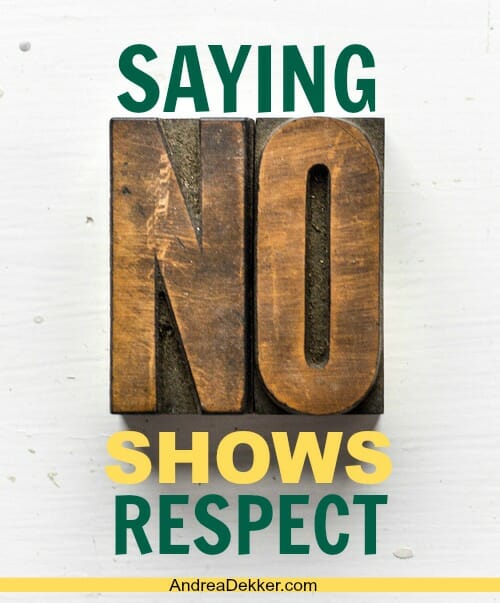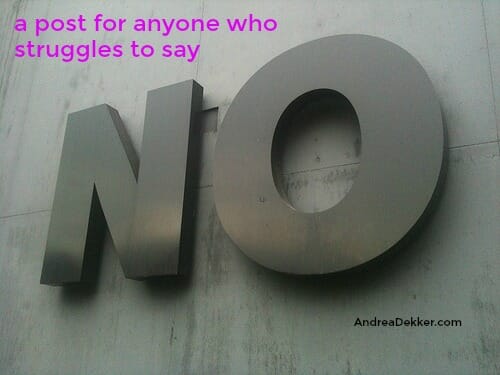 .
Like I mentioned above, there are definitely days when nothing goes as planned and I go to bed much later than I hoped — feeling too busy and frustrated with my un-done to-do list.
However, most days, I feel quite content and satisfied with what I've been able to accomplish (even with 4 young children and all the crazy they bring to my days!)
It's not a perfect or fool-proof system by any means, but it seems to work well for me right now… and I hope some of my tips might spark a few ideas of what could help YOU create more time in YOUR schedule, more simplicity in YOUR home, and more peace in YOUR life!
You deserve it!
.