What happens when your daily roles and your purpose in life rub up against each other a little more than you'd like? Well, you take the summer off to think, and then write a novel of a blog post documenting your journey!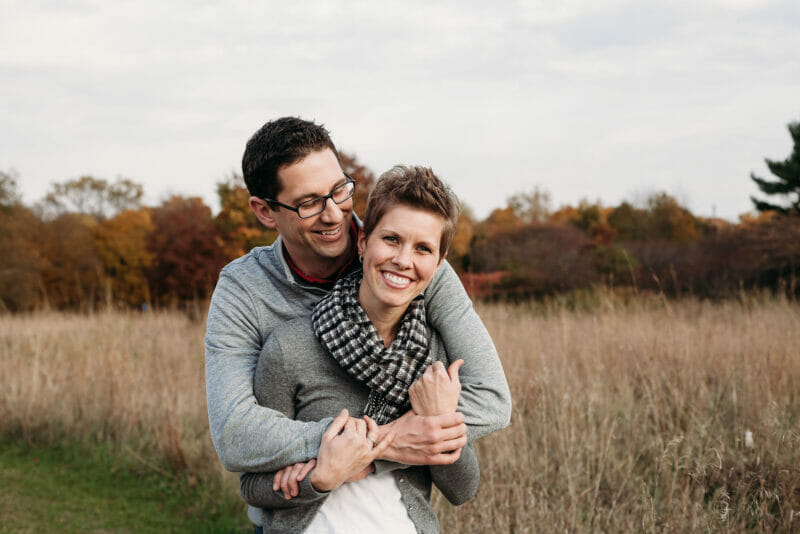 Within two weeks of my 21st birthday, I happily assumed the roles of wife and homeowner — a dream come true for the girl who grew up watching Martha Stewart instead of MTV and preferred Country Home magazine over Seventeen.
For as long as I can remember, I've fantasized about living a simple life at home — fixing up an old farmhouse, feeding my family hot breakfasts every morning, and welcoming the kids home after school with a plate of freshly-baked cookies.
I have vivid memories of conversations with a childhood friend about the type of farmhouse I'd have someday; about the 5 children who would fill that farmhouse (3 boys, 2 girls); about all the food I would cook and bake, and the holiday parties I would host.
Family
Farmhouse
Food
As far back as I can remember, my dream life was centered around a family, a farmhouse, and a whole lot of food.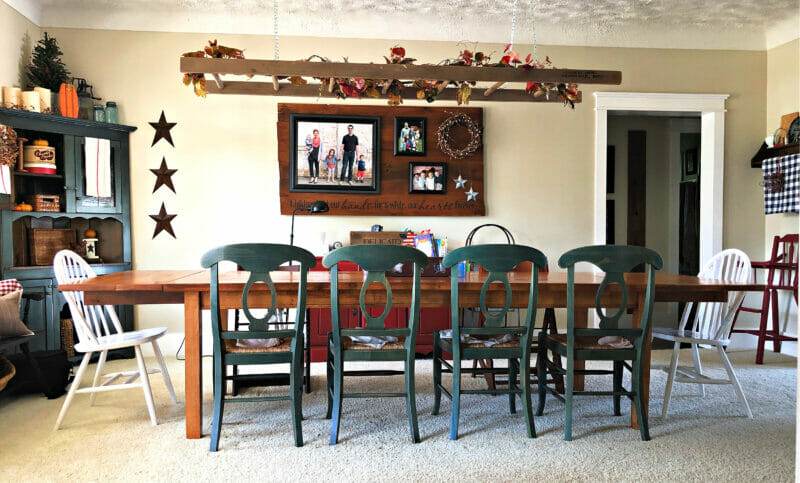 ---
A dream unfolding…
Almost exactly 10 years ago, a big part of our dream came true when we purchased our fixer-upper farmhouse (December 2010) AND found out we were pregnant with our first child (February 2011).
I had just started this blog a few months prior to buying our farmhouse (July 2010) and I chopped off my long curly hair in favor of a pixie-cut one week before taking the picture below.
I was 25 and starting a new chapter in life.
A new career, a new appearance, a new home, and a soon-to-be new family!
---
As the days turned into months and eventually years, I said farewell to my twenties and happily embraced the 30-something woman staring at me in the mirror.
These days I see a few wrinkles, an even shorter haircut, and a decade of hard work and faithfulness that resulted in a family, a farmhouse, and so much food!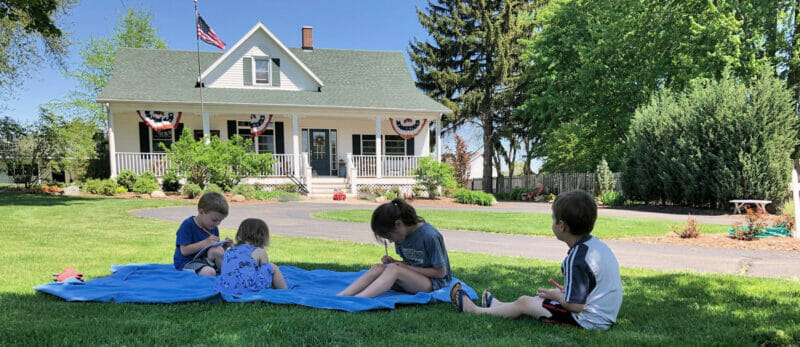 Some highlights from the last 10 years…
We completely renovated our farmhouse and the 1-acre property while paying off our mortgage in 7 years.
I learned how to cook and bake from scratch, and have prepared thousands of meals for family and friends.
I had 4 children in just over 5 years, potty trained each one, and eventually got them to sleep through the night. #momwin
I wrote 2,500 blog posts — sharing my passion for simple living with more than 17 million women across the globe.
All while diligently working, day after day, little by little, to simplify my home and life, pursue my passions, and steward our resources.
As a result, our days are fulfilling… not just "full".
Our lifestyle is simple, yet intentional.
We are laser-focused on our values and we allocate our resources accordingly.
We live at a slower pace than most of our peers, which isn't always easy (but it's SO worth it).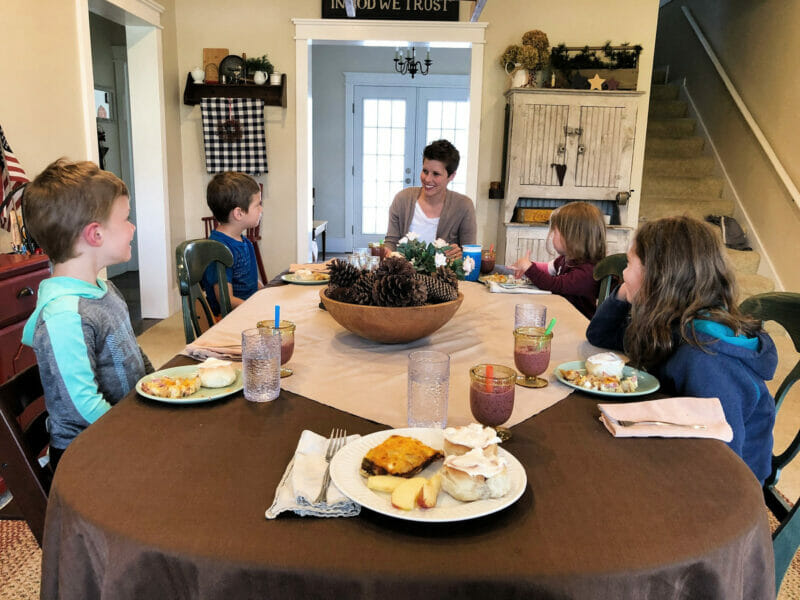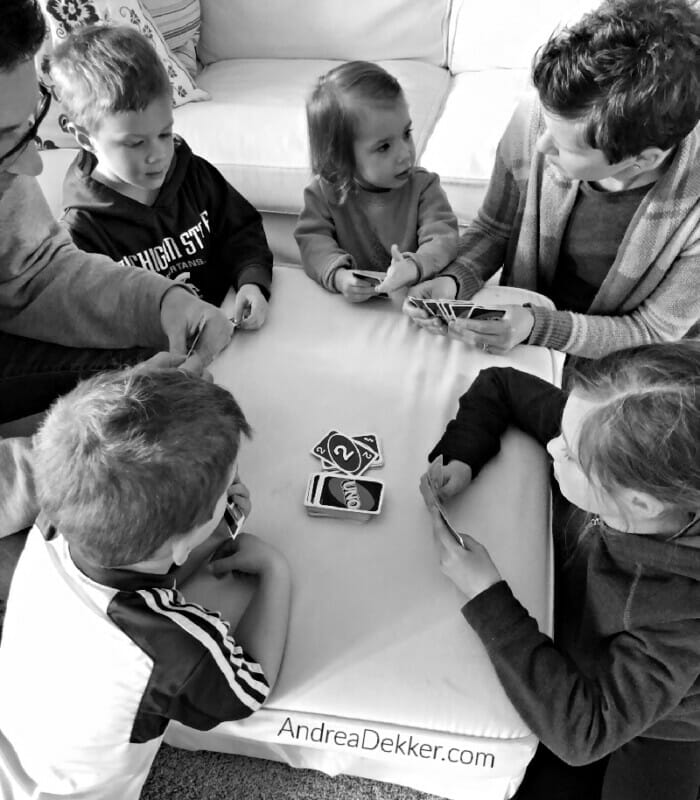 Ironically, as I've become more passionate about sharing the benefits of simple living online, the balance and intentionality of my life have felt "off".
I love what I do here online so much… and there's always more I want to do.
More ideas, more emails, more posts, more social media, more video, more pictures, more projects… more distractions that take me away from other important parts of my life.
Some might say this is the nature of the online world — it's one of the side effects of running my own business.
And they're right.
But… one of the perks of running my own business is that I call the shots.
I make the rules.
And I can be pretty bossy when I want to be! 😉
I spent the last 3 months mostly away from the blog and social media.
Many people in my online circles told me it was a risky move… and it was.
But as it turns out, it was also absolutely amazing, refreshing, and just what I needed.
I had a chance to slow down, to think more deeply, and to recount the many blessings that make up my simple, normal, everyday, real life.
Do you know what I realized?
I realized that I'm literally living my dream life. I got the farmhouse, the food, and the family… well, minus that fictitious 3rd son who might not fit into the picture anymore!
I realized that I feel completely content and fulfilled in my role as a wife, mother, and home-manager — I could do this every day for a very long time without growing weary of everything required of me.
I realized that I don't need more than this — not a successful business, an amazing home renovation, or another to-do crossed off my list. I'm truly happy to be alive and enjoy life at home with my family.
I realized that I still sort of want more than this. Is that selfish? I don't know.
Yes, my roles as wife, mother, and home manager are satisfying and fulfilling for me — they are what I've always dreamed of. But what if my purpose falls beyond that scope?
Have you ever felt this way?
I realized that I was working too much… which is hard for me to admit, but a necessary truth. I was missing things I didn't want to miss and skipping things I didn't really want to skip because, while I love my family, my home, and my life, I also really love what I do here online.
I needed to find a better balance.
---
One of the benefits I hoped to gain from my summer away from the online world was more clarity, more certainty, more conviction that I'm doing the "right thing" (or, on the flipside, that it's time to pivot).

Unfortunately, I didn't get it.

In many ways, I feel more cofused now than I did before my break.

Even still, I've decided it's time to share a few thoughts from my time away from the online world.

Without further adieu… welcome to the inside of my summer vacation brain.
---
Thought #1: Our purpose is more than just our roles and responsibilities.
Each day, I'm amazed by how meaningful and fulfilling it is to be a stay-at-home mom. I always knew I loved being home, but I've surprised myself with how much I enjoy this particular ROLE.
That said, I feel a consistent tug… almost a calling of sorts, to help other women experience the life-changing benefits of pursuing a simpler home and life.
I believe that is my PURPOSE (at least for this stage of my life).
I'm certain our roles and purpose change over time — but I feel it's important (at least for myself) not to confuse our all-consuming yet very fulfilling roles as wives, mothers, and home-managers with our purpose (whatever that might be).
Just so you know… I'm still working on this!
Thought #2: Life is more fun when you do what you love.
I've had my share of boring, mind-numbing, horrible jobs over the course of my life… and the fact that I can truly say I do what I LOVE is not something I take for granted.
I love writing. I write every day, only pressing "publish" once in a while. It's a cathartic outlet — a way for me to process my many, many thoughts without driving Dave bonkers. 🥰
I love pursuing a simpler life and sharing my journey in hopes of encouraging others to realize their ideal version of a simpler life.
I love cooking, baking, painting, decluttering, and rearranging furniture 872 times until I find the way that works the best for our family.
I'm honored to make a living doing what I love — something that doesn't really even feel like a job.
AND…
I love being a wife, and a mom, and a short-order chef, and a chauffeur, and the room parent for the kids' classes, and a volunteer at church, and the host of the party, and a Jill-of-all-trades, and the manager of our home…
our farmhouse.
The one we worked to transform for almost a decade… the one I've dreamed of filling with family and food for as long as I can remember.
If you aren't doing something you love, take a step back and reevaluate whether you really must continue doing it. In some cases, your answer will be "yes" and that's OK. But in many situations, there may be other options you haven't considered yet.
My advice — it's worth considering those options!
---
Thought #3: Our purpose should be pursued in a way that is life-giving and fulfilling for ourselves and our loved ones.
I can not, I WILL NOT, let my family or my home take a back seat to my business… it's just not an option for me.
Thankfully, I think it is often possible to pursue our passions and purpose while fulfilling our roles and responsibilities… but it's a tricky process and there's a fine line that is oh-so-easy to slip past if we're not careful.
I won't let myself become the woman who gushes about her simple home life while secretly living in a cluttered mess, with a chaotic schedule, and grumpily handing out fast food to her family each night.
This is certainly not how my life has ever been, but I've seen these scenarios play out far too often among fellow online influencers.
It's a slippery slope and I found myself just a bit closer to the edge than I wanted to be.
I "walk the walk" of the simple life I share online — I always have, and hopefully always will.
I say this with confidence, knowing that if you were a fly on the crooked old walls in our home, you would agree.
If you feel a little uneasy with the path your life/career/family is headed down, let this be your wake-up call to pivot.
It's not too late!
---
Thought #4: It's frustrating when we don't have the answers.
I'm a planner by nature — it's in my blood! Some of you can relate.
So… it's beyond frustrating to feel like I'm in the right place, doing the right thing, but possibly not in the right way… with no clear-cut plan to "fix it".
I keep telling myself that I just need to tweak a few things… but so far, I haven't figured out what to tweak to allow all the puzzle pieces to fit.
I'm not one to share my struggles before I have the solution as I never want to be the person who aires her dirty laundry hoping for a little sympathy.
I much prefer to share after I have the "happy ending"…
Not during the process. Not while I'm still struggling, learning, and growing.
I share when I can compile my thoughts and my "lesson" into a nice, neat, organized, well-thought-out package.
But that's not always possible (at least not in my case today).
I have no lesson, no "plan", no moral of the story, no 5-step process to help you improve your life, no detailed recipe promising a delicious meal, no pretty package… just the real-life thoughts and struggles I'm in the midst of navigating right this very minute.
In his heart a man plans his course, but the Lord determines his steps."

Proverbs 16:9
Thought #5: Pursuing your purpose is worthy of a long, hard fight.
If you've been reading here today with a touch of anxiety, wondering if this is my blogging farewell, let me assure you it's NOT.
I don't have all the answers, my puzzle is still missing a few key pieces, and I haven't found my yellow brick road just yet. But I'm confident that if this is really what I'm supposed to do with my life, I will make it to the land of Oz… eventually.
I've been fighting for balance between pursuing my purpose and fulfilling my roles for almost a year now — some of you saw it more clearly than others and you reached out with encouragement.
Thank you 🥰
The last 10 months have been one experiment after another — searching for a "solution" to the fact that I'm human and simply can't do 187 things really really well every single day.
It hasn't been easy.
There were so many days when I wanted to toss my purpose to the curb and relish in my roles as the best breakfast cooker ever, the savviest thrift-shopper extraordinaire, and the cuddliest book buddy.
I'm not cut out for the career world… I don't want this "stress"!
I'm just a mom — let me just be a mom!
The online world doesn't need one more simple living blog anyway!
But… I'm a fighter and a doer, and I will continue to fight for a way to pursue the purpose I feel called to without sacrificing my ability to fulfill the roles I feel so passionate about.
I have a few ideas up my sleeve… stay tuned. 😉
Thought #6: Change is hard… even good change.
The past decade has seen more change than any other period in my life… and change is hard for me.
I learned how to cook, bake, can, freeze, grow, and preserve
I learned how to give birth and parent multiple infants, toddlers, and children
I learned how to tackle so many house and yard projects
I learned how to start, run, and manage a business
I learned how to build a blog and grow my social media accounts
I learned how to plan… and also how to step out in faith, even when I don't have a plan
I learned that even when I think I have something figured out, it changes again because we have another child, enter into a new stage of life, start another project, or the "rules" of blogging and social media change… again!
No matter how often I deal with change, it still takes me a while to find my groove, and it's still really hard to be "stuck" in the middle without an end in sight.
Can you relate?
When my life changes faster than I like, my solution is always to simplify everything else.
I suppose that's why my time away from the blog was so necessary. I needed more space to process the changes within my business and the online world, and I couldn't do that while still working on my business each day.
If you're in the middle of change (good or not so good) I strongly encourage you to take a step back in a few other areas of your life. Quit the membership, resign from the committee, close your Facebook account, order a pizza for dinner, delete the Apps, say "no".
Not forever, but for now.
---
Thought #7: Support is crucial.
Dave knew I needed time and space to mentally process everything this summer — and while I think we were both surprised how much time I needed, he never voiced his frustrations.
He listened to my frustrations, he assured me I'd figure it out eventually, and then he granted me his silent, non-judgemental "permission" to do nothing — to sleep in, to sit and read a book all afternoon, to make a frozen pizza for dinner, to go for a walk by myself.
That man is a true gift.
Similarly, the select few blogging friends I shared my struggles with were a huge source of support for me — especially when the "experts" told me I was doing everything wrong.
And your kind and encouraging emails were a welcome "distraction" throughout the summer. I read every word and responded as often as I could.
If you're in the middle of a big life change, I encourage you to find that support — even if you need to pay for it in the form of counseling, coaching, or mentorship.
You don't need to tell the world, you don't need to air your dirty laundry on every social media outlet, you just need one or two trusted sources who will stick with you no matter what.
---
So… what now?
Wow — you're still reading!
The short answer is, "I don't know exactly." Boy, do I hate to admit that.
The longer answer is…
You can expect a new blog post (and email) every Tuesday morning.
I will often send another email on Thursday or Friday morning — not necessarily in conjunction with a blog post, but always worth opening! (Join my email community here).
I will not be very social on social media — at least not for a while.
I'm considering a private Facebook group instead of more public social media. I think it could be an amazingly fun way to connect with those interested in pursuing a simpler home and life without haters or spammers or creepers ruining our fun (not that I've had any experience with that.)
I want to streamline and simplify the ads on my blog — I have some ideas to do this without losing all my income. All in due time, of course!
As for my personal life… there's a lot of good happening right now!
I'm the room parent for 2 of the kid's classes this year
I have a big yard project I want to tackle yet this fall
I started a new program to heal my Diastasis Recti (I'll keep you updated if it works or not)
I'm in a new Bible Study group (studying 2 Corinthians)
I'm still fairly involved in different programs at church
I'm working my way through a pile of new recipes
I'm decluttering like crazy — our basement is totally empty outside of the freezer, one shelf of canning supplies, and a few cans of paint.
I started jogging (I need to do something with my early morning hours now that I'm not online as much)
I have a stack of library books calling my name
I'm baking a puppy cake for a certain almost-3-year-old later this week!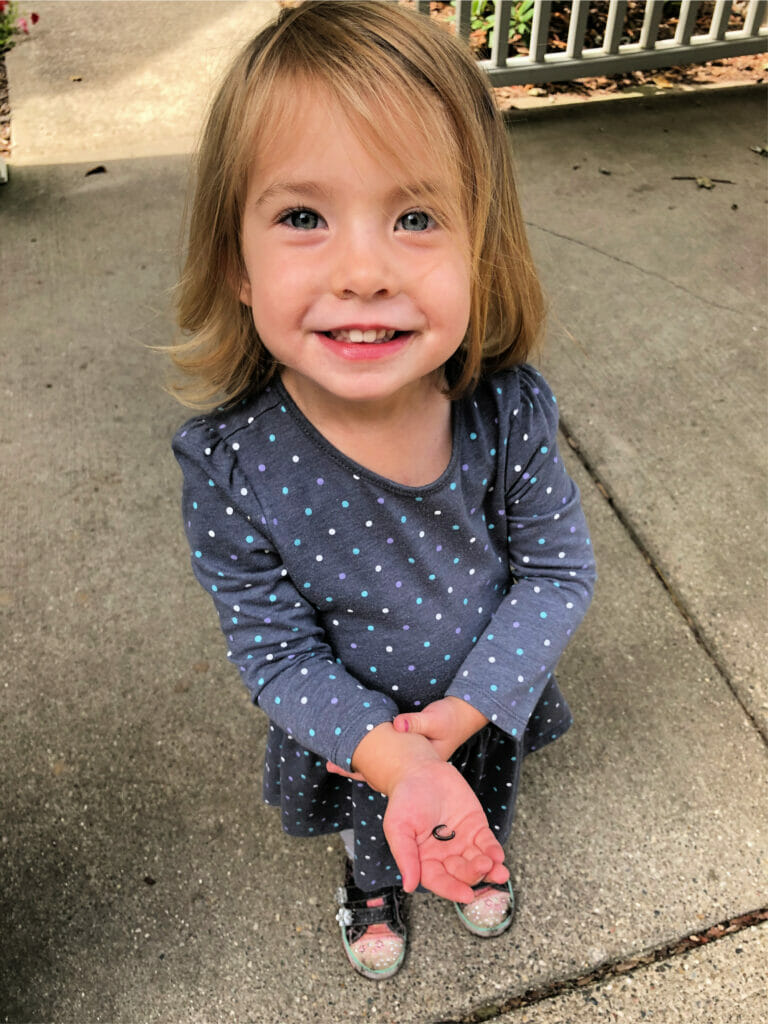 ---
In Summary:
If you take nothing else away from this very long post, please know this:
I love this online space and hope to continue showing up here for many years to come.
I love my life, my family, and our home more.
The reason I'm so intent on finding a better balance between the two is because of YOU!
It has been a joy and a privilege to get to know many of you on a more personal level over the past 10 years. It's thrilling to hear when one of my recipes or ideas or tips sparked a positive change in your life. And I'm honored that so many of you have stuck around all these years!
I'm confident that if this is really where I need to be at this point in my life, the "right" balance between my purpose and my roles will be made clear.
And then… I can unleash the mountain of ideas I have for my blog and business!
Those of you in my email community will be the first to know whenever I move forward, pivot, or find that missing puzzle piece (I'm not trying to be exclusive or sneaky, I'm just not sure I want to share every detail publicly on the blog.)
Until then, you can find me back where it all began; pursuing a simpler, more fulfilling life at home…
Making food for my family in our farmhouse!
Please know I am not anxious or nervous or stressed regarding the future of my business. Yes, I'd like answers, but in the meantime, I'm content to live my life and I have plenty to keep me "busy" over here!
That said… if you feel generous, I covet your thoughts, prayers, and support regarding more clarity and direction as I move forward.
Also, just for fun, I'd be honored if you shared a favorite recipe, tip, post, or idea from my website — one that has helped you simplify some aspect of your roles as wife, mother, grandmother, or home manager. 🥰
Cheers to finding fulfillment in our roles while pursuing our purpose!