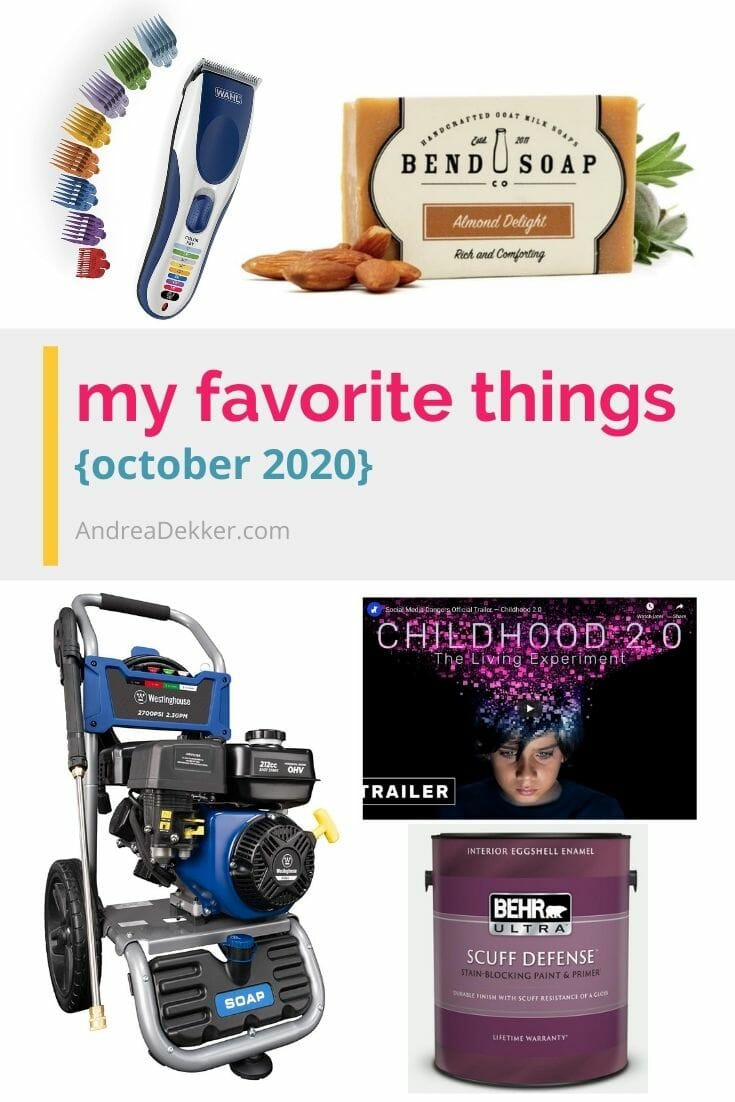 There's something for everyone on my list this month — from power tools to bath salts… and the must-see documentary for anyone with school-age children!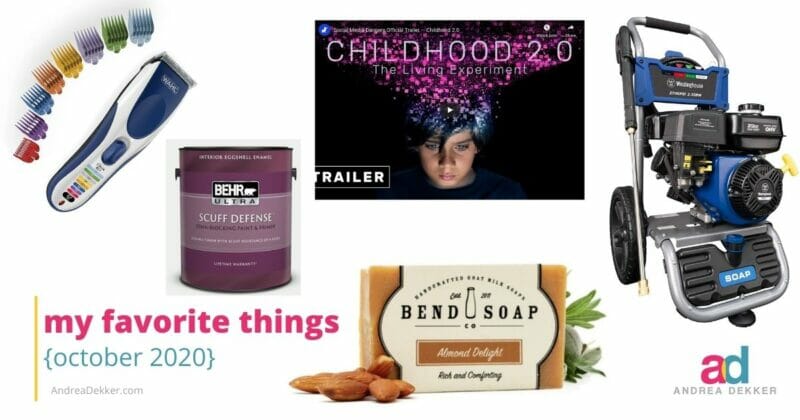 Over the past month, we've made some massive changes to our backyard.
The 2 most noticeable are a new pool and a large concrete patio (both happened on the exact same day — it was pure chaos!)
I'd love to share beautiful pictures of our peaceful backyard oasis… but the truth is, it's still really torn up and basically a complete mess right now.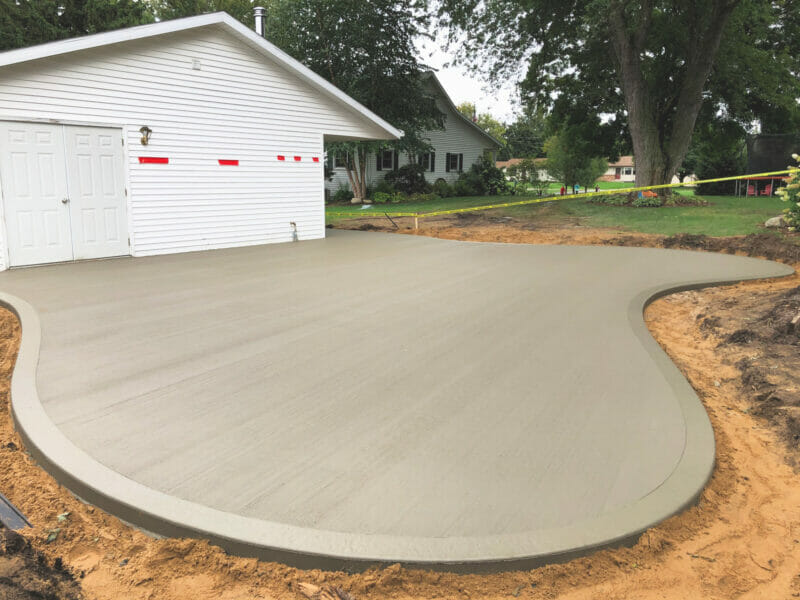 Landscaping is coming in another week. Then we can fix some sprinkler issues and reseed large portions of our yard that were torn up during this process.
We're still not sure when the deck around the pool will happen due to lumber shortages…
Our goal is to have everything finished by next May so we can open our pool for the summer. I'll share pretty pictures then!
In the meantime, I want to show you one of my most favorite things about this entire project… the kids' handprints in our new concrete!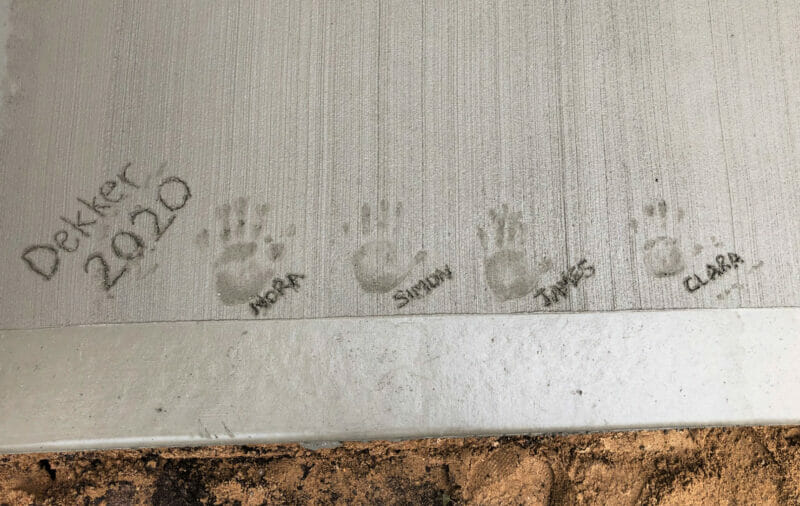 The concrete guys worked so much faster than I anticipated; I was worried the cement would be too firm by the time the kids got home from school (and it almost was).
They ran over from the bus stop and I had to use both my hands to press down on their little hands in order to make a visible impression… but we got it, and I LOVE it!
Have you done anything like this at your house?
Below I've shared a few more of my favorites for this month!
NOTE: This content is not sponsored.
Power Washer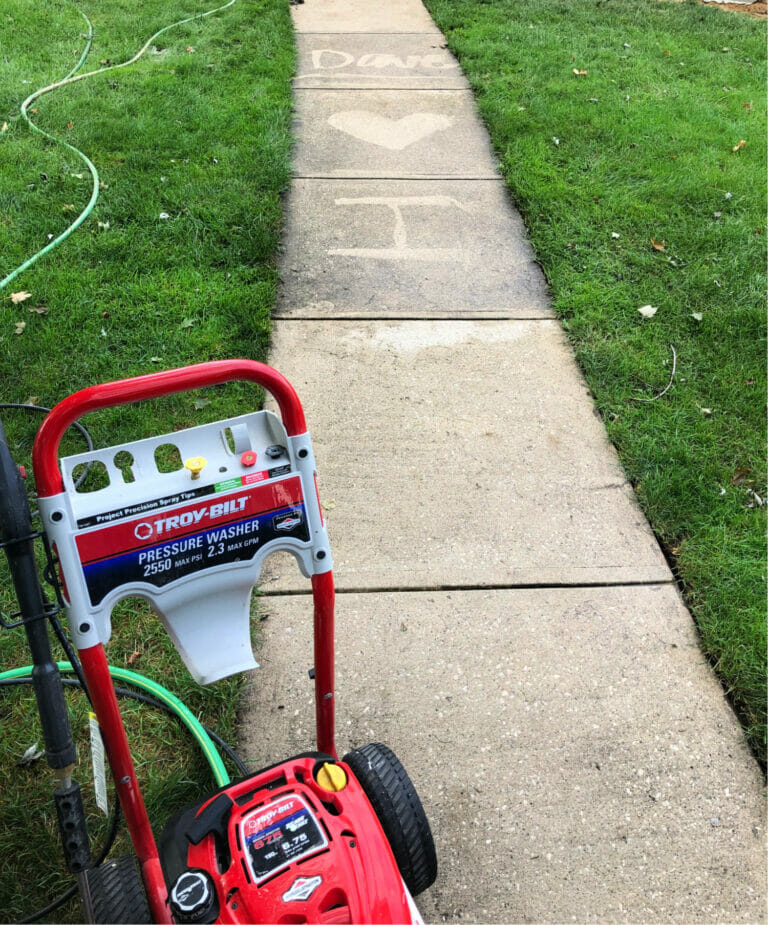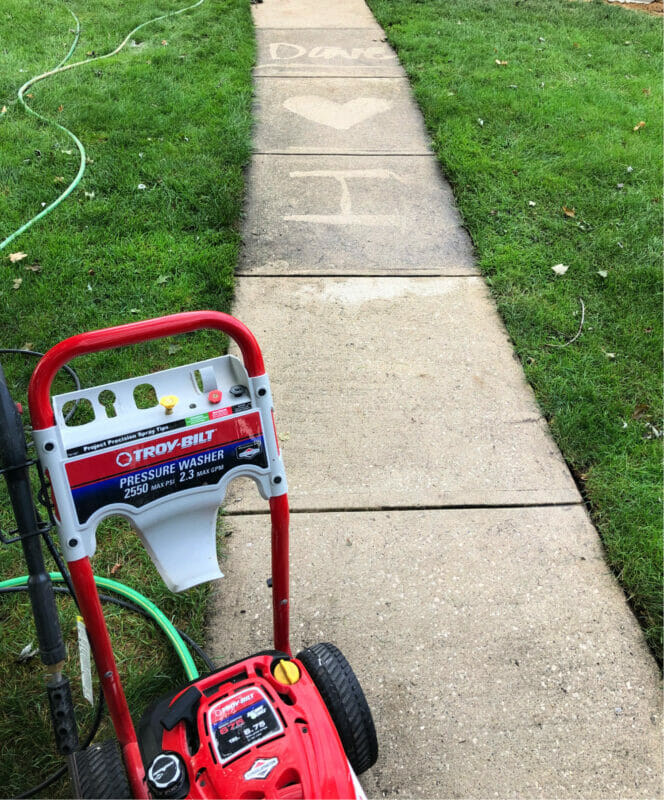 Every spring and every fall, we break out our trusty power washer and put it to work for a weekend or two.
We power wash everything from our house and deck to our concrete walkways and patio furniture. You name it, I've probably power washed it! Even outdoor fabric cushions and rugs.
It's amazing how "brand new" things look after a good spray with the power washer.
We purchased our power washer from my parents' neighbor (several years ago) so I can't find our exact one online right now, but this one is pretty close in terms of motor power and other features.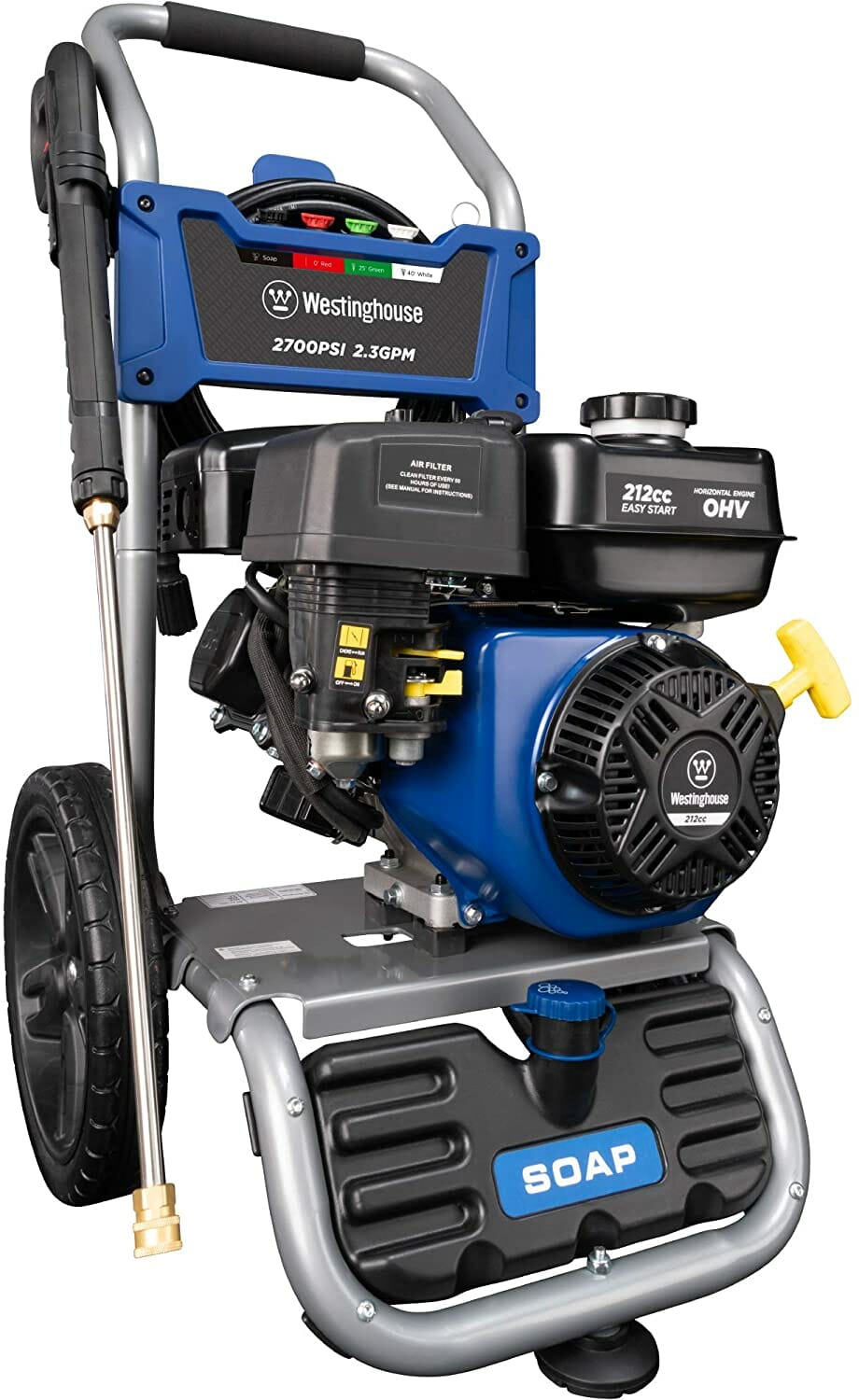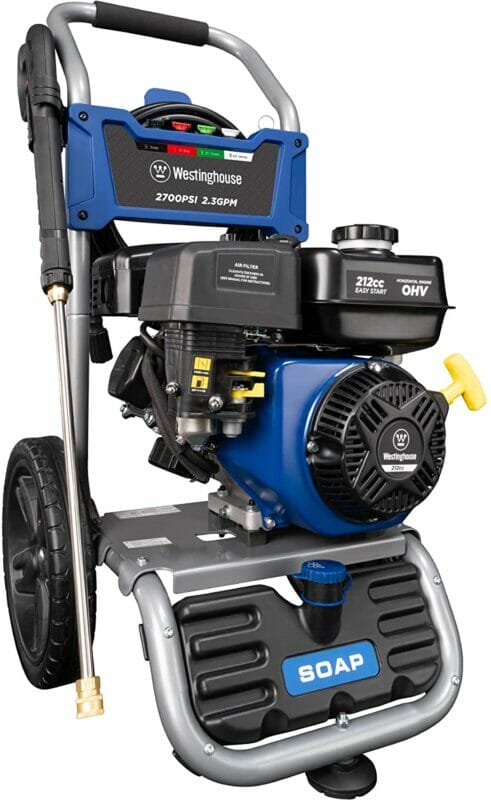 Personally, I'd recommend buying a gas-powered unit (versus electric). They are more expensive up-front, but also much more powerful AND you don't need to drag a cord around with you.
Also, we never use soap or any other type of cleaner — just water.
Aside from getting it started (which is always a little tricky for me), using the power washer is super easy — even our kids can "help out" when they want to!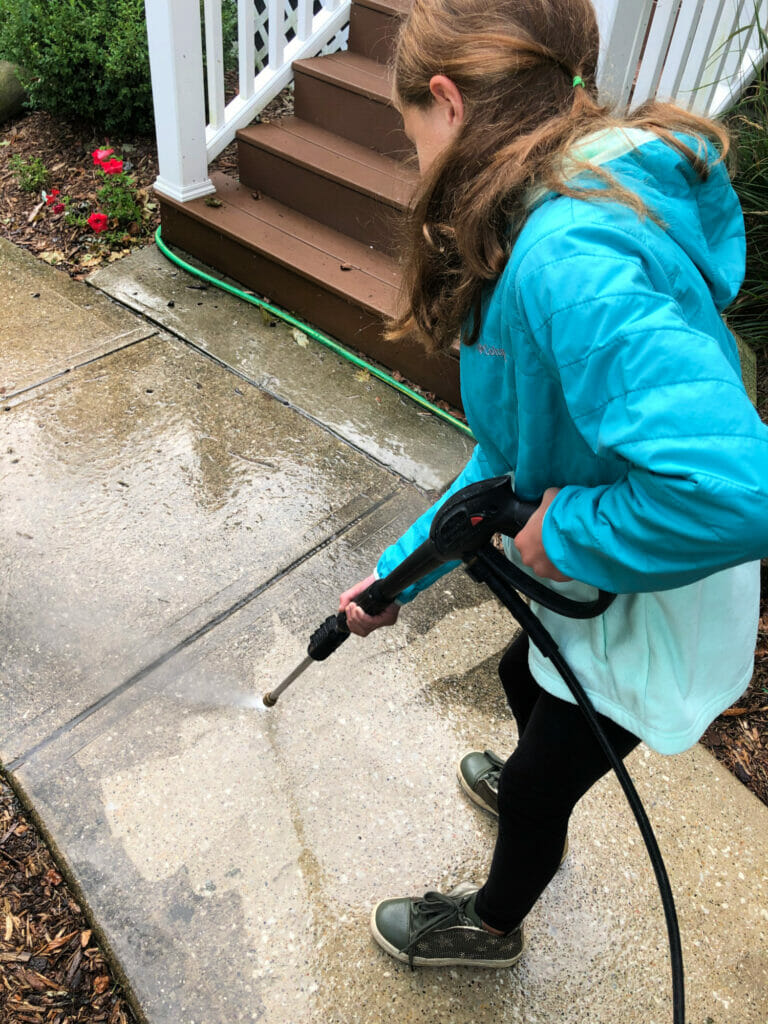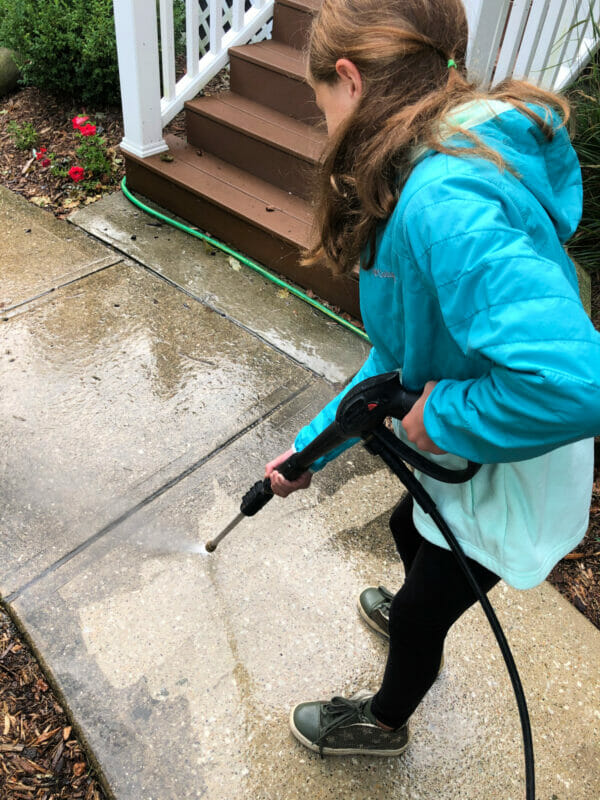 If you aren't ready to make a purchase yet, you might consider renting one from a local home store — try it out for a day and you'll be hooked!
---
Childhood 2.0 Documentary
A few years ago, Protect Young Eyes gave a presentation at our church regarding raising children in the era of smartphones, social media, the internet, etc.
At the time, our kids were all really young so I didn't actually attend the event, but I signed up for their email list.
Since then, I've read much of their content and acquired so much valuable information regarding raising children in this highly digital age.
Recently, they shared a new documentary, Childhood 2.0, specifically addressing the mental and phycological side effects of obsessively using social media (both for children AND adults).
Spoiler alert — it's NOT good!
I was initially interested in the documentary because I personally chose to scale back on my own social media usage in June. And after watching this documentary, I'm completely convinced I made the right decision.
Dave and I are the very first generation of parents who had smartphones and social media before having kids (we got our first smartphones within months of having our first baby).
We can vividly remember life without a constant online presence… in fact, we didn't even have home internet for the first 3 years of our marriage!
And now, we totally understand the "addictive pull" it can have on us.
If you have children, grandchildren, nieces, or nephews; or if you have any influence over or interaction with youth, I highly recommend visiting the Childhood 2.0 website and watching the Childhood 2.0 documentary on YouTube.
It's very well done and extremely eye-opening.
You can also sign up for their email list, download a free discussion guide, and join in with a community of like-minded parents for support. Head to their website for all that information.
---
Wahl Cordless Hair Trimmer
Believe it or not, I'm the only one in our family who has ever paid for a "professional" hair cut — all other haircuts are given by me (definitely not professional, but I get the job done).
I figure I save at least $450 each year by cutting my family's hair at home ($10 per month for the 3 guys and $20 every 6 months for the 2 girls + tips)
So far, they all seem happy with my abilities, and they much prefer a quick trim in the basement or backyard versus waiting at a salon and then making awkward small talk during the haircut.
I often get asked what trimmer I use for the boys' hair — and since I really do love it, I figured I should officially add it to my list of favorites!
We use the Wahl Cordless Trimmer — and I highly recommend it.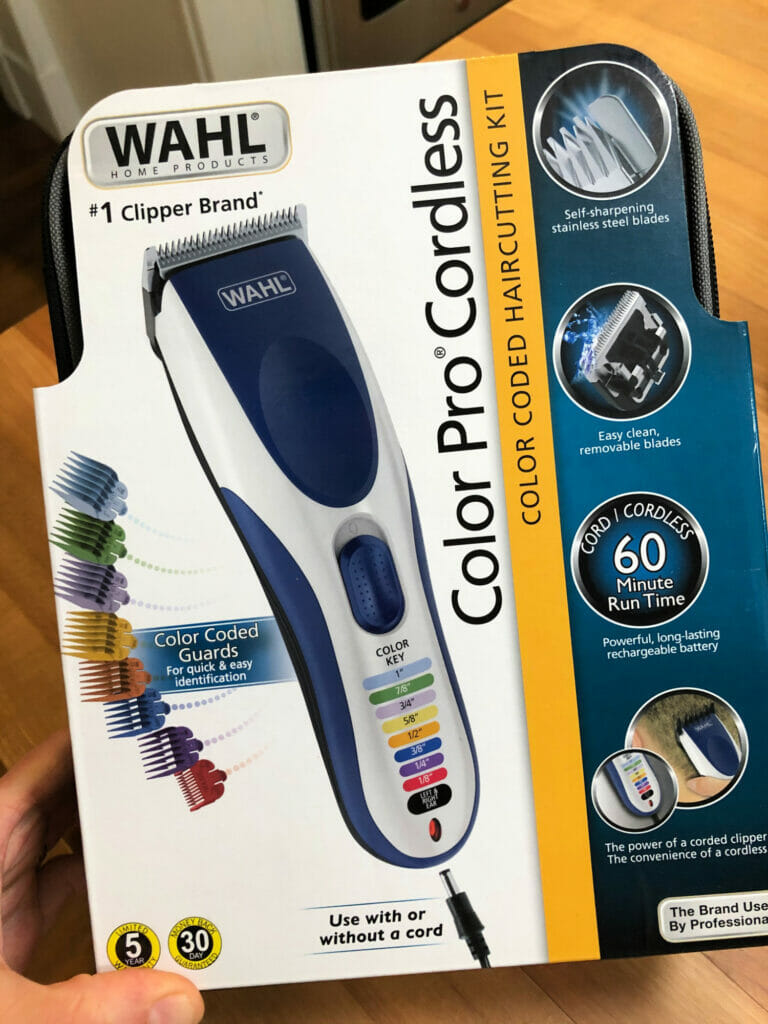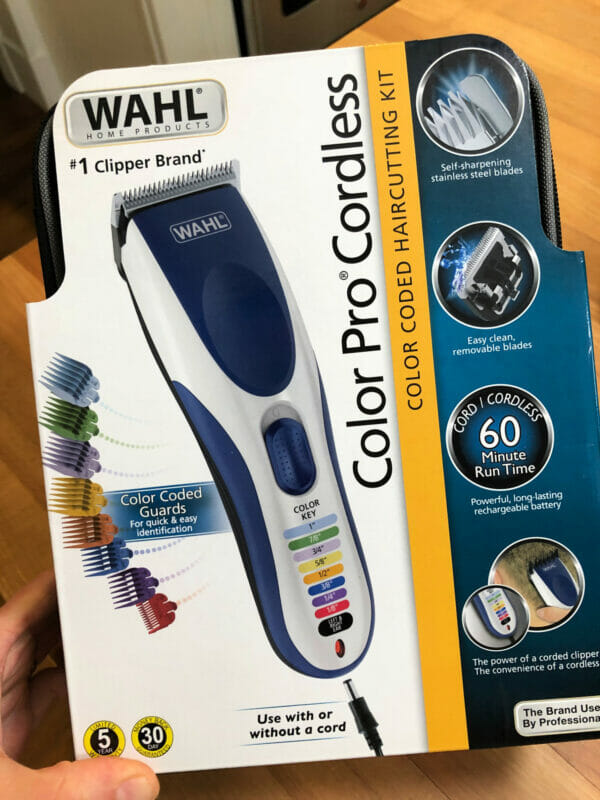 The different "guards" snap on and off in seconds, the battery life is excellent, and the blades seem to provide a nice even trim.
Plus, it comes in a handy storage bag, so it's easy to grab-and-go when it's time for haircuts.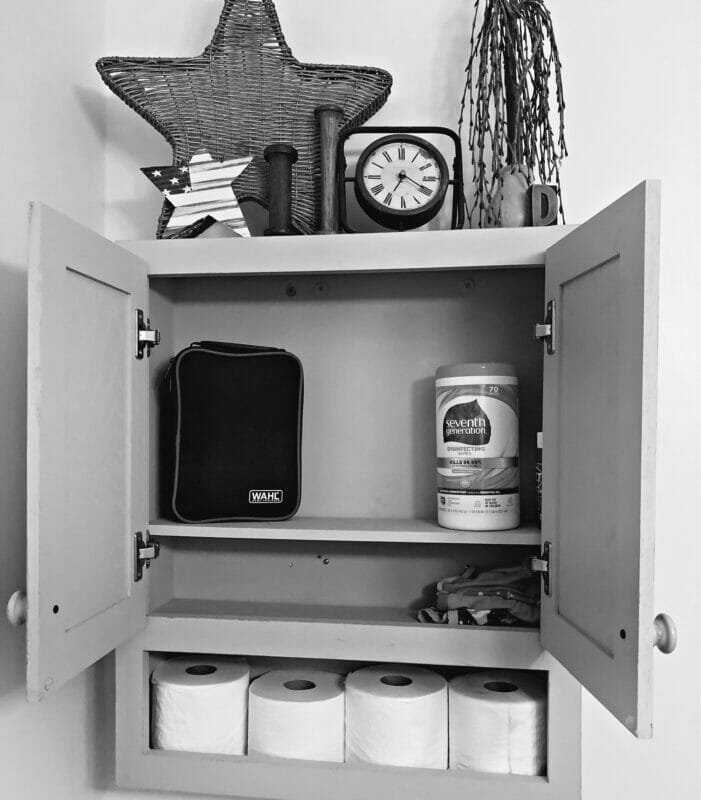 All that for less than $30 = pretty darn good!
Of course, I've never tried a professional trimmer, so I'm only comparing this to other basic trimmers we've had in the past.
That said, the Wahl trimmer does a great job for the price and it's perfect for any at-home hair trimming needs!
The only thing not included in this set is a cape — this is the cape we use.
Also, if you don't know how to cut hair, just look up YouTube videos for certain hairstyles. You'll most likely find exactly what you need!
---
Behr Frost White Paint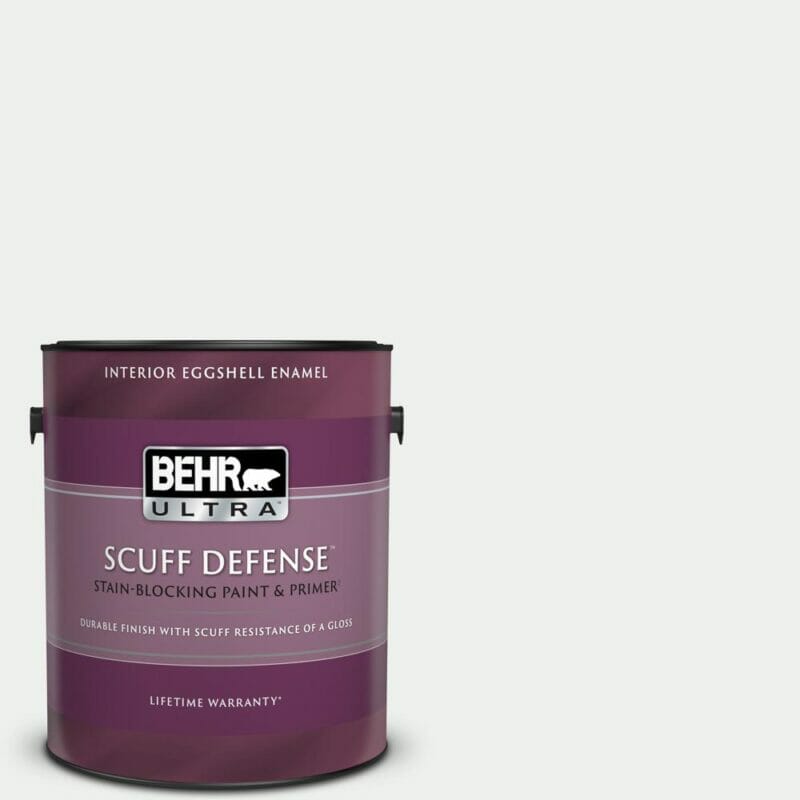 Several years ago, I shared my Favorite Farmhouse paint colors.
Since then, I've painted SO many more walls, ceilings, doors, windows, furniture, etc. In fact, I've painted many of the rooms in our home for the second time!
A few years back, I fell in love with the color "Frost" by Behr.
Yes, it's another shade of white. 😉
And while I'm not an interior designer, I personally feel that Frost goes with EVERYTHING. It's a cooler shade, but it pairs so well with my red, white, and blue decor… and it looks great in every season and with any lighting.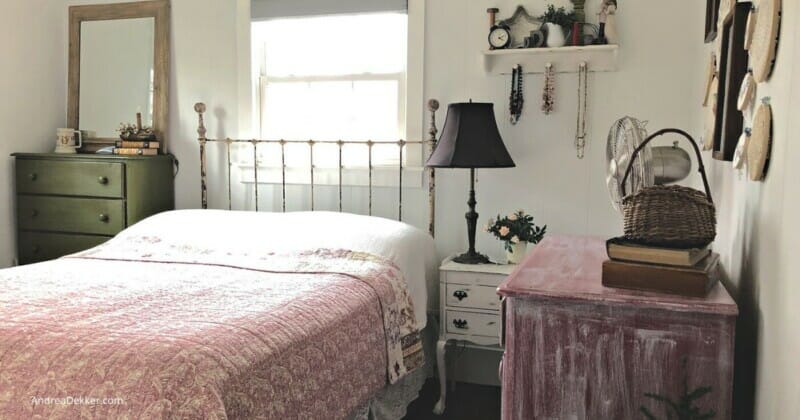 I've repainted our entire upstairs Frost, as well as the mudroom, our bedroom, the half bath, and our outbuilding.
I literally buy it in 5-gallon buckets now!
If you're looking for a really good white… try Frost from the Behr line at Home Depot!
Oh, and I use Behr Ultra Pure White for all our doors, windows, and other trim.
---
Bend Soap's New Fall Scent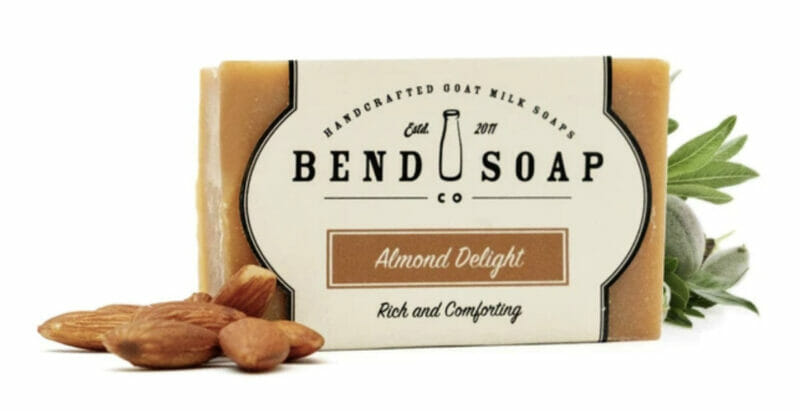 I got my most recent shipment of Bend Soap products a few weeks ago, including their new scent for fall — Almond Delight.
It smells heavenly!
As with all their products, this scent is made by infusing goat's milk with natural and organic almond scent. Just a few all-natural ingredients in each product — which I love!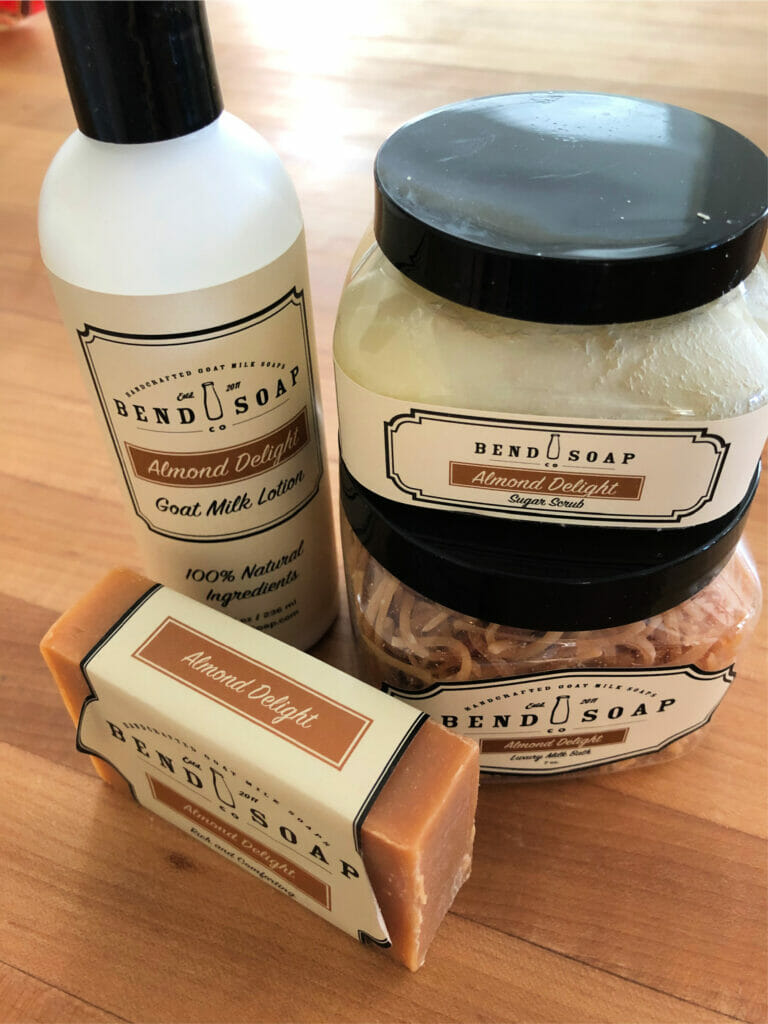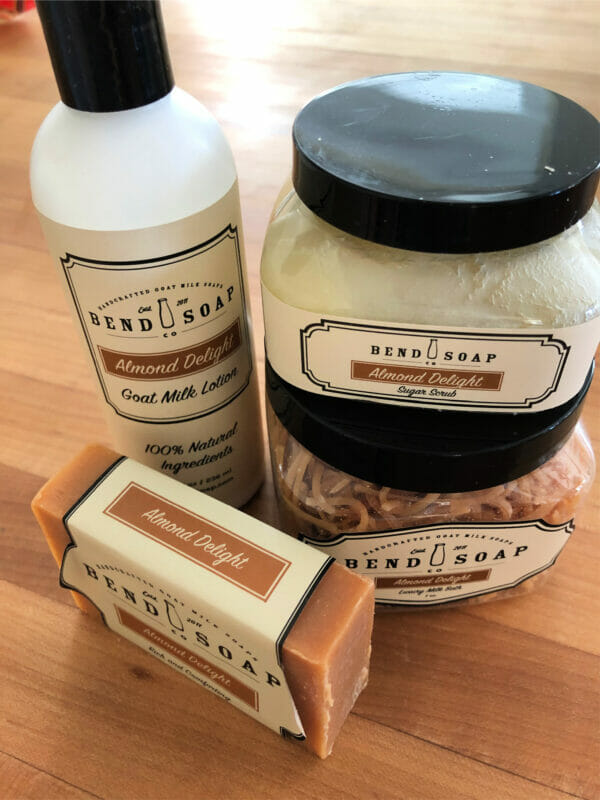 Our family has used Bend Soap products exclusively for just over a year now, and (speaking for myself) my skin has never felt so soft.
Of course, I love that we're supporting a made-in-the-USA, family-run business… but the real benefit is treating our skin (and hair and hands and feet) to these lovely all-natural products.
If you're planning ahead, the Bend Soap Bundles make wonderful clutter-free holiday gifts (perfect for the person on your list who doesn't need anything), and the unscented collection is great for babies or anyone with allergies or extremely sensitive skin.
Use code AD10 to save 10% on your order!
My favorite for anyone just starting out with Bend is the Starter Set — it's just a little sampling of everything!
And if you're looking for a new product to add to your collection this Fall, I'd suggest the Almond Delight sugar scrub… yum!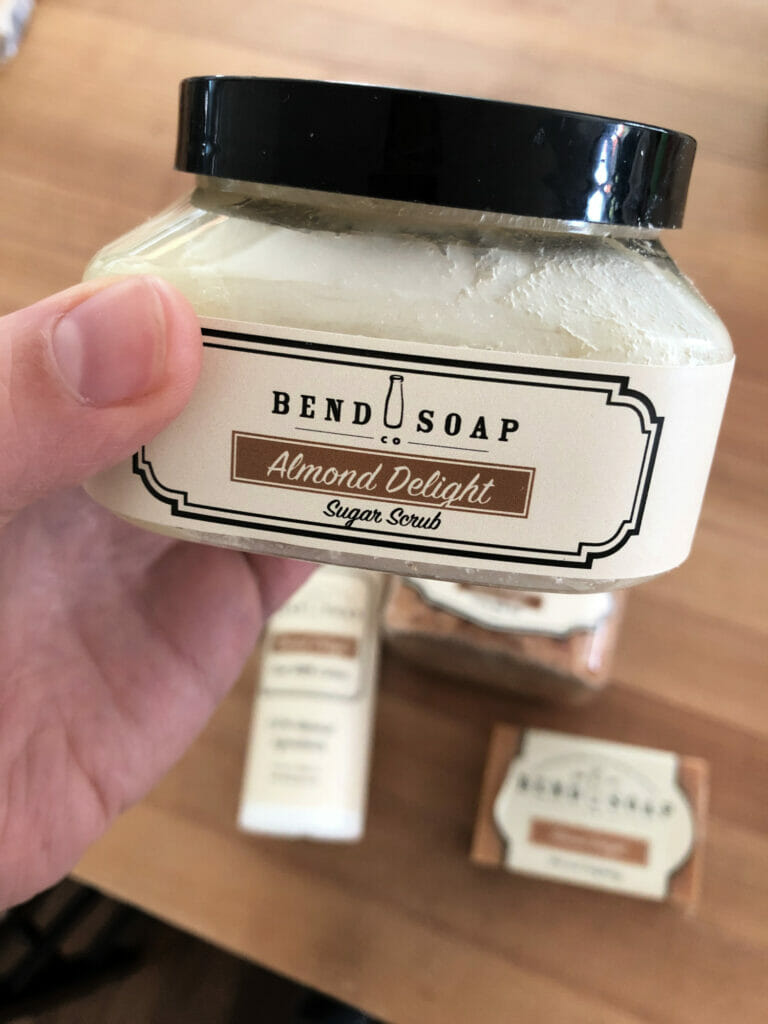 ---