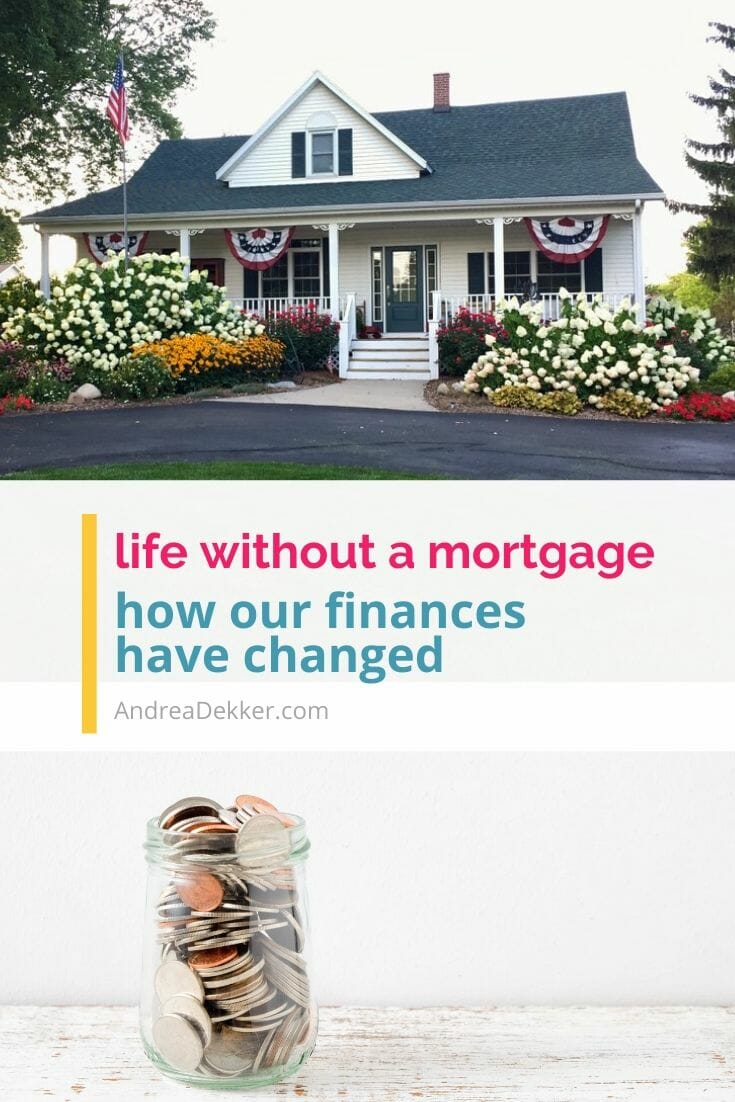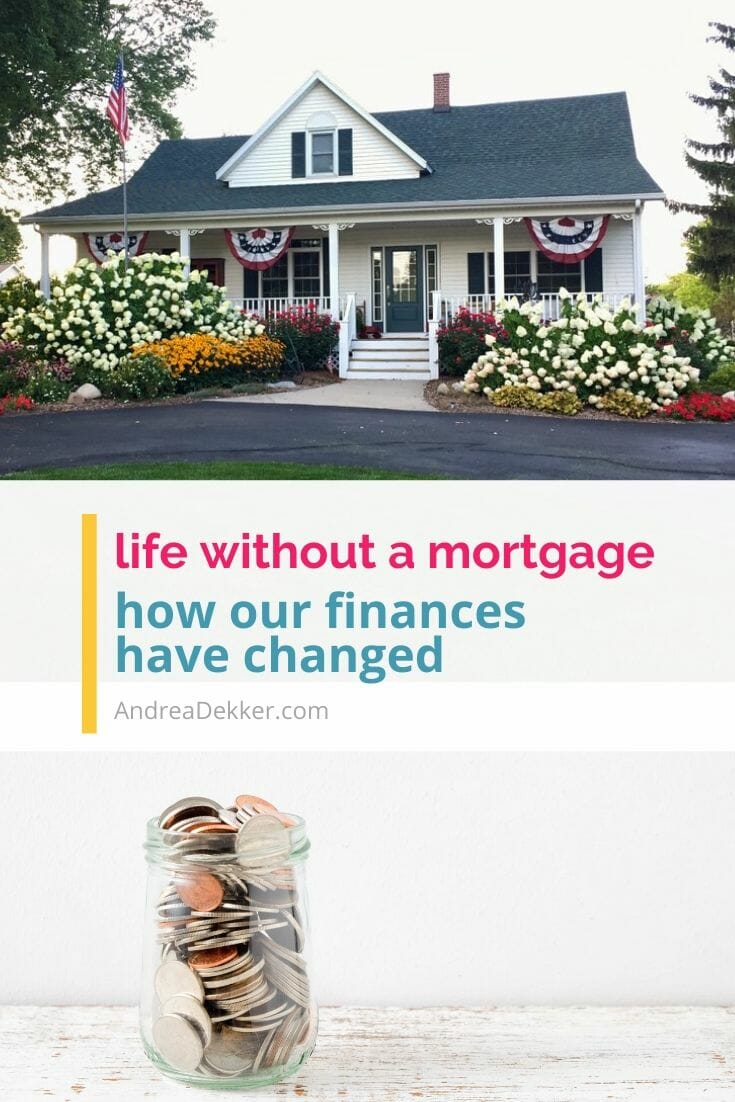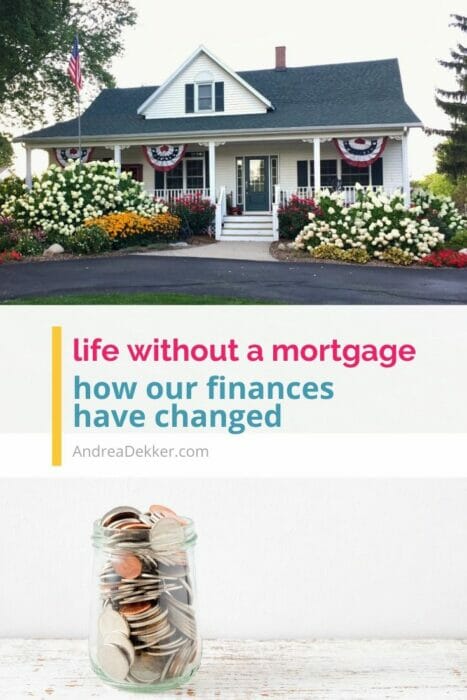 After a decade of living ULTRA-frugally in an effort to pay off our mortgage early while also paying out-of-pocket for our many home renovations, Dave and I realized we were both more-than content to continue living very frugally, even if it wasn't necessary.
In fact, we've basically kept the same lifestyle over the past few years, despite the fact that we no longer have the added expenses of our mortgage or lots of home renovations.
So what are we doing with the "extra" money?
This is a question I've been asked countless times over the past few years — and one I'm finally answering today!
1. Christian school tuition:
This expense is the main reason we wanted to pay our mortgage off BEFORE our children started school — once all 4 kids are in school, their monthly tuition will far exceed our previous monthly mortgage payment.
However, this is something Dave and I personally feel very strongly about, and also something we are required to do based on Dave's contract as a Christian school teacher (no, we do not get any discount because he's a teacher).
I realize this huge expense might be seen as a "waste" of money when we could attend public schools for free, but we feel that sending our children to a Christian school is just another way we are "investing" our money back into our own family and into our community.
2. Saving and investing:
We've always been fairly diligent with saving as much as we can and regularly investing each month. We also don't have all that many expenses right now (outside of school tuition), so we've decided to put most of the "extra" money into savings or towards a few smaller investments.
We will eventually need to upgrade both our vehicles as they are both 10+ years old with higher miles, and we're still talking and planning for an underground pool in the future. We will most certainly need to dip into our savings in the coming years, but for now, we are content to let our money "sit" in various savings and investment accounts.
3. Groceries:
We spend quite a bit more on groceries these days — and I'm totally OK with that!
I started shopping at Aldi again last year and was pleasantly surprised by how much money AND time I save! I also save more by limiting my shopping trips to every 2 weeks, but due to a larger family, older children, more entertaining, regularly bringing meals to others, and buying more quality foods, we simply have a need for more food — which costs money!
I don't obsess over getting the BEST deal on every food item we buy, and I have fun buying special treats for our kids too — for example, Nora thinks pizza Lunchables are pretty much the best surprise ever, and the boys love beef jerky sticks and the individual yogurts that come with cookie crumbs or M&M's on top. So every once in a while, I'll surprise the kids with these treats — even though they aren't on sale and even though they aren't overly nutritious.
I also regularly "gift Dave with groceries" — like a certain type of beer he likes, a fancy trail mix he enjoys, or Reeses' Peanut Butter cups.
Again, I feel like this extra expense is simply another way I'm able to invest back into our family and friends, so I'm happy to do it.
4. Generosity:
I hesitate to put this on the list because I definitely don't want you to picture Dave and I giving hundreds of thousands of dollars away… nope, not at all! However, we have increased our giving over the last few years as we simply have more available to give.
We don't go crazy, and we still say "no" to several requests for our money, but we've increased our giving to church and we diligently write a modest check every time our schools have any type of fundraiser or capital campaign.
We also enjoy giving more frequently on a REALLY small scale — like sending a small monthly donation to our local PBS station, gifting money to various organizations over the holidays, anonymously mailing gift cards to people we think might need them, surprising our teachers with special treats all throughout the year, or making a little kid's day when they come to the door selling candy bars and we buy 10 "just because". Seriously, you should see how excited the kid gets!
I doubt Dave and I will ever have the ability to give millions, but I do think we are able to do a lot with the resources we have, especially now that more of our resources are "freed up".
5. Less Work:
Believe it or not, we actually earn LESS now than we did 5 years ago, and that's intentional.
We have intentionally chosen for Dave to be home ALL summer versus getting any type of summer job (like most of our teacher friends), and he has stopped coaching while our kids are young.
I have also intentionally chosen to scale back the amount of work I do as I simply have so many other request and needs for my time in and around our home and family.
I have quit a couple of my Virtual Assistant jobs and I have scaled way back on the number of sponsored posts and giveaways I do, even though they were big money-makers for me. These tasks took up significant amounts of my time and energy — and although I enjoyed all the work I did (and I might enjoy it again in the future) I feel that for now, my time is better spent in other ways, even if that means a lower income for our family.
So often in today's culture, we are told to WORK MORE so we can EARN MORE so we can then SPEND MORE on bigger and better things. And while I fully understand the appeal of this cycle (believe me, I do!) Dave and I just can't "buy into it" at this point in our lives (pun intended!)
We would SO MUCH RATHER work less, earn less, and spend less if it means enjoying a simpler lifestyle with more time at home.
This fits OUR personality types perfectly — I know some might think we are crazy! That's OK 🙂
Dave and I both come from very frugal families who have always lived well below their means. We've happily lived off a fairly moderate income for our entire married life, and our circle of friends are mostly teachers with the same moderate income, so an extravagant lifestyle has never been anything we've even considered.
At this point in our lives, we are more-than-content to live quite frugally because it's all we really know (we don't know what we might be missing out on!)
We do not feel deprived, we don't have all that many financial needs (or wants), and we are satisfied with our current financial position — even if it might not look all that impressive on paper.
I realize our choices might seem odd to many of you! I don't expect anyone else to choose these same choices — and honestly, we probably wouldn't have chosen the same choices 5 or 10 years ago — but they work for OUR family for NOW, and that's what's important for us.