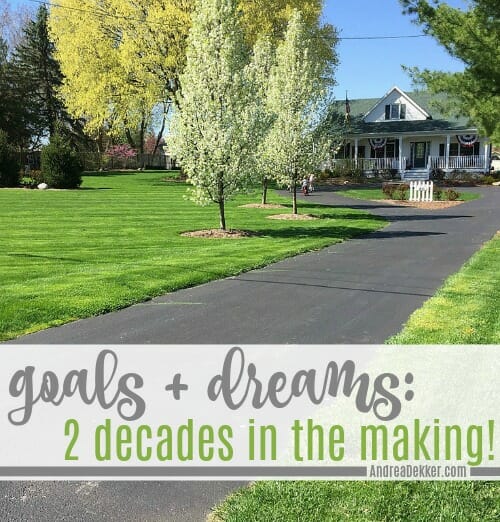 Over 2 decades ago, way back in middle school, a friend and I were obsessed with architectural magazines!
We'd go through the various magazines (my dad was a builder, so we had a big stash) and look through all the different blueprints, design idea, and cool home features — all the while talking about what our "dream house" would look like some day.
Little did I know I would someday find that home — no doubt in part because I continued to revisit these goals and dreams regularly over the next 20 years!
Let me share a bit more…
I can vividly remember one of the builder magazines that had actual images of the home's completed interior — decorated and staged just like it would be in a Better Homes & Garden cover story.
It was a winter edition (right around this time of year) and the family who supposedly lived in this newly-built farmhouse-style home had 2 girls and 2 boys.
The pictures showed the 4 children wearing matching PJ's and all enjoying a hot breakfast in the home's HUGE kitchen, which was dripping with expertly placed primitive decor.
I can still visualize it perfectly, even so many years later.
I remember thinking, "THAT is what I want for my life someday."
I wanted the old farmhouse, the primitive decorations, the small tribe of children, the big kitchen that continually pumped out delicious baked goods, the hot family breakfasts… everything (well, maybe not the matching PJ's!)
I saved that particular article for years — eventually putting it into My Ideas Book and referring back to it after we purchased our first home and I needed decorating inspiration.
Five years later, after we purchased our farmhouse (and right around the time Pinterest came on the scene) I purged my bulky Idea's Book along with that article.
However, I still think about it fairly regularly – now with the grateful and humbling realization that, 20+ years later, I have what I wanted way back in middle school.
My house isn't nearly as huge or as thoroughly decorated, and my kids don't have matching PJ's… but I have a wonderfully renovated farmhouse that has been a labor of love these past 8 years.
I enjoy the primitive decorations I do have… and will probably do more decorating once Clara is a bit older.
Our kitchen renovation was a huge success! I love spending hours and hours in that space each day, making hot breakfasts for my family each morning, and yummy treats for after-school snacks (and anyone else who happens to stop by.)
Best of all, we have 4 children who LOVE spending time at home with Dave and me, helping in the kitchen, doing crafts at the table, making forts upstairs, playing outside for hours at a time, or just snuggling up on our big corner couch and watching a favorite Netflix show.
.
Don't let me fool you into thinking our lives are always happy, our home is always clean, my kids are always obedient, and our life always goes exactly as planned — not a chance!
However, as I was recently reminded of that article from my middle school days, I couldn't help but see the many parallels to my current home, family, and life.
It's amazing what can happen when we keep our dreams and goals in the forefront!
Obviously, the simple fact that I had the dream and goal of living in a farmhouse with a nice kitchen and a big family to cook for 20+ years ago didn't necessarily mean I would get them someday in the future.
But I DO think that having my dreams, goals, and vision for my life in the forefront — constantly revisiting and remembering them (and sharing them with others) — has been a crucial part of eventually seeing so many of my dreams and goals come to fruition.
In some ways, my life today is much different than I thought it would be; but in so many other ways, it's eerily similar to my middle school goals and dreams.
I know Dave and I are very fortunate, and we're very grateful for everything we have… but I also know we've worked really, really hard to create a home and a life we love living.
Dave and I have spent hours upon hours working on house projects, with tons of help from my dad and other family members, in order to transform our farmhouse into exactly what we want for our family.
We've scrimped and saved in some areas to allow more money for other things that are more important to us.
We've said "no" over and over and over again when things, activities, events, and people don't align with our goals.
We've given up a lot in order to make time, energy, space, etc. for things and people that are important to us.
We've gone through very challenging periods when we've wanted to give up… but we kept pushing forward.
As is the case with almost all goals and dreams, it's easy to look back and say "it was all worth it" — glazing over the difficult times like they were no big deal.
It's a lot more challenging when you're right smack in the middle of a hard or challenging time and you just want to give up.
If you're at that point, I completely understand. I get it… and I know how crappy it is!
I've wanted to give up so many times in my life — in my business, with various house and yard projects, in my parenting efforts, and so much more. Thankfully, I just kept pushing forward, little by little, until I was able to look back and realize that all my (our) efforts WERE, in fact, worth it!
If you are working towards big goals — financial, personal, spiritual, professional, etc. — I hope this post will encourage you to not only keep pushing forward, but also to put your goals and dreams somewhere that you'll see them and think about them very regularly.

Oh, and make sure you tell others about your goals and dreams too — it's amazing how much more motivation I have when I know other people are rooting for me as well.
Hopefully, it doesn't take you 20 years to realize your goals and dreams, but even if it does, just keep moving forward!
What goals and dreams are you working towards right now?
Better yet, what goals and dreams have you seen come to fruition?