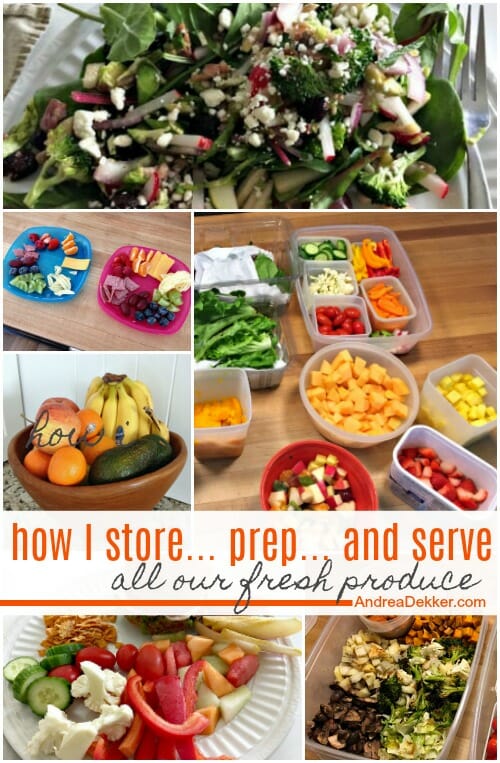 Yesterday, I shared all about how I've managed to stretch our grocery shopping to every 2-3 weeks — which (in my opinion) is a huge accomplishment considering our family of 6 eats a HUMONGOUS amount of fresh fruits, veggies, greens, dairy, eggs, etc.
It has taken me many months to get my system down to a "science" but I am to the point now where I waste almost nothing due to planning ahead and making sure to properly store, regularly prep, and diligently serve fresh produce for every meal.
Here's a more detailed look into how I do this each week.
How I Store our Fresh Produce:
I shared a bit about this in yesterday's post… but we are fortunate to not-only have an extra deep freezer in our basement, but also a full-size extra refrigerator that is PERFECT for storing our massive surplus of fresh produce, dairy, and eggs.
Both refrigerators are quite full when I get home from the store… see below for how I store the food inside our refrigerators.
MAIN KITCHEN FRIDGE:
Above is a look at the entire main part of our kitchen refrigerator. Below, I've highlighted how and where we store our various foods.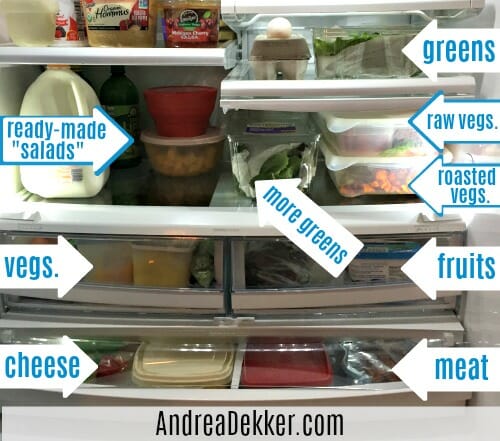 I'll explain more about this below, but I use various food storage containers to store pre-washed, pre-sliced fruits and veggies so they are always ready for quick snacks, packing lunches, various side dishes, etc.
I also do this for pre-sliced meat and cheese, which is so helpful since our kids eat tons of meat and cheese!
My containers aren't fancy, cute, or matching, but they "fit" our refrigerator very well — which means I can store more food in less space!
My favorite food storage containers are the large Rubbermaid "TakeAlongs" I use for my raw and roasted veggies. They stack perfectly in our fridge (see pictures above), they are light-weight, they are easy to clean, and they house a huge amount of raw and roasted veggies!
Almost any time you look in our fridge, you will find these 2 containers filled with ready-to eat veggies!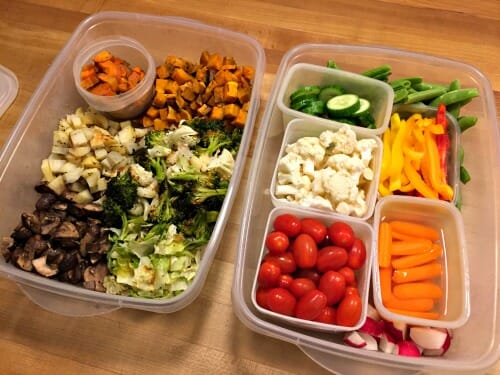 .
EXTRA FRIDGE:
This is where all the "extras" go — which is a lot as I don't like to over-crowd the kitchen refrigerator!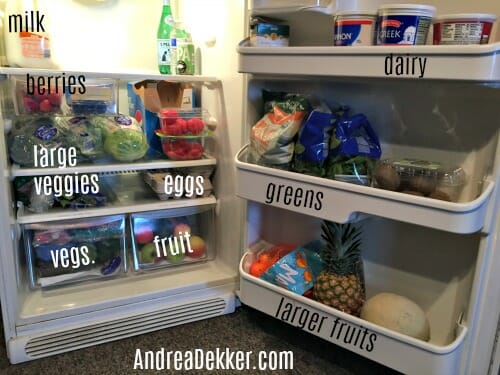 I often remove food from bulk packaging so it takes up less space. I also save extra 1-dozen egg cartons and divide up the huge Costco packs into 1-dozen containers for ease of storage and use.
We pull items from the extra fridge on an as-needed basis in order to re-stock our kitchen fridge… and I do a mini "grocery shop" of our extra fridge roughly every 2 days so I don't forget what's inside!!
.
MISCELLANEOUS STORAGE:
As I mentioned in yesterday's post, we have cold storage in our basement — great for potatoes, sweet potatoes, onions, squash, etc. I keep large cardboard diaper boxes with a different veggie in each one. That seems to be working well for us for now (especially when our garden pumps out an insane number of squash). I love that this doesn't require additional fridge space!
And we always have a big bowl of read-to-eat (or ripening) fruits and veggies on the counter.
.
How I Prep Our Fresh Produce:
This is probably the most time-consuming part of using fresh produce, but it's something I'm willing and able to spend time on at this point in my life.
That said, there have definitely been long periods of my life when I wasn't willing to spend time in this way — if you are in that season, I say "bring on the canned corn and frozen broccoli!"
Almost every morning, I do SOME type of fruit/vegetable/greens prep-work — it's something different every day. I do most of this while the kids are finishing up breakfast, or during my early morning child-free hours!
.
How I Serve Our Fresh Produce:
Obviously, my main goal of buying, storing, and prepping huge amounts of fresh produce is so my family will eventually EAT IT! This means I make a point to serve a variety of fresh produce options at EVERY SINGLE MEAL to assure we all get variety and everyone likes at least a few options.
I certainly can't list every way I serve produce… but here's a general idea of how we eat all these yummy fruits and veggies each week!
BREAKFAST:
We eat fruit every day for breakfast… we also eat veggies for breakfast daily as well! Here's a post I recently wrote with more details on how exactly we eat veggies for breakfast.
SNACKS:
I usually let my kids have any raw fruits and veggies they want ANY time of the day — the only exception would be immediately before a meal.
I figure if they are hungry enough to eat raw fruits and veggies, I'm willing to feed them — so we eat LOTS of raw fruits and veggies during snack time. I kept track the other day, and we went through 10 clementines, 8 bananas, 5 apples, a big bowl of grapes, 2 cucumbers, 2 peppers, a bunch of pea pods, a bowl of cherry tomatoes, and a handful of baby carrots — JUST for snacks in ONE day!
Of course, the kids also have sweet treats, candy, cookies, brownies, etc. for snacks, but I do try to push fresh produce as much as possible. These are some of our favorites:
LUNCH:
Lunch is by-far the easiest time of day for me to incorporate lots of fresh produce… I literally just plop the big tub of raw veggies on the table and let the kids eat whatever they want. I also set out whatever containers of fruit I have already washed and cut-up — it's SO fast and easy.
We pair this fresh produce with sandwiches, meat and cheese, grilled cheese, or leftovers, depending on everyone's preferences.
Dave takes a banana and a large bag of raw veggies in his lunch every day. Nora takes a clementine orange, grapes, pickles, and carrots in her lunch every day.
I eat some type of "big salad" almost every day for lunch — usually loaded with raw veggies, fruits, nuts, seeds, etc. and often with some leftovers from dinner the night before.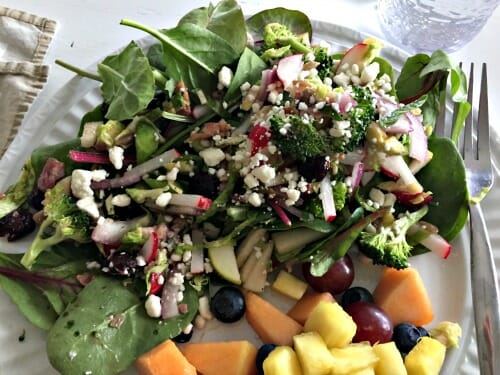 DINNER:
I've been known to get a little carried away with side dishes for dinner — but it's fairly easy to do since we have SO many prepared foods in our fridge, ready and waiting to be eaten!
I do usually plan our dinner side dishes ahead of time — mainly so we don't resort to eating the same things over and over, and so we make sure to use up the produce we have before it goes bad.
Here's a post I wrote regarding exactly how I plan our side dishes.
I also try to incorporate vegetables into the main part of our meal as well…
There are so many different ways to incorporate more fruits and veggies into family dinners, the trick is to plan your menu (and side dishes) around the produce you should use up first, so it doesn't go to waste.
As with anything "new", it can feel overwhelming at first, but it gets SO much easier with a bit of practice. I've been working massive amounts of produce into our meals for a couple years now, and I find myself doing it without even thinking twice now.
Whew… I made it!
I think that's about as much detail as I can give regarding our fresh produce consumption without bringing you all into my kitchen to see everything for yourself (wouldn't that be fun though!)
Feel free to ask any questions you have in the comments and I'll do my best to answer and/or clarify.
And if you haven't read my previous post about grocery shopping every 2-3 weeks, you can do so right here (that might help clarify some of the things I talk about in today's post).
Also, I'd love to know if you have any great tips for storing, prepping, or serving fresh produce!