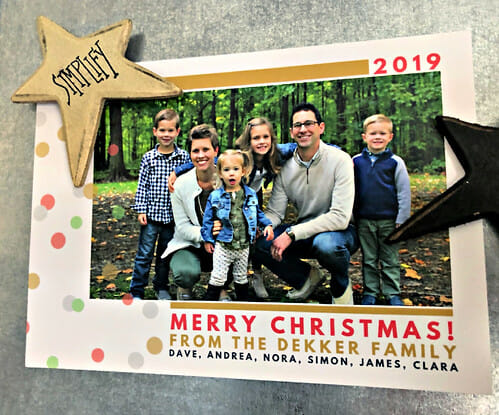 Happy New Year… and New Decade!
I can hardly believe it's actually 2020!
Who else can remember exactly what they were doing when the ball dropped on 2000?
2000 = A freshman in high school at a friend's New Year's Eve party. My mom (and most other moms) picked the kids up promptly at 12:15am.
2020 = Mother of 4, spending the night at my sister's new house with crazy kiddos running around everywhere — all of us were in bed before midnight! 🙂
My, how times change!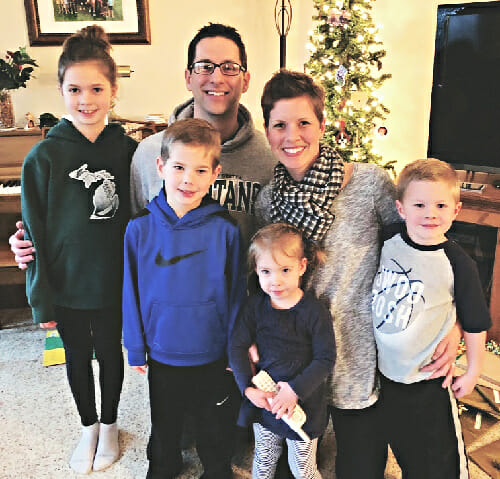 I'm thrilled to be back to blogging after my 2-week hiatus, and I have a bunch of really fun, exciting posts to share with you over the next week (HINT: an epic "Top 20 Favorite Things", some new changes on the blog, and a brand new "20-Day Clutter-Busting Challenge"!)
However, before I jump into all the fun and excitement that comes with running an organizing blog in January, I want to take a moment to officially share our family's 2019 Christmas card.
Believe it or not, I almost didn't send a card this year — I know, you're shocked!
It just felt like one more to-do on my very long, seemingly never-ending December to-do list.
The fact that my holiday card-loving-self was seriously considering NOT sending a holiday card was one huge indication that I really needed to step back for a couple of weeks and rest.
My time away from the blog and (mostly) away from my computer was much-needed.
I was tired and needed a change of pace.
Thanks to the fact that Dave didn't have many school projects to work on over break, we were able to plow through a few episodes of "The Crown" on Netflix, and I'm super excited to get started on Season 3 of "Anne with an E" (any other Green Gables fans out there!?!?!) I also read a couple of quick ebooks — very light reading, nothing too heavy at all.
We tackled a few house and yard projects (thanks to several days of sunny, 55º weather), went for walks and bike rides, had a few epic soccer games with friends and neighbors, and played more games of Uno than I can count!
I didn't do much baking (besides my whole grain bread, cinnamon rolls, and my great aunt's famous Spiced Molasses Cookies) but I did quite a bit of cooking… and certainly ate my fair share as well!
It was a good break for me and for my family — a time for me to "catch my breath" and regroup before the start of a NEW DECADE!
.
A Note About Our Christmas Card Design:
I designed our card myself using Canva (it's FREE!) and printed them as postcards through VistaPrint (here's more on that process).

I also ordered these self-sealing envelopes on Amazon… TOTAL game-changer for me! The kids all wanted to help stuff and seal the envelopes — I practically worked myself out of a job!
These are my acrostics for each child's name on the back of our Christmas card:
CLARA…

Chatterbox
Loves life
Affectionate
Really stubborn
Adorable

SIMON…

Sweet tooth
Independent
Michigan fan
Optimistic
Nicest kid ever

NORA…

Nurturing
Opinionated
Reading fanatic
Artistic & crafty

JAMES…

Joyful
Agreeable
Musical
Energetic
State fan (MSU)
I sincerely hope your holiday season was enjoyable (or at least bearable) and that you had a bit of time to reflect on 2019, and consider what goals you want to pursue in 2020 and beyond — remember, they don't have to be big, huge goals!
I have SO many thoughts, ideas, tips, recipes, and new content to share with you this year… all in good time!
Happy New Year, my friend!
I'll see you back here tomorrow with my biggest, most fantastic Favorite Things post yet!