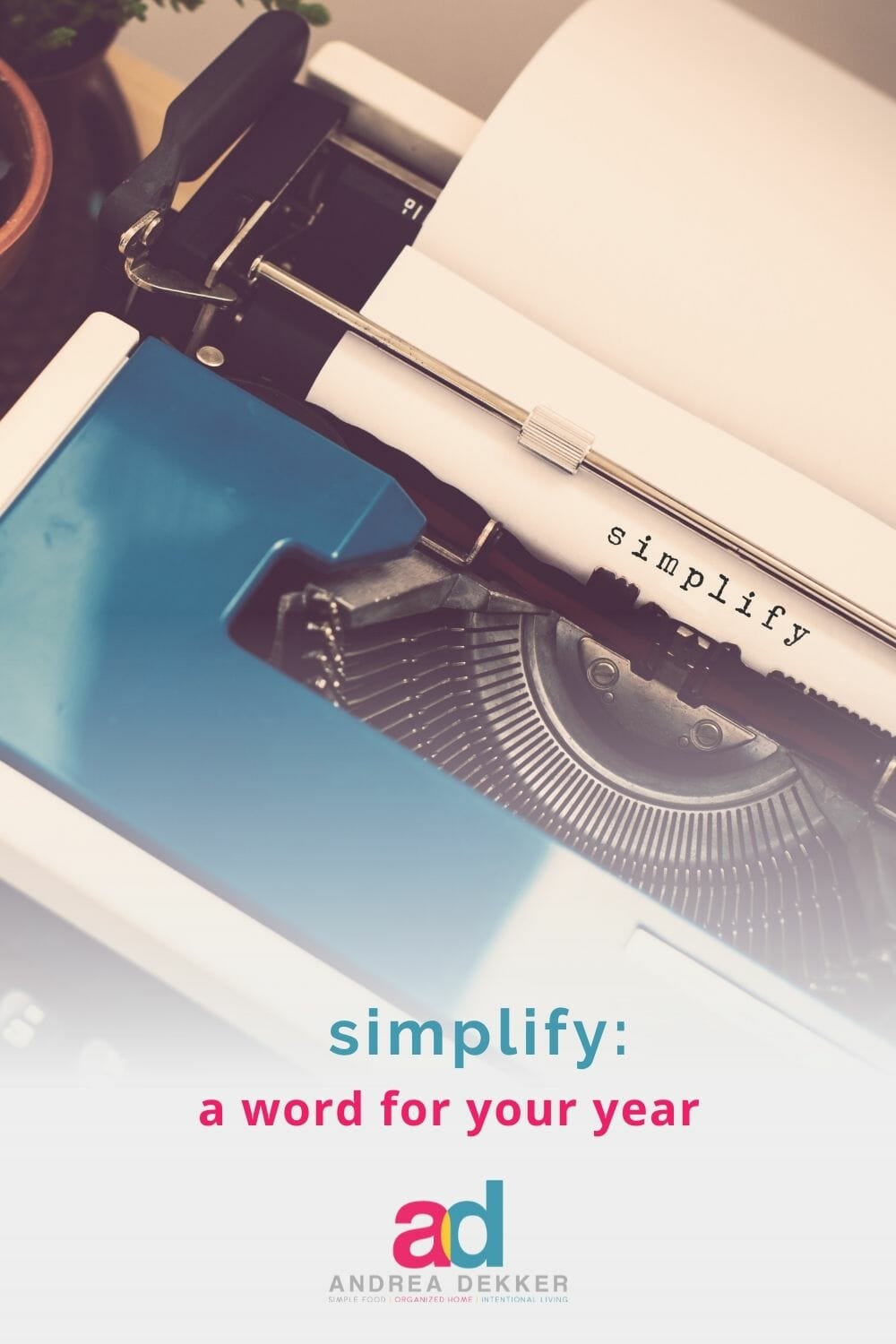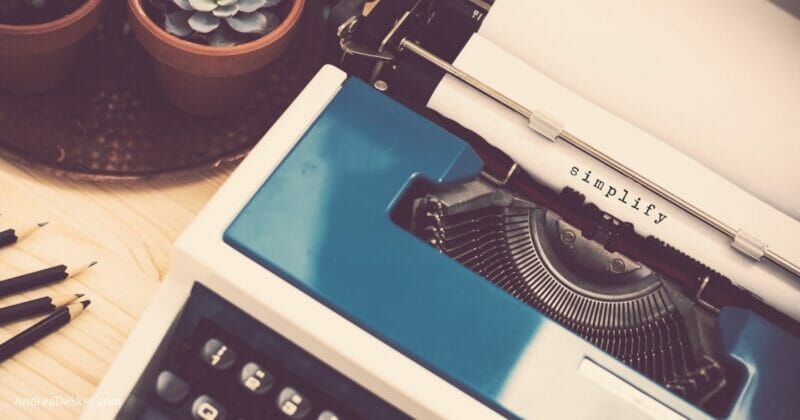 Over the last decade, it's become a trend in the online world to choose a "word for your year"… I think Ann Voskamp started it back in the day.
I've never personally participated in this trend, but as I thought about the word "simplify" over the last month, I realized it's always my "word for the year"… and it might just be the perfect word for many of you this year too (or even just for the next month!)
Of course, the concept of "simple living" is not new for me… in fact, "simplify" is the word that motivated me to start my in-home organizing business back in 2007, the word that eventually lead me to venture into the online world in 2010, and the word that has shaped every piece of content I've shared here in my little corner of the internet.
More than all of that though, it's the personal mindset I have for everything I do each day. I know that if I figure out how to simplify something, I'm more likely to follow through and actually do it… and less likely to feel stressed, anxious, exhausted, or resentful about doing it.
If you like the idea of simplifying your home, your schedule, your meals, and your life… but you just aren't sure where or how to start, I've created an acronym that will help!
s.i.m.p.l.i.f.y.
s

tart somewhere

i

dentify your priorities

m

inimize

p

lan +

p

repare

l

ower your expectations

i

mplement routines

f

ocus on maintenance

y

ou can do this!
While there isn't a one-size-fits-all approach to simplifying, organizing, or better time management, the ideas and concepts I share below should serve as a general guideline as you embark on this exciting life-changing journey.
I've also included many links to additional resources that will help you dig deeper in certain areas — so feel free to bookmark this post and come whenever you need a little extra encouragement or motivation to keep pluggin' away.
Ok… let's simplify!
s = start somewhere
This is often the hardest part (truthfully) but in order to make any progress you must eventually start… so let's get started today!
Start small so you don't get overwhelmed… but start somewhere so you actually make progress.
Think through a few of the spaces in your home that bother you the most (ones you use regularly like the pantry, the bathroom drawers, your purse, etc.) and start there. Or choose one of your most hectic days and brainstorm a few ways to lighten your load on that day.
Once you start, your momentum will build, and you'll see progress — which will motivate you to keep going.
i = identify your priorities
What are your priorities for your home, your family, your life?
It's impossible to make intentional decisions that align with your goals, values, and priorities if you don't even know what your goals, values, and priorities are… and if you aren't making intentional decisions, your home and life will feel chaotic.
So, if you've never thought about this before, or if you've never actually put your priorities on paper, that's what I want you to do first.
Sit down with a pad of paper and pen and write your answers to these questions:
What 5 things are most important to you right now?
What are you most excited about right now?
How are you currently spending most of your time?
How do you want to spend most of your time?
Who do you want to spend your time with?
Where do you spend/give the majority of your money?
Where would you like to spend/give your money?
The answers to these questions will generally point you in the direction of your current priorities.
Once you identify your priorities, it will be SO much simpler to create goals (big and small) that align with your priorities. It will also be significantly easier to say "no" when requests for your time, money, talents, etc. don't align with your current priorities.
m = minimize
I'm not a minimalist by definition, but I'm a huge advocate for minimizing whenever possible, simply because caring for less stuff requires less time, money, and effort.
For example:
Less toys means it's less overwhelming for the kids to pick up every day (and all the toys actually get played with).
A neat pantry and fridge make it easier (and more enjoyable) to quickly make dinner.
Fewer clothing options means less decision fatigue when it's time to get ready each morning (and a lot less money spent on clothing).
A smaller to-do list feels more manageable than a mile-long list of things we know we'll never get to.
Reducing the number of things, to-do's, and commitments in your daily life will help you simplify.
The trick is to incorporate time for "minimizing" into your regular daily and weekly routines so that decluttering becomes second nature.
Here are a few tips to help you do that:
Keep a donation bin or bag in each closet and regularly fill it with anything you no longer need, want, use, or love. Donate when the bags are full.
Purge clothing, accessories, toys, books, games, kitchen items, lawn tools, etc. as you realize you don't need/want them.
Remove to-do's from your list if you aren't passionate about them.
Say "no" to things, people, and activities that don't align with your priorities and goals from above.
p = plan + prepare
One of the Bible passages that has caused me the most angst over the years is from Matthew 6:25-34, where Jesus commands us not to worry about what we will eat or drink or wear.
In verse 34, He specifically says:
"Therefore do no worry about tomorrow, for tomorrow will worry about itself. Each day has enough trouble of its own."
In the past, I interpreted this to mean "don't spend so much time planning ahead because our plans might not be God's plans."
However, I now believe that God wants us to plan and prepare for the future… just not to "WORRY" about the future. Planning helps alleviate stress while worrying creates more stress.
The fact of the matter is, our home and lives would be extremely stressful and chaotic if we didn't spend some time planning and preparing each day.
If you don't know where to start… here are a few ideas:
plan 5 simple meals for the week (make sure you have the ingredients)
pack lunches the night before
encourage everyone to pick out their clothing the night before
talk over your weekly schedule with the whole family (over dinner!)
wake up 20 minutes earlier to give yourself a buffer
I've never regretted the time I've spent planning and preparing as it saves me so much time, energy, and stress in the long run.
l = lower expectations
Simplifying your own home and life will never be as quick, fun, or glamorous as the TV shows, magazines, and Instagram stories make out to be. Sorry!
Living a simple life requires daily work, sometimes a lot of work (ironic… I know!)
If you have children (or a non-supportive spouse) it will be even more challenging.
I don't say these things to make you lose hope — but rather because I know how important our expectations are in our efforts to accomplish anything.
If you expect magical overnight transformations, you will be disappointed and less likely to stick with it. However, if you expect to put in many weeks of hard work, you will be more motivated to continue working towards your goals, even if things don't happen as quickly as you hope.
Your kids will not magically remember to put their toys away tomorrow.
Your spouse will still leave dirty laundry on the floor.
Plans will fall through, despite your best efforts.
It will always be easier to put something off until "later".
Your schedule will feel too full again.
This is real life… and real life is not perfect or predictable.
You're not doing anything wrong, it's just that sustainable change takes time… don't give up due to unrealistic expectations for yourself and your family.
i = implement routines
I mentioned earlier that simple living can sometimes feel like a lot of work (especially in the beginning). However, once you find your groove and establish a few routines, those previously daunting tasks start to feel much more doable… you might even say "simple". ☺️
Routines are pure gold for me and for our family — 100% necessary for my sanity!
Routines are the reason our home can be picked up in 15-20 minutes, why I can thoroughly clean our entire home in a couple of hours, why we never get behind on laundry, why our children don't fight bedtime, why mealtimes aren't a battle, why we have time for the things we actually want to do.
Routines make our home life more enjoyable, our work-life more rewarding, our finances more hands-off, and our parenting efforts more fun.
If you could use a few helpful routines in your home and life, feel free to browse through the list of resources below… I have lots of examples of different routines that have worked well for our family.
f = focus on maintenance
I'd be lying if I led you to believe that your home and life will be smooth sailing forever and ever once you identify your priorities, minimize your stuff, and implement routines to help you plan ahead and get organized.
Unfortunately, that's just not how life works!
Yes, you should do all the things I've already mentioned… but the key to enjoying a simpler home and life is to put time and energy into maintaining your efforts on a daily basis.
Simplifying is not a once-and-done thing… your home, your schedule, your family, and your life will require continual maintenance.
But don't let this discourage you! Once you have a few routines in place (like I mentioned above) the maintenance part will be much faster and easier than getting organized.
Daily and weekly maintenance is normal. Instead of grumbling and complaining or feeling like a failure, simply schedule some time to maintain all the work you did in all the steps above, and don't think for one second that your efforts weren't worth it!
Y = YOU can do this!
Don't doubt yourself or your abilities…
Positive affirmation is a real thing, and the more you tell yourself: I CAN do this, I CAN simplify, I CAN get more organized, I CAN arrive on time, I CAN say 'no', the more often you will actually do it.
It might require some hard work, this might not be the perfect time to get started, it might take longer than you wish to make noticeable progress, but you can do this.
If there's ONE thing you take away from the content here on my blog, I truly hope it's a feeling of "doability".
My goal has always been to make everything I share here feel doable for real people with real lives, real families, real budgets, real homes, etc. and I'm confident the tips and ideas above will help you to SIMPLIFY this year and beyond!!
Whether you are looking to fine-tune a few areas of your life or if you feel like your home and life are spiraling out of control, I encourage you to give s.i.m.p.l.i.f.y. a whirl this year.
What's the worst that can happen!
a quick recap…
s

tart somewhere

i

dentify your priorities

m

inimize

p

lan +

p

repare

l

ower your expectations

i

mplement routines

f

ocus on maintenance

y

ou can do this!
let's simplify!