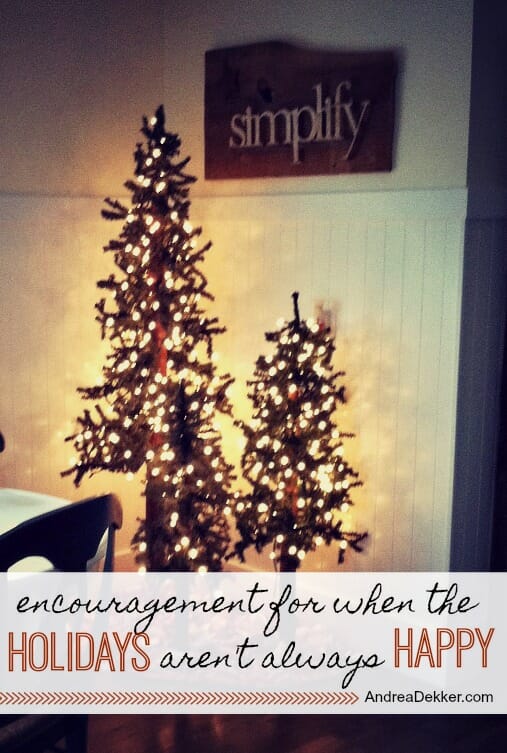 Despite the perfectly happy holiday cheer we see in magazines, on TV, on the internet, or in any local mall, the holiday season is often a bittersweet time of year for so many people.
Maybe it's financial pressure to buy the biggest, best, and most gifts, leaving you in a pile of debt every year — one that takes months to finally crawl out of again.
Maybe it's a job you hate — especially this time of year when you're expected to work over-time, weekends, holidays, etc. and miss out on all the fun activities you wish you could be doing instead.
Maybe it's a recent death (or military deployment or long-distance move) and the realization that certain special people will not be celebrating with you this year.
Maybe it's rebellious children or nasty relatives who make holiday gatherings miserable.
Maybe it's too many life changes (new baby, new job, loss of a job, moving, new schools, new routine, etc. etc.) that leave you dreading all the "extras" associated with this time of year, wondering how you can possibly fit anything else into your busy schedule.
Maybe it's legal issues, adoption delays, medical testing results, or other situations completely out of your own control that leave your anxiety high as you anticipate new information, updates, and decisions.
Maybe it's mental, physical, emotional, or spiritual wounds that simply prevent you from experiencing joy, peace, happiness, and fulfillment like you have in the past.
Whatever the case, I know this time of year will be especially hard for you.
If I'm being really honest, I don't have much experience with the listed items above… but I know they exist, and I know they can completely over-shadow everything else going on this time of year.
It's unfortunate, but it's also reality.
.
If you find yourself nodding in agreement with my list above, I hope to provide a tiny bit of encouragement for you today.
1. Know that you are not alone.
There ARE others who feel the same way you do right now — if you can find them, it will do you a world of good (THIS I definitely know from experience!)
Contact local support groups, churches, therapists, counselors, hospitals, etc. and see if there are programs in your area that allow you to reach out to others who are in the same situation.
And yes, I realize the act of 'reaching out' probably doesn't appeal to most people in these situations — so if you know someone in a bad or hurting place this holiday season, look around, do a little research on their behalf, and see if you can't introduce them to someone, a group, a program, etc.
It might be the best gift you can give them this year!
2. Expect this year to be and feel different.
Expectations play such a HUGE role in our happiness… if we go into the holiday season EXPECTING everything to be happy, perfect, smiley, fun, enjoyable, etc. we WILL be disappointed (I guarantee it)!
However, if we go into the season embracing and expecting that things WILL be different, we can often save ourselves so much heartache and disappointment.
Realize that parts of the holidays will be very difficult.
Expect your experiences to be different than in previous years (some good, some not so good).
Expect that you will have a wide range of emotions… and you'll probably feel sad and lonely at times.
Embrace the fact that you most likely won't enjoy specific parties or events like you have in past years… you might not even want to attend those parties and events in the first place. That's OK!
Of course, I'm not saying we should expect the season to be awful, but I do believe having realistic expectations for ourselves, our family, and our holiday season can do a world of good when we are sad, hurting, or not emotionally healthy.
3. Consider doing something totally different.
Last week, I shared how Dave and I essentially "skipped" Thanksgiving due to sick children that no one else wanted to be around.
It was a VERY different Thanksgiving weekend for use (we ate grilled cheese and tomato soup and then did yard work most of the afternoon) but it was still relaxing and enjoyable, and still a welcome break from our normal school-time routine.
That got me thinking about how much of the holidays are driven by "routines" and doing the same things we do EVERY SINGLE YEAR, just because we are expected to do them EVERY SINGLE YEAR.
Well, maybe this year is YOUR year to "skip" part of the holidays and just do something totally different — like eat grilled cheese and do yard work!
If you know a specific part of the holiday season is going to be extra difficult or emotional for you this year, why not just skip it and do something totally different instead?
Ditch your traditional holiday menu for pizza, Chinese take-out, grilled cheese, or anything else you enjoy eating.
Skip the party or event you know will cause unnecessary emotions to surface.
Abandon traditions that aren't working for your current season of life and don't let yourself feel guilty.
Stay home instead of going out — or go out instead of staying home. Whatever fits YOUR preferences better this year.
Celebrate on a random day — if December 25 is hard or challenging for you, just choose a different random day to celebrate instead.
4. Remember the real reason for the holiday season.
I'm often caught off guard by how many people brush over the religious aspects of the holiday season in pursuit of finding the best gifts, reserving the most desirable venue, making mouth-watering foods, and coordinating the perfect outfits for holiday cards.
Yes, I can relate! I too enjoy finding new recipes for various parties, sending out our holiday cards, and catching up with relatives I only see once a year. However, I think we often put too much pressure on ourselves to make things perfect… or at least better than last year!
As Christians, we know life will not always be perfect or happy or easy, BUT we also know God is always with us — especially during rough periods of time when we feel like we're alone or that no one understand what we're going through. Take comfort in that truth, and embrace the real reason for this special season.
.
Of course, there is never a one-size-fits-all approach to these situations that cause difficult or less-happy holidays for so many people.
However, if you find yourself even more unhappy or emotionally drained this time of year, I hope a few of the thoughts presented in today's post will offer some much-needed encouragement or, at the very least, the realization that you are not the only person who feels this way… and it's OK to feel how you feel.
The start of another New Year is just around the corner – a chance to start fresh will be here before you know it!