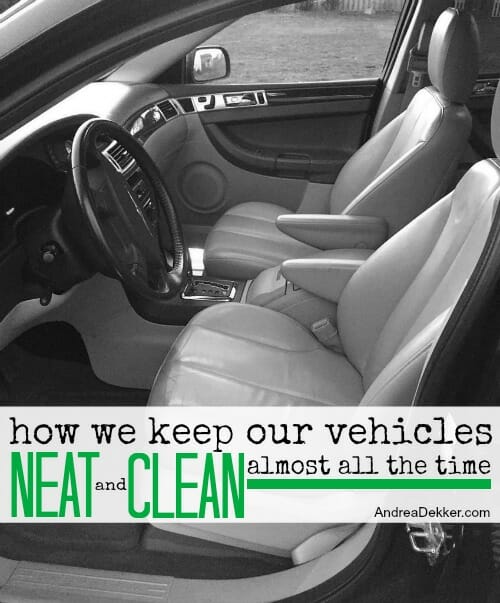 Last week, we went through the somewhat annoying (but necessary) process of removing ALLLLLLL the car seats from both of our vehicles, vacuuming both vehicles out really well, decrumbing/washing the car seats, and putting everything back in place again.
We also switched a few carseats around to make room for the infant car seat we'll need in just a couple weeks!
It's one of those things that has to happen eventually (it's really not that horrible of a job, I suppose) but I just dread doing it, especially when I'm 8.5 months pregnant!
But now it's finished, and I won't need to worry about frantically moving car seats around and installing our infant car seat when we're trying to rush to the hospital 🙂
Oh, before I get too far into this post, I want to make it VERY clear that when I say our vehicles are "neat and clean almost all the time", I'm ONLY talking about the inside! Dave and I both drive black vehicles — and while black does hide a lot of the dirt, we most definitely do not wash the exterior as often as we should or could.
We usually wash the cars with the kids at least once in the summer, and then we take them through a carwash a couple times during colder months… that's pretty much it! So yes, we often have a dirty car on the outside.
The inside, however, is a much different story!
Besides some sand, dirt, and a few cracker crumbs, the insides of our vehicles are almost always very neat, tidy, and organized — even with multiple children, snacks, drinks, blankets, diaper bags, craft supplies, tissues, wipes, etc.
Almost everyone who rides in our car for the first time makes a comment about how we keep it so neat and organized with all the kid's stuff — and I promise, it really takes very little effort on our part!
Here are 3 simple, but specific, things we do to keep our car neat and clean (almost) all the time.
1. We have a trash bag in the car.
I know this might sound quite small and menial, but having a designated trash area in our van has been KEY to keeping it neat and tidy almost all the time — and it's SO simple to implement in any vehicle!
We keep a plastic grocery bag tied to the back of the passenger seat so I can easily reach the trash from the driver's seat and the kids can easily deposit their trash on the way out of the van.
I have 1 or 2 extra plastic bags rolled up in the back of that seat pocket so we always have replacement bags ready to go when our van trash gets too full or if we put food or diaper garbage in it.
2. We have designated storage spaces for all the things we want to keep in the car.
We actually keep a surprising amount of stuff in our van at all times — which means less stuff for me to lug back and forth. However, we have designated storage spots for all this stuff, so it's not sitting out, looking cluttery, or sliding around the van when we drive.
Here are a few examples of things we store in the van, and where we store it (I talk in more detail about our van storage in this post).
Blankets and Neck Pillows:
Each child has their own "car blanket" and neck pillow — which they use ALLLL the time. The blankets were baby gifts from a lady at our church; the neck pillows are these Trunki Yondi Travel Pillows.
We have a bag that we keep all the blankets in, and the bag wedges between Simon's car seat and the side of the van. The neck pillows are looped around the headrest of the seat in front of Nora — so Nora is always in charge of passing out neck pillows and Simon is in charge of passing out blankets. Then they all get put away once we're home again.
Paper, Pens, and other Craft Supplies:
We have a little organizer (similar to this one) that hooks onto the back of a bucket seat and provides lots of storage space for pens, paper, crayons, clip boards, stickers, books, etc. etc. We currently have this on the seat in front of Nora so she can pass things out as requested.
The contents of this caddy are not super organized, but I'm satisfied as long as the kids dump all their stuff into it before getting out of the car!
Diapers, Wipes, Sanitizers, and other Baby/Kid Supplies:
I currently keep a few diapers for James, a big package of wipes, hand sanitizer, a travel changing pad, and a spare pair of undies and pants for Simon in the van's center console. This way, I feel like I can leave the diaper bag at home for shorter trips and outings.
I also keep gum, candy, non-perishable snacks, chapstick, lotion, and a few first aid supplies in a different compartment of our center console — so I feel like I'm sort of 'ready for anything' even without a diaper bag along.
I might change my stance on this once we have a newborn again, but with all bigger kids, this method has been working really really well for us.
3. We remove anything that doesn't stay in the van every time we get home.
I think this is another very simple, but very effective way we keep our van neat and tidy almost all the time.
We just don't leave stuff for "later". We take care of it immediately when we get home so the van stays neat and organized and so we don't have to run back out to the van to get something later.
For example, the kids usually take a snack cup and water bottle in the car — and all 3 are responsible for taking them back into the house. Also, if I do take a diaper bag along, I always bring it back into the mudroom and restock it if necessary.
Of course, any groceries or other items we buy will definitely come into the house right away as well.
Yes, there are many times when our car is loaded down with gear and luggage and all sorts of "junk," but since we always clean it out right when we get home, it never STAYS that way!
As with most spaces in my life, I'm more calm, less stressed, more relaxed, and happier if my surroundings are relatively neat and organized — so taking a few minutes to clean up every time we exit our van is definitely worth it for us!