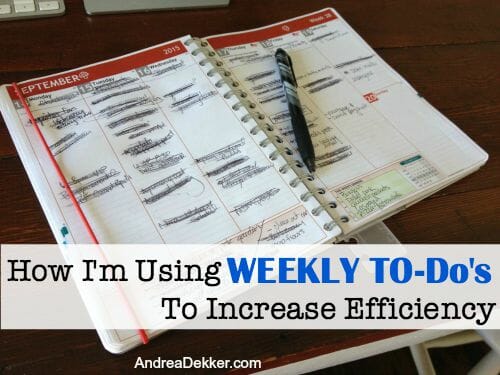 As many of you know, I'm a huge advocate for writing things down (on paper or electronically) — not only to help me remember what I need to do, but also so I can enjoy the satisfaction that comes with crossing the tasks off after I complete them (I know I'm not the only one!)
Written to-do lists have worked wonders for me over the course of my 30 years… but for the last few months, I've made a slight tweak in how I make my to-do lists. I honestly never thought I'd notice any difference, however, I'm shocked at how much more efficient I have been as a result!
It all started at the beginning of the summer. I was preparing to have a more relaxed summer, take some time off from blogging, and make more room in my schedule for the massive time commitment a newborn baby requires.
Part of my "strategy" for making more time to relax and snuggle the baby (yes, I have a strategy to relax!) was to make a weekly to-do list in addition to my daily to-do lists.
Contrary to what you might be thinking, this really didn't take up any extra time on my part. In fact, it freed up a lot more time.
Let me explain…
Here's how my weekly to-do lists work:
At the end of each week, I take a few minutes to think about the things I need and want to accomplish the following week.
Some of these things are time-specific (like a meeting or an event on a specific day and time) — so I would still mark those on the appropriate date in my planner.
However, many of the things I want to accomplish each week do not need to be done on a specific day of the week or at a specific time. So instead of arbitrarily allocating these tasks to various days of the week, I make a separate weekly to-do list at the bottom of my planner page for that week (see photo below).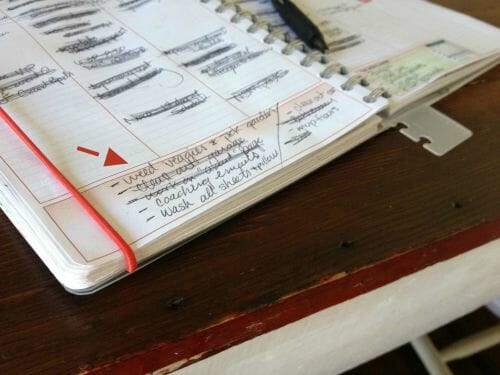 Then, as I have random pockets of free time during the day, I can pick and choose what weekly to-dos I can accomplish during that time.
Examples of things that might be on my weekly to-do list:
clean the bathrooms
make one meal for the freezer
weed the planting bed by the fence
wash Nora's sheets
write 5 blog posts for the following week
email the insurance company about our bill
schedule Dave and my dentist appointments
As you can see, it really should NOT make any difference whether I do these tasks on Monday, Thursday, or Saturday (except that the dentist wouldn't be open on Saturday). And for most of the tasks, I can do them any time of day as well.
So as I go through my days, I try to tackle one or two things from my weekly list in addition to my daily to-do list (which includes more time-sensitive tasks like made dinner, pick up a prescription, pack Nora's backpack for school, wash dishes, etc.)
Why weekly to-dos work so well for me (but why they might not work for everyone).
While the weekly to-do lists have been working fabulously well for me, I will be the first to admit that they might not work as well for everyone.
I am (and have always been) someone who LOVES "working ahead". I naturally set self-induced goals for myself, I love a challenge to increase my productivity, and I rarely procrastinate.
If you are the type of person who is always putting things off until the very last minute, a weekly to-do list might mean that you spend all day Saturday trying to catch up from a week of not doing very much… in which case, you probably won't enjoy your weekend all that much.
Also, if you are the type of person who isn't great at looking ahead or planning in advance, a weekly to-do list might not work well for you either (however, it still can't hurt to try!)
.
For me, a weekly to-do list offers more flexibility — which is what I need right now with 3 kids who never do exactly the same thing every day.
I've found that when I have shorter daily to-do lists, I no longer get frustrated because our plans changed, Simon woke up early from his nap, or the kids stayed up later than normal. I can almost always easily accomplish my daily to-do's, even on "bad days". Then, if I have time, I can pick and choose the weekly to-do's that work with that day's schedule. Sometimes I don't get to any of them, but other days I might tackle 3 or 4 if Dave is home or if the kids go to bed early.
As I mentioned above, there was a noticeable increase in my productivity and efficiency after changing my system, so I knew I had to share it on the blog 🙂
Obviously, there is never one "right way" to do anything. Some of you might thrive with a weekly to-do list in addition to your daily to-do's. Some of you might completely hate it, and others will most likely use some of my ideas and tweak them to work for your lifestyle.
I'd love to know…
Do you make weekly to-do lists?