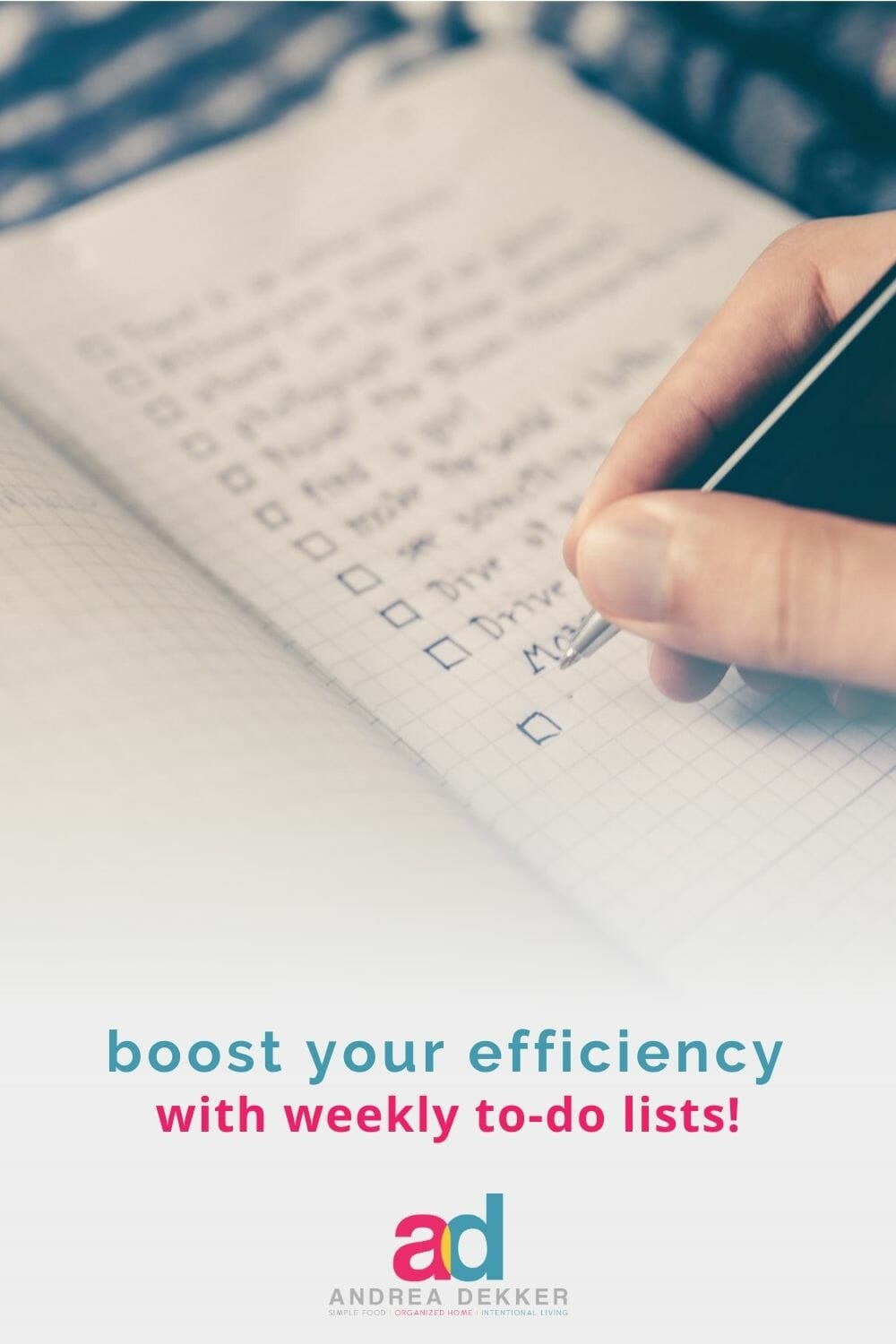 Inside: Make more time for the activities you actually enjoy by improving your efficiency with weekly to-do lists. I'll show you how!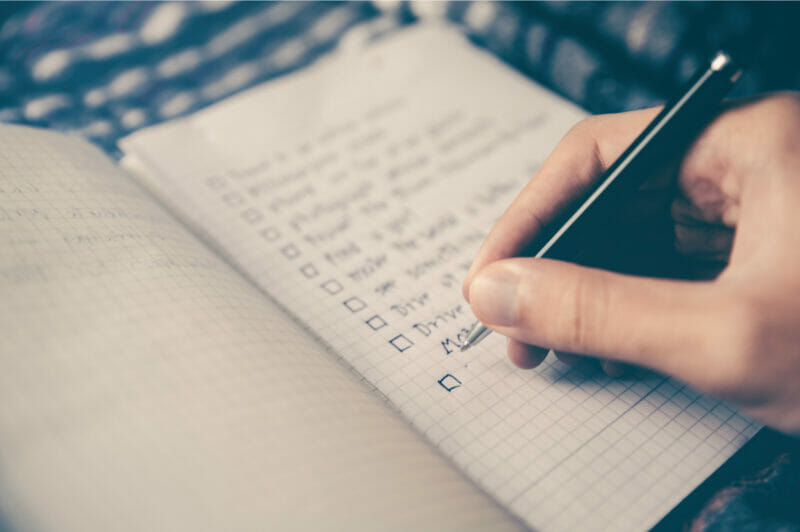 As many of you know, I'm a huge advocate for making physical lists — writing things down on actual paper with an actual pencil.
I have nothing against technology, but science proves that "using pen and paper to take notes boosts memory and the ability to retain and understand concepts." (source)
I can't argue with science!
This explains why rewriting my notes (multiple times) was the most effective study method for me all throughout high school and college.
When it came time for the tests and exams, I could literally visualize where the answers were within my notes. I was an excellent test taker, which served me well as a student.
Nowadays, however, I continue to write many things down — partially to help me better-remember what I need/want to do each day and each week, but also so I can enjoy the satisfaction of eventually crossing the tasks off my list (I know I'm not the only one!)
Written to-do lists have worked wonders for me over the course of my 35 years… but for the last few years, I've made a slight tweak in how I make my to-do lists.
I wasn't sure I'd notice a difference, but looking back, I'm pleased (and a little shocked) with how much more efficient I've been as a result!
It all started the summer my 3rd child was born (2015)…
As I prepared for his arrival — and the fact that I would soon be caring for a 3-year-old, a 15-month-old, and a newborn (on top of my other housework), I knew I needed a plan.
My "plan" was to make a weekly to-do list in addition to my daily to-do lists.
Making an extra list only took a few extra minutes, but I was amazed by how much more efficient I was throughout the day (and how much "free time" I had as a result).
And yes, I realize that "free time" for a "mom of 3 under 4" seems like an oxymoron, but it truly was my reality.
Of course, not everything is smooth-sailing every day… but over the past several years, my weekly to-do lists have played a vital role in my ability to efficiently accomplish everything that needs to be accomplished each day while also enjoying a little more balance in my life.
Even after adding another child and more responsibilities around the home, my weekly to-do lists have helped me prioritize in a way my regular daily to-do lists never could.
Who wants a little of that!?!?
How I create my weekly to-do lists
At some point over the weekend (often on Sunday afternoon), I take a few minutes to think through the things I need and want to accomplish the following week.
Some of these to-dos are time-specific (an appointment, a time-sensitive meeting or event, a school-related reminder, etc.) I mark those on the appropriate date in my planner (you could do this digitally as well).
EVERYTHING else gets put on my weekly to-do list — which is essentially a running to-do list of anything that needs to happen sooner than later, but not necessarily on a specific date or at a specific time.
What my daily + weekly to-do lists look like
I have changed the layout of my planner a few times over the past decade.
I now have a daily page for my time-sensitive, more specific tasks (on the left), and a blank page for my ongoing weekly to-do list (on the right).
This layout works really well for me right now — Dave actually uses it too!
Please don't feel like you need to purchase a planner exactly like ours to make weekly to-do lists work. You could use a spiral notebook, a whiteboard, or even a stack of post-it notes if that's what you have on hand.
The important thing is just to keep your weekly list separated from your daily list.
Why weekly to-do lists work for me
Instead of arbitrarily allocating my non-time-sensitive tasks to various days of the week, I now group them all together and I can pick and choose which tasks I complete based on the amount of time or energy I have at any given point during the week.
If the kids are working on a craft, I know I have at least 10-15 minutes to do work on a quick project like cleaning out a drawer in the fridge or wiping down a bathroom counter/sink.
If they're playing nicely together outside, I can weed the garden or sweep out the garage. And if a grandparent stops by unexpectedly to play with the kids, I can work on a blog post or make a few phone calls (things I can't do with 4 kiddos around).
All of the examples I mentioned above need to be tackled at some point, but not necessarily on a specific day or at a specific time. By lumping them together on one weekly to-do list, I'm able to do the tasks that make the most sense on any given day.
Examples of weekly to-dos:
clean the bathrooms
make one meal for the freezer
weed the planting bed by the fence
wash the kids' sheets
write a blog post for the following week
sweep out and declutter the garage
email the insurance company with a question
schedule dentist/doctor appointments
post items to sell on FB Marketplace
Any of the tasks listed above can be completed on any day of the week. By putting them on a weekly to-do list, I give myself the freedom to pick and choose which task fits best into my current daily schedule (or even just which task I'm more in the mood to tackle).
My personal goal is to cross off one or two things from my weekly list each day – in addition to my daily to-do list, which includes tasks like:
make the bed
pick up a prescription
bake cookies for school
make dinner
wash dishes
attend a meeting at 7pm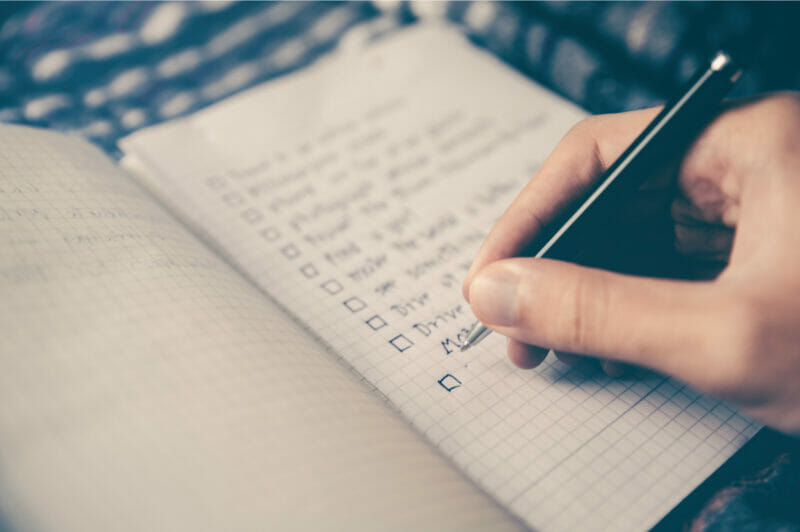 Could a weekly to-do list work for you?
It might… but it might not!
How's that for being honest!?
I am (and have always been) someone who thrives on "working ahead". I naturally set self-induced goals and deadlines for myself. I love finding a better, faster, more efficient way to do everything.
I rarely procrastinate.
That said, if you tend to put things off until "later", a weekly to-do list might mean spending all day Saturday trying to catch up after a week of not doing very much.
Also, if you aren't great at looking ahead or planning in advance, a weekly to-do list might not work as well for you.
BUT… in my humble opinion, it really can't hurt to give it a try for a few weeks.
Who knows, you might find yourself more productive and more efficient than ever before!
Improved Efficiency = More Time for the things I love.
As the years tick by, I realize more and more that efficiency is no longer my end-all goal (can you believe it!) However, I still appreciate the ability to work efficiently at mundane tasks so I can devote extra time to activities I enjoy more.
I certainly hope you don't picture me running around like a crazy mom, just trying to cross off a certain number of to-do's each week.
Yet, at the same time, there are things that need to happen for our home, family, and life to run smoothly.
Why not do those things as efficiently as possible… right?
A weekly to-do list maximizes my efficiency as I'm able to choose the tasks that best fit my current time allotment. I don't waste time in between activities. I don't run short on time and end the day with multiple half-finished to-dos (one of my least favorite things!)
NOTE: if you're not sure how long various tasks take to complete, you might consider timing yourself (yes, I'm serious, it really works!)
Of course, there's never one "right way" to do anything.
Some will thrive with a weekly to-do list, others will completely hate it, and many will fall somewhere in the middle.
If your weeks have felt a bit scattered, if your days feel too full, I encourage you to give a weekly to-do list a try. It's such a simple "tool" that has made a profound impact on my life over the past several years.
I hope you enjoy similar results!
---
I'd love to know…
Do you use weekly to-do lists?
If so, what has been the biggest benefit for you?