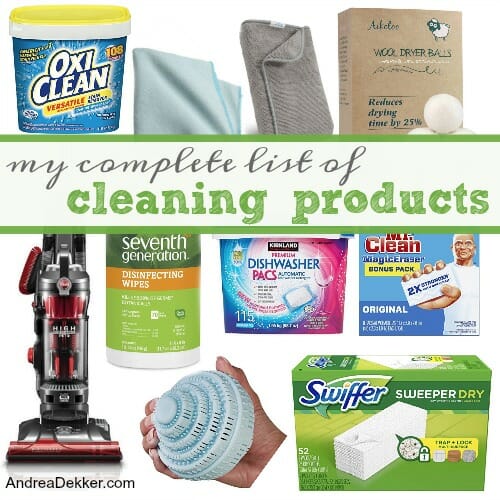 Over the years, the types and brands of cleaning products I use has morphed and changed due to several factors…
I use the products that are most easily available to me (I order monthly shipments from Grove.co, so I use the brands they offer)
I use the products I feel work best for my lifestyle and our home
I use the products that fit the best into my storage spaces (yes, I buy based on what fits best in my cabinets!)
Since I'm often asked what type and brand of cleaning products I use, I thought I'd compile all that information into one post.
First… a Quick List of My Most Favorite Cleaning Products:
These are the cleaning products I use daily in and around my home (Note: this post contains affiliate links — which means, at no cost to you, I may get a small commission. Read my full disclosure policy for more information.)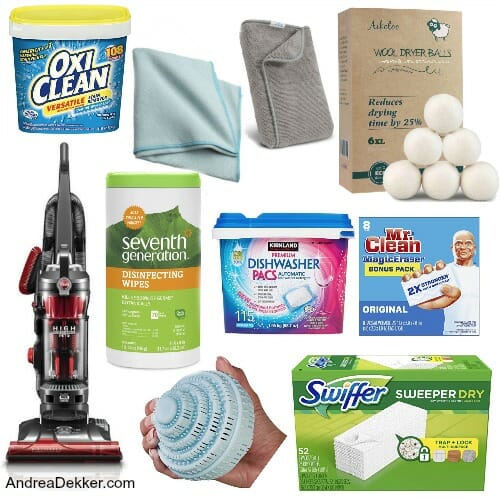 .
Now, for those of you who prefer a more thorough list, I did a walk-through of my entire home over Labor Day weekend and compiled one big list of every single cleaning product in my home, where I store it, and what I use it for!
Enjoy!
OUR BATHROOM:
Seventh Generation Sanitizing Wipes (under the sink)
Shower cleaning spray and scrub brush (under the sink)
Toilet brush (next to the toilet)
Waste basket (next to the toilet)
I use the sanitizing wipes on a fairly regular basis to wipe down the counter, sinks, faucets, toilet, light switch, door latch, etc.
The shower in our bathroom is currently the only shower I need to clean (Nora takes a shower in our shower and the other kids just use the bathtub upstairs) so for now, it makes sense to keep the shower cleaning tools under my sink. In the future, I might keep a spray bottle of my shower cleaner in each bathroom — we'll see.
All other bathroom cleaning products are stored in our bathroom cleaning bucket (which I'll take about later).
.
KIDS' BATHROOM:
Seventh Generation Sanitizing Wipes (in the red hutch above the toilet)
Paper towels (in the red hutch)
Toilet Bowl cleaner (in the red hutch)
Toilet brush (under the sink)
Waste basket (under the sink)
I use the sanitizing wipes to wipe down the door knob, sink, faucet, counter, and toilet in the kids' bathroom pretty much every day — and it's gross again by the next day! Eventually, I'll probably have Nora or Simon start doing this (trading off each day), but for now, I just want to know it's fairly clean and somewhat sanitized.
I clean this toilet much more often than the other toilets (because 3 kids use it regularly every day!) so that's why I keep an extra toilet bowl cleaner in this bathroom and not the others. I like to have it easily accessible so I can quickly clean the toilet when I'm upstairs and not have to run downstairs to get the bathroom cleaning bucket. Yes, I realize that makes me sound somewhat lazy, but it just works for our house and my life right now!
I clean the bathtub and floors on an as-needed basis — or at least every other week.
.
NEW HALF BATHROOM:
We JUST finished transforming our previously tiny laundry room into a very spacious new half bathroom off our kitchen (see all the before/after pictures here)!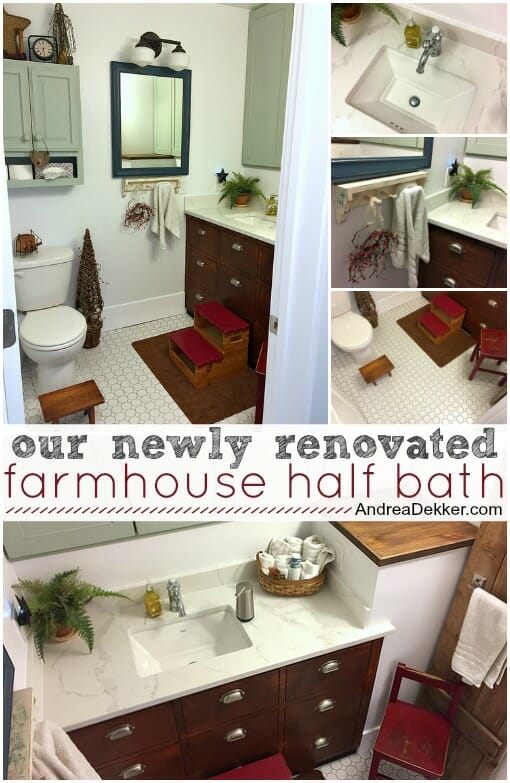 Because this room has a huge amount of storage space and it's very centrally located in our house, I've decided that for now, we will store the bulk of our cleaning supplies in this room.
The vast majority of all cleaning products in our entire house now live in the cabinets above our sink — and honestly, we still have plenty of extra space in these cabinets. Yeah, I'm excited!!
Bathroom cleaning bucket (under the sink)
Toilet brush (under the sink)
Plunger (under the sink)
Waste basket (next to the toilet)
Iron and spray bottle (cabinets above sink – with the intent of eventually moving this into the laundry room)
Swiffer pads (cabinets above sink)
Small basket of t-shirt rags, cleaning cloths, dusting cloth, window cloth, and sponges (above sink)
Small basket of WD-40, Goo-Gone, extra plastic gloves, rubber gloves, and a few scrub brushes (above sink)
A few ice cream buckets that we use for various cleaning tasks (above sink)
We have a handful of cleaning products I don't use all that often, but still like to have on hand. These all live in the bathroom cabinet above the sink as well.
Ammonia
Endust dusting spray (I usually just use a microfiber cloth — this is only for the big dusty challenges!)
OdorXit deodorizing concentrate (this stuff works really well on almost any odor)
I also store all our extra toilet paper, paper towel, tissue, bags, etc. in these cabinets.
Since I still have an insane amount of extra storage space, I'm thinking of using some of it for kid's art/craft supplies or even pantry overflow — I haven't decided yet. For now, I'm just enjoying the empty cabinets!
.
LAUNDRY ROOM:
As I just mentioned above, our former laundry room is now our new half bathroom — and our former full bathroom is currently being transformed into a new (much larger) laundry room!
However, for the time-being, our only laundry area is in the basement. It's not ideal, but it works.
As you'll read below, we have very few cleaning supplies in our laundry area — mainly because I no longer use laundry detergent or any type of fabric softener.
I use these Laundry Balls, which basically eliminate the need for laundry detergent… I just leave them in the washing machine.
I also use these Wool Dryer Balls, which replace fabric softener and/or dryer sheets and are left in the dryer all the time.
I've gotten enough questions about this that I'll most likely do a full laundry related post once our new laundry area is finished, but for now, you can see what laundry/cleaning products we do use below (all of which are stored in the brown basket on top of our washing machine.)
Bleach
Spot treatment spray
Mesh laundry bags
OxiClean
Small scrub brush for scrubbing stains
We won't have much storage in our new laundry area — but thankfully we won't have all that many laundry products to store!
.
KITCHEN:
I have one small bin under our kitchen sink with cleaning products as well as one shelf where I store all my kitchen linens — but other than that, I don't keep any cleaning stuff in the kitchen as I don't want that type of stuff around our food (or easy access for our kids).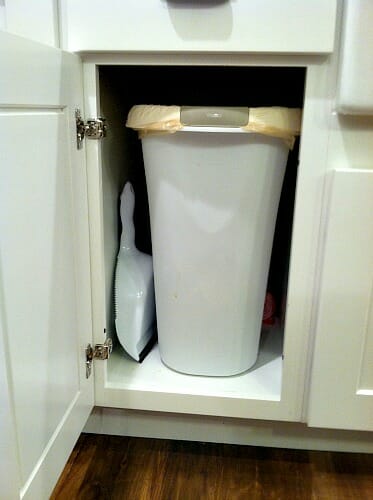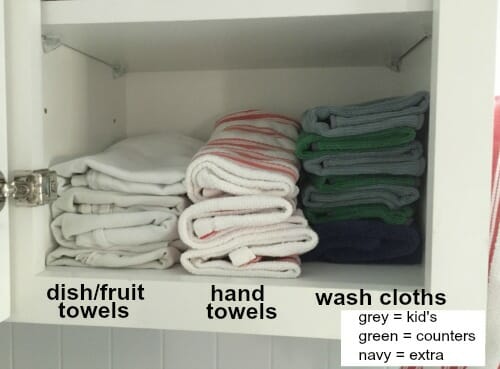 .
GARAGE and OUTBUILDING:
We're outside A LOT, so it makes sense for us to have a few cleaning tools in both our garage and outbuilding.
Paper towel
Baby wipes (for all the sticky, messy fingers)
Seventh Generation Sanitizing Wipes
Push broom and wicker broom
Buckets and dish soap for washing cars, bikes, scooters, etc.
.
Vacuum:
I get so many questions about what vacuum I use… and I don't have a great answer because I don't think I've ever had one vacuum that I love for years and years. However, I don't really know what I want, so for the time being, I'm not willing to spend money buying something different!
We've had a handful of Hoover and Oreck vacuums over the last 8 years — mainly because I got them all for free as part of being a Hoover Ambassador for several years.
I've liked all the vacuums… but I've never completely LOVED any of them. They all seem to die out after a couple of years of regular use and abuse. And since Hoover vacuums aren't very high-priced, maybe that's just their life expectancy.
That said, I'm currently "in the market" for a new vacuum and I'd love to know what you would recommend!
We have tons of hard floor in our house, as well as carpet, and carpeted stairs — it would be ideal if I could find something that works well on hard floors, carpet, stairs, etc. I'd also like a few attachments so I can quickly do the baseboards, get under couch cushions, etc.
My sister has a Dyson Animal Vacuum and swears it's the absolute best thing ever. We have other friends with a similar house setup who love their Shark vacuums (I hear so many good things about the Shark brand these days). And then we have relatives who have been using their Rainbow and/or Kirby vacuum systems for years and years with fantastic results.
I've also been doing a little "research" of my own and mentioned (on Facebook) that I'm interested in a Sanitaire commercial-grade vacuum… which then generated a huge conversation about what vacuums you all love (and don't love!)
If you have any thoughts on vacuums… please, share them with me!! If I ever finally make a new vacuum purchase, I'll let you know what I think after using it for a few months!
A few more cleaning resources:
These are my FAVORITE microfiber cleaning cloths, and they are SO inexpensive (only $10.89 for 5 cloths). We've been using them for several years now and I just ordered a bunch more to save on shipping. I regularly give them as gifts (along with other items) and am constantly asked "where did you get those amazing cloths?"
For those of you who don't want to spend money on cleaning rags — try my DIY t-shirt rags. They're super soft, they're free, and they don't leave any lint behind! I often use these for really grubby jobs or messy crafts, and then toss the rags when I'm finished.
Here's a link to my favorite DIY cleaning products (I still use these recipes to make many of my own cleaners).
Here's a link to my favorite cleaning-related posts.
Here's the link to ALL my cleaning posts from the past 8 years of blogging!
I mentioned that I loved using vinegar to clean… so if you're looking for more uses for vinegar, here are 101 different ideas!
What are your favorite cleaning tools?