Pool parties, summer camps, s'mores, new craft supplies, thrift stores, anniversaries, and long afternoons spent reading a good book are just a few of my summer favorites!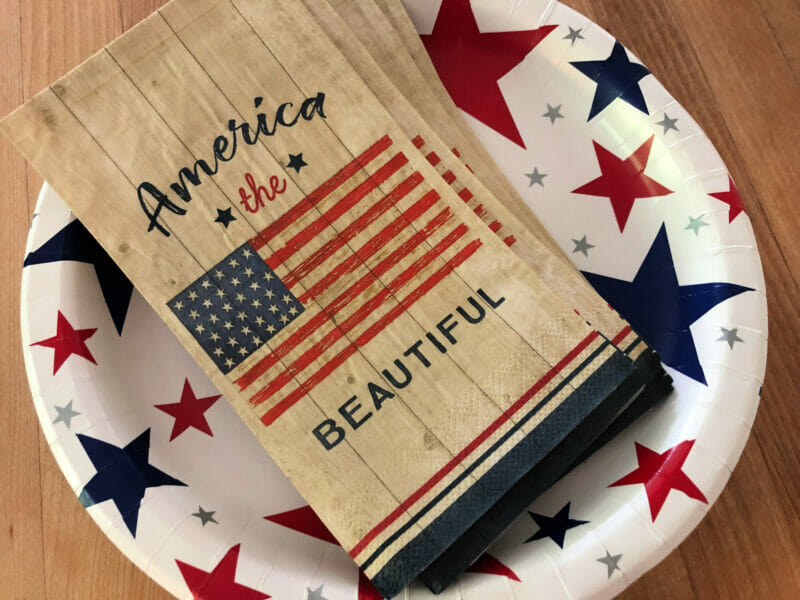 This week marks the halfway point of summer for Dave — it's bittersweet since I sort of wish everyone could just be home all the time.
That said, I know by the time September rolls around, I'll be ready to get back into my daily routine again (and have clean bathrooms for more than 20 minutes!)
These sweet summer days will always be one of my most favorite things — I'm sharing more favorites below.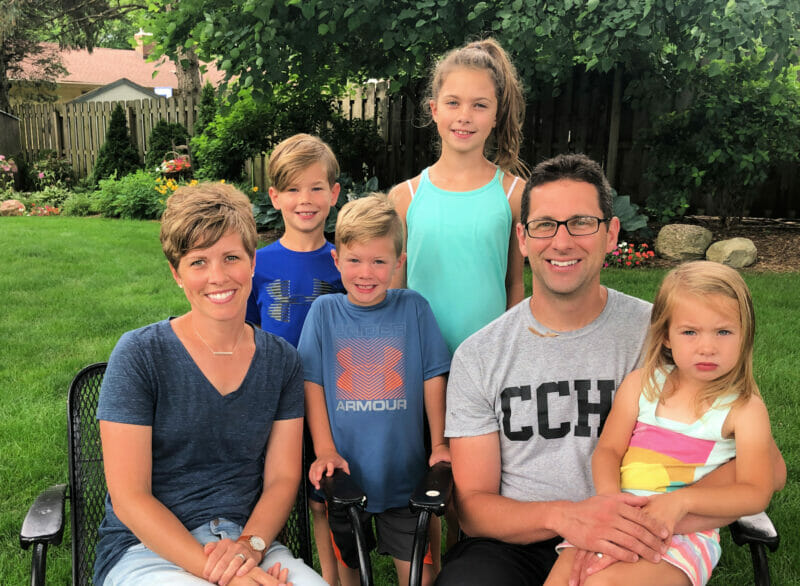 ---
FAVORITE ACTIVITIES = Summer Day Camps
Dave's schedule is fairly demanding during the school year, so we aren't overly eager to involve our kids in many extracurricular activities from September through May.
We make up for our lackluster participation during the summer months, though!
With both Dave and I home all day, we let our kids pick and choose whatever camps they want to go to over the summer (within reason!)
The boys already had a week of tennis camp and swimming lessons, while Nora enjoyed an art camp, some crafts at the library, and taking less frequent piano lessons.
They also just finished up a week of Vacation Bible School. Now we're gearing up for soccer camps, basketball camps, another art camp, and a few more library events.
I know many parents dislike driving kids around during the summer, but for our family, summer camps have been a really fun way for the kids to try new things, develop new skills, and make new friends without the massive time commitment of a full season (or an entire year).
We cart them around in the mornings and enjoy relaxing afternoons at home by the pool (see my next "favorite thing" below…)
FAVORITE ROUTINE = Long afternoons outside.
Never in my years of pool planning did I ever expect our entire family to enjoy spending so much time outside together by the pool!
I figured we'd go for a swim and then get on with our days… but for the last month, we've all basically lived outside from 11 am – 7 pm (or whenever we're not at one of the camps I mentioned above.)
Thanks to the fact that our deck now connects our pool to our outbuilding, we essentially have everything we need to spend all day outside (without technology!)
We eat the majority of our meals and snacks outside these days, and we even ended up bringing a bunch of games, books, and craft supplies to the outbuilding so we'd have more reason to stay outside.
I know the newness of the pool, deck, and "pool house" hasn't worn off yet — but the last few weeks have almost seemed magical. I'll take it for as long as it lasts!
PAST FAVORITE = Tiny Lights
For as long as I can remember, I've loved the cozy feeling of a home with tiny lights in every room — especially if those tiny lights come from silicone candle bulbs.
Without all that much effort, I've figured out a way to incorporate silicone candle lights into almost every room in our house — most recently, the new laundry room (we got our wood counter, now we're just waiting on the cabinet doors!)
We don't use our tiny lights as much during the longer days of summer, but whenever I have the chance, I flip on our tiny lights and enjoy the instantly cozier atmosphere.
---
FAVORITE BOOK = "Power of a Praying" Series
You all know I don't buy books… in fact, I almost never buy books. I get them for free from our library because I don't want the expense or extra clutter in our home.
However, last year, I started working my way through the Power of a Praying series by Stormie Omartian… and now we own the entire collection.
I'm a huge fan of these books and our whole family has benefitted from reading them and being more intentional with our prayer lives.
READ THE BOOKS:
---
FAVORITE ART/OFFICE SUPPLY = Mr. Pen Products
We stocked up on art supplies before summer break… including our FAVORITE Mr. Pen brand highlighters, markers, colored pencils, pens, and more.
These pens and highlighters are the best, and very frugal compared to many other brands.
Also, their highlighters are gel-based so they don't bleed through (even really thin Bible pages).
We also really love their acrylic paints (for rocks or clay pots) and their fabric markers.
I'm personally not ready for back-to-school shopping yet, but if you're the type who loves to get everything you need in the middle of the summer, I'd highly recommend picking up a few Mr. Pen goodies from Amazon!
FAVORITE CLEANING PRODUCT = Canister Vac
For the last few years, I haven't had a vacuum with attachments… for the most part, it's been OK.
I like my current bagged vacuum for carpets and rugs, and I love sweeping my hardwood floors. 🙂 However, over the winter months, I decided I wanted attachments again (and I didn't want to spend a lot of money).
I eventually decided on a lightweight Black+Decker canister vacuum — so far, I've been very happy.
I love how small and compact it is (I actually store it in my laundry room cabinets!) and the various attachments are just what I need to reach in between the couch cushions, behind furniture, along the baseboards, etc.
It's great for my hardwood floors (when I don't want to sweep) but I don't use it for carpet as it doesn't have a beater bar.
Best of all, it's SUPER easy to maneuver — which means the kids love helping!
FAVORITE RECIPE = Caprese Pasta Salad
I'm normally not a huge fan of cold pasta salad… but every summer, once the tomatoes and basil start to ripen, I haul out this recipe and enjoy the taste of summer in a bowl.
Seriously, it's SO good!
FAVORITE ARCHIVED POST = Laughter is the Best Medicine
Dave and I celebrated our 15-year anniversary last week, and as I thought back over the various anniversary and marriage posts I've written over the last 11 years of blogging, I kept coming back to this one — Laughter is the Best Medicine.
One of my favorite things about Dave is that he's SO good at lightening the mood with his dry sense of humor whenever there is any sort of tension. He doesn't skirt around the issue or bury it under the rug; he simply lightens the mood with a silly joke or humorous remark.
This works wonders in our marriage and with our children!
Read all my marriage posts here.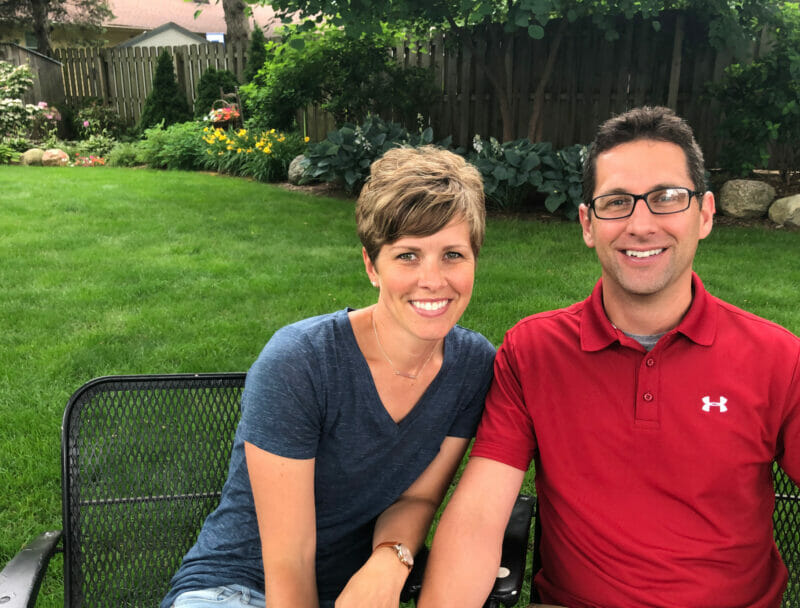 ---
FAVORITE QUOTE = Goethe
"Cease endlessly striving for what you would like to do, and learn to love what must be done." ~ Johann Wolfgang von Goethe
The famous 18th-century poet sums up how I feel about life in one sentence.
My daily list of to-dos is peppered with things that simply must be done in order to keep our home and family functioning well — laundry, dishes, meal prep, grocery shopping, phone calls, appointments, etc.
I'm sure you can relate…
I don't personally look forward to doing these chores, but I know (from years of experience) that the results of my efforts are simpler days, less-stressed lives, a happier family, and a contented soul.
For the last 8+ years, I've challenged myself to view housework, meal planning, yard work, and all the other non-exciting daily/weekly chores I do as a way to minister to the ever-present needs of my family. As a result, I've learned to love the things that must be done (most of the time) simply because I love my people.
It's a simple (not easy) mindset shift that has truly revolutionized my life (I know that sounds dramatic, and I promise I'm not a dramatic person).
About a month ago, someone asked one of my children what their parents "did". The child proudly announced that Dave was a math teacher… then they paused. I was tempted to jump in and say, "I'm just a stay-at-home mom", but I waited.
To my surprise and delight, the child said, "My mom basically does everything for us, but she doesn't get paid for it."
(Hand me a tissue, please…)
Can't you see it? All those little and big things you do EVERY day that mostly go unnoticed matter to the people you love the most (even if they don't ever thank you for it!)
Do yourself a favor, my friends… "Cease endlessly striving" to keep up with the Jones's, to be the next big thing, to have more _______, to be recognized for your achievements; and instead, challenge yourself to "learn to love what must be done."
I promise you won't regret it!
Whew — that's all for me this month. 😆
If you're interested, you can scroll through ALL my Favorite Things posts HERE!
And… join my email community, friends!
There is no spam, no sales pitch, no funnel… you may unsubscribe whenever.
It's just fun and valuable content to help you create a simpler, more intentional home and life for you and your family.