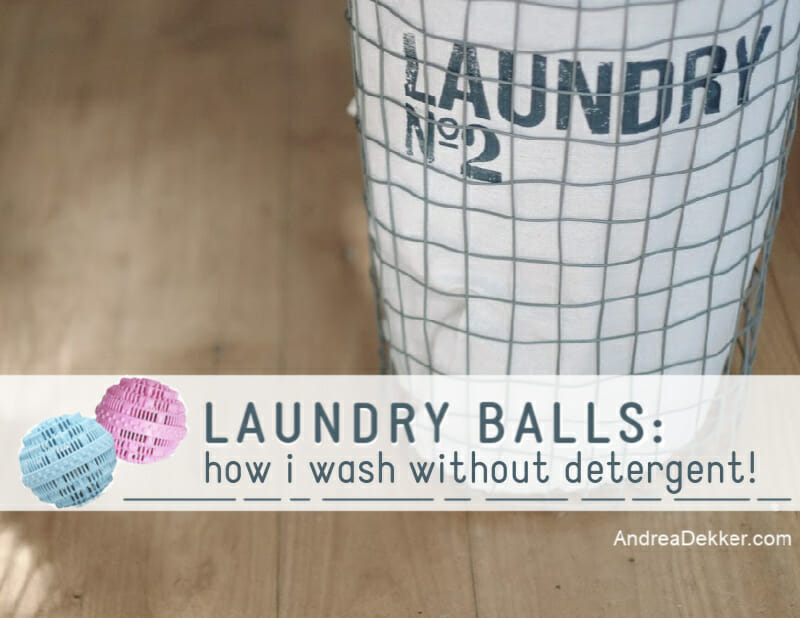 Have you ever wondered how to use laundry balls… or even if they actually work?
Well, for the last 2 years, I have been washing everything with eco-friendly laundry balls, and I'm sharing my experience and answering many of your questions in today's post!
And yes, I literally have not purchased any laundry detergent in 2 years!
I do sometimes add a splash of bleach with our whites and a sprinkle of OxyClean if the clothing is very dirty. But other than that, I've been washing all our clothing, bedding, towels, winter gear, swimsuits, couch slipcovers, and much more with plain water and laundry balls!
Pretty cool… huh!?!
I've gotten SOOOOOOOO questions about how to use laundry balls (ever since I first mentioned them in my Favorite Things post a couple of years ago) that I decided it was finally time to do one full dedicated post to the infamous "Laundry Balls"!
NOTE: This is NOT a sponsored post. However, I am using my Amazon affiliate link. If you click through and make a purchase, I will get a very small commission (thanks!) Read my full disclosure policy.
Let's do a little Q & A!
NOTE: My answers below are based on my own experience of using laundry balls these past 2 years — as well as research I've done online myself. I have NO scientific background! 🙂
Which laundry balls do I use?
I purchased the BERON brand from Amazon roughly 2 years ago now. I actually just purchased another set last month as one of our balls was starting to crack open.
They were $18.95 for a 2-pack (I use both at the same time).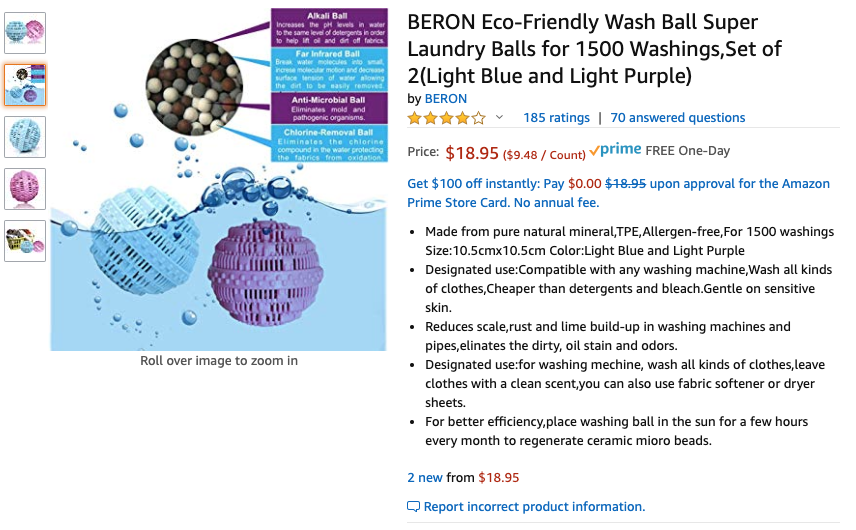 So what exactly are laundry balls?
They are rubbery softball-size balls filled with hundreds of tiny bio-ceramic balls, which provide an all-natural way to wash without any harmful chemicals or detergent.
They are great for anyone with sensitive skin, anyone with allergies, or anyone who doesn't like their clothing to have strong detergent smells (me!)
Each ball contains Alkali Balls, Far Infrared Balls, Anti-Microbial Balls, and Chlorine-Removal Balls (see image below for more description),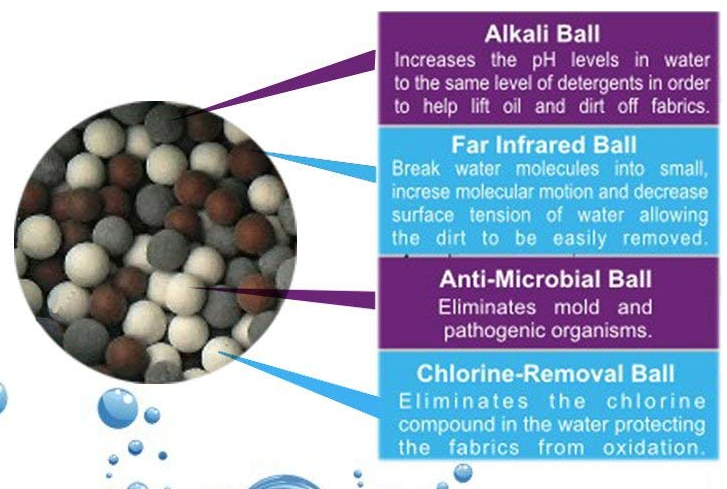 .
How do laundry balls work?
From what I understand, the hundreds of ceramic balls inside the rubbery ball increase the pH level of the water when they move around in the washer.
They help reduce negative ions in the water, creating a natural Hydrogen Peroxide type effect, which adheres to dirt to keep the clothes cleaner and fresher during the wash.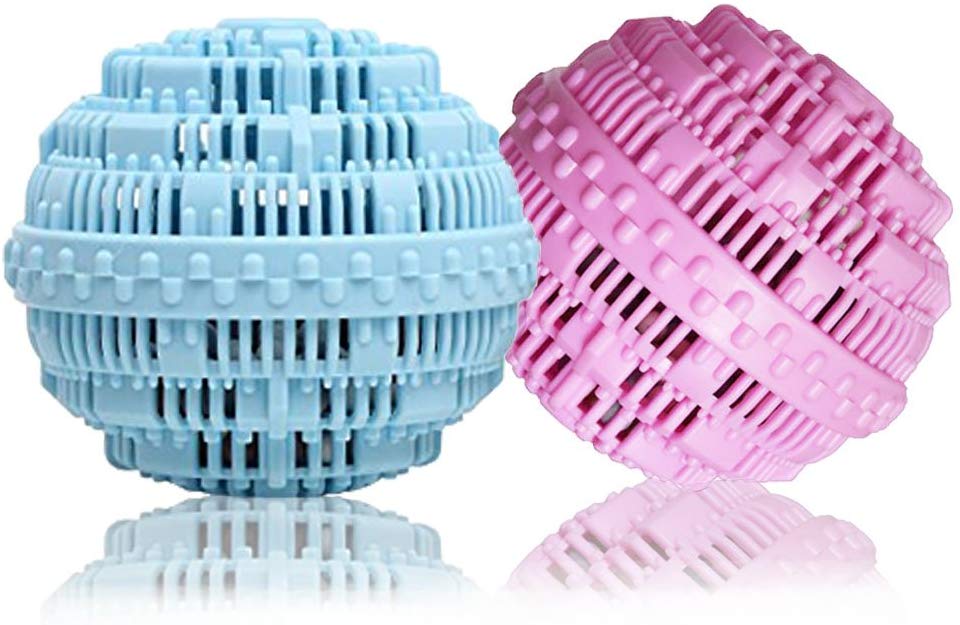 Do laundry balls actually clean well?
The use of laundry balls is widely debated — some claim they aren't any more effective than using plain water. Others claim they are a revolutionary discovery!
I'm sure you're not surprised to know that I fall somewhere in the middle!
I'm positive they are much more effective than using plain water because I've done my own testing. I've tried washing towels with plain hot water (no balls or detergent) and they came out smelling musty. Then I washed them with the laundry balls and they came out smelling clean (not scented, but clean).
Will they work in any type of washing machine?
Yes, top-loading, front-loading, high efficiency, etc.
NOTE: I always use warm or hot water as that's what was recommended on the box.
Are they safe for all fabrics?
In my experience… YES!
I have successfully cleaned colors, whites, delicate items, couch slipcovers, and everything in between.
How long will they last?
This obviously depends on how many loads of laundry you do each week. One set of laundry balls is said to be able to wash up to 1500 loads of laundry. This should last an average family about 3 years (doing 9-10 loads per week)
How do you use them?
When you first get your laundry balls, you'll want to soak them in water for 30 minutes.
After that, you can simply toss them into the washing machine (on top of the clothing) before you turn it on… that's it!
It's best not to cram your washer totally full — I usually try to leave a little extra space at the top to make sure the clothing has enough room to move around with the balls.
They claim to work best with warm or hot water (I never use cold water).
They can sit in the washer (with the door/lid open) in between uses — it is good for them to completely dry out once in a while.
Once a month, put them outside to sit in the sun for a couple of hours to "recharge".
What if it's not sunny where we live?
It doesn't matter — the laundry balls just need to be outside for a couple of hours (even in rainy, snowy, or cloudy weather) to re-charge.
I always do this on the 1st of the month.
Can you use detergent or bleach with them?
Yes, if you want to use a small amount of detergent with them, you can… I do not.
You can also use bleach, OxyClean, stain remover, fabric softener, or even essential oils with the laundry balls. I usually do not use any of these things though, and our laundry comes out clean!
A Few More Laundry Ball Resources To Consider:
This explains (in detail) how these laundry balls are supposed to work. However, it pretty much bashes the idea of laundry balls, saying they aren't any more effective than using plain water. It has fairly extensive content with lots of sources to explain more.
2. An article from Does It Really Work?:
This article claims that YES, laundry balls do, in fact, work. There are tons of comments weighing in on the subject too.
3. Best Review's Top 10 Laundry Ball Brands
BERON is #1 with a score of 9.7 out of 10.
More information on BARON Laundry Balls via their Amazon Page.
More of My Favorite Laundry Tips and Tricks:
10 Life-Changing Tips When You're Overwhelmed with Laundry
Why I'm Still Not Sorting Laundry
.
Like I mentioned above, this not a sponsored post, nor am I "brand loyal" to BERON in any way.
I simply wanted to share everything I've learned about how to use laundry balls these past 2 years. If nothing else, now I'll have a handy resource to send people when they email me their questions!
Laundry Balls work for us for now… I'd love to hear YOUR thoughts!