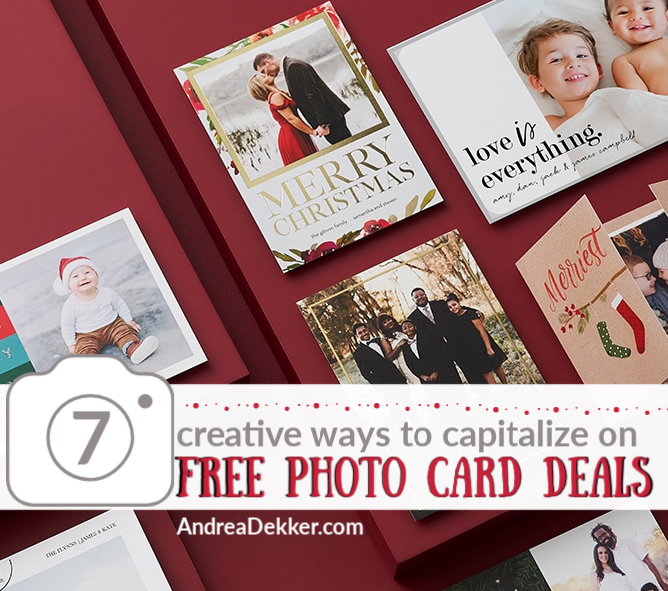 Black Friday and Cyber Monday sales will be here before you know it — which is why I'm so excited to share a few of my favorite creative ways to take advantage of those free photo card deals that are often advertised on Shutterfly.com and other photo card sites.
If you think like me (or at least how I used to think), you wonder why anyone would want only 1 or 5 or 10 free cards?
After all, what can you do with just a few cards?
Certainly, that's not enough for everyone on your list!
Yes, you could just choose a few of your closest friends or family members to mail your free photo cards to… or you could pay a premium price to buy more than the allotted freebie cards (which is what these companies hope you'll do).
OR… you could try a few of my creative ideas for free photo card deals!
This post contains affiliate links. If you click through and take action, I will be compensated. Read my full disclosure policy here.
1. Thank-You Notes:
I love sending personalized thank-you notes, but they can get expensive… so I'm always looking for deals (or ways to get them free!)
If I don't have any other ideas for the 10 free photo card offers, my "stand-by" is always personalized thank-you cards.
I use PicMonkey or Canva to create my design and then upload it as a photo into the "blank photo card" design on Shutterfly. I like to keep my design very simple, but you could get as fancy as you wanted.
NOTE: here's the post where I share more about designing my own cards in PicMonkey
2. Invitations:
We don't have big birthday celebrations for our kids, but their birthdays do almost always have a theme.
Since the free photo card offers pop up a few times throughout the year, I have often used them to create free birthday party invitations for our kids to mail to grandparents and cousins.
Last year, Nora had her first "Friends Birthday Party" and since she just so happened to have 10 girls in her class, we used a set of 10 freebie cards to create fun invitations for her (with instructions to our house and additional information on the back).
I used one of the pre-created templates for her invitation and just plugged in our information — it took 15 minutes tops and she LOVED them!
Of course, other invitations would work well too — we've just always used them for birthday invitations.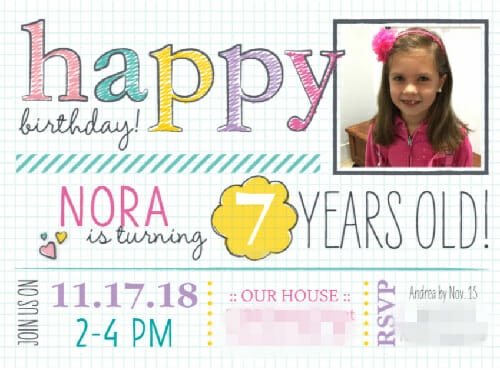 3. Recipe Cards:
I regularly give food gifts, especially around the holiday seasons… and it's so fun to be able to give a food gift WITH a cute recipe card (this is ideal for anyone with food allergies as they can see what ingredients were used).
Since I don't have the nicest handwriting, I usually opt to print my recipe cards — so why not print them for free through Shutterfly and get the super high-quality paper to boot!
Again, I used PicMonkey to design and type out my recipe, and then uploaded that "photo" to Shutterfly to print as a card.
Do you need a few more creative wedding or bridal shower gift ideas? Here are some of mine!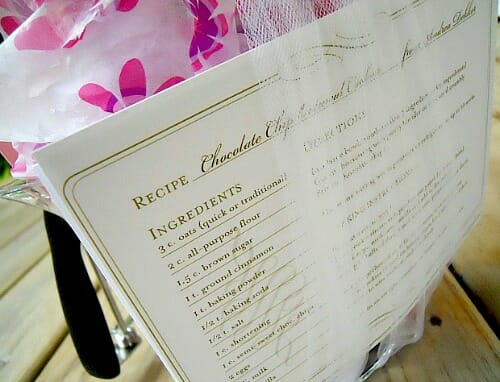 4. Separate / Different Holiday Cards
I do enjoy mailing holiday cards to many of our friends, relatives, neighbors, etc. etc.
However, since I include updates for each family member in our cards, they aren't necessarily appropriate for everyone on our holiday card list.
For example, we often give our mail carrier a Christmas card + gift card… and she doesn't necessarily need to know all the details of our kids' school lives! We also sometimes give cards to the specials teachers, administrators, and secretaries at the kids' school — they also don't necessarily need to know every detail about our family.
In these situations, I sometimes will order the free cards to be DIFFERENT than the other Christmas Cards we mail to everyone else.
That way, these people still get a personal card from our family, but they don't get "too much information". 🙂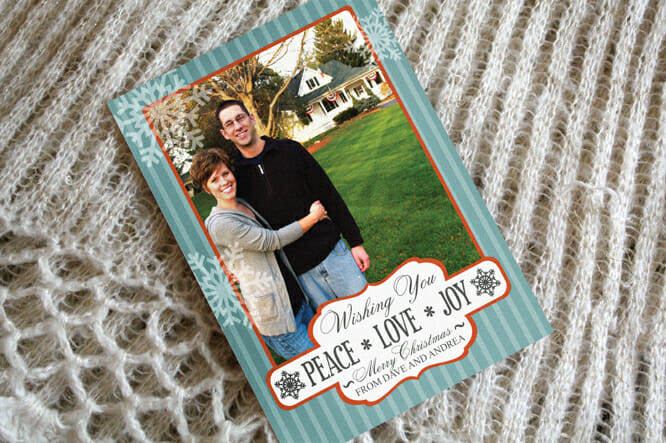 5. Postcards
Create a set of personalized postcards (either for yourself or for a gift). They could have a picture from a recent vacation, a family picture, a funny quote about traveling, or anything else you think of.
I made combination postcard/thank-you cards after Simon was born, and we mailed them to our faraway relatives who sent us gifts but were unable to actually visit us.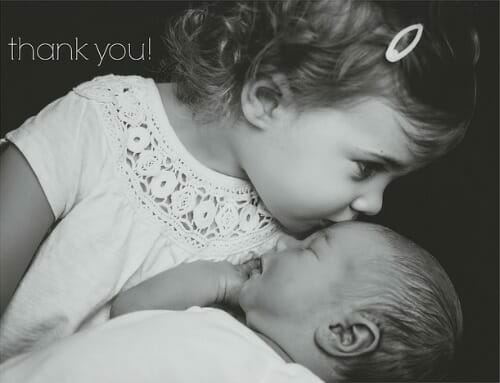 6. Kid-Proof Family Pictures:
Our kids love decorating their lockers at school — and whenever I send them with pictures of our family, they end up getting ripped or ruined shortly into the school year.
Last year, I used an Easter promotion to order 10 family pictures on super heavy cardstock… and so far, they are unscathed!
I let each of the kids have one in their bedroom and they got to bring one to school. Dave also brought one to school and I have the other 2 on various magnet boards in our house!
7. Family or Household Information Cards
This might be slightly old-school… but I love the idea of having a printable document with our family's important information on it (especially in the event of an emergency).
These are great to leave with a babysitter, keep in the glove box of your vehicles, or just to have on your fridge in case anyone needs it in a pinch.
Here is some of the information you might include:
Home address and home phone
School and/or work address and phone numbers
Each family member's name, birth date, contact information (I don't include social security numbers)
Any known allergies or medical conditions (you could also include blood type for each person)
Medical contact information for family doctors, hospitals, etc.
Emergency contact information (grandparents, neighbors, etc.)
Pet name and vet information
I realize some might think this is too much information to share, but 99% of the time, our family (or very trusted friends) would be the only people to see it. And in the event of an emergency, these cards would be a HUGE asset.
Of course, you could just print it off on your computer (like I do with my Important Information Binder) but having it printed in a smaller size on heavy-duty cardstock seems to make them a little more user-friendly and durable.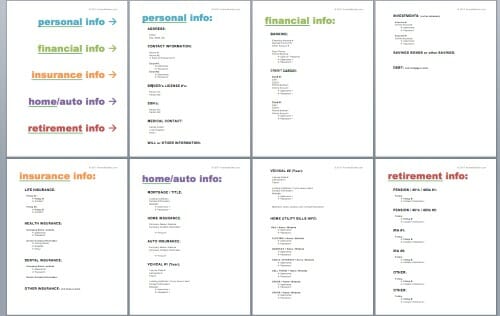 .
These are just a few of the ways you could take advantage of the Free Card offers that seem to float around the internet on a fairly regular basis.
The sky is the limit when it comes to creative ways to use these free photo card deals.
If you can come up with an idea or design that works with the free card size limits (I usually choose 4″ x 6″ or 5″ x 7″ flat cards) you can upload your idea to the blank template and print away!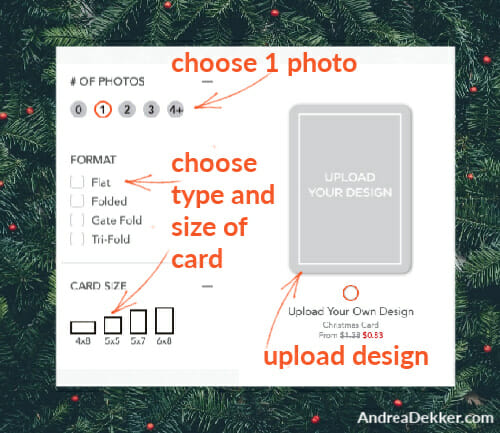 A Few More Tips to Make the Most of your Free Photo Card Deals:
I prefer "matte" cards over glossy (especially if you intend to write on them).
I always choose the heavy-duty cardstock as my paper option (which is also why I like the matte finish).
If the offer is for multiple freebie cards, they will all need to be the same — so you won't be able to print different recipes or different pictures.
These offers are usually for a short period of time, which means it's helpful to have your ideas designed ahead of time so you can quickly upload and print whenever you see the free photo card deals pop up.
You might need to pay extra to print on both sides — sometimes I do this, sometimes I don't.
You might need to pay for shipping but it's usually not horrible and still worth it in my opinion.
Have you tried any of these ideas before? Or do you have others to add to my list?
Hopefully, my creative ideas to utilize these free photo card deals will allow you to capitalize on these fun freebies this season… and keep an eye out; there are tons of free photo card deals all year long!