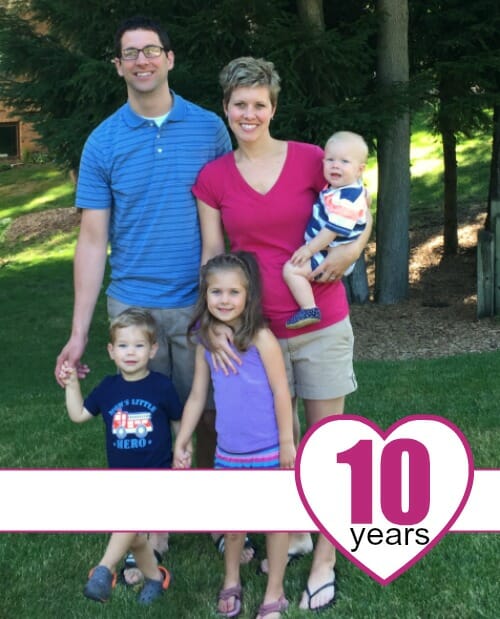 Today is Dave and my 10th anniversary!
We always try to get a family picture within a couple days of our anniversary… and this year, as I was editing our family anniversary photo for this post, I thought our outfits looked familiar. As it turns out we BOTH wore exactly the same thing for our 8-year family anniversary photo 🙂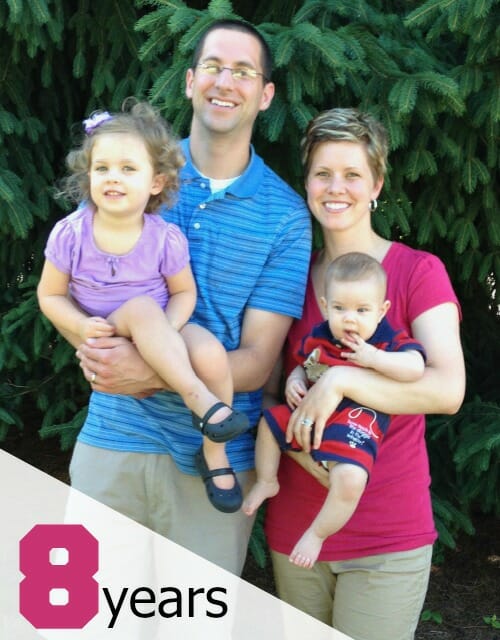 I guess when I think back to our wedding day, those 10 years flew by pretty quickly. However, when I think of everything we've done, seen, and accomplished in those 10 years, I can hardly believe we packed it all in!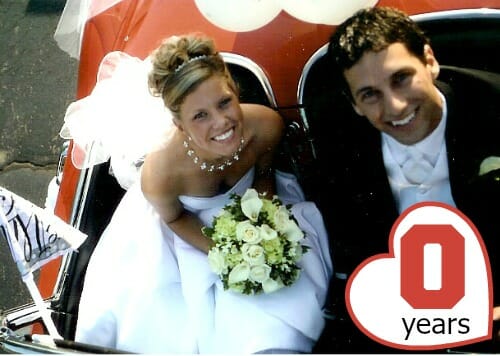 Over the past SEVERAL months, as I thought about what I wanted to talk about on our 10-year anniversary, 2 different (but related) ideas kept coming to mind. I couldn't choose — so a couple weeks ago, I decided I would touch on BOTH!
.
1. Dream Weddings:
When we were married back in 2006, there was no such thing as Pinterest, so I used good old fashioned wedding magazines for my ideas and inspiration!
I had a very vivid picture of what my "dream wedding" would be like — but at the same time, I knew there was basically no way I'd end up with that wedding (at least not on my budget!)
The fact of the matter is…
Our wedding was fabulous… but it was NOT my "dream wedding".
My dream wedding would have been in early October (because I love the fall). However, I married a teacher so a summer wedding was a must.
My dream wedding would have been brown and ivory, but I found a white dress I liked well enough on the clearance rack for $90 and celadon green bridesmaid dresses that both my sisters liked — so green and white worked just fine.
My dream wedding would have been outside with a casual barn reception — but when you get married in June in Michigan, there is approximately an 85% chance it will rain or be insanely hot and humid — so our wedding was in my parents church and our reception was down the road at a local country club.
My dream wedding would have been dripping with flowers and greenery with a rustic arbor up front and big chunky lanterns lighting the way down the aisle — however, my parent's church is anything but rustic, and fresh flowers are crazy expensive. So I made most of my own flower arrangements using silk flowers (and then sold them on Craigslist after both my sisters used them for their weddings!)
My dream wedding would have had piles of appetizers, a full open bar, a huge dessert table with rustic platters and cake stands — but instead, we had simple appetizers, beer and wine, and Costco cake (in addition to a plated main course meal). It was delicious and we saved a fortune! Also, our tiered cake for cutting was frosted styrofoam. Only the top layer was cake!
My dream wedding would have had professionally printed save-the-date cards, invitations, programs, etc. — but instead, I used my parents' (older) computer to design very simple stationery and then printed it all on our home computer (it actually turned out really well and cost less than $25 total!)
I do not share all these differences to complain or lament the fact that I did NOT have my "dream wedding".
NO, not at all!
The point I'm trying to make is that sometimes a "dream wedding" is just that — a DREAM! It's fun to think and dream about, but when it's actually time to plan a wedding, we should realize that it is just ONE DAY of our lives. The main purpose of that day is not that you have a perfectly Pinterest-worthy wedding and reception — it's that you're marrying your best friend and making a life-long commitment before your family, friends, and God.
Our wedding was far from my "dream wedding" but it was FABULOUS! In fact, many of our friends and family still talk about how fun our reception was — we practically had to kick people out at the end because they stayed dancing all night long!
Also, my kids love flipping through our wedding album, and I truly have nothing but happy memories of our wedding day (even though everything didn't necessarily go according to plan).
.
2. Date Nights:
Regular date nights is another topic I've been thinking about lately — mainly because I get so many emails and questions asking what Dave and I do for "date nights" or what frugal ideas I would suggest for regular date nights.
I used to sheepishly respond to these emails explaining that Dave and I actually don't do "date nights", and then give a few reasons why. I would also make sure to cover all my bases by explaining that we don't think date nights are bad, we just don't do them… blah, blah, blah… etc. etc. etc.
The funny thing is, my responses were almost always met with sighs of relief as the senders realized there were other seemingly normal and happy couples out there who also didn't do "date nights".
Personally, I see so many Facebook photos, blog posts, and online articles insisting that regular date nights are a "must" for any healthy marriage… and sometimes, I find myself wondering if Dave and I actually have a "happy and healthy marriage" even though we almost never go out on dates.
And when I say "almost never" I truly mean ALMOST NEVER!
I honestly can't even remember the last actual "date" we went on without any children with us — and that's not because we don't like being with each other, or because we don't have any place fun to go, or even because we can't afford to hire a babysitter and go somewhere fun. It's just that neither one of us has any strong desire to go anywhere or do anything considered a traditional "date night date".
We are both more than happy to stay home and work on a house or yard project together, watch a Netflix show while eating brownie ice cream sundaes, make a fancy dinner for ourselves after the kids go to bed, or go somewhere with the entire family for a "fun" day date. 🙂
We didn't even do "date nights" before we had children — and since having children, I can count on one hand the number of times we've hired a babysitter so we could go out. We've never left the kids with Grandparents for an adult-only vacation, and aside from the few times Nora has slept over at her Grandparents' houses, I don't think anyone besides Dave or I has ever put our kids to bed.
Again, this is not because we don't trust anyone else to put our kids to bed or because we don't like spending time without kids — it's just because neither of us gets super excited about date nights. Maybe we're boring… but at least we're happy being boring together!
I might be completely wrong, but based on a whole bunch of couples we know at different stages of life, with different income levels, and with different priorities and obligations, there are a lot more couples who DON'T have regularly planned date nights than you might think.
Obviously, having a regularly scheduled date night every week or every month really can't be harmful to a marriage (unless you're going into debt to fund them). However, contrary to what we might hear on the internet or read in best-selling marriage books, I honestly do NOT think regular date nights are necessary for a happy, healthy marriage.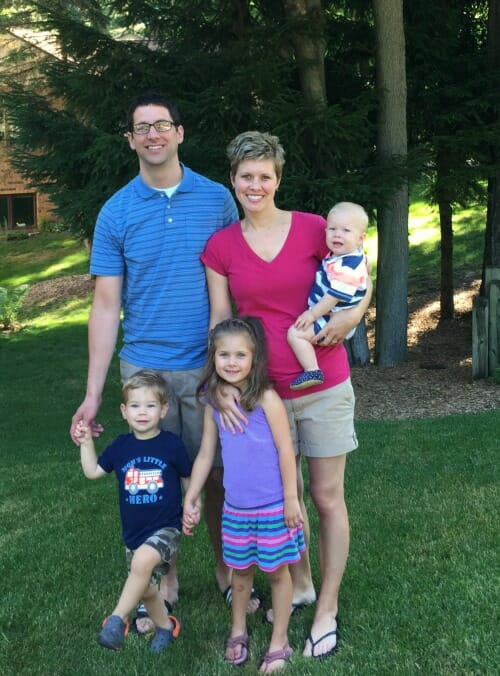 If you love your regular date nights, then by all means, keep doing them. The point of sharing my thoughts is not to stop you from doing something you enjoy or having fun date nights with your spouse. Rather, it's to simply share that Dave and I don't do date nights, we don't feel bad about it… and if you don't do date nights, you shouldn't feel bad about it either!
There are so many other ways you can connect with your spouse and enjoy time together without actually going out on a date! In fact, in the links below, I shared 8 of our favorite frugal date ideas and only ONE of them involves actually going on a more traditional date!
After 10 years of marriage, I'm certainly NOT an expert — but these two topics have been weighing on me for some time and I'm glad to finally be sharing my thoughts with you!
.
Also, for those of you who might be newer readers, you can check out my past anniversary posts via the links below:

9 years :: How the quest for "Fair" can ruin a relationship (so good for any relationship, not just marriages)

8 years :: 8 of our favorite FRUGAL date ideas

7 years :: Our engagement story (it's so good!)

6 years :: We were at Dave's brother's wedding that weekend (his brother's anniversary is June 29, our's is June 30, and his sister's is July 1 — crazy huh?!)

5 years :: A few pictures of our first 5 anniversaries
What are your thoughts on dream weddings and date nights?