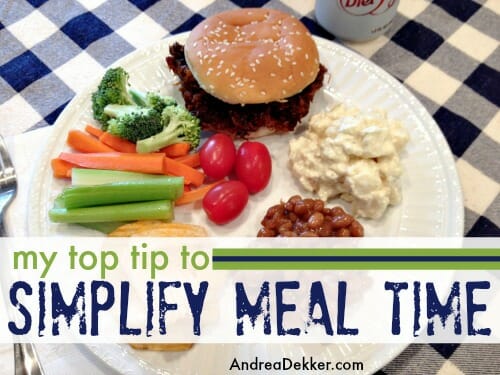 During the summer months, when Dave is home and we eat 3 meals a day as a family, I'm reminded more than ever how crazy and chaotic meal times can be with 3 young children.
Someone needs more of this, someone doesn't like that, someone needs their food cut up or their drink refilled, someone spills something, someone is crying, etc. etc.
And that's just when we're eating the meals — I still need to find the time and energy to prepare the meals as well!
We definitley do plan "easy meals" (leftovers, fast food, frozen pizza) into our weekly meal plans, but in general, most of our meals require at least some preparation.
So in an effort to simplify our meals times…
I almost always choose foods I can make ahead.
.
Everything from mixing up pancake or waffle batter before we go to bed, preparing lunch while the kids finish breakfast, and assembling dinner while the boys are napping — I literally try to plan and prepare ALL the food we eat well in advance of when we will be eating it.
This holds true for simple meals at home with our family, for the times we have a few dinner guests, for kids' birthday parties or playdates, and especially for larger entertaining opportunities like holiday parties or backyard BBQ's.
By specifically planning main courses, side dishes, and desserts that can be made ahead, I am able to drastically simplify all of our meal times, enjoy entertaining so much more, save boatloads of time and energy in the kitchen, and even reduce the clean-up!
.
Yes, I realize this isn't a new concept, and it might not be the fabulous tip you were hoping for — but it works wonderfully for me; I can almost guarantee it will work for you too!
Although constantly planning ahead for every meal of every day might sound exhausting and overwhelming, I have found that it is much LESS exhausting and overwhelming than trying to make last-minute meals with 3 small (hungry) children whining and crying, or with a house full of guests waiting to eat.
So instead of hustling around the kitchen trying to make a bunch of last-minute foods, I almost always choose foods that can easily be made (or at least assembled) ahead of time
My Favorite Make-Ahead Foods
Literally, almost every single thing I make when entertaining is something that can be made a full day in advance and just pulled from the fridge, pulled from the pantry, pulled from the oven, or sit out in a slow cooker on the day of the party.
At this point in my life, I have enough make-ahead recipes that it's pretty easy to mix and match until I come up with a winning combo for our meals. However, there are plenty of times when I alter a recipe slightly so it can be made in a slowcooker or made ahead of time and refrigerated until I'm ready to put it in the oven.
I also don't do a ton of stove-top cooking, as that is usually more last-minute types of foods. I try to make all hot foods in the oven or in a slow cooker.
We do use the grill quite a bit in the summer, but Dave does the grilling and I try to plan side dishes that I can make ahead (baked beans in a slow cooker, lettuce salad already made ahead in the fridge, grilled corn on the cob that he can grill with the meat, etc.)
For example:
Baked goods and desserts:
I make almost 100% of all my baked goods and desserts several days (or even weeks in advance). Cookies and brownies last for weeks and months in the freezer, and most cakes can easily sit for a day or two as well.
If ice cream is on the menu, I just keep it in the freezer until it's time to eat — and if I'm serving pie, I'll still make it either the night before or in the morning.
Here's the link to ALL my dessert recipes.
.
Breads and muffins:
I almost always keep a small supply of quick breads and muffins in the freezer to pull out and defrost for snacks or to go with breakfast. However, sometimes I just want the taste of fresh-from-the-oven breads and muffins so I mix up the batter the night before and then bake them fresh right when I wake up.
Here's the link to ALL my bread and muffin recipes.
.
Breakfast:
I've already shared our basic morning routine — and how we eat 2 breakfasts everyday — however, since the mornings often seem rushed and chaotic for me, I try to plan and prepare as much food ahead of time as I can.
I have water and juice cups in the fridge ready for when the kids wake up. I have pancake batter or an egg casserole all mixed up, muffins or bread either made in advance or defrosting overnight, and fruit already washed, cut up, and ready to eat.
Then in the morning, I can just put the egg casserole in the oven, or pull the griddle out and start flipping pancakes.
Here's a link to ALL my breakfast recipes.
.
Main dishes:
Make-ahead main dishes always seem to be the easiest for me to decide on because I have SOOOOOO many awesome make-ahead recipes. In fact, I feel like the vast majority of all the main dish recipes on my blog work well as make-ahead options.
My favorites are:
any type of pasta dish or casserole I can assemble during the day (or pull from the freezer) and pop in the oven
any type of meat I can put in the slow cooker
any type of soup I can cook during the day and let simmer until dinner
our favorite Mexican base mixture that I make ahead and then use for quesadillas, tacos, etc.
Here's a link to ALL my main dish recipes.
Here's a link to ALL my slow cooker recipes.
.
Salads and cold side dishes:
Lettuce salads can be tricky to make ahead because the dressing often causes the lettuce to get soggy — however if you're looking for a REALLY GOOD make-ahead lettuce salad recipe, you've got to try this one. It's my go-to recipe any time I want to make a salad ahead of time, or whenever I need to bring a salad to some sort of gathering. I rarely take any home with me!
There are also tons of recipes for make-ahead pasta salads, potato salads, Jello salads, and fruit salads — all of which can easily be made the night before. And of course, bread and butter, or some cut-up fresh (or canned) fruit are always winning side dishes for our family!
All of these salad recipes are great make-ahead options!
.
Potatoes:
I have a handful of awesome potato recipes that can all be made ahead and then either put in a slow cooker or baked in the oven depending on what works best for your meal.
And potato salad or potato chips are even easier to have ready at a moment's notice!
Here are some of my favorite make-ahead potato recipes.
.
Veggies and hot side dishes:
Veggies are another tricky thing to make ahead — at least for me. They are often the only thing I do at the last minute, but I still try to have them all cut up and in the pan earlier in the day.
Here are a few of my favorite make-ahead veggie and hot side dishes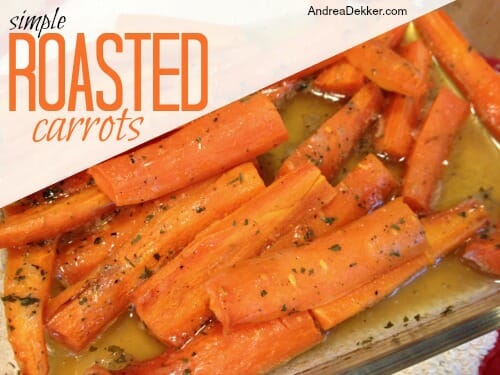 As I mentioned above, by planning and preparing our meals well in advance, I'm able to drastically simplify our mealtimes, free up a bunch of time, and alleviate some of the mess in my kitchen. Plus, we are rarely left wondering "What's for dinner?" at 5:00.
I've been cooking this way for years (even before children) but the benefits of cooking and baking ahead have multiplied over the past few years as we add more mouths to our family!
I realize it's not always possible to make all your food ahead of time — but you might be surprised how many of your favorite recipes can easily be assembled or at least partially cooked ahead of time (even the night before for those who work during the day).
If you'd like to simplify YOUR meal times, I would highly recommend planning 1 week of simple, make-ahead main dishes, sides, and desserts — start small and just worry about dinner for now.
If you hate it, then quit after a week; but if you feel like it might work for you, try it for another week… then another!
How do YOU simplify meal times?