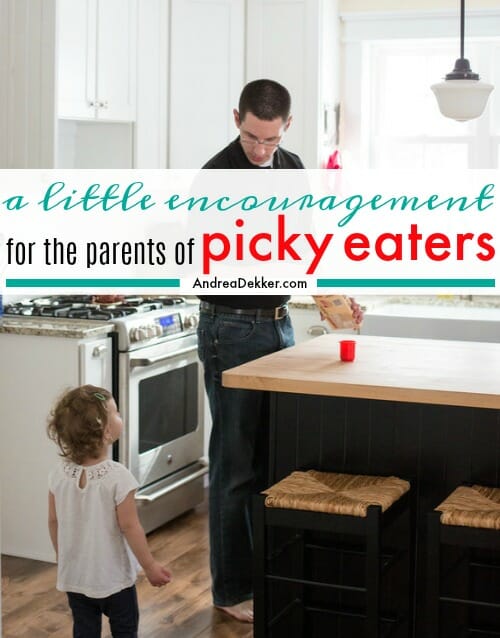 Are your kids "picky eaters"?
Do you feel anxious about the assumption that they don't eat as much or as well as their peers?
Have you been shamed by other parents, relatives, friends, doctors, or "experts" because of what your children don't eat?
Do you worry about how to "fix" the picky eaters in your home?
If you're stressed about picky eaters, you're in the right place!
.
Now, before we get started, I should probably clarify a few things…
I don't have a 3-, 5-, or 7-step plan for getting your children to willingly eat massive amounts of veggies.
My intentions are not to drill you with all sorts of "must-dos" in order to raise "healthy" children.
I certainly won't subtly hint that your child's "selective eating" is your own fault.
And I won't even tell you to force your child to eat "just one bite".
Are we off to a good start yet?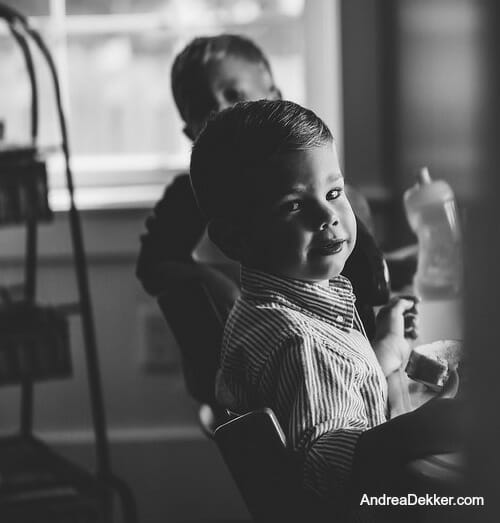 I've wanted to write this post for years now, but I felt I didn't have enough parenting experience, and I obviously don't have a medical background either (please take that into consideration as you read).
However, after dealing with our oldest daughter's highly sensitive personality, years of sleep struggles, and so many food aversions, I've learned significantly more than I ever wanted to know about feeding young children.
I certainly don't know everything there is to know, but I have a plethora of random information floating around in my brain just itching to get out!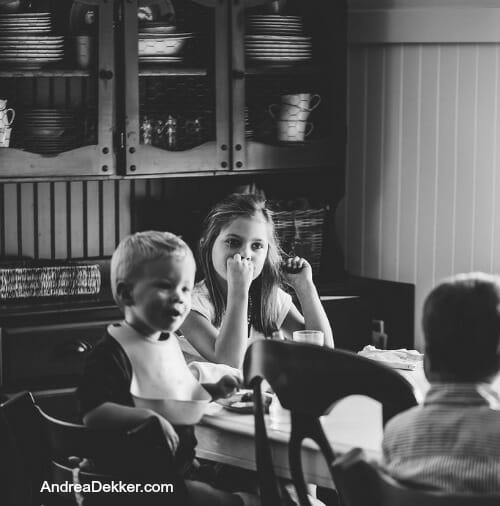 My goal for this post is that after reading it, you will be able to breathe a sigh of relief, enjoy mealtimes a little bit more, and acknowledge how totally amazing your kiddos really are!
OK… let's get started!
A Few Things to Consider:
Taste Buds:
Babies are born with roughly 10,000 taste buds. Over time, the number of taste buds diminishes. Some sources I've read suggest our tastebuds change constantly, others speculate they decrease every 5-7 years, still, others say the taste buds change during puberty or even later in life.
Whatever the case, most "experts" seem to agree on the fact that our tastebuds DO change over time — which is one reason why we might not like certain foods as children but then eventually learn to like them.
Keep this in mind when trying to get your child to eat something new — if it's spicy for you, it will taste even spicier for them. If it's sour for you, it will taste more sour to them. etc. etc.
Food Sensitivities:
These are VERY REAL and could cause major issues for your picky eaters (and for you!)
Obviously, every situation is different, but my across-the-board advice for any parents who suspect food sensitivities is to find a therapist who specializes in oral therapy (not necessarily a speech therapist).
We went through 3 different rounds of food therapy with Nora until we found one that worked for us!
Allergies:
Again, I don't want to scare you or over-generalize, but if children are allergic (or have an aversion) to a certain food, they won't feel good after eating it — which could be one reason for their defiant behavior at the table.
More than likely, your child is just a little (or a lot)"picky" — however, it doesn't hurt to search out a little more information if you're concerned about sensitivities or allergies.
Once you've ruled those out, it's time to move forward… I'm hoping my tips below will help you do just that!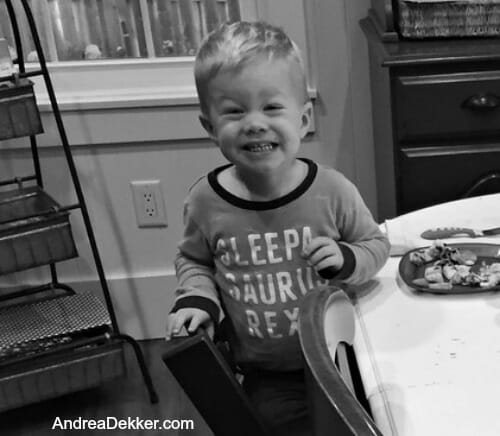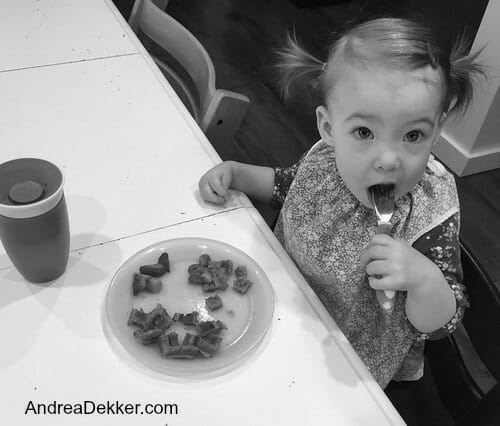 1. Focus on what they WILL eat instead of what they won't.
In my experience, nothing causes a child to "shut down" faster than an adult trying to FORCE them to do something they don't want to do!
And in case you didn't already know this… you can't literally force a child to put a piece of food in their mouth, chew it, and swallow it. They must voluntarily do it in order for the food to make it down their throat!
If you are in the thick of food battles with your children, my first pieces of advice are simply to take a step back, stop forcing foods they don't care for, and stop focusing your attention on what they WON'T eat.
Instead, serve (or pack) the foods they DO like on regular rotation. It might not be a balanced diet in any way, but I wouldn't get too uptight as this is just a temporary situation.
Your main concern, at least in the beginning, should be getting them excited to eat ANYTHING they are willing to eat.
NOTE: Here's a good website (My Fussy Eater) that offers tons of helpful tips, ideas, and recipes for picky eaters.
.
2. Focus on quality time together at the table instead of the food.
As I mentioned above, the main concern at the beginning of this journey is simply to get the kids happy and excited to come to the table and enjoy quality family time.
NOTE: If you aren't already sitting down to eat a meal together at the table I'd highly encourage you to make this routine a part of your day. It's much more enjoyable to eat in a group than by yourself… and when everyone is participating in the conversation, the focus naturally moves away from the food… which can be a good distraction for picky eaters.
Feel free to make (or buy) whatever you want for your meals together, but plan ahead so you know there will be something the picky eaters will get excited to eat.
Draw out the meal by serving 2nd helpings, serving an occasional dessert, or even reading a book together as a family after the meal. Just make it fun for them to hang out at the table.
NOTE: If your kiddos are the type who simply don't eat, claiming they aren't hungry, I'd be OK with letting them sit there and participate in conversation even if they "aren't hungry." Just make it very clear that they will not have another opportunity to eat for the remainder of the evenings (and then stick to this rule). One night of being slightly hungry won't do too much damage!
.
3. Focus on what YOU eat.
I've mentioned this before, but it pretty much goes without saying that your children will NOT eat fruits and veggies or try new foods unless they see you doing the same thing.
You can't serve your kids a plate of produce while you're chowing down on MickeyD's and expect to get away with it!
Obviously, that's a bit of an extreme example, but you get the point.
Make sure your kids see you trying foods you don't necessarily care for (Dave and I regularly humor our kids by trying my homemade pickles even though we both detest them!)
Talk about how you didn't like certain foods as a child but now you do. Let them hear you talk about your own food struggles and how you overcame them. Let them see you eating healthy food choices without making a big deal about it.
PRACTICE WHAT YOU PREACH!
.
4. Focus on SLOW positive changes.
They tried one bite of melon, broccoli, or potatoes — WOW, that's amazing! Be excited with them… but don't make it into a big show or production. Also, don't automatically ask them to try another bite of something else, and don't necessarily assume they will try this same food at your next meal either.
Just acknowledge that you're proud of them, and then move on with your own meal.
While I'm a HUGE advocate for encouraging (or gently "forcing") my own kids to try one bite of every new food, I also realize that if your family has a history of food battles, it's probably better to focus on VERY SLOW POSITIVE CHANGES instead of forcing them to eat one bite of everything on their plate.
My main concern is that the children continue to enjoy their eating experience and look forward to mealtimes.
Eventually, you will start to see some progress — maybe next week or maybe not until next year (be patient, you can do this!)
.
5. Focus on "total health" instead of just their diet.
It's so easy to get hung up on what our kids are eating (or not eating) — partially because it's such a "hot topic" in today's culture, but also because they seem to eat 873 times every day!
Believe me, I get it!
However, I'd encourage you to consider your children's physical, mental, emotional, spiritual, and intellectual health and well-being in addition to what they are eating.
Are they moving throughout the day, playing outside with friends, running on the playground, and riding bikes with neighbor kids?
Do they enjoy going to school, do they seem to do well in class, and are they continuing to learn and develop intellectually?
Are they respectful of their teachers, classmates, and family members?
Do they exhibit a strong sense of morality?
Are they kind and considerate of the others around them?
Do they appear happy, joyful, and content most of the time?
Do they sleep well at night?
If you can answer "yes" to the majority of the questions above, give yourself a nice pat on the back because you and your picky eaters are doing just fine, my friend!
Your children won't eat broccoli (or any other fruit or vegetable)?
Big deal!
This cannot, and should not, be the most important issue you concern yourself with — especially not if you consider the overall big-picture of their lives!
I know SO MANY adults who claimed to be "the pickiest eaters ever" as children… and rest assured, they are all now fully-functional members of society with jobs, homes, marriages, children, (and yes, veggies in their fridge!)
I know there are extreme cases of children who only eat McDonald's chicken nuggets for every meal (I watched the Netflix documentary a few years back) but those are just that… EXTREME!
For the vast majority of typical children and family situations, the pickiness is outgrown within a few years.
Just keep encouraging them, modeling good behavior, and providing many opportunities for them to see, touch, experience, and try (if they're willing) a variety of foods.
Do you consider your children to be "picky eaters"?
If so, what are your best tips, tricks, and words of wisdom for other parents battling with picky eaters right now?