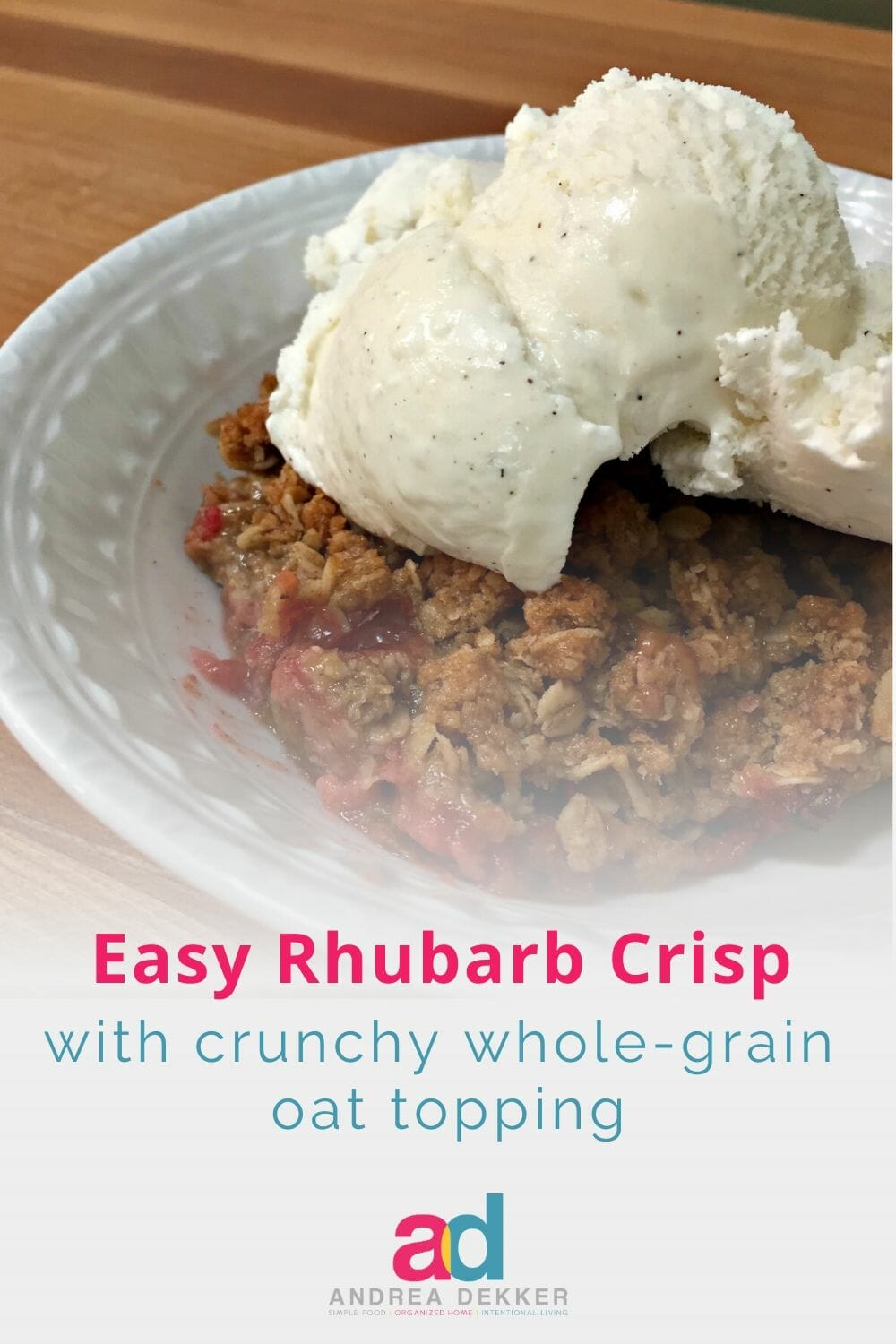 This deliciously tart and sweet rhubarb crisp topped with a crunchy whole-grain oat topping is the ultimate springtime dessert… a scoop of creamy vanilla ice cream doesn't hurt either!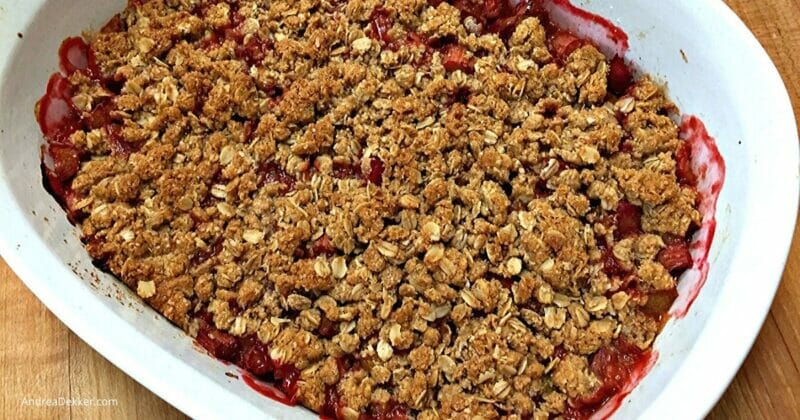 Every spring I try to share a new rhubarb recipe on the blog. It's just such a great springtime treat… and where we live, rhubarb grows wild all over the place — so we can always get it for free.
We have a huge rhubarb plant in our vegetable garden, and while I do freeze some of the fruit for year-round baking, I also try to bake all sorts of easy rhubarb dessert recipes as much as possible every spring.
In keeping with my dedication to eating whole grains, this recipe for Rhubarb Crisp is made with a delicious whole-grain flour and oat topping.
I use old fashioned oats and white wheat berries that I grind myself in my Nutrimill grain mill. Of course, any store-bought flour will work just fine for this recipe too!
I also add a little bit of Cardamom — one of my new favorite spices — as I feel like it gives the topping an extra burst of flavor.
If you don't already have Cardamom in the house, feel free to just use cinnamon instead. It's not worth spending $7 on another bottle of spices if you won't use it for anything else!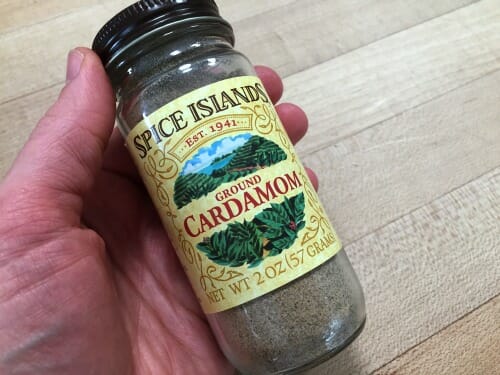 How to Prevent Your Rhubarb Crisp From Getting Soggy:
As I mention in the recipe below, I let my rhubarb "drain" for a bit to prevent the finished recipe from getting too soggy (a notorious down-side of baking with rhubarb).
To do this, I simply sprinkle a little sugar, flour, and lemon juice over the cut pieces of rhubarb and let them "marinate" in a bowl for a bit. Then I scoop out the rhubarb with a slotted spoon and dump the extra liquid.
Using Frozen Rhubarb?
You CAN use frozen fruit for this easy rhubarb dessert recipe — but again, you'd want to let it drain (probably in a colander) so your finished results aren't soggy rhubarb soup!
In my opinion, the tart, tangy rhubarb, and sweet crunchy topping pair perfectly with creamy vanilla ice cream as the ultimate springtime dessert!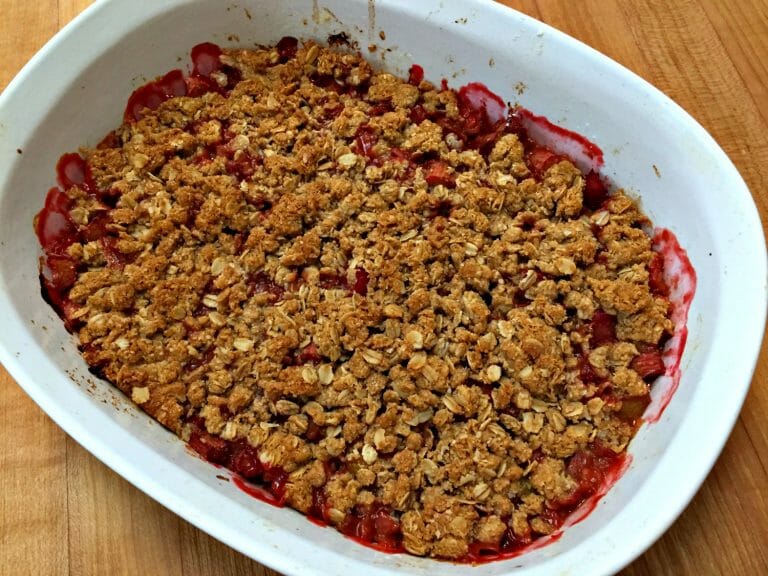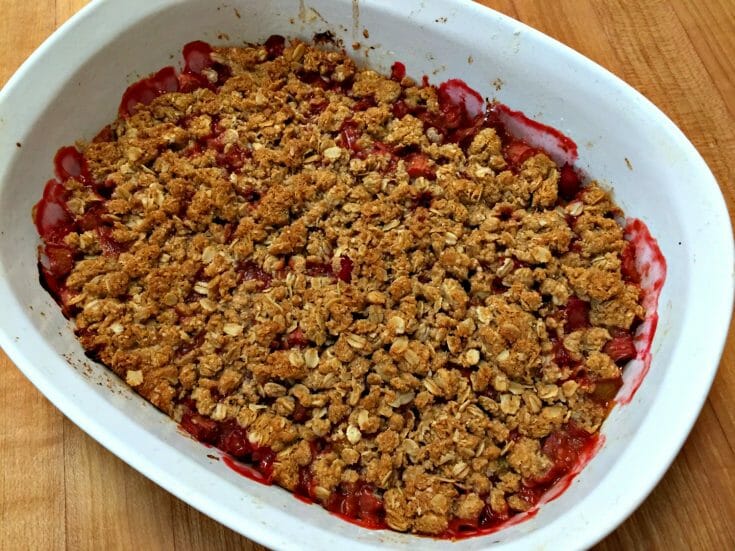 Tart rhubarb topped with a crunchy sweet oat mixture and served warm with vanilla ice cream is one of my favorite springtime desserts!
Ingredients
For the Rhubarb Filling
1.5 pounds rhubarb (about 4-5 cups, chopped)
1/4 c. granulated sugar
2 T. flour or cornstarch
1 T. lemon juice
1 t. vanilla extract
For the Topping
1/2 c. flour (I used oat flour)
1/2 c. brown sugar
1/2 t. cinnamon
pinch of salt
4 T. very cold butter
Instructions
Prepare rhubarb by washing and dicing into bite-size pieces.
Place into a medium-size bowl with 1/4 c. sugar, 2 T. flour, lemon juice, and vanilla.
Stir and let sit for a couple of hours (lots of juice will accumulate on the bottom of your bowl)
In a separate small bowl, mix flour, oats, brown sugar, cinnamon, cardamom, and salt.
Use a large-holed cheese grater to grate the cold butter into the oat mixture.
Mix butter into oat mixture (I like to use my hands to press the mixture together) until it becomes crumbly. Put in refrigerator until ready to bake.
When Ready to Bake:
Preheat oven to 375ºF.
Grease an 8" x 8" or 2.5-quart casserole dish.
Spoon rhubarb mixture into the dish (I use a slotted spoon so the liquid stays in the bowl)
Sprinkle oat mixture over rhubarb
Bake in preheated oven for 45 minutes or until topping is browned and rhubarb is bubbling up around the sides of the dish.
Serve warm will vanilla ice cream!
Notes
Use gluten-free oat flour to make this recipe gluten-free.
If you're short on time, you do not need to let the rhubarb sit for a few hours. However, your finished dessert will be much juicier and probably a bit harder to serve!
MORE RHUBARB RECIPES:
Recommended Products
As an Amazon Associate and member of other affiliate programs, I earn from qualifying purchases.
Nutrition Information
Yield
6
Serving Size
1
Amount Per Serving
Calories

363
Total Fat

9g
Saturated Fat

5g
Trans Fat

0g
Unsaturated Fat

3g
Cholesterol

20mg
Sodium

95mg
Carbohydrates

67g
Fiber

4g
Sugar

24g
Protein

4g
In my opinion, rhubarb crisp is best served the day you bake it, but if you don't mind a less crunchy topping, it will easily keep for a few days on your counter or in the refrigerator.
What are your favorite ways to enjoy rhubarb?
Visit my virtual recipe box for more simple, delicious, family-friendly recipes!