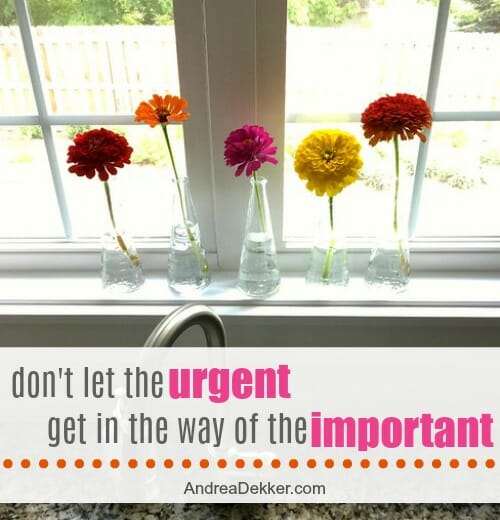 One thing I've stressed over and over and over again in my own life, with past clients, with my children, and here on my blog is the importance of planning ahead.
If you want your life to be less stressful, less chaotic, less hectic, less cluttered, and more enjoyable, one of the first things I suggest is to START PLANNING AHEAD!
Everything from end-of-year events and activities at school and summer vacation plans to meal planning and basic home care — it's all simpler and more enjoyable if you take a few moments to plan in advance so you're not rushing at the last minute, stressing about everything you "don't have time to do", and worrying about the things you might forget in your frenzied state.
Planning ahead might not always be convenient, it might not always be fun, and it might not always be easy; but over the course of my life, the benefits of planning ahead have far outweighed any amount of effort I put into the planning.
I could talk about planning ahead until I'm blue in the face — but if I had to boil it all down to one single reason why planning ahead helps me to simplify, streamline, and de-stress my entire life, it would be this:
Planning ahead allows me to focus on what's IMPORTANT to me, instead of dealing with the URGENT.
When I plan ahead, there are very few "urgent" tasks or obligations I need to frantically tend to at the last minute. Instead, I can focus my time and energy on what's more important to me at any given time.
Example #1 = Planning Our Meals:
If I don't plan my meals ahead of time, dinner becomes URGENT right around 4:30 pm when the kids get hungry and crabby.
By this point in the day, I'm likely to feel extra-annoyed with my crabby kids because I've been with them ALL day long and I'm also getting hungry. Add in the fact that without a plan for dinner, I'm now trying to race around the kitchen to frantically whip something up while the kids are still whining and always seem to be right in my way.
I might just give up and ask Dave to pick up a Little Caesars pizza because I'm too tired to care… which means we're spending extra money on no-so-great food when our refrigerator is bursting with fresh fruits and veggies I simply didn't take the time to prepare or plan in advance.
On the flip side, if I have a meal plan and all my ingredients ready to go, I can make dinner during nap time (or even while the kids eat breakfast or lunch), shove it in the oven when Dave gets home from school, and enjoy some IMPORTANT family time or catch up on IMPORTANT work tasks while I wait for dinner to finish cooking.
We will eat on time (before everyone is "hangry"), we eat a much more balanced meal, we prevent annoyed, frantic, stressed-out feelings, and we save money by eating at home.
Example #2 Planning My Online Work:
If I don't plan ahead in my online work, it becomes URGENT at 9:00 pm the night before — when I'm tired and ready to go to bed.
This means I need to stay up later than I want to, force my work to happen instead of letting it flow naturally, probably produce sub-par content, and feel exhausted the next morning.
But when I work ahead, I can work when it's convenient for my schedule, when I have lots of energy, when I'm feeling well-rested, when the kids aren't needing my attention, and when I don't have the looming pressure of a deadline.
Example #3 Planning for Holidays and Special Events:
If I don't plan ahead for birthdays, anniversaries, teacher/pastor appreciation week, or other holidays, I suddenly have an URGENT need for a particular gift the day before.
This means I will most likely make/bake something at the last minute, or head out to the store to buy a gift or various ingredients to make a gift and probably pay full price and/or end up with something different than what I was looking for.
I'll waste time, energy, money, and probably end up pretty grumpy and stressed out (which totally defeats the spirit of these special occasions).
If I simply plan ahead, I alleviate (almost) all the stress, chaos, and urgency that so often comes with these special events!
I note upcoming gift needs in my planner, make a plan to buy or make gifts ahead of time, help the kids make hand-made cards in advance, and have everything ready to several days before we actually need it (I often put baked goods in decorative tins in the freezer). The gift-giving is actually fun and enjoyable versus hectic and stressful — imagine that!
Example #4 Planning life with 4 children:
If I don't have a written plan for our days, there are often many URGENT things that seem to get in the way of life with 4 children, 3 different school schedules, my work schedule, and a laundry list of home and yard projects.
It's not fun, and if it happens, I usually end up yelling more than I want to, and I'm very grumpy by the end of the day.
However, when I have a plan for the day and my to-do list ready to go, my days (and our family's home life) are exponentially more fun, light-hearted, and enjoyable.
I have much more time and energy to devote to IMPORTANT things like watching Nora's new flip on the swings, playing UNO with Simon, listening to James recount every single bug he saw outside, and patiently waiting while Clara gets her shoes and coat off "all by herself".
Have I convinced you yet?
Planning ahead might not seem like a big deal… but I promise you will be amazed how much simpler your life will feel when you can focus on the IMPORTANT things instead of always stressing about the URGENT tasks that keep getting in the way of everything else you'd rather be doing.
Of course, there will be bad days, last-minute change of plans, and truly urgent tasks that fall on your plate (after all, there are always exceptions to the rule)… but if you're working hard to plan ahead in most areas of your life, those instances will not be normal.
Is your "urgent" getting in the way of your "important"?
If so, pick 2 areas of your life to start planning ahead.
Maybe it's setting out your clothes and packing your lunch the night before.
Maybe it's planning next week's menu and making your grocery list every Sunday so you're ready to do your shopping on Monday (or whenever you like to shop).
Maybe it's doing a little deep cleaning and purging now so your house is cleaner and more organized before the crazy summer schedule arrives.
Whatever you choose, work at it diligently for a few weeks and see if you notice any difference. It probably won't be easy or fun, especially in the beginning, but it WILL be worth it!
A simpler life starts when you can focus on what's important to you, instead of always worrying about the urgent!