Don't Let Urgent Get in the Way of Important
posted by Andrea | 11/4/2016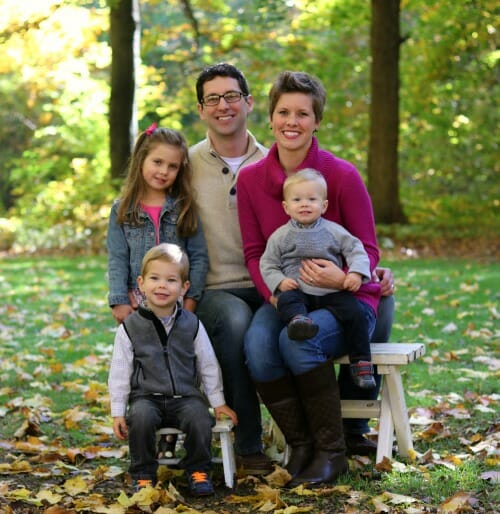 One thing I have stressed over and over and over again in my own life, with past clients, with my children, and here on my blog is the importance of planning ahead. If you want your life to be simpler, less stressful, less chaotic, less hectic, less cluttered, and more enjoyable, one of the first things I would suggest doing is START PLANNING AHEAD.
Everything from holiday gifts and preparations, meal planning, lunch packing, cleaning, and entertaining — it's all simpler and more enjoyable if you take a few moments to plan in advance so you're not rushing at the last minute, stressing about everything you don't have time to do, and worrying about the things you might forget.
Of course, planning ahead won't magically give you a simpler, more enjoyable life… but it will definitely start you off in the right direction! 
It might not always be convenient, it might not always be fun, and it might not always be easy to plan ahead; but in my 31 years of life, the benefits of planning ahead have far outweighed any amount of effort I put into the planning.
.
I could talk about planning ahead until I'm blue in the face — but if I had to boil it all down to one single reason why planning ahead helps me to simplify, streamline, and de-stress my entire life, it would be this:
Planning ahead lets me focus on the IMPORTANT instead of dealing with the URGENT.
When I plan ahead, there are very few "urgent" tasks or obligations I need to frantically tend to at the last minute… instead, I can focus my time and energy on what's more important to me at any given time.
Example #1: 
If I don't plan my meals ahead of time, dinner becomes URGENT right around 5:00pm when the kids get hungry and crabby. I'm likely to feel annoyed with my crabby kids, feel frantic as I race around the kitchen trying to whip up something for dinner, or I'll go get a Little Caesars pizza because I have no plan and can't come up with anything fast enough to feed my hungry kiddos.
On the flip side, if I have a meal plan and all my ingredients ready to go, I can make dinner during nap time, shove it in the oven when Dave gets home from school, and enjoy some IMPORTANT family time or catch up on IMPORTANT work tasks while I wait for dinner to finish cooking. We can eat on time, avoid overly-hungry crabby children, prevent annoyed, frantic, stressed out feelings, and save money (and calories) eating homemade food.
Example #2: 
If I don't plan and write my blog posts a full week ahead of time, they become URGENT at 10:00pm the night before — when I'm tired and ready to go to bed. This means I need to stay up really late, force my writing with little time to proofread, produce sub-par content, and feel exhausted the next morning.
But thanks to the fact that I have my blog posts written several days (even weeks) in advance, I can write whenever it's convenient for my schedule and I can switch between multiple posts to write the content I'm most excited about at that time. It also means I have plenty of time for Dave to proofread my posts, and I don't need to stay up late to meet a deadline. I can focus on the IMPORTANT tasks throughout the day without stressing about frantically finishing my blog post before I go to bed.
Example #3:
If I don't plan ahead when I'm hosting a party or having people over for dinner, I'm left with several URGENT to-do's right before people arrive, meaning I might not finish everything on-time, the food might not be cooked properly, and I won't have time to finish getting ready.
However, if I plan well in advance, choose make-ahead recipes, have dishes and serving pieces ready to go with an empty dishwasher to load up the dishes after we eat, and have the house relatively neat and clean, I'm freed up to focus on more IMPORTANT things like spending time with my guests when they arrive and changing out of my food-stained clothing!
Example #4:
If I don't plan ahead for birthdays or Christmas gifts, I suddenly have an URGENT need for a particular gift the day before the party. I'd need to head out to the store to find something at the last minute, probably pay full price, and I might not find exactly what I was looking for. I would waste time, energy, money, and probably be pretty grumpy and stressed out by the time I got home.
If I had simply planned ahead, made a list of gifts I wanted for each person, I could have shopped around online, found coupon codes, ordered them well in advance, and had them wrapped and ready to go with plenty of time leftover to focus on IMPORTANT birthday or holiday traditions and events.
.
Catching on yet?
Planning ahead might not seem like a big deal… but I promise you will be amazed how much simpler your life will feel if you can focus on the IMPORTANT things instead of always stressing about the URGENT tasks that keep getting in the way of everything else you'd rather be doing.
Of course, there will be bad days, last-minute change of plans, and truly urgent tasks that fall on your plate… but if you're working hard to plan ahead in most areas of your life, those instances will be the exception, not the norm.
.
Is your "urgent" getting in the way of your "important"?
If so, pick 2 areas of your life to start planning ahead.
Maybe it's picking out your clothes and packing your lunch the night before.
Maybe it's sending out an email to arrange all the food for an upcoming holiday party.
Maybe it's planning next week's menu and making your grocery list every Sunday so you're ready to do your shopping on Monday (or whenever you like to shop).
Maybe it's doing a little deep cleaning and purging now so your house is cleaner and more organized before the holiday entertaining rush.
Whatever you choose, work at it diligently for a few weeks and see if you notice any difference. If you don't, you can email me and tell me I'm a liar — but I have a feeling I won't get many of those emails!
A simpler life starts when you can focus on the important, instead of always worrying about the urgent!