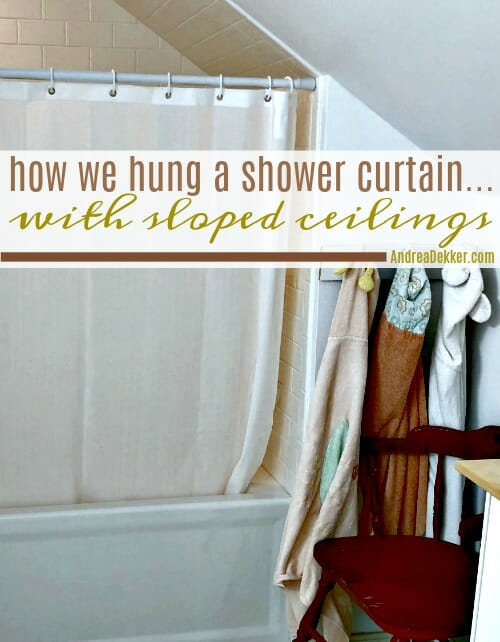 A few weeks ago, I shared how I organized our boys' bedroom closet with sloped ceilings and maximized their storage space, despite lots of awkward nooks and crannies.
These crazy sloped ceilings are part of EVERY room upstairs — including our bathroom — so we've gotten pretty good at working WITH them and using them to our advantage whenever possible.
Another example of this is in the kids' bathroom…
When we purchased the house, there was a massive amount of wasted space next to a very small stall shower.
We maximized the space by putting in an extra-large, extra-deep tub with built-in shower storage and a "fake wall" built out so we'd have a place to put a chair (for adults giving baths), hang towels, or eventually butt a counter up to.
This bathtub has worked fantastically well for our family over the past 4+ years — always with 2 or 3 kiddos taking a bath every night.
However, now that Nora and Simon are both taking showers (previously in our bathroom downstairs) we decided it was time to hang a shower curtain by their tub so they could then shower upstairs.
Over the years, I have gotten SOOOOOOOO many questions about how we would eventually hang a shower curtain in this bathroom — many people were amazed we would ever choose such a weird bathtub/shower arrangement, and some were "certain we would regret our decision". 🙂
Oh, ye of little faith…
Don't you know Dave and I always have a method to our madness!?
Nothing fancy, nothing complicated — just a normal tension rod hung slightly lower than "normal" with a regular shower curtain cut to fit our space.
It took me roughly 10 minutes to remove the curtain from the package, hang it on the rod, install the rod, and then cut the bottom 18 inches of the curtain.
It's still more than enough coverage for the kids, and no water sprays out the top — I promise!
When we use this area for the tub ONLY, we drape the curtain over the rod so it's not in our way (we do the baths first, then showers — so the curtain isn't wet when we drape it over).
Also, it's probably worth noting that when we're finished with baths and showers for the night, we hang our bathroom rug over a towel rod on the back of the door to dry (it's always very wet by the end of the night!)
This arrangement should work for our family for a few years… and whenever the kids are taller than the rod, we'll most likely be finished with baths at that point, so we have another plan for a "higher", more permanent privacy curtain at that point!
Do you have any strangely sloped showers or interesting bathroom arrangements?
I'd love to know what solutions you came up with and/or how you maximize your space!