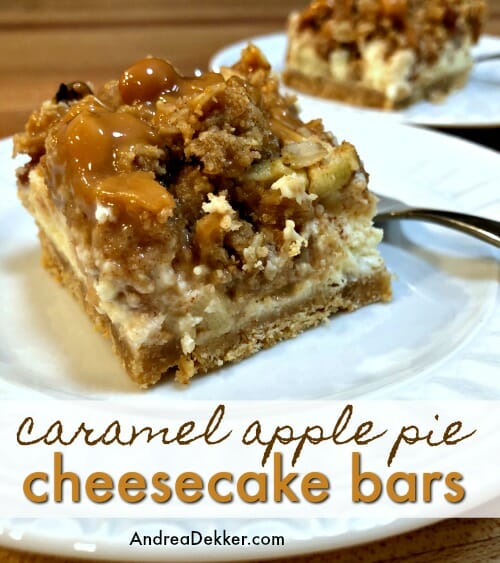 Caramel apple pie cheesecake bars – honestly, can a dessert get any more "Fall" than that?
My chosen name for this delicious dessert sort of reminds me of the "Before & After" category on Jeopardy!
Caramel apples?
Apple pie?
Caramel apple pie?
Cheesecake?
Cheesecake bars?
Apple pie bars?
Yes… all of the above!
If you love caramel apples, if you love apple pie, if you love cheesecake, if you love bars, if you love make-ahead desserts that taste just as good a day or 2 later… you absolutely MUST try my Caramel Apple Pie Cheesecake Bars at least once before apple season is over!
The idea for this recipe came to me after attending a ladies' luncheon where we had the choice between caramel cheesecake and a Dutch apple pie for dessert (2 of my all-time favorite non-chocolate desserts).
On the drive home, I thought… "I should see if I could combine these 2 desserts AND see if I can make it with 100% whole grains!"
The next week, I got out my recipe for Dutch Apple Pie and for Cheesecake, and set about making a few tweaks and changes to come up with a new recipe!
The results of my caramel apple pie dessert experiment were fantastic and my whole family approves!
.
In my efforts to include more whole grains in all the foods we eat, I ground my own soft white wheat for this recipe.
HOWEVER, any type of whole grain, whole wheat, all-purpose, or even gluten-free flour should work equally as well.
I like the cookie crust (as opposed to a more traditional graham cracker crust) for these bars as I feel it's more substantial and helps the bars hold together better. However, if you like a graham cracker crust, feel free to substitute.
As for the cheesecake layer… it's super creamy, which I love! I kept the layer fairly thin (just 16 oz. of cream cheese for a 9″ x 13″ pan). You can double the amount of cream cheese if you want REALLY thick bars, but you'll need to extend the baking time by at least 15 minutes and possibly cover the top loosely with foil to prevent over-browning.
The apple pie layer is sweet and tart at the same time, and deliciously juicy — just like an apple pie should be!
I almost always use Granny Smith apples if I can. I dice them quite small– not slices like a traditional pie.
The crispy, crumbly, cinnamony oat + pecan topping is SOOOO yummy! And the drizzle of caramel sauce is the final compliment to these fantastic bars.
Truly, I'm so happy with how these bars turned out — my family and our dinner guests all give them 2 thumbs up as well!
If you're looking for a new favorite fall recipe, give my Caramel Apple Pie Cheesecake Bars a try!
This post may contain affiliate links. If you click through and take action, I will receive a small compensation (thanks!) Read my disclosure policy.
Yield: 24
Caramel Apple Pie Cheesecake Bars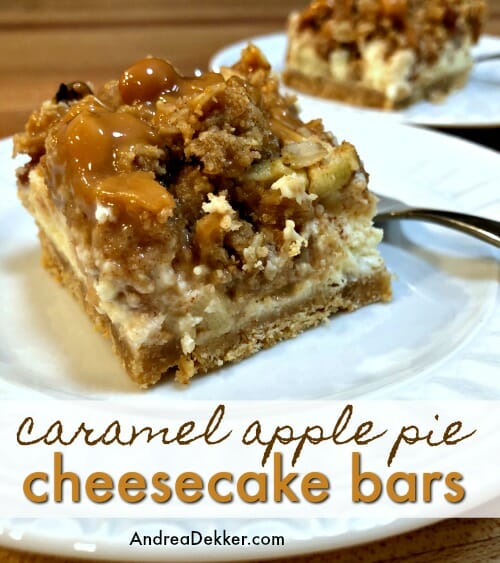 These Caramel Apple Pie Cheesecake Bars combine all the best elements of Fall desserts into one delicious package! Give them a try before apple season is over!
Ingredients
CRUST
2 c. flour (whole grain or all purpose)
6 T. brown sugar
1/2 t. cinnamon
12 T. cold butter
CHEESECAKE
2 packages (8 oz) cream cheese, softened
2 eggs
1 T. vanilla extract
6 T. granulated sugar
APPLE PIE
3 c. Granny Smith Apples (peeled, cored, and diced)
2 T. granulated sugar
1/2 t. cinnamon
1/4 t. nutmeg
CRUMBLY OAT TOPPING
3/4 c. flour (whole grain or all purpose)
1/2 c. oats (old fashioned or quick)
1/4 c. chopped pecans (optional - or add more oats)
1/2 c. brown sugar
1/2 t. cinnamon
1/4 t. nutmeg
4 T. cold butter
CARAMEL TOPPING
1/2 c. caramel bits
2 T. whipping cream
Instructions
Preheat oven to 350ºF. Grease a 9" x 13" baking pan and set aside.
FOR THE CRUST: In a large bowl, mix flour and sugar. Cut in butter with your hands or with a pastry cutter until the mixture is crumbly. Press into prepared pan.
Bake in preheated oven for 15-18 minutes.
Prep the rest of the dessert while the crust bakes
FOR THE CHEESECAKE: In the same large bowl, mix cream cheese, eggs, vanilla, and sugar until combined.
FOR THE APPLE PIE: Peel, core, and dice apples (I like them fairly small). Mix with sugar, cinnamon, and nutmeg in a small bowl.
FOR THE TOPPING: In a medium-size bowl, mix flour, oats, brown sugar, cinnamon, and nutmeg. Cut in butter with your hands or with a pastry cutter until the mixture is crumbly.
TO ASSEMBLE:
Remove the crust from the oven and pour cheesecake batter over crust. Spread evenly to sides of the pan.
Sprinkle apples over cheesecake -- press down gently.
Crumble the topping over apples -- press down gently.
Put the pan back in the oven for 25-30 minutes, or until the center of cheesecake is almost set.
Cool on counter for 1 hour.
FOR THE CARAMEL: after the bars have cooled for a bit, melt caramels and cream in a microwave-safe bowl in 30-second intervals, stirring regularly.
Drizzle caramel over bars and refrigerate for at least 3 hours (preferably overnight).
Cut into bars and serve!
Notes
This recipe could easily be adapted to use a 9" springform pan but you will need to increase the baking time significantly -- probably closer to 1 hour.
Nutrition Information
Yield
24
Serving Size
1
Amount Per Serving
Calories

219
Total Fat

10g
Saturated Fat

6g
Trans Fat

0g
Unsaturated Fat

4g
Cholesterol

40mg
Sodium

108mg
Carbohydrates

29g
Net Carbohydrates

28g
Fiber

1g
Sugar

16g
Protein

3g
Nutritional information is approximate and does not account for additional ingredients or added toppings.
NOTE: I use an Apple Slicer Peeler Corer to help simplify this recipe and speed up the prep time! Mine is 13 years old and still going strong after LOTS of use!
Are you hungry yet!?!?
I know it might seem like a lot of ingredients and steps… but the process goes really quickly. You can prep the cheesecake, apples, crumbly topping, and caramel while the crust bakes too (yay for multi-tasking desserts!)
As with the vast majority of my recipes, please feel free to tweak and substitute ingredients based on what you have in the house and/or your family's preferences.
Mix up the spices.
Make a graham cracker crust instead of a cookie crust.
Try different varieties of apples.
Add more cream cheese.
Use different types of flour (yes, gluten-free will work).
Substitute walnuts for pecans — or leave out the nuts entirely.
My only "word of caution" is that you give these bars PLENTY of time to cool!
You do NOT want to serve these warm — or even at room temperature. They won't taste good and they will be a gooey mess!
I almost always make them a full day in advance and let them sit in the fridge overnight. Sometimes I even put them in the freezer for a couple of hours before I cut them into bars so the cheesecake layer doesn't smash down.
More of My Favorite Apple Recipes:
What are your go-to apple recipes this time of year?
Visit my virtual recipe box for more simple, delicious, family-friendly recipes!