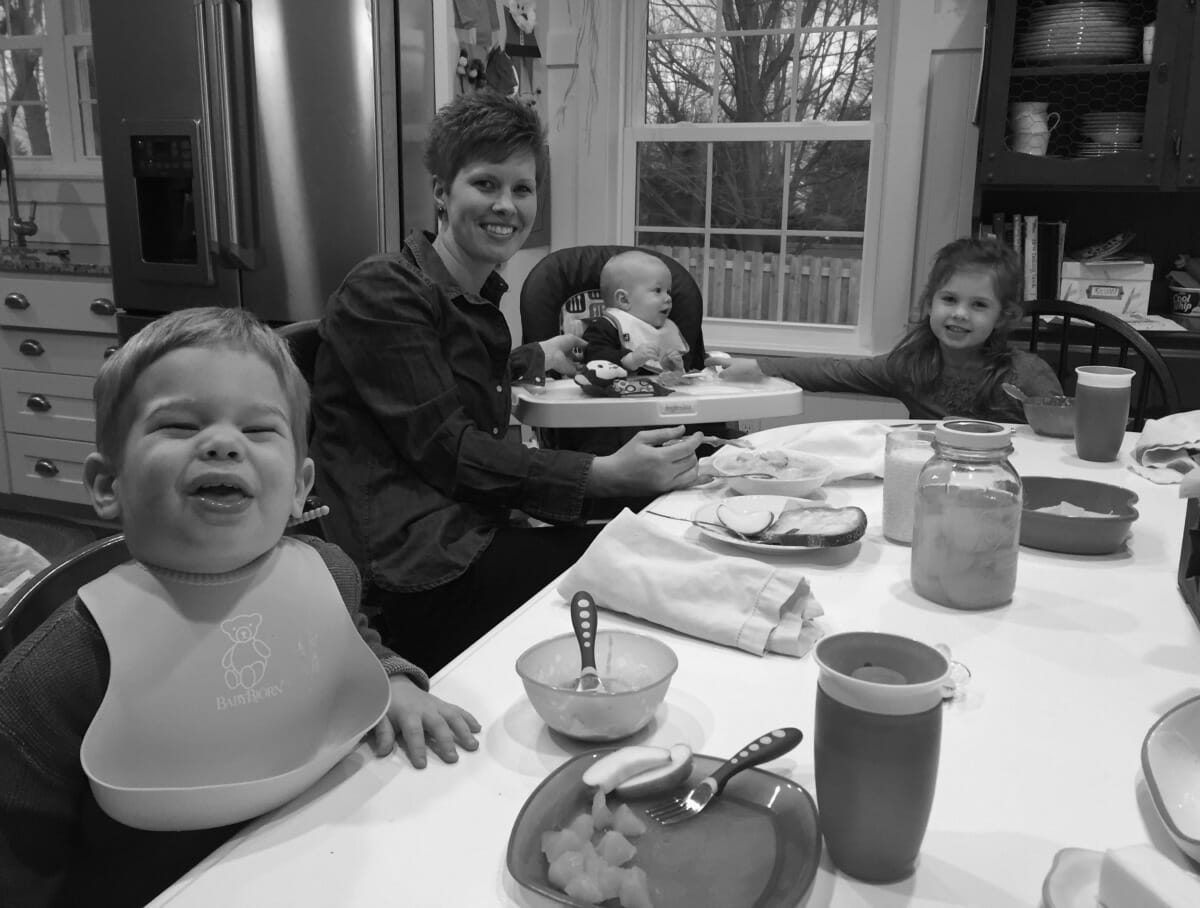 Oh Simon… one of these days you'll learn how to smile for the camera!
Last week was a pretty low-key week for us. I think I only had a few things written on the calendar, so that was really nice.
I did start to feel a little "cooped up" by the end of the week since the weather was either really cold and snowy or warmer but rainy, so we didn't get outside much at all.
Thankfully, we ended the week with a sunny day on Saturday… plus, Dave went and got donuts from our favorite local shop on Saturday morning (and donuts makes everything better!)
Simon and James both woke up with fevers in the middle of the night (different nights). Nora also had a cough and runny nose for most of the week… and even Dave started to feel under the weather by Friday (he's been a bit sick all weekend).
Ironically, I just ordered the Kinsa Smart Thermometer… and we actually had ample opportunity to test it out.
So far, it seems REALLY cool — I already set up a "profile" for each person in our family via the App on my iPhone. I can use the App to keep track of various temperatures throughout the span of a fever. I can also take notes on when I gave each person meds — which is super helpful for me because I always seem to forget.
I actually got my thermometer "free" using Swagbucks (read how I did it here).
Thankfully, I've dodged any type of sickness so far (fingers crossed) and, as Nora put it, "Well, you're a mom so you can't get sick. If you got sick, who would do everything for the rest of us?"
My thoughts exactly… moms shouldn't be allowed to get sick 🙂
Last weekend, we had the perfect melty, wet snow to build a snowman — something Nora has been not-so-patiently waiting to do all winter long. She and Dave were outside for a LONG time rolling huge balls of snow. In fact, I was even summoned to go out and help pick the middle ball up to put on the base. It was REALLY heavy!
We got more snow one day… and the kids were really excited to go out to play after Dave got home.
I'm not sure when the whole mitten thing started — but Nora wanted to wear my mittens one day… which then made Simon want to wear Nora's mittens. I let them do it once, and now they've been wearing the "wrong" mittens ALL winter long.
At least I have more than one pair!
Since it was rainy and slushy outside most of the week, Nora worked on her GoldieBlox kit that she got for Christmas. It was a gift from Dave's brother and sister-in-law… and his sister-in-law is an engineer, so the gift was very fitting since the purpose of the GoldieBlox kits are to instill basic engineering and building skills — specifically for girls.
In case you can't tell, Nora LOVES it!
Nora also helped me make snacks for her preschool class (she was the snack girl again last week).
The letter for the week was "P" so we brought pudding cups and pretzels one day, and then popcorn and pink, heart-shaped finger Jell-o the next day (the color for the month is pink, and the shape for the month is a heart).
We also worked ahead and made her Valentine's treats for her class (which she'll bring to school later this week).
Here's the recipe for Our Favorite Finger Jell-O.
Speaking of Valentine's Day, when I was growing up, my mom always did my sisters and my hair in "heart braids" for school. So this year, I'm doing Nora's hair in a heart braid 🙂
This was my first attempt… I'll be tweaking a few things before I do her hair for school on Thursday!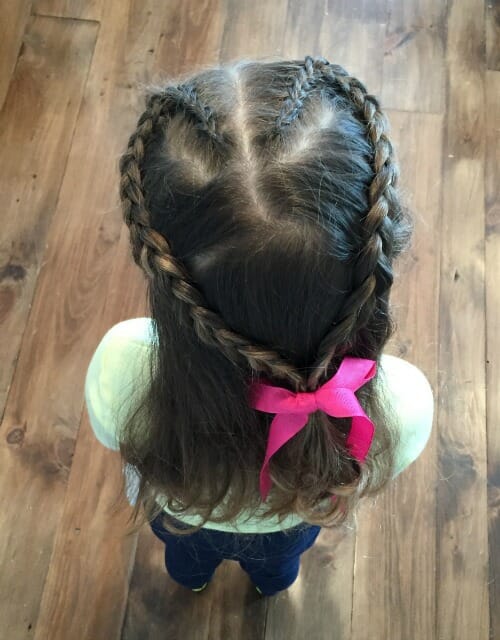 .
Simon wasn't sleeping well all week — probably due to his slight fever and overall not feeling 100%.
It's never good when Simon doesn't sleep well because he is our SOLID sleeper. He goes to bed easily, sleeps soundly all night, wakes up happy, and like to play in his crib for 15-20 minutes after he wakes up… so when he's not sleeping well, it really puts a cramp in our sleeping plan.
Usually the "plan" is that Dave gets up with Nora (she still usually wakes up 1-2 times a night) and I get up with James. We honestly don't even need to worry about Simon because he NEVER wakes up.
Well, this past week, we played "musical beds" as Dave and I were both up with Simon a couple times — plus our usual wake-ups with Nora and James (sometimes happening all at the same time). It felt like a circus.
Thankfully, Simon has been sleeping much better the past couple of nights, so hopefully we can go back to only have 2 kids wake us up at night instead of 3 🙂
Besides the sleeping thing, he's pretty much been our silly (and slightly stubborn) Simon all week.
He is officially 23 months old, and we are excitedly planning his 2nd birthday party for next month.
We are currently deciding between The Very Hungry Caterpillar theme (one of his favorite books) or a Clifford theme (one of his favorite stuffed animal). I'm leaning towards the Hungry Caterpillar, but Nora really wants to do Clifford so she can dress up as Emily Elizabeth 🙂
We'll see what I decide!
Simon has been such a good big brother to James lately — it's like his nurturing side just kicked in. Yes, there are times when he tries to sit on James, times when he has thrown a ball right at James' head, and even a time when he tried to pick James up… but for the most part, he is very gentle with James.
He has been very interested in holding hands with James and giving him little kisses… which usually get a giggle out of James… which then makes Simon laugh and try to do it all over again 🙂
.
James will be 7 months old this weekend (on Valentine's Day)!
He is starting to crawl really fast, so we need to watch him more. Thankfully, he still has no interest in the stairs.
As I mentioned above, James was also a little under the weather on Friday and Saturday… probably a "gift" from his older brother and sister! He hasn't really been fussy or upset at all, and he's actually been sleeping better at night, so I'm thankful for that.
Another reason he might be sleeping better at night is because he might be in the process of giving up his morning nap already. He has been taking only 1 nap a day for the past week (maybe a little longer) and no matter how hard I try to rock him to sleep, feed him to sleep, bounce him to sleep, etc. he seems satisfied with just the one nap.
This is OK with me… it just means we need to get used to a new schedule again! It also means he sometimes gets very tired early in the evening and I get to snuggle while Dave plays upstairs with Nora and Simon!
We've tried rice cereal and applesauce a few times now — but James is really only interested in the spoon. He makes the silliest faces when we try to put any food in his mouth!
At least he likes sitting in the highchair!
I've been doing LOTS of laundry this week in an effort to keep any lingering illnesses at bay. So far, Nora is the only one who has really been sick (coughing, sneezing, runny nose, etc.) and I'm hoping to keep it that way! I washed all the pillows, blankets, and stuffed animals, and bleached a bunch of toys.
I've also been working to slowly clean out the pantry and freezer. I tossed a few expired items that I forgot about and have been making an effort to use up much of the stockpile I've been building since before James was born. Our deep freezer is about 1/3 empty… and I'm aiming to empty it a bit more over the next couple of weeks. Then I'll probably defrost it and slowly start stocking it up again.
I did a mini-clean of our upstairs freezer — nothing major, but it's just nice to know it's "done" for now.
Dave and my "big news" for the week is that we purchased a Costco membership over the weekend. (Yes, I realize this completely contradicts my efforts to clean out our freezer and pantry!)
There was a deal with Livingsocial that you could get a $20 Costco gift card and a bunch of other freebie coupons with a $55 membership. So since the freebies and gift cards equaled to more than $55, we figured it was a good time to test out a membership — especially since we have a Costco store just minutes from our house.
I don't really see myself making weekly trips to Costco — maybe more of a monthly "family outing" to browse through the store, eat the samples, get ice cream at the little food court, and pick up a few things we can't get at the grocery store. Also, I hear their gas is cheaper than almost anywhere, so we'll fill up on our monthly outings!
Our Meal Plan
MONDAY:
TUESDAY:
Chicken Cordon Bleu Casserole (recipe coming later this week)
Steamed veggies
Fruit
WEDNESDAY:
THURSDAY:
Roasted Chicken
Broccoli and Cauliflower
FRIDAY:
SATURDAY:
Leftovers for lunch
Culver's for dinner to celebrate my dad's birthday
One more thing… our 2015 family photo album arrived! Nora and I have enjoyed looked at it throughout the week!