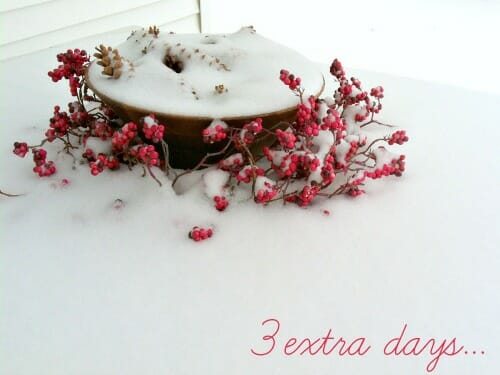 Last weekend, after spending over 2 hours dealing with Nora screaming and fighting her bedtime, Dave and I sat down to go over our schedules for the month of January.
Normally we just take things a week at a time over here — but since January is going to be SO insanely busy for us, we thought we'd better get a full-month overview before the end of our Christmas break.
Things were going fine… until Dave started listing off ALL the dates he would be gone extra hours for basketball practice, basketball games, homecoming week (which he's in charge of), other special school events, and other evening obligations.
I was already tired from dealing with Nora that night, I was achey from doing WAY too much around the house that day, and the realization that our glorious Christmas break was coming to an end was already enough to "push me over the edge".
Then, on top of all that, I had Dave listing off night after night after night where he would be gone — leaving very pregnant me home all day and all night with our little Energizer Bunny (as we lovingly call Nora).
Hot tears streamed down my cheeks as I processed all the information Dave had just shared with me — and I realized that there was simply no way I could do everything I had to do without Dave being home to give me a break each evening.
After such a relaxing Christmas vacation, the reality of "real life" was starting to hit me again… and I just wasn't ready for it.
But then this happened…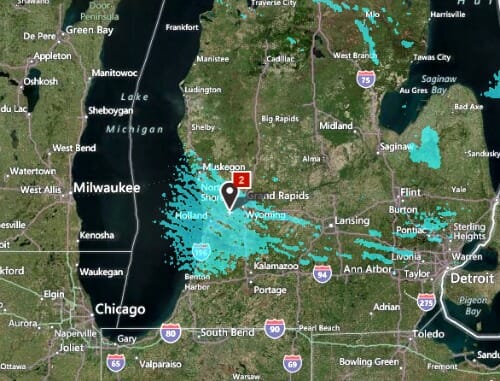 Fridge temperatures hit the Midwest (like -25*F wind chills), and huge storm came through, and massive amounts of lake-effect snow covered all of West MI.
That little "teardrop marker" is where we live — right in the middle of the worst of the snow (and with a Winter Storm Warning).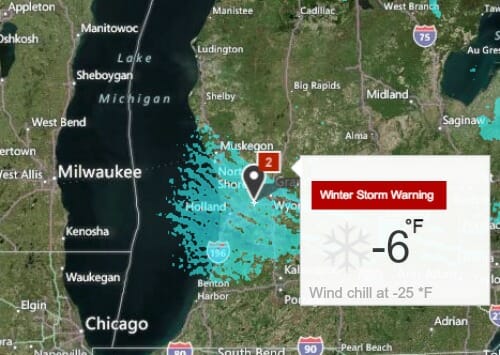 Churches (and all church activities) were closed on Sunday, all schools (and school activities) were closed for Monday and Tuesday, and basically everything we "needed" or wanted to do was put on hold for 3 days.
This meant that I had 3 extra days at home (with Dave helping me and entertaining Nora) to get a bunch of stuff done like…
finishing up a few random house projects
finally painting the furniture for Nora's new room
finishing up my applesauce canning (and getting everything put away)
finalizing and ordering our 2013 photo albums (this post explains the process and resources I use)
packing away the Christmas tree and reorganizing a few storage bins
catching up on some laundry and house cleaning
making a couple freezer meals and doing a little baking
working ahead on my blog posts
finalizing plans for a fun Baby Giveaway Event in February!
getting my business paperwork ready for tax season (and finalizing all the 2013 income/expense reports)
updating our Important Information Binder to reflect changes over the past year
Those 3 days were a gift — and I definitely put them to good use!
They were just what I needed to ease out of Christmas break, find my productivity groove again, and tie up some loose ends before "real life" started up again.
It felt like a HUGE weight was lifted off my shoulders by crossing all those things off my list — especially since I'm starting to mildly stress about getting my personal, home, and business affairs in order before this baby comes (only 8 weeks to go!)
I know life will go on if I don't have my freezer stocked, if I don't have weeks of blog posts written in advance, or if our taxes aren't filed before this baby comes; but I also know how life-changing bringing home a new baby is, and if at all possible, I'd rather be working ahead now than frantically playing catch-up later.
Thank you Lord for the snow!
I realize Dave and I are extremely fortunate to have jobs where we did not have to venture out into the snow (and I'm extremely fortunate to have a helpful husband when he is home!) — but that snow storm, and those 3 extra days, gave me a chance to catch my breath, to finish up, to work ahead, change my perspective, and to realize that I CAN do this.
Plus the snow looked gorgeous from the inside 🙂
Cheers to a crazy-busy January and February… and then hopefully a relaxing "babymoon" in March.
I can do this!