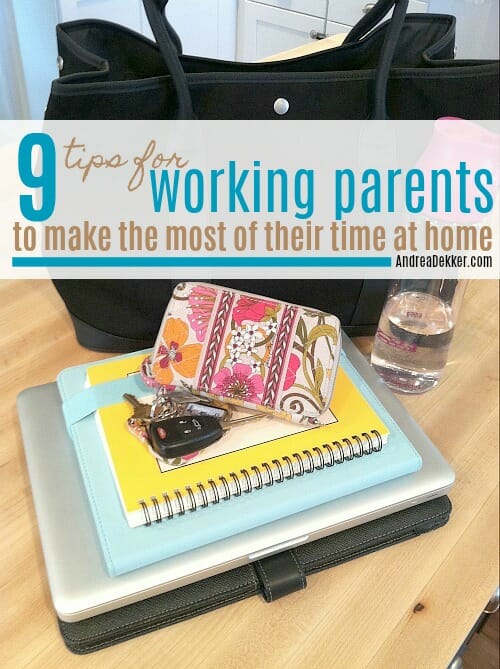 As someone who LOVES being home and thrives on the simplicity, consistency, and security of my own at-home schedules and routines, it's very difficult for me to wrap my brain around others who don't necessarily want to be home — or who can't be home due to demanding work schedules, pursuing higher education, taxiing children to extracurricular activities, etc. etc.
However, I completely understand different personality types mean different likes, dislikes, needs, wants, etc. and I know this world would not be a very functional place if every other human loved being home as much as I do! Yikes, that would be crazy!
We all have different organizational needs, different personal lives, different energy levels, and different time constraints — making it very challenging for me to write tips and share ideas that will work across-the-board for everyone.
Since I'm home all day, my posts and tips are often from that perspective — yet, I get productivity questions from working parents on a daily basis.
While I know my life experience doesn't qualify me as an "expert" on today's topic, I have worked with enough busy families and working parents to come up with a fairly LONG list of tips I think (hope) will be helpful.
If you are gone most of the day, here are a few of my tips to make the most of the few hours you are home!
1. Hire Help:
I know this might be a cop-out, but honestly, there are only so many hours in the day!
If you're gone for 8-12 of them, and you need to sleep for 6-8 of them, that doesn't leave you with a whole lot of time to do much other than get dinner on the table, put children to bed, switch a load of laundry, and prepare for the next day.
Logistically speaking, you will save yourself a HUGE amount of time, energy, and stress if you can find someone to do the basics while you are gone at work.
If I worked outside the home, here's what I would hire someone to do (in order of importance for me).

Thoroughly clean all bathrooms — toilets, sinks, counter, mirrors, showers, floors.
Vacuum and sweep all floors. Shake out rugs.
Wipe down and disinfect kitchen surfaces, wash and put away any dishes.
Wash sheets and remake beds.
Dust flat surfaces, window sills, baseboards, door frames.
Do any other wash while cleaning the house (as time allows).

I'm positive someone could do all of this in one day (probably 4-6 hours) and that would be a huge amount of cleaning YOU would NOT have to do when you are finally home!

As an added bonus, the knowledge that a house cleaner will be coming the next day is usually motivation to declutter and pick up the night before, so you might keep your home neater and cleaner!

Plus, wouldn't it feel fantastic to walk in the door to a thoroughly cleaned home after a long day at work!
If you're not willing or able to hire help, at least consider bartering with a friend or relative.
And if bartering isn't an option for you either, then you WILL have to adjust your standards as to how neat and organized your home will be. I can give you all the quick-tips and time-saving advice possible, but the fact of the matter is… Taking care of a home requires time spent at home. If you don't have much time at home, you most likely will not be able to take care of your home to the extent you want to.
.
2. Wake Up Earlier:
Yup, you knew I was going to throw this one at you!
Dave and I wake up at 4:00am every day (5:00am on the weekends), and even though I'm home all day, this 2-3 hour window before the kids wake up is (by far) the most productive time of my day. Dave would say the same thing.
I can tackle multiple loads of laundry, clean bathrooms, write a blog post, work on my Virtual Assistant jobs, make breakfast and dinner, pack lunches, clean out my email inbox, and get completely ready for the day WITHOUT interruptions, distractions, or excess noise!
Even if you are not a morning person, if you work outside the home for the majority of your waking hours, I'm 100% positive waking up earlier WILL IMPROVE YOUR PRODUCTIVITY.
Even if you just give yourself 30-60 extra minutes, you'll be amazed at everything you can accomplish (especially if you have a plan of attack the night before).
If I worked outside the home, I think I would use my morning hours to quickly get myself ready, make sure breakfast and lunches were ready to go for everyone in the family, check backpacks, do a quick pick-up of the main living areas, and prep dinner so it will be ready to eat (in a slow cooker) or ready for the oven when I get home.
.
3. Limit Evening Activities:
Once again, I realize I'm writing this from a perspective of someone who loves and NEEDS to be home in order to feel grounded and sane. However, even if you'd rather be out and about, there's no way you'll have the time and energy to keep your home neat and organized if you are gone all day at work… and then gone all night at extra curricular activities.
The math just doesn't work in your favor here!
Limiting evening activities might sound like a bummer, but those extra hours at home will give you a little more breathing room in your schedule, more time to tackle home-related to-dos, more time to decompress after a long day at work, more time with family, and more time to sleep (which means you can more-easily jump out of bed when your earlier alarm goes off!)
All of those "mores" are very good things in my opinion — and necessary if your goals is more time at home.
Of course, this means you might have to say "no" more often than you'd like, it means you could offend or upset someone, and it means you might find yourself in an uncomfortable situation — but it WILL give you more time at home!
.
4. Simplify Your Food:
Meal planning and prepping does NOT have to be "complicated" but it can be time-consuming… and if you're not home, you won't be able to make food and get it in the oven everyday.
So… you have a few options in my opinion:
Regularly go out to eat — expensive, but fun and enjoyable. Plus, no mess to clean up at home and fewer groceries to buy.
Bring fast-food or take-out home — faster and cheaper, but not as healthy, and you still have some mess to clean up at home.
Subscribe to a meal-planning service — super fun (if you like to cook), but still need time to cook the food and they only provide food for 2-3 nights per week.
Buy pre-made meals from the grocery store — cheaper still, but you still need to be home to put them in the oven and clean up afterward.
Plan very simple meals (casseroles, soup, crock pot meals) — least expensive, potentially "boring", still requires some prep-work and clean-up.
Learn to love leftovers — a great way to clean out the fridge, paired with a simple salad and some fruit.
I honestly don't think there's one "right" answer for any person or family — maybe a mix of all of them would work well, depending on the day and what you have going on.
Either way, you should have a plan going into your week… and you must revisit this plan every morning before you leave for the day.
In my experience, if you don't know the plan for dinner BEFORE you leave the house, you still won't know the plan when you come home — and who wants to come home to a hungry family at 5, 6, or 7:00 without a plan for dinner. That's just a "recipe for disaster" — pun intended!
If your kids love ordering hot lunch (and it fits in your budget) let them get hot lunch, and enjoy one less item on your to-do list! And if they will eat cereal for breakfast, consider yourself lucky, and enjoy a few extra minutes of free time every morning! 🙂
.
5. Get Family Members On Board:
In our house, I do the vast majority of meal planning, food prep, cleaning, laundry, etc. but that's because I actually ENJOY doing this and I'm home all the time to do it. I can quickly and easily work it into my daily routine — while kids are eating, while they are napping, after they go to bed, etc.
However, when both parents work outside the home, I feel it's imperative that both parents (and any children) pitch in to help with housework.
I realize this might not be easy to implement (here are a few of my tips to encourage a cleaner, more organized family) but I think you'll be amazed how much lighter your "load" is when everyone is helping out.
It might not be fully up to your standards (see #6 below) but it's off your to-do list, which frees you up to tackle other things!
.
6. Set Realistic Expectations and Standards:
If you are already working full time (or more than full time) outside of the home, it really doesn't make sense to assume you'll also be able to work full-time to keep your home, yard, kitchen, family, and life running as well… it's just too much for one person to take on every single day!
Realize your home most likely will not be as neat or as organized as your friends or family members who don't work full time, but it can still be clean and organized enough for you to enjoy being home and feel comfortable having guests over.
Realize you might not have time to say yes to every request for your time (at least not if you want to be happy and sane) but you can still help out and volunteer when activities and requests for your time fit better with your work schedule.
Realize you probably won't be the parent who helps out at the school party or swings by school to drop off special lunches for you child — but you can still be an amazing parent in your own way and with the time you do have.
Realize you might not put big meals with 4 side dishes and dessert on the table every night — but you will make sure your family is fed, one way or another, and that's all that really matters right now.
This is not to say you can't ever have everything you want — but in all honesty, you probably can't have everything you want all at the same time.
Instead of feeling bad or guilty, simply remind yourself that it's all a choice — your choice. You are choosing to work outside the home right now, which means you are also choosing not to spend as much time on house work, extra activities, meal prep, etc. This is not a right or wrong choice — but it is YOUR choice. You can change or alter this choice in the future — but for now, this is the reality of your choice.
.
7. Use Vacation Days to Stay Home:
Many of you are rolling your eyes right now — I can sense it! However, this is an EXCELLENT way to get a little more at-home time to tackle some of those bigger projects and to-dos (and to just enjoy a less-rushed pace of of life).
I did this all the time when I worked outside the home in our pre-children days! I would take my vacation days whenever Dave had breaks from school and we'd just hang out at home together — maybe go out for lunch, work on house and yard projects, cook a fancy dinner or gourmet baked goods, etc.
Now, life is a lot different as our children are always home with us too — but we've often joked about the idea of taking off from work when our kids are all in school and just enjoying the day at home together.
Even if you are an extrovert who loves staying busy, I think you should at least consider taking a vacation day (or 5!) to simply stay home, relax, and get caught up on life! Try it once and let me know what you think!
.
8. Eliminate Wasted Time:
I don't know how to say this without coming across quite strong… but there's a decent chance you are wasting a TON of time at home (especially in the evening hours).
Most people I know who work outside the home have expressed their need to "decompress" after a long day away — I acknowledge this. However, when "decompress" turns into hours of watching TV, mindlessly scrolling through social media, lengthy phone and text conversations with friends, or reading "just one more chapter" in your current book, you end up wasting the night away, going to bed later than you planned, and struggling to wake up when your early alarm goes off the next morning.
I realize this is a broad generalization, but I see it happen so often in the lives of people around me that I can't NOT mention it.
It's amazing how many people contact me, lamenting the fact that they work all day and have "no time" to keep up with house work. But when I question them about their evening activities, the conversation almost always turns into a sob story of how busy they are during the day, how they just need to relax, and how they "deserve" a little down time.
Yes, I DO think relaxation is beneficial to work into our daily lives… but only for a brief period. Once the kids are in bed, set the timer and enjoy a little down time… but then get back to work.
I can honestly say Dave and I almost never have "down time" after the kids are in bed. Instead, we use this time to clean out the dishwasher, wash dishes, prep food for the next day, lesson plan, grade, write blog posts, and make our to-do lists for the next day. It's extremely rare that we go out anywhere in the evenings, we never watch TV during the week, and we rarely ever take a night "off" from our to-do lists.
Again, I know we are all wired differently, BUT if you are truly looking for ways to make the most of your at-home time, eliminating wasted time is a biggie!
.
9. Find Friends In Your Same Situation:
In my experience, life feels easier and less overwhelming if I know someone else is going through the same thing and working through the same obstacles.
I know I'm not alone in my struggles — whether they be sleepless children, navigating the world of food allergies, dealing with chronic sickness, starting a weight-loss journey, working from home, working outside of the home, etc. etc.
If you find a community (either in real life or online) who understand YOU and your current struggles, life will feel easier! Plus, these people often have the best tips and ideas that will work well for YOUR life, since you are dealing with similar struggles.
At the very least, a group of like-minded friends will offer a sympathetic ear when you need to vent about your stay-at-home relative who makes snide comments about how late your kids stay up, or your single coworker who still lives with her parents and doesn't understand why you can't go out for drinks after work every day!
.
I realize I could be WAY off-base with this post as I haven't had much personal experience working outside the home with a family. However, after talking with many friends, reading countless emails from many of you, and pulling from past experiences with clients who worked outside the home, I have confidence some of these tips will be helpful for many of you.
That said, I'd love some first-hand experience and tips from those of you who do work outside the home!
What are your tips to make more time at home?