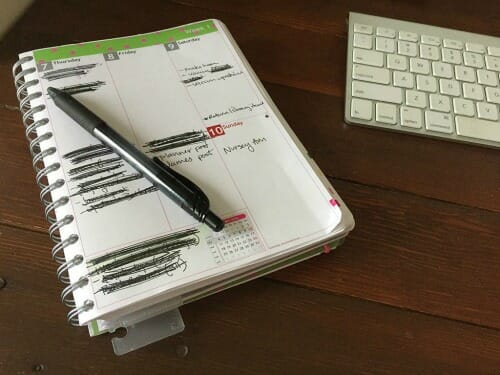 A few weeks ago, I shared my thoughts about "how much is too much" — regarding the stuff we bring into our home.
However, we can also have WAY too much "stuff" on our schedule, our calendar, and our to-do list… so today, I'm going to share a few of my thoughts about how much is too much for our time. I'll also share 5 signs your schedule is TOO FULL!
As I've mentioned before, our own personal energy levels play a HUGE factor into how much we can realistically accomplish in a day, a week, or a month — and energy levels are affected by SO many factors.
Age
Weight
Personality type
Level of motivation and self-motivation
Physical Health
Mental Health
Emotional Health
Diet and nutrition
Water consumption
Exercise regimen
Sleep quality
Sleep quantity (we all need different quantities of sleep)
Physical limitations or ailments
Career (are you on your feet all day versus sitting at a desk?)
Family structure (are you caring for elderly parents or small children all day?)
Help and support from others
The ability to handle stress and work under pressure
Weather conditions and daily sunlight (yes, it's true!)
Based on all those variables, it would be nearly impossible for me to suggest the number of tasks someone could or should accomplish in a given time period — or the number of tasks that is "too much".
However, I do think it's possible to gauge whether YOUR OWN schedule is too full right now, based on a few tell-tale signs of overly-busy people.
If you find yourself nodding and saying "yes" to any of the following… your schedule might be too full!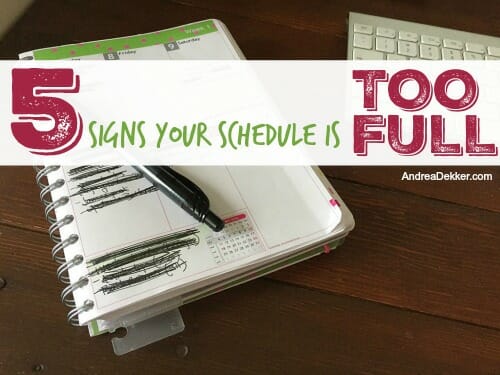 1. You are angry and frustrated a lot.
One thing I've noticed about myself over and over and OVER again is that I quickly become frustrated or angry if I feel like I'm running late or that something (or someone) is going to make me late.
Friends and family joke about how much I stay home, but that's because I often feel too frazzled if we need to be on a strict time schedule, so I'd rather just be home, relaxed, and not barking at the kids to "hurry up" all day long.
When we do have something with a specific arrival time, I usually plan to be there 15 to 20 minutes early and then take activities along (or watch a movie in the car) if we arrive early.
Oh, and if you really want to see me get worked up, put me smack in the middle of a traffic jam or make me wait in an extra long line when I'm already running slightly behind schedule — it ain't pretty my friends!
Now obviously, I don't feel angry and frustrated all the time — but whenever I do feel angry or frustrated, it is almost always because we have a full day and my to-do list is potentially too long.
Can you relate?
2. You regularly forget things.
It is VERY rare for me to forget anything. I write everything down, I have a good memory, I put reminders and alarms in place, I follow my lists, and I plan ahead.
However, I do know that forgetfulness is one of the first "warning signs" when I have too much on my plate or when I'm trying to move too quickly.
If you have been somewhat forgetful lately, I would consider looking over your current schedule and evaluating whether it's just too full or if you have too many things going on right now.
3. You are easily overwhelmed, even by small tasks.
In general, I am not the type of person who is easily overwhelmed by big projects and goals, long to-do lists, or long-term projects — and I'm certainly not overwhelmed by smaller household chores, running errands, plowing through my daily to-do's, etc.
I'm good at breaking big projects down into bite-size chunks and plugging away until my list is crossed off. I am very self-motivated and usually "hit the ground running" when I wake up in the morning.
But when my schedule is too full, it's not uncommon for me to all-of-a-sudden feel totally overwhelmed with something ridiculous like doing laundry, washing dishes, or writing a blog post (even for someone with my Type-A, do-it-now personality!)
Dave is really good at interjecting his common-sense into these situations and reminding me to just do the first thing and then the next. It's still crazy how overwhelmed I can feel IF my schedule it too full — doing activities that wouldn't ever phase me under normal circumstances!
Feeling overwhelmed can be the result of many other factors, but it usually shows up when you're too busy — so make sure you take a step back to evaluate your schedule if you've been regularly feeling overwhelmed (especially if you're overwhelmed with small, easy tasks).
4. You are tired, but can't sleep or even rest.
Lately, Dave and I have been getting to bed fairly early and sleeping well. However, this has not always been the case. Even when we were constantly being woken up by children all night long, we were still able to fall back asleep quickly once we were back in our own beds.
I can honestly only remember a handful of times in my life when I've been SO tired but just can't sleep… and every single one of those times was during a fairly busy, stressful or "too full" period of my life.
If you are constantly tired but find it very difficult to sleep at night (or even just rest during the day) you might have too much going on. Your brain has too many things floating around up there and you can't shut it off to sleep or rest — this is a very common sign of being too busy.
I have no perfect solution or quick fix for this, but I do know that over time, lack of sleep can have very serious consequences on our health, so if you've had trouble sleeping, it might be worth cutting back in a few other areas of your life to make more time for rest.
5. You feel guilty doing anything for yourself.
Do you feel guilty doing something nice for yourself, spending time or money on yourself, or devoting extra energy to something just for you?
If so, your schedule is most likely too full right now!
I can think of many times in my life when I have felt guilty for doing something nice for myself — because after all, it wasn't completely necessary and I could have been using that time and energy to "get something done".
Although I am definitely in the season of life where I spend significantly more time caring for the needs of others, I do still try to take a tiny amount of time just for me — even if that means watching a show on Netflix, going for a walk after the kids are in bed, taking an extra long shower, or getting groceries all on my own 🙂
I'm certainly not suggesting we must all spend hours and hours every day pampering ourselves, but I do know there are plenty of little, non-extravagant ways I can "treat" myself each day — and they make a big difference in my overall happiness and outlook on life.
.
These definitely are not the only signs that your schedule might be too full, nor do they necessarily always imply that your schedule is too full — but they are a good place to start.
Also, it's worth noting that sometimes there are just certain days of the week or even certain times of the day when you feel frustrated, forgetful, overwhelmed, tired, or guilty. If you find that it's only during specific time periods, a small tweak in your schedule might be all it takes to experience a positive change.
However, if you have been consistently feeling frustrated, forgetful, overwhelmed, tired, or guilty for an extended period of time, it's probably time to make some major life changes to prevent more extreme consequences down the road (burnout, health issues, depression, etc.)
So what should you do?
I'm not an expert, but whenever I start feeling like my life is just way too full, I do the 5 things listed below.
1. Acknowledge and admit — I know it sounds too simple, but until you're ready to actually admit that you are too busy, nothing is going to change.
2. Start saying no — do not agree to any new activities or obligations until your schedule clears up a bit.
3. Reduce your tasks — not necessarily all at once, but put a plan in place to do less.
4. Seek help — either from friends or family helping you with your tasks, or by going to counseling.
5. Closely monitor your activities and your energy level — as you go about your day, take note of when you're feeling overly frustrated, forgetful, overwhelmed, tired, or guilty. Then look at your schedule and see if you can tweak it to reduce how quickly or how frequently you have those feelings.
There really is no "quick fix" for an overly-full schedule, but I can write from experience that "downsizing" your to-do list can have an amazingly positive effect on your job, your health, your family's life, and pretty much every other aspect of your life.
Have you recently simplified your schedule? What did you do?