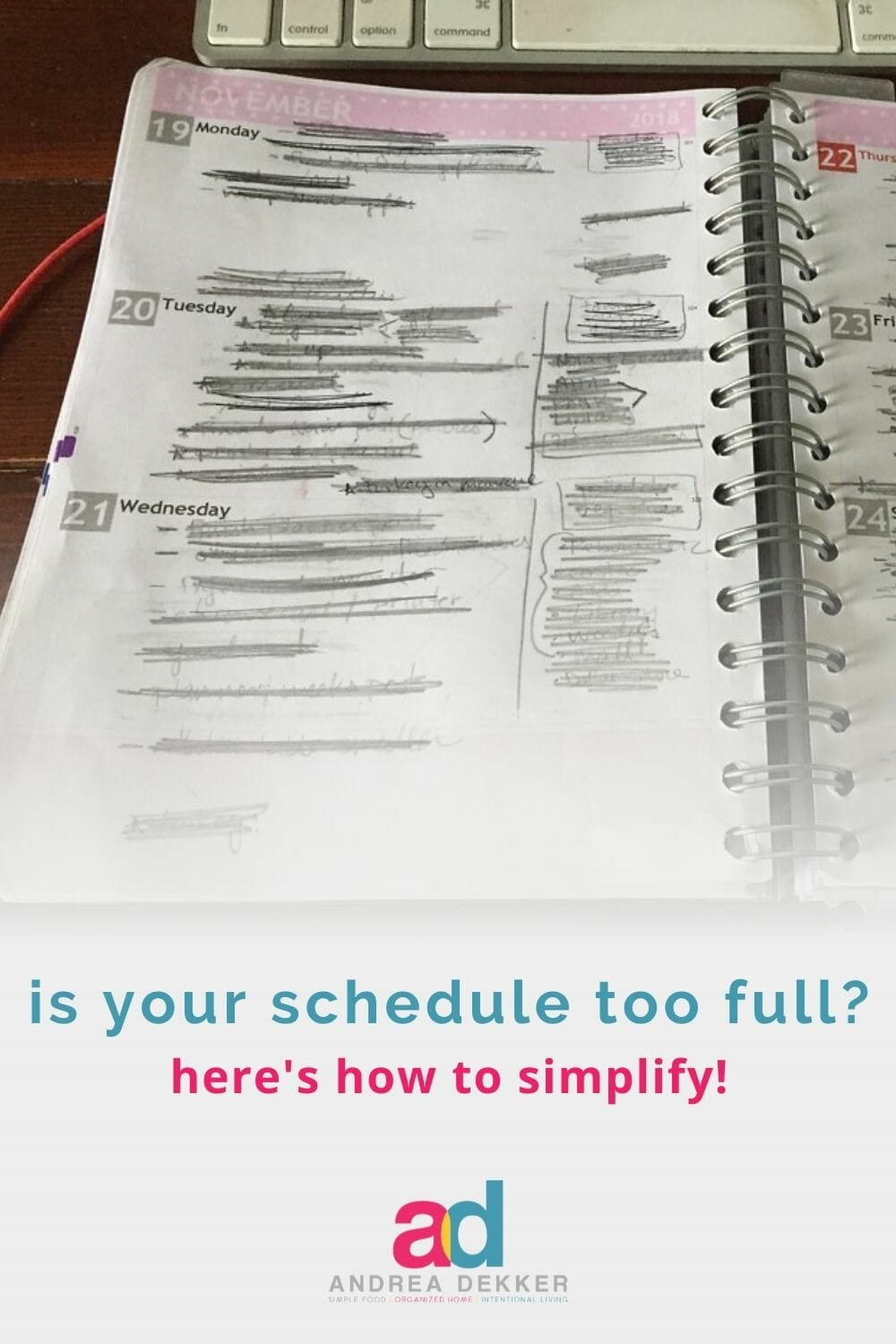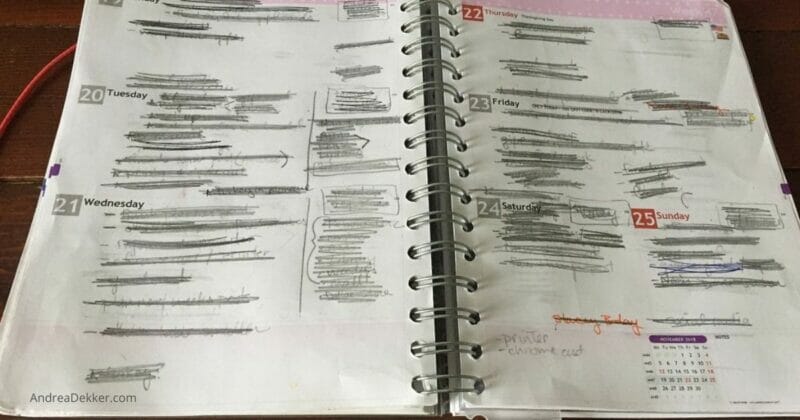 I talk and write and think a lot about "busyness"… and as a work-from-home mom of 4 kids with many commitments at school, church, and within our community, I have ample opportunities to "practice what I preach" about living a simpler, unhurried life each and every day!
Truthfully, I don't have an issue with long days filled with purposeful activities and tasks I choose to be busy with. If there's something I value or a goal I'm working towards, I'll happily spend extra time, effort, and energy to see it through… and I won't complain about "being so busy" because I know I've chosen this path.
It's the unchosen, unwelcome, and often unnecessary busyness that drives me bonkers!
Can you relate?
As I've mentioned before, our personal energy levels play a huge factor in how much we can realistically accomplish in a day, a week, or a month — so your definition of "too busy" might be very different than mine.
That's OK.
The important thing is to notice when you are nearing your busyness threshold and to take action before you reach your breaking point.
Keep reading for 7 signs that you might be at your "busyness breaking point" and a few easy solutions to help you scale back and simplify.
If you find yourself nodding along to any of the following then, my friend, your schedule might be too full!
1. You often feel frustrated, resentful, or angry.
One of the tell-tale signs that my schedule is too full is when I notice feelings of frustration or anger over something small — like my kids spilling or a long line at the grocery store.
Think about it… if you're already running late and a child can't get his shoes on, you feel frustrated and angry (usually with the child). However, if you have all the time in the world, you simply wait patiently until the child is ready to go.
Or, if you have 18 things on your to-do list and you get held up in the grocery store line, you'll likely feel more frustrated than if you weren't over-committed and rushing to the next thing. You may resent the "slow grocery clerk" for the fact that you are now running late (or maybe that's just me?)
Obviously feeling frustrated, resentful, or angry aren't always red flags for busyness… but if you find yourself feeling increasingly frustrated on a regular basis, it might be worth editing your schedule a bit.
NOTE: If you regularly feel frustrated, resentful, and angry, there may be other factors at play. Please consider seeking the help of a trained mentor or counselor.
2. The urgent overshadows the important.
Another possible sign of being too busy is when "urgent needs" take precedence over "important" goals or values.
For example, when the laundry piles are neglected for so long that no one has any clean underwear for tomorrow, you'll likely be up until 2 am to meet this urgent need instead of focusing on the much more important need of rest.
Another example of when "urgent" overshadows "important" is regarding meal planning. So often, we claim that eating nutritious foods or having family mealtime is important to us, and yet when our schedules are too full, we don't have time to plan our meals let alone cook them… so fast food it is again.
3. You are more forgetful.
So you forgot your kids' dentist appointment once (ahem, guilty)… probably not that big of a deal. But when forgetfulness becomes a regular pattern in your life, chances are your plate is a little too full.
If you catch yourself frequently apologizing for running late, missing appointments or meetings, forgetting important dates/events, etc. take it as a warning sign to reevaluate your current schedule and consider how you might "clear your plate" a bit.
4. Your home is a mess.
Don't worry — you're allowed to have a junk drawer and it's OK if your closets are a little too full.
However, a large amount of visible clutter, excessive dirt and grime, stacks of dirty dishes, and overflowing trashcans could be signs that your current schedule doesn't offer enough time to keep up with basic housework (either that or you just hosted a wildly successful birthday party for a bunch of neighborhood kids!)
In all seriousness though, the state of your home often reflects the state of your schedule. If you're too busy, your home will tell your bluff every time!
5. You feel overwhelmed by everything.
It's one thing to feel a little overwhelmed when hosting a big group of friends for the first time, starting a new job, or tackling a massive home renovation. It's another thing to constantly feel overwhelmed by everything — making dinner, cleaning the bathrooms, going to coffee with a friend, caring for your children, etc.
In general, I'm not easily overwhelmed, but when Nora was a baby and I wasn't getting enough sleep yet still trying to do everything I did before having kids, I felt overwhelmed by everything.
And these days, when my schedule is too full, it's not uncommon for me to all-of-a-sudden feel overwhelmed with something small like doing laundry, washing dishes, or writing a blog post.
If you feel overwhelmed on a regular basis, take a few minutes and consider if there are any commitments you can drop for now.
6. You're tired, but can't sleep.
I think we've all experienced the feeling of exhaustion and the frustration of not being able to fall asleep (or stay asleep). For me, this was also when Nora was a baby and she cried and fussed all night long… unless I was holding her.
If you are constantly tired but find it very difficult to sleep at night (or even rest during the day) you might have too much going on. Your brain has too many things floating around up there and you can't shut it off to sleep or rest — this is a very common sign of being too busy.
One suggestion is to make a master list (a brain dump of sorts) and get everything out of your head and onto paper (or your computer). Then, go through and intentionally choose a handful of things to NOT do (at least not right now).
Over time, lack of sleep can have very serious consequences on our health. If you have trouble sleeping, it might be worth cutting back in a few other areas of your life to make more time for rest.
7. Self-care causes guilt.
Do you feel guilty doing something nice for yourself, spending time or money on yourself, going out with a friend, squeezing in a workout, spending time on a favorite hobby, or going on a date?
Are you quick to give up something you want to do in favor of all the things you "have to do " when your time and energy run out?
If so, your schedule might be too full right now.
Yes, I have gone through seasons of life when my own self-care and personal hobbies are put on the backburner for a bit (like after a baby or when I launched a new web design)… but it's usually just a short season and then things balance out a bit.
It's not bad or wrong to care for the needs of others or to follow through on commitments and obligations, but take note if you feel guilty doing things for yourself, and work to create more margin in your life, even if you need to hire someone to free up a little more of your time.
Do any of these 7 signs hit home for you today?
If so, don't immediately panic or assume your life is a trainwreck! There are certainly days, weeks, and entire seasons of life that are just busier than others. During these seasons you will often feel more tired, frustrated, overwhelmed, etc.
This doesn't necessarily imply that your schedule is too full or you're nearing your breaking point.
However, slowing down your pace and "editing" your schedule a bit is certainly a step in the right direction.
So… what's the solution?
There's no one-size-fits-all solution, but whenever I feel like my life is way too full, I walk through the 5 steps listed below.
1. Acknowledge and admit. This might sound too simple, but until you're ready to actually admit that you are too busy, nothing is going to change — you'll just keep making excuses and tell yourself it will eventually get better when you can "find more time".
2. Say "no" to anything new. Please do not agree to any new activities or obligations until your schedule clears up a bit (here's a helpful list of ways to say no if you struggle with that!)
3. Reduce your tasks. You don't need to quit everything you love doing today, but you should put a plan in place to start doing less. Choose one thing to quit this week (use #4 below if you need a suggestion!)
4. Step away from social media. Not only are the hours upon hours you spend on social media stealing valuable time away from more important activities, but they are also most likely breeding discontent as you view others' "highlight reels" and see all the seemingly productive and important things they are doing and accomplishing. It will be hard at first, but the freedom you'll feel after a few days (along with all the extra time) will be worth it.
5. Find accountability. You might just need to have an honest conversation with your spouse, boss, parent, or friend and ask them to help keep you accountable as you strive to pare down your schedule (and stay off social media). You might also benefit from paying for counseling. Either way, there's power in sharing your struggles and knowing that you are accountable to someone other than yourself.
There really is no "quick fix" for an overly-full schedule, but I write from experience that putting in the effort to "downsize" your to-do list can have an amazingly positive effect on your health, your family, your job, and nearly every other aspect of your life.
Any efforts you make now will pay off later!
Have you recently simplified your schedule? I'd love to hear any tips that worked for you!