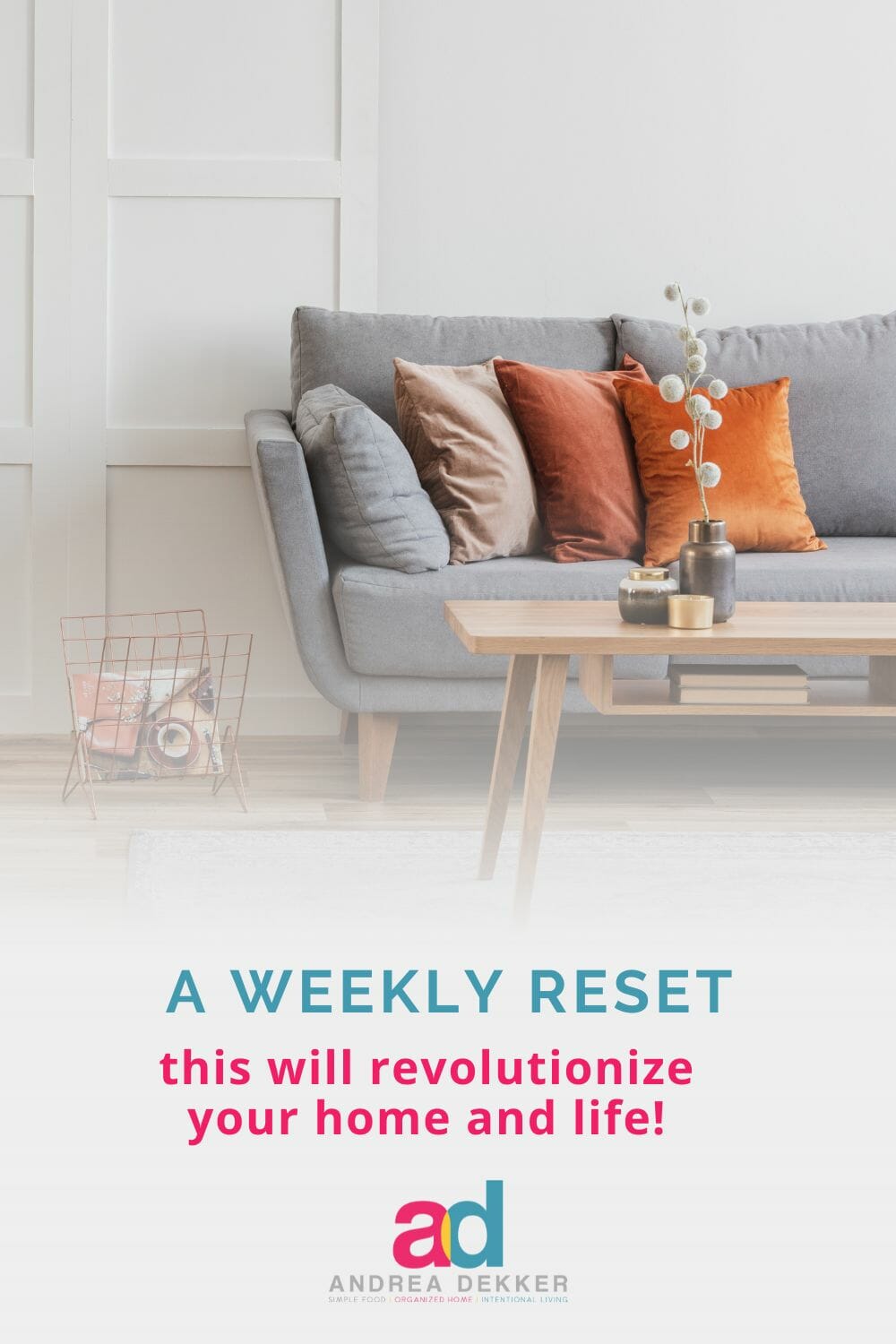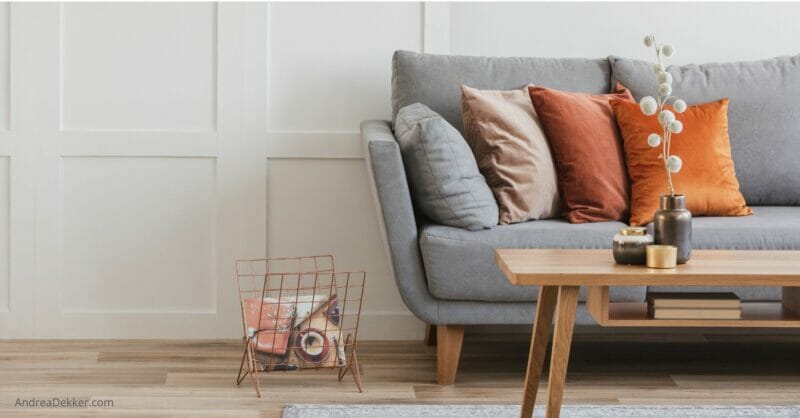 Our human nature desires quick fixes for any and all discomforts in life — a pill, a cream, a magic formula to instantly transform our health, our skin, our finances, our home, and our life.
I'm certain I would have "broken the internet" by now if I had one sure-fire magic formula to instantly organize your home and simplify your life once and for all.
Sadly, it's never just one thing, it's never instant, and it's definitely never a once-and-for-all fix.
That said, if I shared ONE thing you can do every week that has the potential to revolutionize your home and life… would you do it?
Then let me share the concept of a Weekly Reset!
What is a Weekly Reset?
My definition of a Weekly Reset is An opportunity to prepare yourself, your home, and your family for a positive and productive week ahead.
It's a chance to catch up, clean up, and stock up!
A weekly reset can be any day or time that works for you — but it's most helpful if you choose roughly the same time each week.
Your reset can be part of a day, an early morning, a couple of hours in the evening after the kids are in bed, or whatever works with your schedule (I have more suggestions below).
There are no hard and fast rules for what you must do during your weekly reset because whatever you do WILL drastically improve the week ahead for you and your family.
Sound good?
How I implement a Weekly Reset.
For several years now, I've dedicated Monday mornings to "reset" my home, my life, my pantry, my calendar, and my brain for the coming week.
I wake up around 5:45, get ready, start 2 loads of laundry (we have 2 sets of machines), and get the kids up, fed, and ready for school.
After Dave and the kids are out the door, I continue rotating the laundry while cleaning bathrooms, dusting, sweeping, vacuuming, mopping, tidying, etc.
When I have extra time, I include tasks like washing windows, vacuuming the pool, sweeping the garage, cleaning out vents, wiping down the cabinets, power-washing the deck, etc.
I'm usually finished with all the laundry and cleaning by 11:30.
While I eat lunch, I create a meal plan for the week (I currently plan Tuesday – Monday), organize my grocery list (I keep a running list all week), and scan the pantry, fridge, and freezer so I know what we have in the house.
Then I head to the grocery store(s) and/or run a few errands.
I put all the groceries away, restock the kids' snack bins, chop up a bunch of fruits and veggies for the fridge, and get dinner started (I plan something really simple for Mondays — leftovers, soup, or a freezer meal).
Dave and the kids are all home by 3:30 so my goal is to be done by then.
The benefits of a Weekly Reset.
A Weekly Reset has many obvious benefits like:
Our home is cleaned and maintained regularly.
The laundry is done from start to finish each week.
The fridge and pantry are routinely stocked with food and snacks.
Our meals are planned (and I have the ingredients).
We don't need to clean or run errands on the weekends (I love this!)
And there are other benefits you might not see at first glance:
Relief from my mental load — I have a set time to "do all the things".
Easier scheduling — I never schedule anything on Monday mornings.
Structure and routine for tasks that are so easy to "push off until later".
Boundaries — I do as much as I can in a few hours and then I'm done.
Guilt-free time to catch up on podcasts and audiobooks!
Devoting a few hours to catching up, cleaning up, and stocking up each week helps me create a more manageable home, a more doable schedule, more enjoyable meals, and a more peaceful life.
That's a bold statement — but it's true!
Weekly Resets for any schedule.
I expect to get some pushback on the idea of a weekly reset — especially from parents of young children and those of you who work outside the home.
Yes, a weekly reset may be a bit more challenging for you.
But, as a bit of encouragement, this is the VERY FIRST year all my children are in school and I've been utilizing weekly resets for years already — even when all my kids were at home, even when I worked a lot more hours from home, even when I had tiny babies and fussy toddlers, even when I worked outside of the home before having kids.
I'm confident that with a little creativity and a can-do attitude, you will also experience the immense benefits of implementing a reset into your weekly routine.
Here are a few ideas that might help you get started.
For parents of young children:
Trade babysitting with a friend, neighbor, or relative (I did this with my sister for a couple of years).
Use Saturday mornings or Sunday afternoons to reset.
Wake up an hour earlier one morning each week (I got up at 4:30 for years).
Stay up an hour later one night each week.
Reset during nap time one day each week.
Hire childcare one morning or afternoon each week.
Bring out special snacks, games, and toys to occupy your children ONLY during your reset period.
Encourage your kids to "help" you in age-appropriate ways.
Break your reset up into multiple chunks (bathrooms one day, floors one day, laundry one day, kitchen re-stock one day) and work them into your daily schedule.
For those who work outside the home:
Wake up earlier or go to bed later ONE night per week (it will be worth it).
Use Saturday mornings or Sunday afternoons to reset.
Ask your boss if you can take shorter lunch breaks and leave 2 hours early one day per week.
Hire someone to do your cleaning and laundry while you're at work (you'll have less to reset).
Utilize grocery delivery to lessen the time you spend running errands.
Create a master list of easy dinners you can make in 30 minutes or less and keep many of the non-perishable ingredients on hand so meal planning is simpler.
For those with a variable schedule:
A weekly reset is most beneficial when done weekly at roughly the same time each week.
However, if you have a variable schedule that makes consistent routines less doable, my suggestion is to simply look at your upcoming weekly schedule each weekend and choose a 2 or 3-hour block of time that you can dedicate to your weekly reset.
During your reset, you'll want to look ahead at least 7 days and plan, prep, clean, etc. to get you through those 7 days.
It may take you a bit longer to find your groove without a predictable weekly schedule, but you will still benefit from whatever time you can devote to your weekly reset.
For all other excuses:
If you desperately want to make time for a weekly reset, you've read through all my suggestions above, yet you still can't carve out a couple of hours per week, then frankly, you're just too busy.
Maybe it's a short season of life that's extremely busy (like after a big life change)… and in a few months, you can work a reset into your weekly routine.
However, if your day-in-day-out lifestyle is so busy and so overwhelming you have no time to spare (and you'd like time to spare), I strongly encourage you to evaluate the choices you've made and consider where you might make some major changes (it probably won't be easy or fun — but it will be worth it in the long run).
What NOT to do during your Weekly Reset.
If you want to make the most of your weekly reset, I suggest NOT doing any of the following during the specific time you've allocated for your reset:
Schedule doctor or dentist appointments.
Join a group or club that meets regularly during those hours.
Volunteer at church or school.
Entertain friends, neighbors, or even extended family at that time.
Work on a huge extra project (just stick to your basic reset must-dos).
Leave your house to run errands — save these for another day.
Exercise — schedule this at another time.
Anything on your computer or phone — just turn them off for a couple of hours.
Read a book / watch TV (listen to podcasts, radio, or audiobooks instead).
None of these things are bad, but they will break your focus and significantly decrease your productivity during your weekly reset.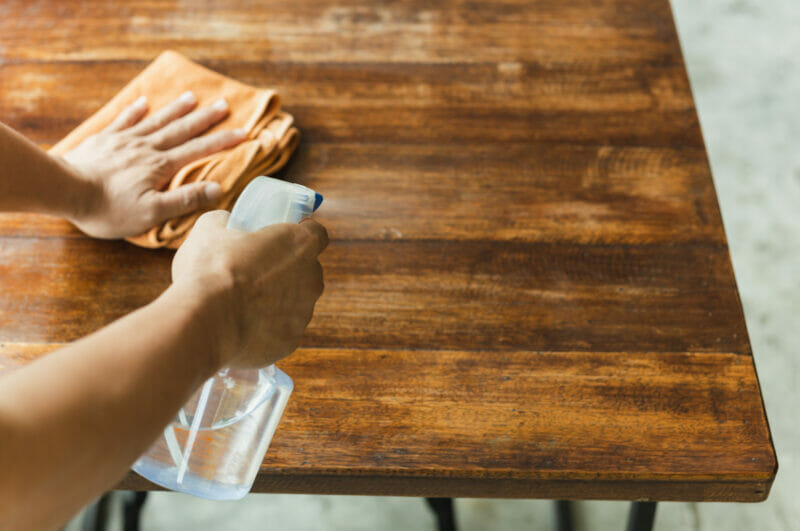 Weekly Reset FAQs
Do you only wash laundry once a week?
No… I wash everything I can on Mondays (sheets, towels, seasonal items, clothing, sports gear, etc.) but I usually do at least one load on Thursdays to get us through the weekend.
Do you clean during the week?
Yes, I still clean up the kitchen after every meal. We still pick up the house and yard before bed, and we wipe down the bathrooms as needed. But I don't do any deep cleaning throughout the week because I get that all done on Monday.
What if you miss a week?
There have been times when a vacation, a sickness, or something else has prevented me from doing my weekly reset on Monday. When this happens, I try to play catchup on Tuesday — at the very least, I get all the laundry done. There have been a few situations when I have totally skipped a week (I still did the laundry). The house felt gross, but life went on and I lived to tell about it!! 😂
Why do you clean everything yourself? Shouldn't your kids help?
In a perfect world, probably. But I'm home all day, I enjoy cleaning (for the most part), I'm very efficient, and I do a much better job than my kids would do! They make their beds, put their laundry away, pick up after themselves, and do the dishwasher every day. Other than that, I'd rather let them play after school and hang out as a family on the weekends.
Do you think a Weekly Reset is the best option for everyone?
Honestly… no.
If you have a system for staying on top of your housework, yard work, laundry, meal prep, etc. then just keep using that system. However, if you feel overwhelmed and are looking for a new idea to try, the Weekly Reset might be just what you need to get back on track.
There are many different methods for maintaining our homes, schedules, and lives — the Weekly Reset is one that works for me (and has worked for me through many seasons of life).
I'd love to know if you do something similar or if you have another idea that has worked well for you.