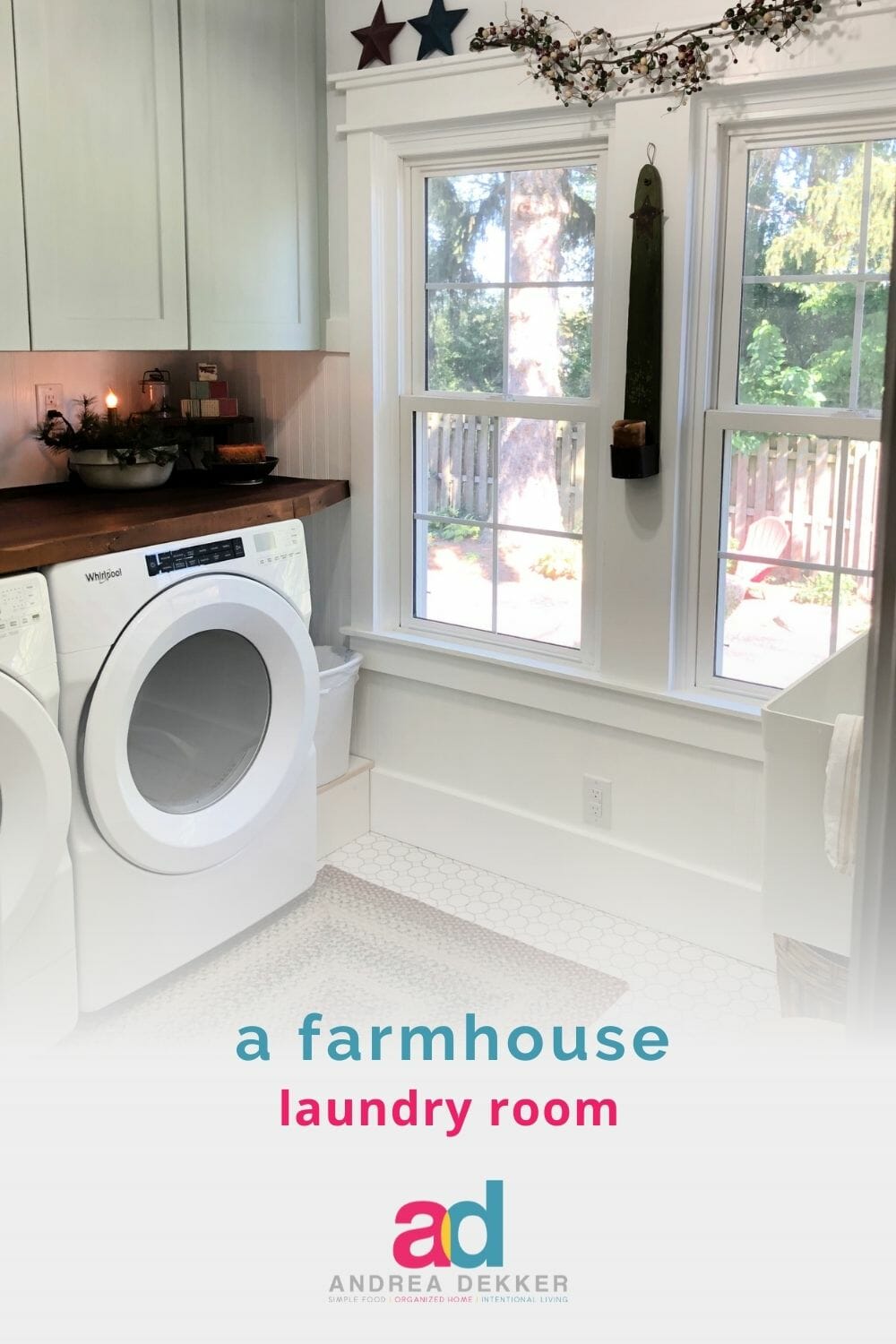 Our multi-year, delayed-more-times-than-I-can-count laundry room is FINALLY finished… and I'm so excited to share the long-awaited before/after pictures on the blog!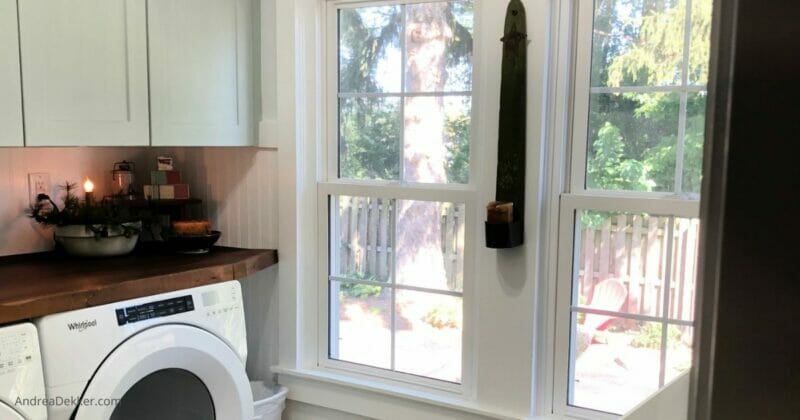 Those of you who have been hanging around here for years and years remember that WAY back in the Spring of 2018, I shared our proposed "3-Phase Bathroom + Laundry Room Renovation Plan" .
Basically, we flip-flop the laundry room and the bathroom off our kitchen, resulting in a bigger, brighter laundry room and a smaller, more private half bath (instead of a tiny laundry room and a really large full bathroom with a toilet and shower right in front of big windows).
It's been over 3 years since we started the project… but we're finished now, and I'm pleased as punch with the pretty + practical results!
Keep reading for lots more before/after pictures of the laundry room… but first, I'd like to share an overview of this 3-phase project!
Phase 1 = May 2018
Our first step was to move the current washer and dryer out of our tiny laundry room and into the basement so we could still do laundry throughout the renovation.
It wasn't the prettiest laundry room ever — but it worked.
We never dreamed it would be 3 years until we finished our main floor laundry room and I'm so thankful we had a fully functional laundry space all those years!
An added bonus to this 3-phase project is that we ended up KEEPING the old washer and dryer in the basement and buying new appliances for the new laundry room. The new appliances are considerably larger than our old units, so I can literally wash 3 loads of laundry in the same time as 1 load before!
It's amazing how quickly I can plow through our laundry each week!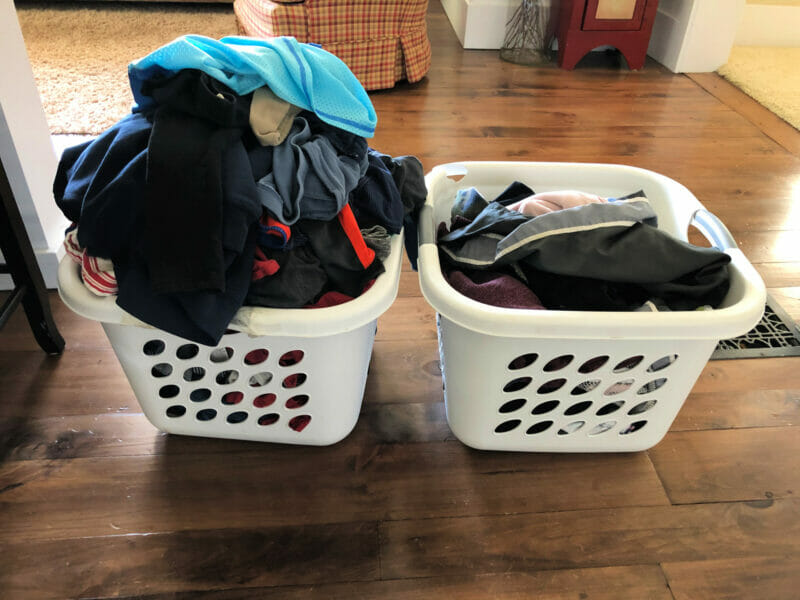 Phase 2 = May – September 2018
Once the washer and dryer were hooked up and ready to go in the basement, we officially started demoing the current laundry room to transform it into a new half bathroom.
At the time, our very naive goal was to be completely finished with the bathroom AND laundry room by September of 2018, when Dave went back to school for the year.
Well, we DID finish the new half bathroom by September… but due to major delays in cabinets and tile, that's all we finished.
Here's the before of our tiny laundry room:
And here's the new half bathroom "after":
This little half-bathroom project took much longer than we anticipated, but we are very happy with the results — especially with how much more we were able to utilize the space we had.
Since we try not to do home projects during the school year, we figured we'd wait until the summer of 2019 to tackle the laundry room. After all, we technically had a working laundry area in the basement — which wasn't all that bad.
Plus, with 4 young kids (one of whom we were potty training at the time) it was really convenient to have 2 working bathrooms right off the mudroom!
Phase 3 = April – June 2021
Fast-forward 3 full years and we FINALLY finished the laundry room… yes, it was worth the wait!
There are many reasons/excuses for the delay…
The bathroom was very delayed in 2018, and we didn't want to have construction mess during the school year.
We were busy with projects during the summer of 2019 — specifically our outbuilding and backyard, in preparation for getting our pool in the summer of 2020 (we got the pool in the fall of 2020).
Then came the summer of 2020… I don't think I need to elaborate on why we couldn't move forward with our laundry room then!
Finally, 2021 rolled around and we could actually order cabinet doors (with a 16 week wait) and hire a plumber and tile guy less than 3-months out.
With a bunch of help from my dad, we demoed the former bathroom, added a bunch of insulation, updated all the wiring, added pretty white trim, and transformed it into a cute (yet practical) laundry space for our family.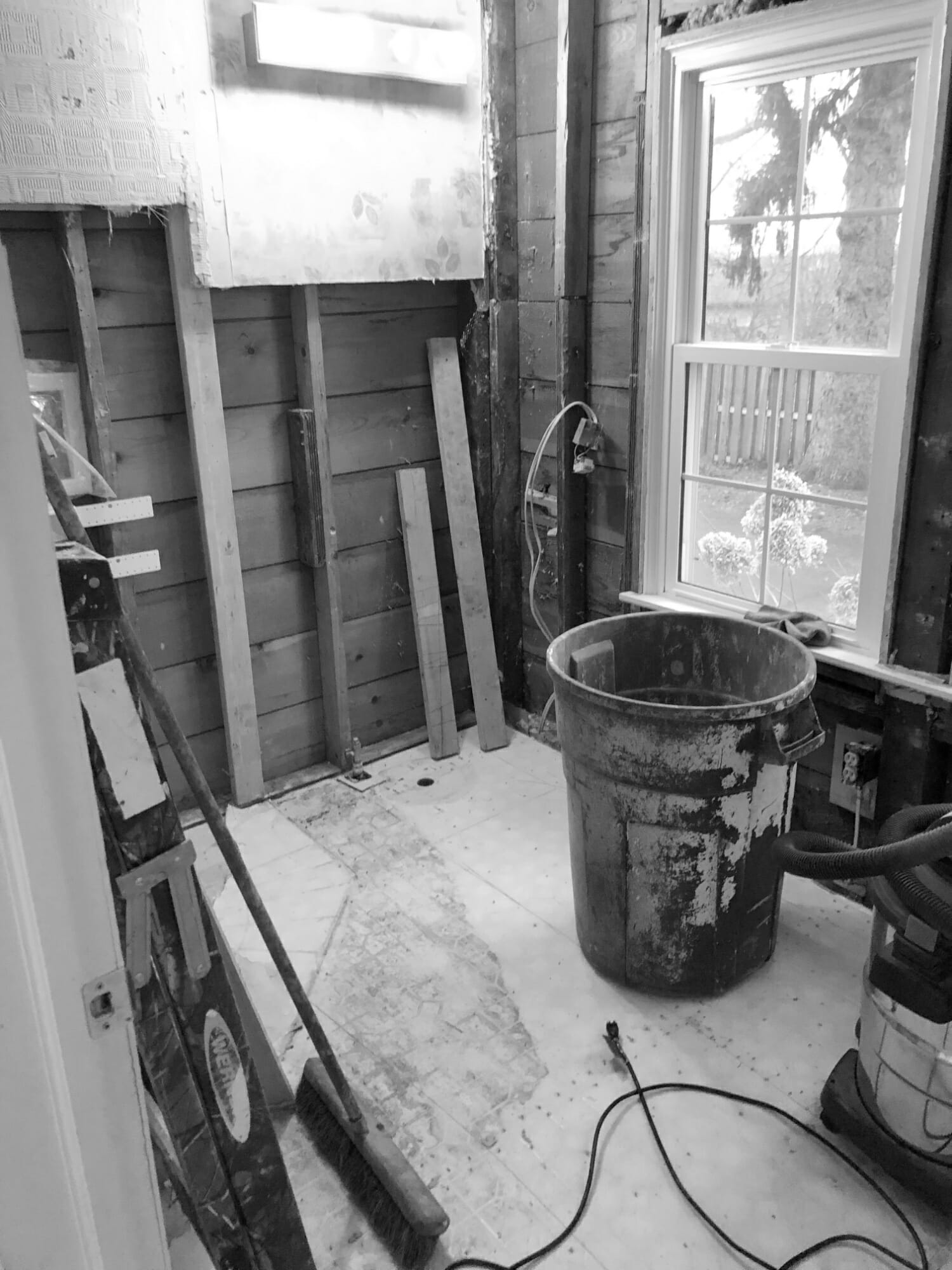 Not too shabby, if I do say so myself!
Are you ready for the Before / After Photos?
Honestly, once we actually got started, this room came together fairly quickly and it wasn't all that expensive.
And even though there were 3 years between the bathroom remodel and the laundry room remodel, we were able to tie the rooms together with several similar elements — which is nice since they are right across the hall from each other.
The hexagon tile floor with grey grout is the same.
The cabinet doors and paint color is the same (Americana Egg by Magnolia)
The wall color is the same (Frost by Behr)
We used dark wood accents in both rooms.
I used primitive decorations in both rooms
It's been a few months since we finished our laundry room and I still smile every time I walk into this space. It's so bright and cheery… it almost makes doing the laundry fun!
Here are a few more pictures:
We found our appliances on a "scratch and dent" sale so they were drastically reduced! We still haven't found the dents!
The counters are made from old wood from my grandpa's barn. I had the decorations in the house.
I've never had a big laundry room sink — so I'm thrilled with this purchase. I REALLY wanted an antique cast iron sink, but they were significantly more expensive and so much less practical. Dave encouraged me to go practical in the laundry room… which meant a giant fiberglass sink for a fraction of the price!
Our sink is wall-mounted so the legs don't get in the way of anything. This is a really nice feature.
I keep our cleaning supplies in the bathroom cabinets across the hall, so I decided to use these laundry cabinets as extra pantry storage (super helpful since the laundry room is right off the kitchen).
I also use the laundry counter when I'm prepping for an upcoming event — like a birthday party. I set out everything I need in here so I don't forget anything, but can still keep my kitchen looking nice.
We built the cabinets extra-deep to accommodate our laundry baskets (which is part of the reason we had to wait 16 weeks for the custom doors to arrive.)
I'm so glad this room is finally finished!
A big "thank you" to those of you who weighed in on my questions as to how we should renovate this room way back in 2018… I referenced many of your ideas and used several of your suggestions as we transformed our spaces.
I certainly didn't think it would take this long to finally share the before/after pictures with you — but if you're still reading my blog 3 years later, know that your suggestions were valuable in the process!