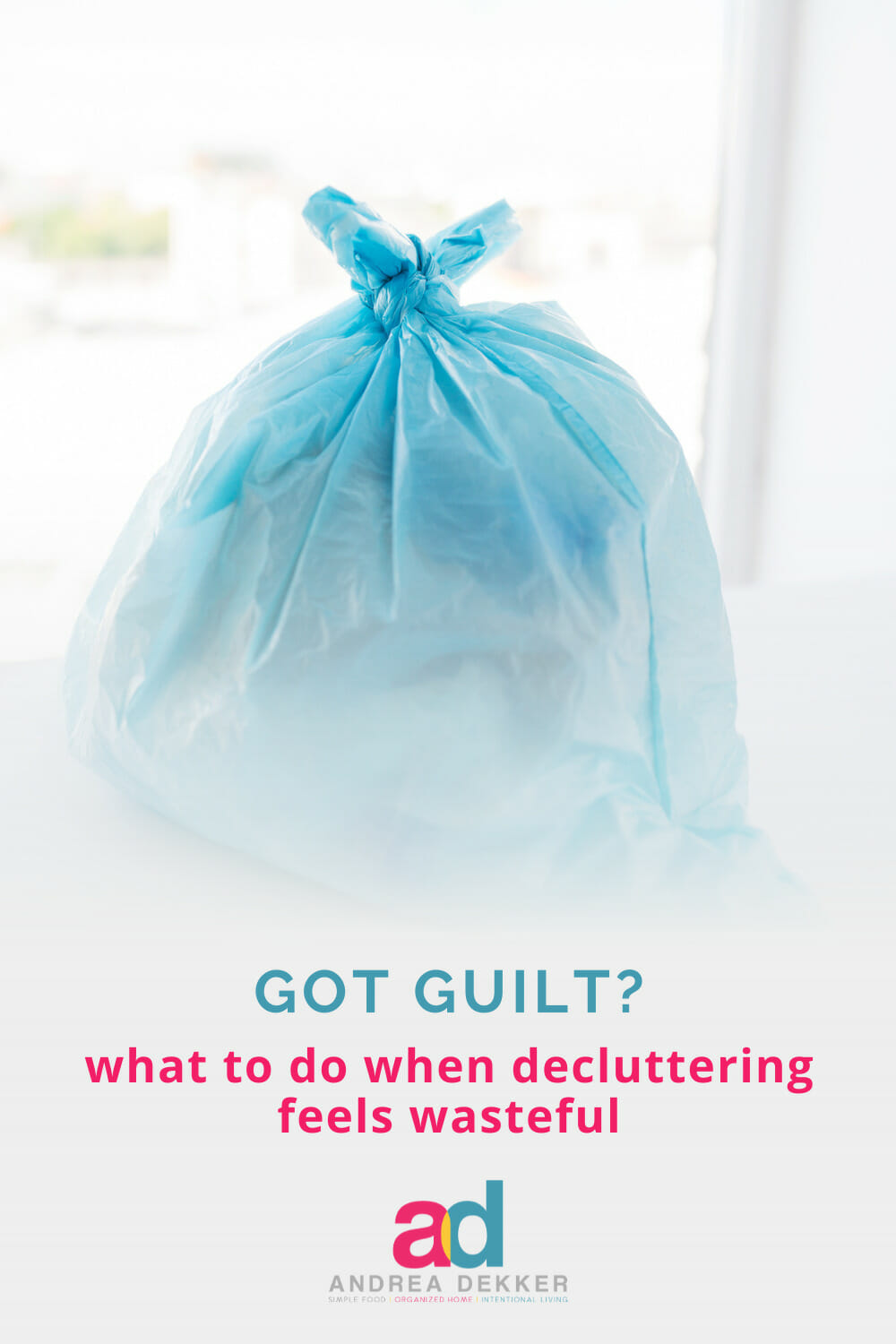 I've always been a "maintenance" person.
Regular decluttering is a habit for me as I know I must stay on top of it or things will quickly get out of control around our house.
Sometimes it can feel a little wasteful — donating, trashing, and recycling things so regularly; but I don't have enough physical space, mental capacity, or energy to deal with so much extra stuff.
If you've ever felt wasteful after decluttering, I think you'll relate to this Reader Question.
READER QUESTION:
Hi Andrea! I love your blog. It has inspired me to make many changes to simplify my life, so thank you!
There is one thing I struggle with that I'm hoping you can help me solve… I find that I hold on to things so I don't waste them.
For example, I have Windex spray and other cleaning products that I rarely use. It is still good, but I don't want just to throw it away. I don't know where to donate opened things like that though, and it feels ridiculously wasteful just to throw them away to create room.
I find the same in some food things. I might buy something for a new recipe and then find out we don't like that recipe, and I am stuck with open food that I won't use.
And what about personal items I buy with good intentions, but then never end up using or loving?
I would love any tips you have.
Can you relate?
I have often struggled with these same issues — specifically cleaning products, food items, and personal hygiene products.
I don't have a perfect system by any means, but here's how I deal with those 3 categories.
Cleaning Products:
Over the past 15 years, I have drastically scaled back on the number of store-bought cleaning products I use.
I'm to the point where I make the majority of my own cleaners — which is really nice for our budget, for storage space, and for our health too!
I do keep toilet bowl cleaner and sanitizing wipes in each bathroom, but the rest of the cleaning supplies are now in our half bath… and I just make more whenever we run out.
We have a thrift store by us that took my unneeded cleaning products (even if they were opened and only partially full) to clean their own facilities.
This was an easy solution for me when I decluttered my extra cleaning products… and it might be an option for you too.
My suggestions:
Ask a local donation center, school, or church if they could use your unneeded cleaning products.
Give them to friends/family (only if they would actually use them.)
Use them up around your own home ASAP and don't buy more.
Trash products you can't donate and don't want… and enjoy the extra space!
Moving forward: be conscious about what cleaning supplies you purchase and only buy a little of something until you're sure you love it.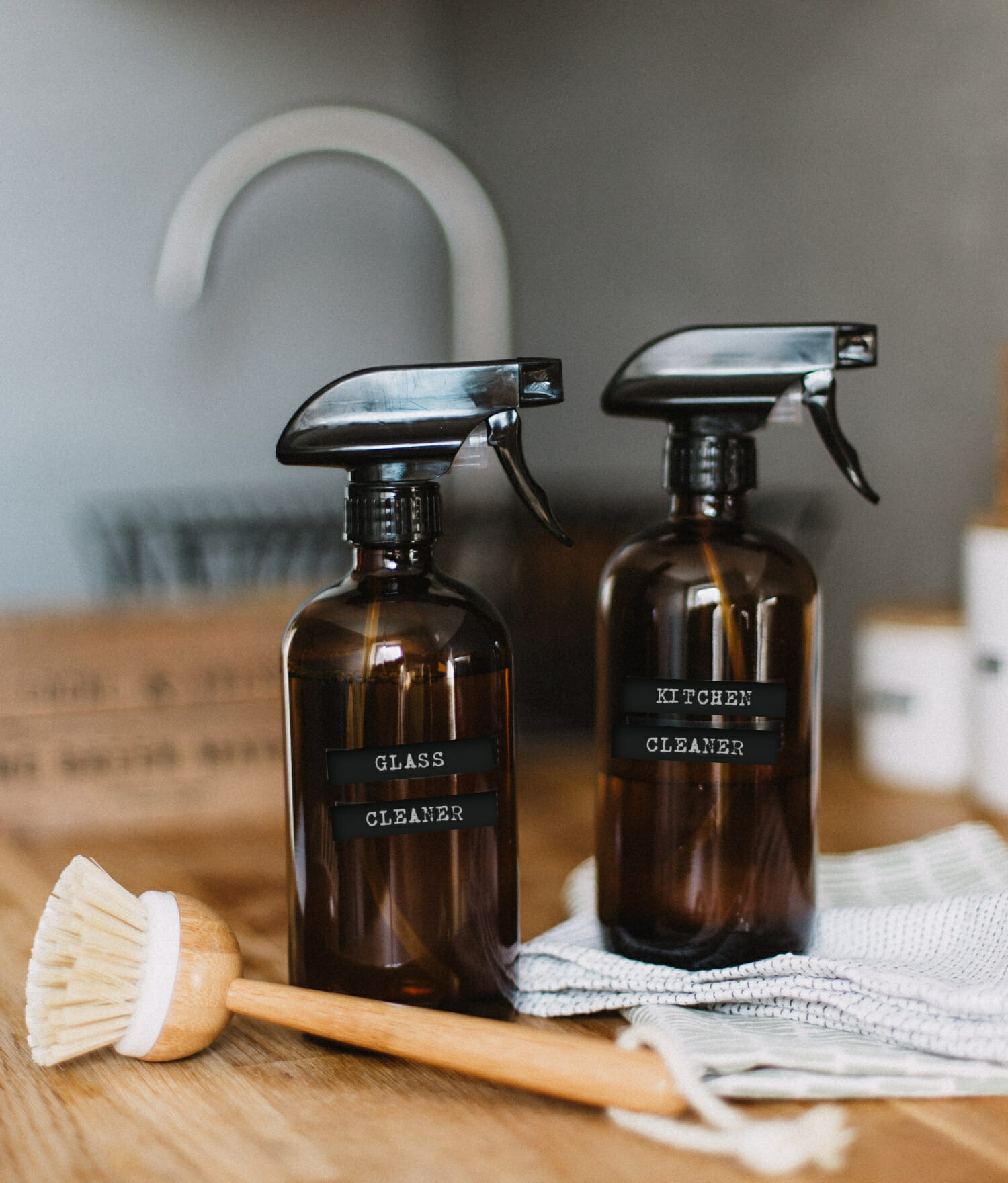 Food / Ingredients:
As I've mentioned many times before, I hate wasting food.
However, I also hate wasting prime real estate in my kitchen on items I don't need, use, or even want.
So how do I keep my kitchen fairly organized without wasting food?
For starters, I almost never buy an ingredient just for one recipe — I'll always find a close substitute in my kitchen (Google is a great help for this!)
If I do buy a special ingredient, I intentionally search for other recipes that use the same ingredient.
If we like the recipe but can't use the extra ingredients before their "best by" date, I throw them in the freezer for later. (You can truly freeze almost anything!)
If we don't like the new recipe but I feel others might, I'll make a large batch to take to a potluck or group party. I've done this a couple of times and have even been asked for the recipe — ha!!
Unopened and non-expired foods can be donated to food banks — but you do really need to pay close attention to the expiration date, otherwise the foodbank will have the extra work of dumping your expired foods.
I suppose food ends up becoming a case-by-case basis for me. On one hand, if it's just one small spice jar, I will probably hang onto it for a while as it doesn't take up much space and spices can be pricey.
However, if it's a larger item taking up more space, I'd lean towards tossing it… and then make a mental note not to buy it again!
My suggestions:
Look up recipes to intentionally use these ingredients.
Freeze extra ingredients for later (in labeled containers).
Bring large batches of recipes to parties or potlucks.
Give ingredients (or full meals) to friends/family (only if they would actually use them.)
Give unopened, non-expired foods to a local food bank.
Trash opened foods you and/or your friends will not want… and enjoy the extra space!
Moving forward: stop and consider future food/ingredient purchases and don't buy items you will only use for one recipe. There are usually similar substitutes you can use instead (maybe from your own pantry!)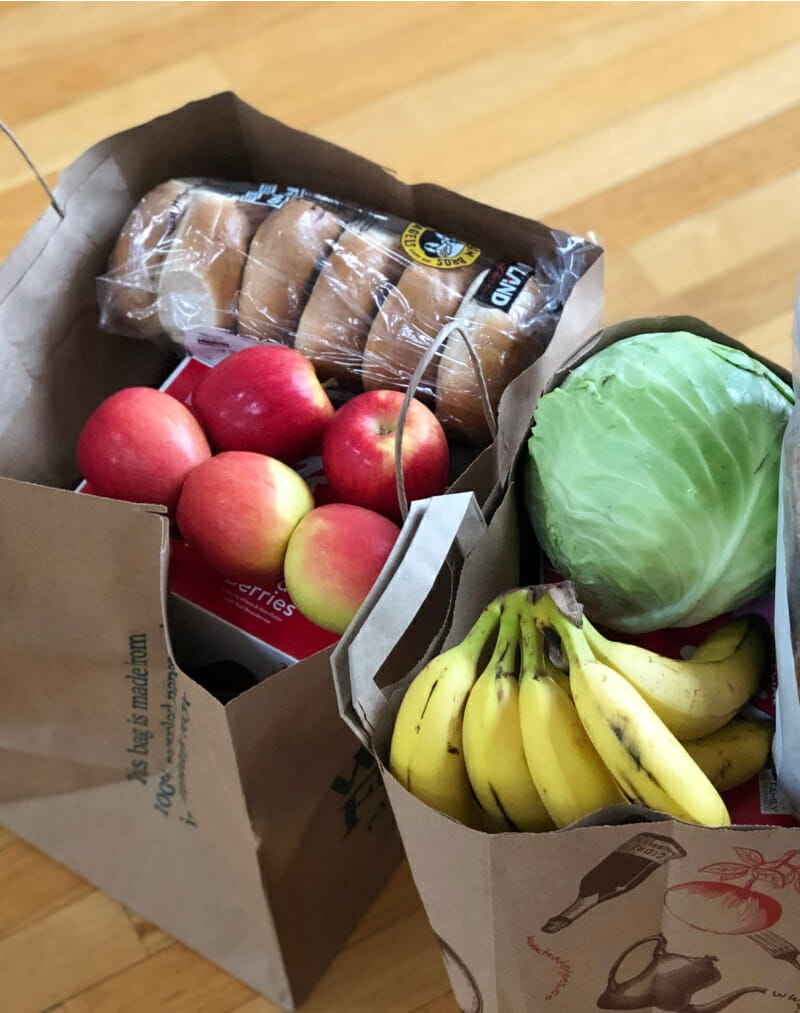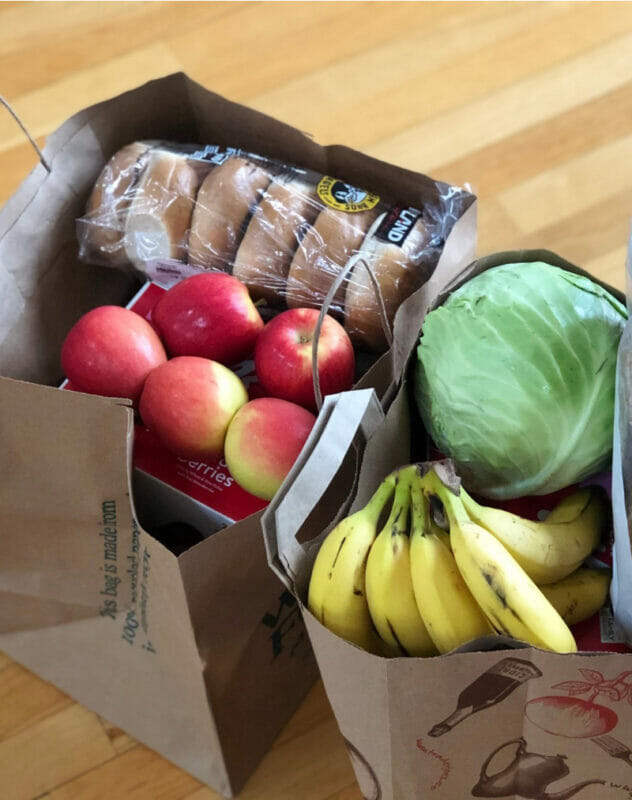 Personal Hygiene Items:
The number of free personal hygiene items I've gotten over the years is astonishing — in fact, there were many times I got PAID to "buy" toothpaste, deodorant, shampoo, lotion, makeup, etc.
In my younger days, I loved playing the "drugstore game", until I realized how much space all those items took up in my home.
I donated the majority of those freebies to a Basket Ministries program at our church, and now I no longer buy items we don't need (unless it's to donate them again!)
Our family now prefers certain brands, and we are willing to pay a bit more for those brands.
So I've simply decided that unless it's an item someone in our own family uses regularly, I won't bring it home — even if it's free.
My suggestions:
Donate unopened items to a local homeless shelter or donation center.
Create a "guest basket" with a FEW of your extra items.
Combine like items and recycle all those extra bottles and containers.
Give products you don't personally love to friends/family (only if they would actually use them.)
Trash opened containers of products you know you won't use again… and enjoy all the extra space!
Moving forward: stop buying brands and products your family doesn't use and love. Consider spending more for higher quality products as you'll often need to use less. And don't feel the pressure to "stock up" — these items regularly go on sale about every 3 months, so you don't need more than a few months' supply!
I know my system isn't perfect and won't work 100% of the time, but it feels like I've found a decent balance — at least for now.
I don't hoard massive stockpiles of stuff in my basement, I don't waste time, energy, and money buying things I don't need or won't use, and we don't waste all that much of anything anymore!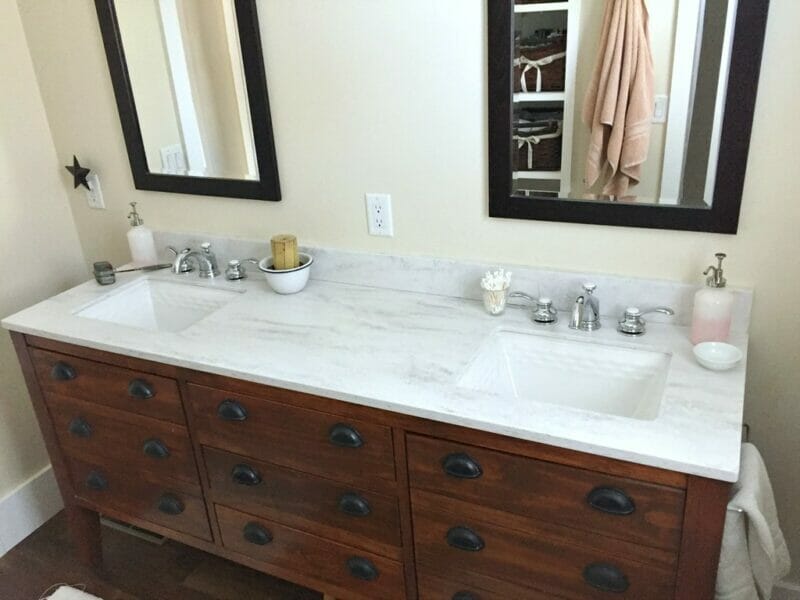 In many ways, it all comes back to what's most important for YOU and this time in your life.
What feels like the best "balance" for you?
Do you want more breathing room in your home? Or do you want the satisfaction of knowing you didn't waste anything?
Are you super excited to switch over to homemade cleaning supplies, organic foods, or a specific brand of personal care products? If so, it might be worth purging everything you currently have (even if it's a bit wasteful) just so you get that feeling of starting fresh.
Maybe you're in a season where you are short on cash and have plenty of storage space — so you stockpile whenever things go on sale. Or maybe you're in a season when space is tight and it's worth it for you to spend a little extra so you don't need to store anything more than what you're actually using.
There isn't a one-size-fits-all "right" answer on this…
I encourage you to find YOUR happy medium — a place where you are not needlessly wasteful, but also not letting your home become overrun with things you don't need or use.
Remember, everything has a cost — whether it's money, time, energy, or your mental bandwidth, only you can determine if the "cost" of something is more than you are willing to "pay".
The way I look at it… if you end up being slightly wasteful every now and then, you can consider it a good learning experience and try not to let it happen again!
How do you handle these situations?