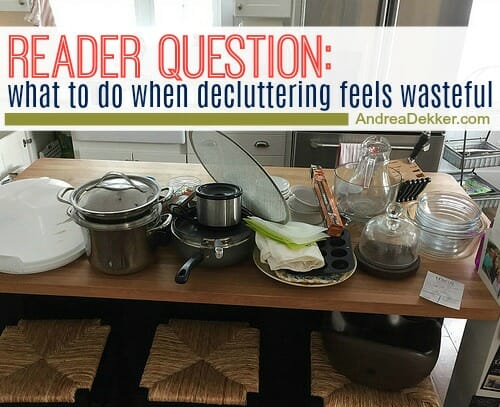 I've always been a perpetual purger as I know I MUST stay on top of the clutter to prevent it from spiraling out of control (which happens quickly when 6 people bring more stuff into our home every day!)
Sometimes I do feel a little wasteful — purging, trashing, and recycling things so regularly; but at this point in my life, I don't have the extra space to store everything, or the extra energy required to deal with so much stuff.
If you've ever felt wasteful after a good purge, I think you'll relate to this Reader Question.
Reader Question:
Hi Andrea! I love your blog. It has inspired me to make many changes to simplify my life, so thank you!

There is one thing I struggle with that I'm hoping you can help me solve… I find that I hold on to things so I don't waste them.

For example, I have Windex spray and other cleaning products that I rarely use. It is still good, but I don't want just to throw it away. I don't know where to donate opened things like that though, and it feels ridiculously wasteful just to throw them away to create room.

I find the same in some food things. I might buy something for a new recipe and then find out we don't like that recipe, and I am stuck with opened food that I won't use.

I would love any tips you have.

Thanks!
I think for me, with 4 young kids, I've gotten better at purging (even if it IS wasteful) because we just can't have so much stuff in our house. I don't have tons of extra storage space like I did before!
That said, I have often struggled with these same issues — specifically cleaning products, food items, and personal hygiene products.
I don't have a perfect system by any means, but here's how I deal with those 3 categories.
.
Cleaning Products:
Over the past 10 years, I have drastically scaled back on the number of store-bought cleaning products I use. I'm to the point where I make the majority of my own cleaners — which is really nice for our budget, for our storage space, and probably for our health too!
I do keep toilet bowl cleaner and sanitizing wipes in each bathroom, a bunch of rags and Swiffer pads in our half bath, and a small basket of laundry supplies by the washer and dryer (which is currently STILL in our basement!)
Ironically, I get TONS of cleaning products given to me from various companies who want me to promote their brands! Since I very rarely end up using or promoting these freebie items, I'm left with lots of extra (unneeded) cleaning products that could potentially take up lots of space in my home.
My current solution is to first ask a few closer friends and family members if they want anything. Then I donate the rest.
We have a thrift store by us that has confirmed they will take my cleaning products (even if they are opened and only partially full) to use to clean their own facilities.
This is a no-brainer for me — it's quick and easy to drop off the products, and I know they can use them eventually.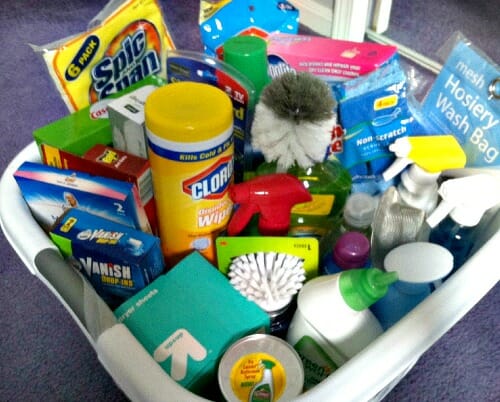 .
Food:
As I've mentioned before, I absolutely HATE wasting food — however, I also hate wasting prime real-estate in my kitchen on items I don't need, use, or even want.
I guess my first (and best) way of preventing wasted food is to stop and consider my food purchases before I even buy them in the first place. I often try to do without buying an ingredient JUST for ONE recipe — instead, I'll try to use something similar I already have in the house. You can check Google or Pinterest to find helpful substitutions for just about any ingredient!
If I do buy the ingredient to make a recipe we don't love, my next step is to look for new recipes using those same ingredients and hope we like the new recipes better!
If we still don't like the new recipe but I feel others might, I'll make a large batch to take to a potluck or group party. I've done this a couple of times and have even been asked for the recipe — ha!!
Food is sort of a case-by-case basis for me. On one hand, if it's just one small spice jar, I will probably hang onto it for a while as it doesn't take up all that much space and they are fairly pricey.
However, if it's a larger item taking up more space, I'd lean towards tossing it… and then I'd make a mental note not to buy it again!
.
Personal Hygiene Items:
The number of free personal hygiene items I've gotten over the years is astonishing — in fact, there have been many times when I've actually gotten PAID to "buy" toothpaste, deodorant, shampoo, lotion, makeup, etc. etc.
I used to love playing the "drugstore game", but then I realized HOW MUCH SPACE all those items were taking up in my home.
I regularly donated most of these freebies to a Basket Ministries program at our church and a Budget Mentoring program through another church. Both organizations request these specific items and I was happy to unload my stash.
However, more and more, I've found that it's just not worth it for me to even stock up on these freebie deals to begin with. Our family is to the point where we prefer certain brands, and we are willing to pay a bit more for those brands… so the good deals I get on personal hygiene items just sit unused until I make a point to donate them again
For now, I've simply decided that unless it's an item someone in our own family uses regularly, I won't buy it — even if it's free.
.
Again, I realize my system isn't perfect — there is still some time, money, space, and energy wasted buying, storing, and dealing with these unloved and unused products.
However, I think it has to be a balancing act of figuring out what is more important to us in different seasons of life. Maybe there are seasons of your life when you have more space, more money, more time, more energy, etc. and that will affect how you deal with these types of situation.
For example, I have less time, energy, and space to store, clean around, and think about random things we don't need, use, want, or love — so I'm much more inclined to purge immediately (even if it is a little wasteful). However, there have been other seasons of life when I've tried my best to use up every drop of everything so I didn't waste a thing.
Ultimately, I'd encourage you to find YOUR happy medium — a place where you are not needlessly wasteful, but also not letting your home get overtaken by stuff you don't need or use.
And if you end up being slightly wasteful, just chalk it up to a good learning experience and try not to let it happen again!
How do you handle these more "wasteful purges"?