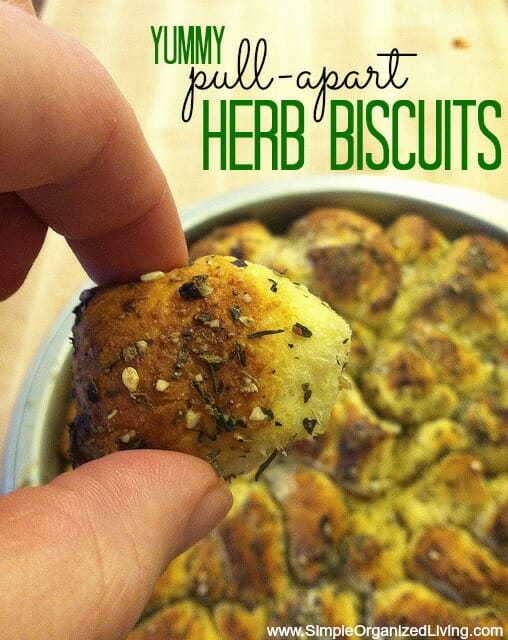 There are few things I love more than the smell of bread baking in my oven… even if that bread came from a can in the refrigerated section of my grocery store 🙂
Thankfully, we are not gluten-free and we are not low-carb… because we have some type of bread, rolls, or biscuits with almost every single meal. And while I honestly do love making homemade bread, Dave and I both grab for seconds (and sometimes thirds) when fluffy, flaky, from-a-can biscuits make it to the table!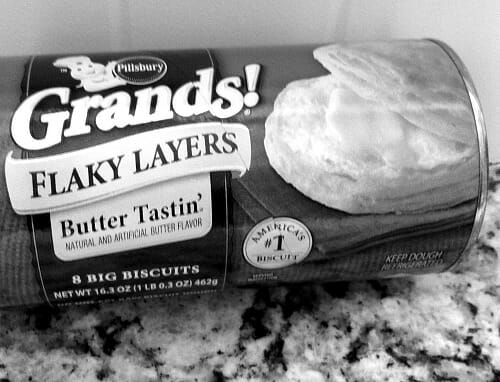 The recipe I'm sharing today is OH SO simple… and will turn a can of yummy biscuits or rolls into a fabulously delicious side dish, worthy of even your fanciest holiday parties (or of course, just a simple week-night meal with picky children!)
Are you getting hungry yet?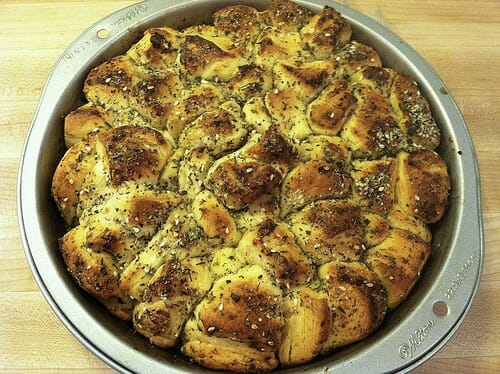 Recipe for Pull-Apart Herb Biscuits:
INGREDIENTS
1 tube (12 -16 oz) refrigerated biscuits
1/4 c. butter, melted
1 T. minced garlic (or 1 t. garlic powder)
2 T. grated Parmesan cheese
1 T. sesame seeds
2 t. dried basil
2 t. dried oregano
2 t. dried thyme
2 t. dried sage
NOTE: You can use ANY combination of herbs and spices you'd like. This is just what we regularly use with delicious results. You could also just use Parmesan cheese and garlic if you have really picky eaters.
DIRECTIONS
Preheat oven to 400* F
Place 1/4 c. butter in an ungreased 9″ round baking pan and put in oven while preheating
Cut each biscuit into 4-6 chunks; set aside
In a small bowl, mix together cheese and all dried herbs; set aside
Remove butter from oven when melted and add minced garlic (if using garlic powder, just mix it in with the dry herbs)
Stir biscuit chunks in the pan with melted butter until evenly coated
Sprinkle herb/cheese mixture over biscuits and stir to coat
Bake in preheated oven for 8-12 minutes or until golden brown.
Serve immediately!
When it's just Dave and me, I usually bring the whole pan of biscuits to the table so we can pick off what we want. However, if company is coming, I'll often remove the biscuits from the pan and put the whole "disk" on a cake platter. It looks like a fancy artisan loaf of bread that you slaved over all day in the kitchen to prepare.
No one has to know it came from a can — except for the fact that everyone will most likely ask for the recipe!
I'm guessing you could also make this recipe with homemade dough — especially if you have a favorite biscuit recipe. However, I can attest to the fact that the store-bought from-a-can dough works well too 🙂
Oh, you can also transform this recipe into a "sweet treat" by using 2 T. cinnamon and 1/2 c. white sugar in place of the cheese and herbs (sorry, I don't have a picture of that).
YUMMY!
What are some of your favorite bread recipes?

Visit my virtual recipe box for more simple, delicious, family friendly, recipes!