Simple Egg Substitutions… For Baking
posted by Andrea | 12/17/2013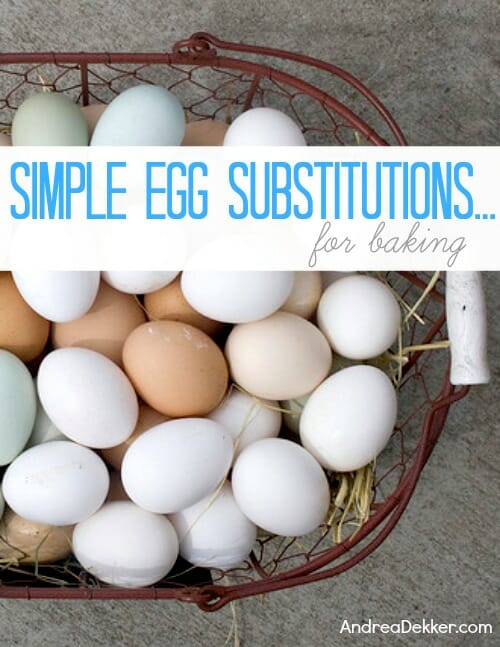 Dave and I are HUGE egg lovers!
I regularly make quiche or other breakfast foods for dinner, Nora and I eat lots of eggs for breakfast, and I do LOTS of baking. So yes, we go through a bunch of eggs. In fact, it's not uncommon for us to go through 2 dozen eggs per week (or more).
However, last week I was almost out of eggs and I wanted to do a bunch of baking. The only problem was that it was snowing like crazy all week long, the roads were horrible, and I really, REALLY didn't feel like bundling Nora up and braving the weather JUST for eggs.
So instead, I turned to the internet to look up possible egg substitutions — specifically for baking. I knew there were options out there, but I didn't realize how simple they were (or how well they would work!)
I'm pleased to say that I've since made Banana Chocolate Chip Muffins, a boxed brownie mix, and peanut butter cookies WITHOUT eggs — and neither Dave or I noticed any difference in taste.
So while I don't plan to stop buying eggs any time soon, and I will still most likely continue doing my baking with eggs, I thought this was still good information to share — especially if you find yourself ready to do some holiday baking and are short a few eggs.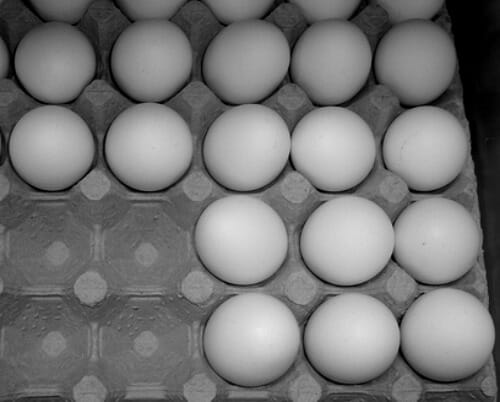 Simple Substitutions for Baking Without Egg
This is the recipe I used:

1 ½ T. water
1 ½ T. oil (I used vegetable oil)
1 t. baking powder

Mix all 3 ingredients in a small bowl and substitute for ONE egg.
. 
Here are a few other egg substitutions I found on the internet:
NOTE: Each recipe below is a separate recipe and replaces ONE egg
1/4 c. mashed banana, pumpkin puree, OR applesauce
3 T. plain yogurt + 1/2 t. oil
1 t. yeast dissolved in 1/4 cup warm water
1 t. baking powder + 1 T. water + 1 T. vinegar
I was honestly shocked that my baked goods turned out so well without eggs. I will most definitely keep this recipe handy the next time I'm running low on eggs — or even if I need to bake any foods for anyone with egg allergies.
I was thrilled that I didn't need to brave the weather, and Dave was thrilled to have yummy baked goods for the rest of the week — yay for simple egg substitutions!
Have you ever tried any of these egg substitutions?