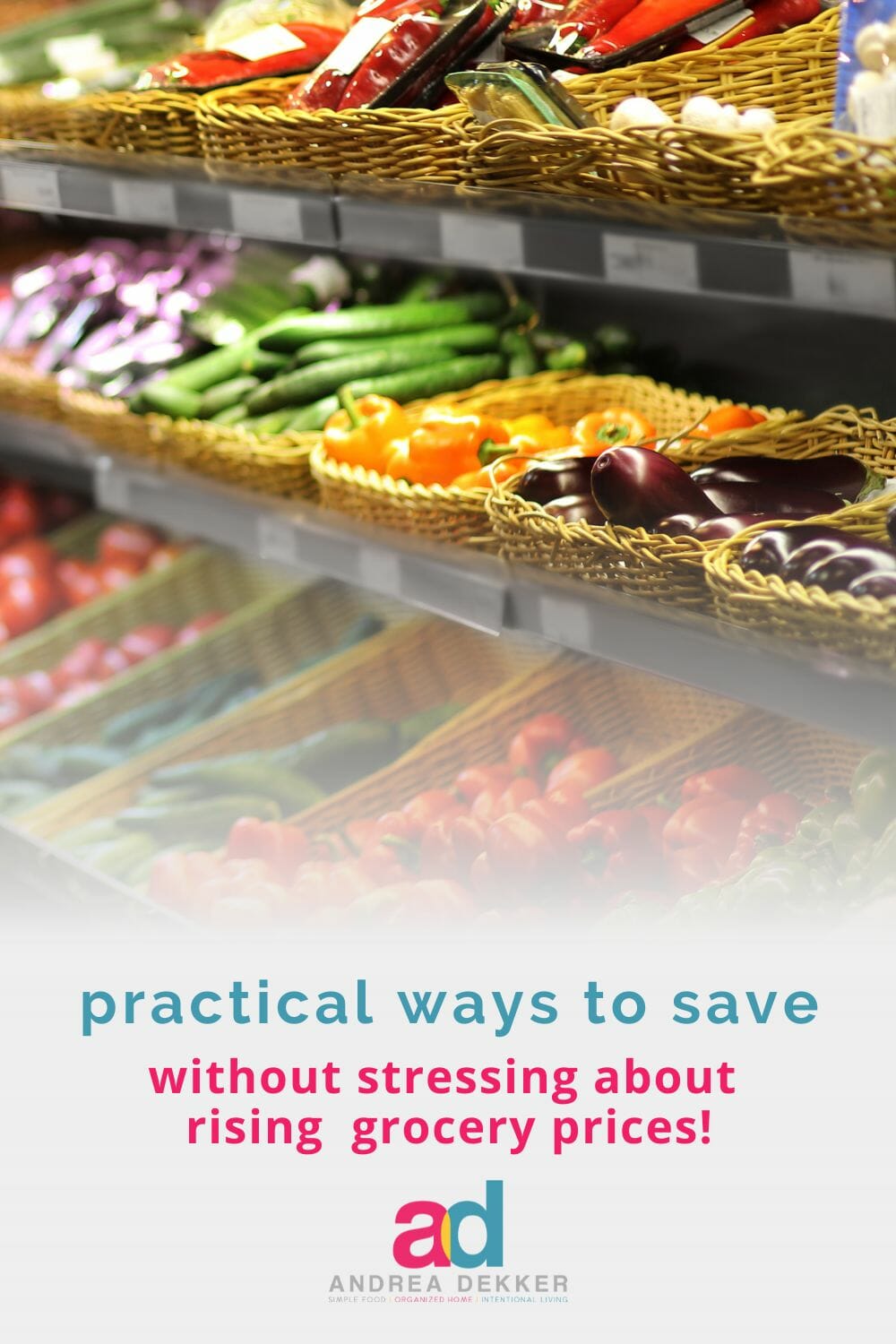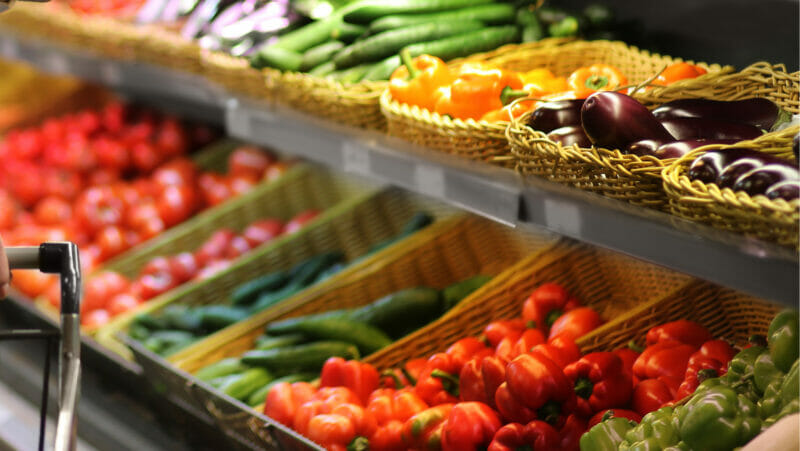 It's no secret that grocery prices are going up… A LOT!
It's alarming to see prices that are double, triple, and even quadruple what I'm accustomed to paying for foods my family eats every day (ahem… eggs, milk, bacon!)
Yup, my grocery bills just keep rising — partially because of inflation, but also because we have 4 growing kids who insist on eating multiple times every day! 😂
I'm sure many of you can relate!
I haven't brushed up on local economics recently, but I hear we should not expect prices to go down any time soon… in fact, they may keep rising.
So what's a growing family supposed to do?
Is there a trick to save on groceries these days?
I've gotten dozens of emails asking for tips, ideas, or secret solutions to save money on groceries while prices continue rising… but the honest truth is: I've intentionally chosen NOT to stress about grocery prices.
No, this is not a guest post… you read that correctly!
I, Andrea Dekker, am not actively looking for ways to cut costs at the grocery store, nor am I worried about the total cost of our grocery bill!
Of course, I don't intentionally try to spend as much as possible on groceries. There are still a few things I do to stretch our food dollars…
I shop almost exclusively at Aldi — along with a monthly Costco trip.
I shop less often to (hopefully) avoid impulse purchases at the store.
I scan the shelves to see if an "off-brand" item is cheaper or if there are any obvious sales.
I shop with a list and buy what I need to buy — sometimes with a few fun extras.
I cook mostly "from scratch" so I'm not buying tons of pre-packaged foods.
I buy in bulk when that makes sense.
I try my best not to waste any food — I repurpose almost all leftovers and freeze anything we won't eat right away to use in future recipes.
Aside from generally trying to be a good steward of the food I buy each week, I have intentionally chosen not to worry about grocery prices, not to stress about how much more I spend these days, not to force my family to only eat beans, rice, or other lower-priced foods, and not to complain about something I have little control over.
So where are the extra grocery funds coming from?
No, we didn't win the lottery, inherit a large sum, or strike it rich on the internet!
In fact, Dave and I are both making less than we've made in a long time due to personal choices to cut back on the amount of time we spend working these days.
Instead, we decided (years ago) NOT to spend money on a long list of non-grocery expenses that aren't a huge priority for us.
Here are a few things that make our current list (obviously, your list will be different).
Travel / Vacations — We haven't personally paid for a vacation (outside of visiting family members) since our honeymoon in 2006. According to recent stats, this saves our family of 6 roughly $12,000 per year!
Vehicles / Insurance — We're not "car people" so we are very content to drive 12- and 15-year-old vehicles that are still fairly reliable… which also saves us a bunch on insurance!
Entertainment — We prefer to hang out at home and have friends over here instead — saving us hundreds of dollars each month.
Restaurants — Aside from using gift cards once a month or so, we almost never go out to eat (this also saves us thousands of dollars each year — based on the average American's spending habits).
Clothing — Dave has some new clothing (he's a hard size to shop for) but the rest of our family only wears used clothing (usually purchased on "dollar days"). We also have fairly small wardrobes compared to many.
Extracurricular activities — Aside from a few summer camps and piano lessons, our kids mainly participate in free activities through school, church, and the community.
Haircuts / Color — I've always cut everyone's hair, and now that I'm growing my hair out, I haven't paid for a haircut in months. I know people who spend hundreds of dollars on their hair every few weeks, so these savings do add up.
Debt / Interest — It's been 5 years since we've had any debt and aside from that mortgage debt, we never once paid interest on anything.
With a bit of quick mental math, it's obvious that we save SIGNIFICANTLY more by cutting out vacations, restaurants, and all the things listed above than we could ever save on groceries — even if I spent hours clipping coupons and driving to multiple stores every week. Believe me, I've done the whole "coupon thing" and I can't save as much on groceries as I can on everything else on my list.
Instead of feeling anxious about the rising prices on groceries (and gas, and clothing, and everything else) or stressing about ways to stretch a small grocery budget, we've simply decided that my grocery spending is a "non-issue" for our family because we save in so many other areas.
BOTTOM LINE: Our income is still more than our expenses… even if I'm spending twice as much on groceries these days!
NOTE: I do realize that not every family has the luxury of grocery shopping without worrying about sticking to a strict budget. We are very grateful for this privilege and make sure our kids know how blessed we are.
If you're in a position where you absolutely must save every penny you can, I am truly sorry you are carrying that stressful burden on your shoulders.
Just keep doing the best you can… maybe a few of my other money-saving tips below might help!?
For the rest of us, whose stress is caused mostly by getting caught up in news headlines about inflation and media hype about rising grocery prices, I challenge you to stop worrying about $3 eggs and $5 bacon and instead, consider more practical ways to "save some bacon" on things other than groceries and restore balance to your budget.
This simple, yet intentional, change in your perspective has the potential to alleviate so much stress and anxiety from your weekly grocery shopping… and you'll probably end up better off financially at the end of the year!
After all, nixing one vacation will pad your savings account a lot faster than finding the best price on beef or chicken.
A Few Other Money-Saving Ideas
If you're still looking for ways to cut back on expenses, here are a few more ideas that have worked for our family over the years.
Implement an "eat from the pantry and freezer challenge". Get creative in the kitchen and make meals and snacks from whatever you already have in the pantry and freezer… see how long you can stay away from the grocery store!
Meal plan and cook from scratch (or mostly from scratch).
Shop thrift stores or Facebook Marketplace before heading to the store.
Consider "doing without" instead of buying more (it's amazing how many niceties we really don't "need")
Forgo big birthdays, anniversaries, or other celebrations and instead, choose little ways to "upgrade the everyday", as I like to say!
Make it a practice to "use up" everything you have before buying new (clothing, toys, toiletries, cosmetics, food, etc.)
Give used (but still thoughtful) gifts — or make food gifts for those on your list.
Vow to only buy things you can pay cash for (even if you use a credit card to purchase them).
Hold off on a house or yard project or a big-ticket item for a few months (or a few years).
Cancel subscriptions and memberships, and eliminate extra utilities (like cable).
Wait 24 hours before buying anything — that amount of time will often help you realize you don't really need the item in question.
Skip seasonal expenses like annuals in the summer and holiday decor in the winter.
And here are a few more "drastic" ideas that might work for your current season of life:
Become a one-car family (or no cars, depending on where you live)
Downsize your home — or opt for a camper, RV, duplex, or apartment
Stop trying to "keep up with the Joneses" and worrying about what others might think if you live more simply.
Don't gamble or play the lottery (you won't win!)
Choose one month every year as a "no-spending month" (read how we do this)
Enjoy a staycation or local day trip instead of an expensive vacation (they can be even more relaxing at a tiny fraction of the cost!)
Of course, if grocery savings is your "thing" and you just love doing it… then, by all means, keep it up!
However, if grocery shopping already feels like a burden for you, I encourage you to alleviate the extra stress of trying to stick to a strict (and possibly unrealistic) grocery budget and instead, look for alternative ways to save money this year.
Then, enjoy your next trip to the grocery store without worrying about rising prices!