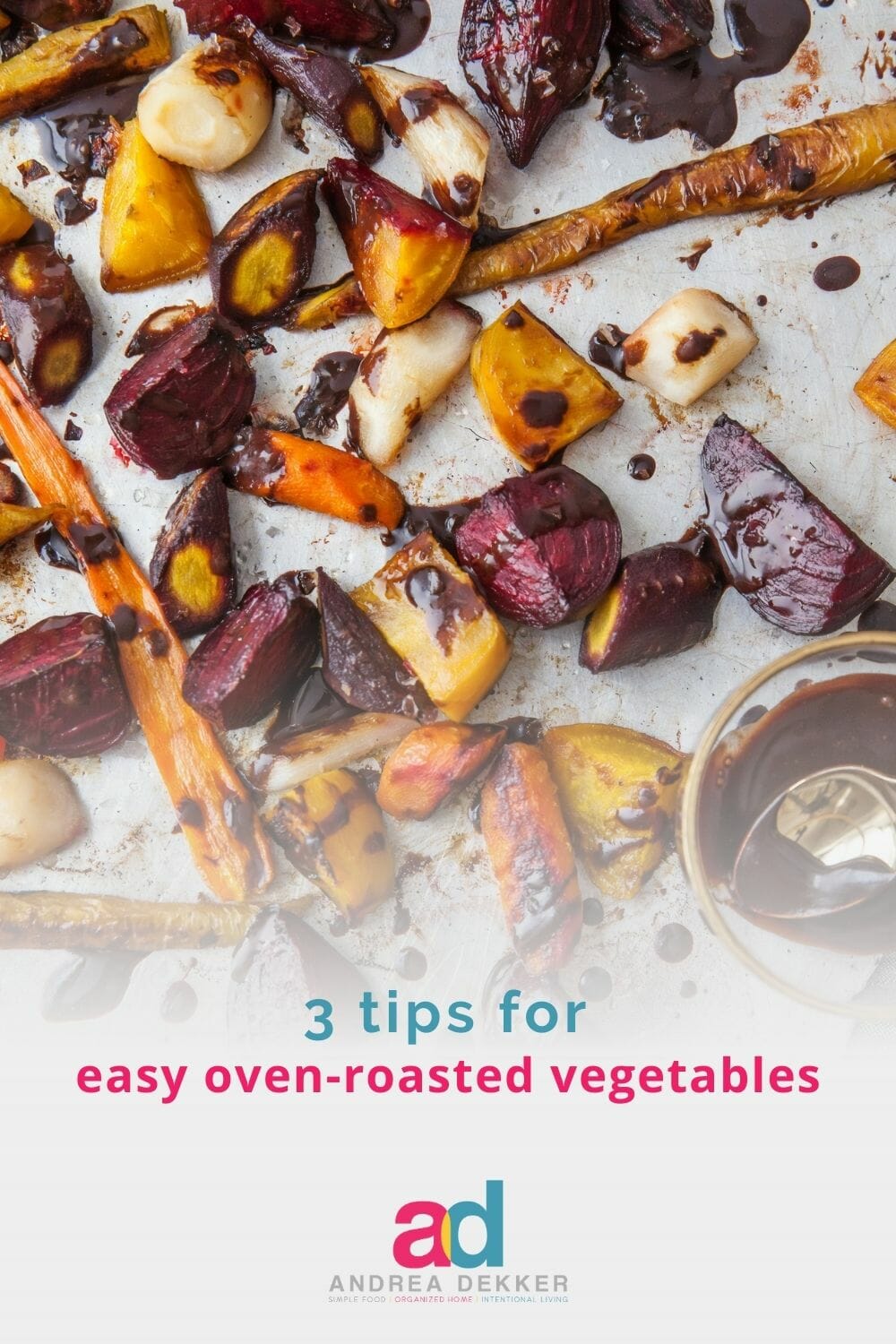 Excite your tastebuds and impress your family with these ridiculously simple oven-roasted vegetables. My 3 bonus tips make the process practically fool-proof!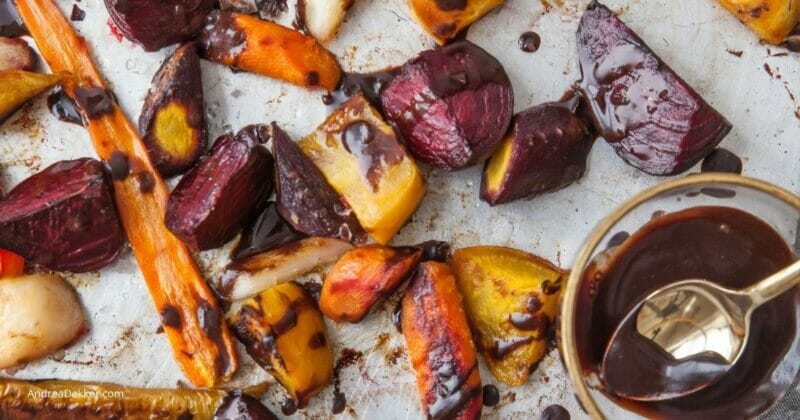 Dave and I have long been fans of roasted vegetables — they're our favorite way to eat cooked veggies.
In fact, my beloved vegetable steamer eventually found its way into our donation pile after we realized how much more flavorful roasted vegetables are.
Of course, oven-roasted vegetables have a few more variables than steamed or boiled veggies — but I promise they aren't difficult to master.
You just need a few tips to simplify the process!
If you're new to the world of roasted vegetables, I encourage you to give them a try SOON!
After 5+ years of roasting different veggie combinations several times a week, I'm confident you can learn.
Get ready to give your tastebuds a treat!
My Recipe: Easy Oven-Roasted Vegetables
Easy Oven-Roasted Vegetables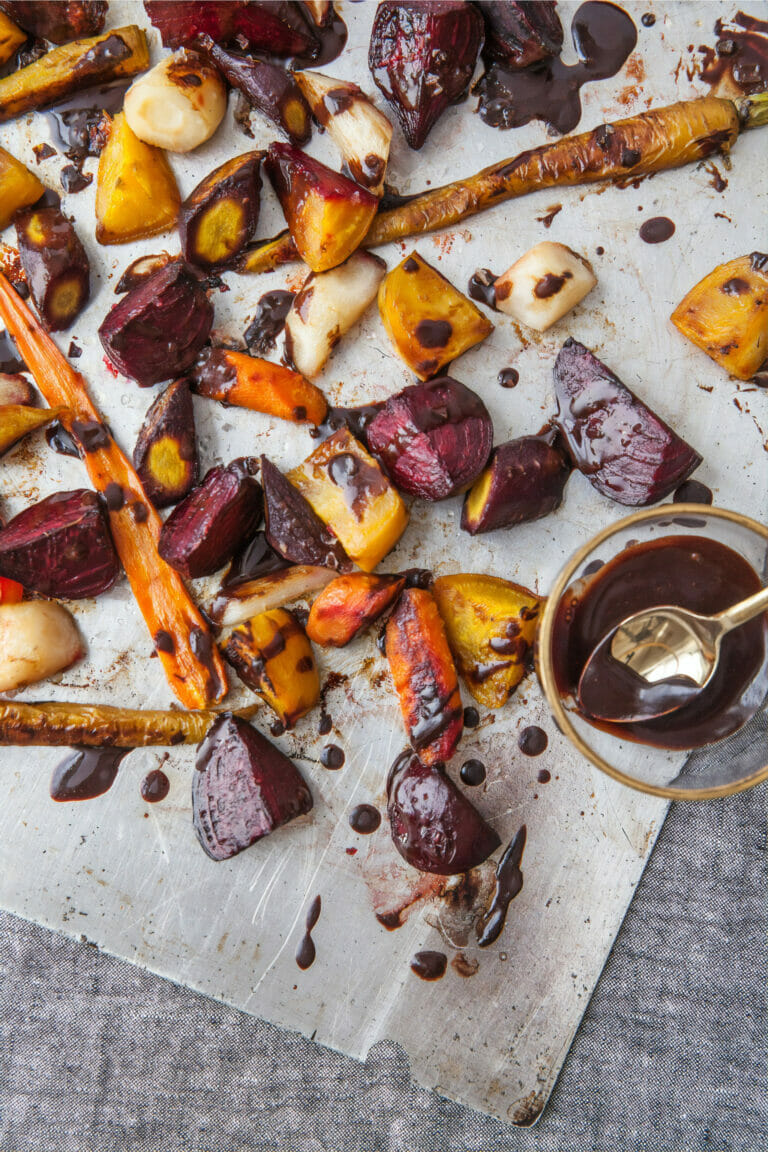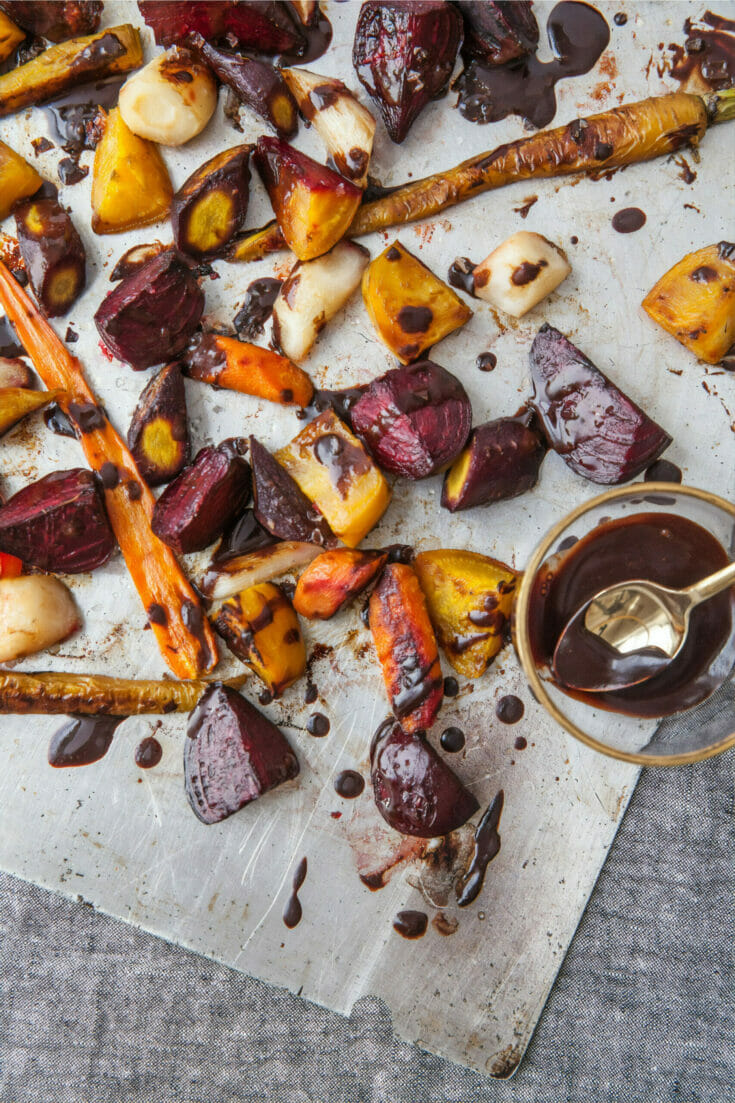 Master the art of easy oven-roasted vegetables with these simple tips…and enjoy the delicious flavors in a way you've never experienced before. Your tastebuds will thank you!
Ingredients
Raw vegetables of your choice (potatoes, sweet potatoes, broccoli, cauliflower, cabbage, carrots, turnips, onions, beets, mushrooms, zucchini, asparagus, etc.)
Olive oil, melted butter, or melted coconut oil.
Salt and pepper
Seasonings of your choice (optional)
Instructions
Preheat oven to 400ºF (see notes below for using a cooler oven)
Wash and peel veggies (I do one variety at a time) and chop into bite-size pieces.
Place bite-size veggies into a large bowl and drizzle with oil or melted butter (start with less, you can always add more).
Sprinkle with salt, pepper, and any desired seasonings.
Stir to mix -- adding more oil or seasonings as desired.
Dump veggies onto roasting pan
Place in preheated oven for 30-40 minutes, checking for doneness around 25 minutes.
Notes
If you're roasting vegetables while baking other foods, feel free to roast veggies at a lower temperature for a long time duration.
Also keep in mind that soft vegetables like zucchini, mushrooms, and peppers will roast MUCH faster than root vegetables like potatoes, carrots, turnips, and beets. I just add the soft veggies after about 10-15 minutes so everything is finished at the same time.
Recommended Products
As an Amazon Associate and member of other affiliate programs, I earn from qualifying purchases.
3 Tips to Simplify Roasted Vegetables
Tip #1 = Start Small
There's no need to over-complicate things when you're just getting started — that's a surefire way to burn out (and probably waste a bunch of produce too.)
Start with ONE vegetable your family really enjoys and make a small batch — just enough for one meal. Use a little salt, garlic salt, or Italian seasoning and see how you like it. Then branch out with more variety and more flavors if you desire.
These 4 are the veggies I started with (in order).
Potatoes with oil, salt, and Italian seasoning
Carrots with oil and Ranch OR Italian seasoning
Sweet potatoes with oil and Paprika
Cauliflower with oil, garlic salt, and/or Italian seasoning
These are all vegetables most of my family already enjoyed, they are fairly inexpensive, and they are readily available in almost every grocery store.
More Easy Oven-Roasted Recipes
Try these super-simple recipes if you're just getting started!
Tip #2 = Under-done and over-done are both OK
How's that for encouraging!?!
You literally can't mess it up (unless you totally char them.)
In general, I prefer my veggies UNDER-done, but I've over-cooked multiple pans of veggies and they taste just fine.
The key is to periodically test them for doneness until you get a feel for how your oven cooks, how quickly (or slowly) different vegetables finish roasting, and what texture you personally prefer for your veggies.
Obviously, potatoes, carrots, beets, and other "hard" vegetables take longer than "soft" veggies like zucchini, peppers, mushroom, and kale.
Start checking after 10 minutes for the soft veggies and after 25 for the hard veggies.
Just poke them with a sharp knife or fork and if they pierce easily, they are probably done. If not, shove the pan back in the oven and set the timer for 5 more minutes. You can also taste-test them, being careful not to burn your mouth!
NOTE: If some veggies are getting too brown before they are fully cooked through, just spray them with a little cooking spray and put them back in the oven.
Tip #3 = Roast in bulk and reheat later.
After you "start small" and get a better feel for what veggies your family likes, how quickly your oven cooks, and what veggies you personally enjoy roasting, I suggest roasting in bulk.
I roast 2 or 3 extra-large sheet pans of veggies at one time, serve them for dinner, and store leftovers in the fridge for meals throughout the week.
I save a massive amount of time chopping, roasting, etc., and can simply reheat whatever we want to eat in our cast iron skillets. They taste fresh out of the oven every time!
Related Reading:
NOTE: my most favorite USA Pan brand XL Sheet Pans are currently out of stock on Amazon… but there's a 2-pack of smaller sheet pans available. These are truly the best pans for roasting vegetables!
Ways to Enjoy Roasted Veggies:
Roasted vegetables are an excellent side dish to almost any meal.
Here are a few ways we enjoy our reheated roasted veggies throughout the week.
I could go on and on — the point is that reheated roasted vegetables are basically an instant side dish for almost any meal, almost any day of the week.
They are extremely nutritious… and they taste amazing!
Have I convinced you to give them a try?
What are your favorite roasted veggies?
And do you have any tips to add to my list?