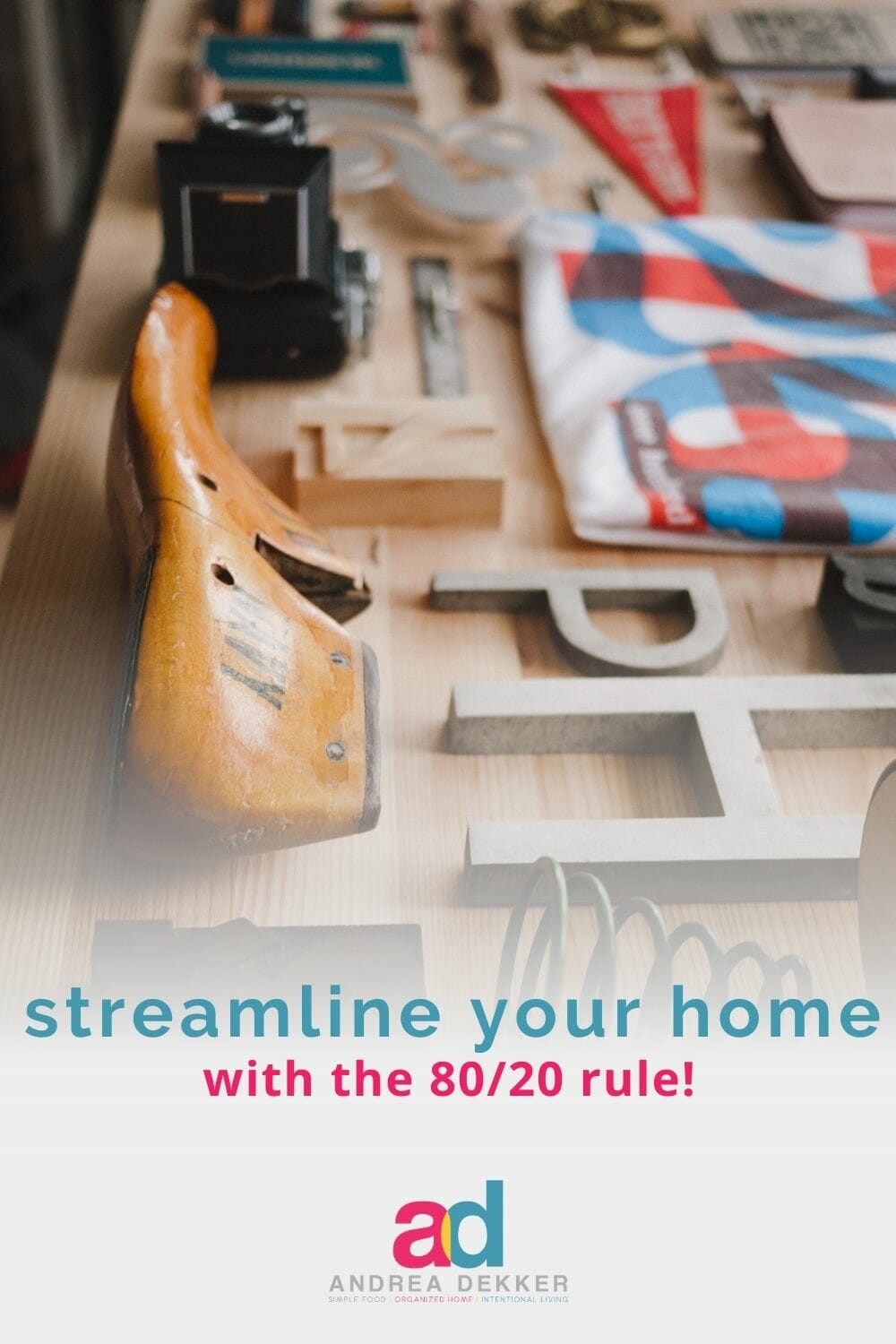 If you're looking for a simple mindset shift that could totally transform the way you view your stuff and streamline your home and life in the process, let me introduce you to the 80/20 rule!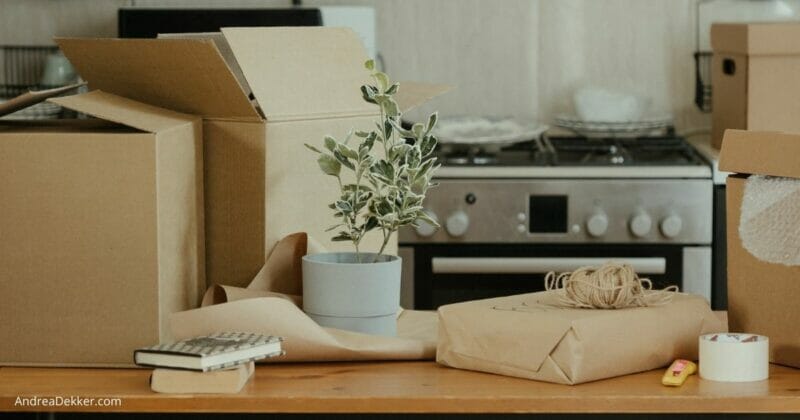 I've long been fascinated with the accuracy of the Pareto Principle (a.k.a. the 80/20 rule) in my own home and life.
For example:
I wore 20% of my clothing 80% of the time prior to my massive closet downsize.
I bake and cook 20% of our family favorites 80% of the time.
I call, text, and email less than 20% of my contacts more than 80% of the time.
Within my inbox, less than 20% of all emails contain more than 80% of the information I actually need and use each day.
Our kids play with the same 20% of their toys and games 80% of the time.
Now certainly, these percentages are not mathematical facts (I didn't take the time to calculate exactly how many toys, items of clothing, and favorite recipes we have and use on a daily basis).
But I know from my own personal home, family, and life that the 80/20 rule portrays the unequal distribution of time, energy, money, etc. spent managing and using our various possessions.
A few more examples:
I use the exact same spatula every single day for almost all my cast iron cooking… except when I need to use more than one at a time (which is rare).
I wear the exact same coat everywhere, all Fall, Winter, and Spring… except when I shovel snow or for rare special occasions.
I wear the exact same earrings every day… except for special occasions or holidays.
My children gravitate to the same favorite books over and over and over again.
We congregate with the same neighbors and friends despite virtually endless opportunities to mingle at church, school, and in our community.
We choose the same 2 or 3 restaurants, even though there are literally hundreds of options within a few miles of our house.
Only a tiny percentage of people who read my blog ever leave a comment… and the ones who do leave comments, comment on the vast majority of posts I write!
When we stop and think about it, the Pareto 80/20 Principle holds true in almost every single aspect of life — our relationships, homes, clothing, food, businesses, toys, games, books, schedules, and more!
Pretty amazing… huh!?!
What does this mean for our homes and our lives?
It means we most certainly aren't using everything we have (hello, "what if I need it clutter").
It means we're spending valuable time, money, and energy buying, storing, cleaning, and organizing lots and lots of stuff we don't actually use.
It means… we might very well be able to do without 80% of the stuff in our homes!
But hold on, don't call for a dumpster just yet…
I don't think we should hastily discard 80% of our belongings in the name of simple living (or minimalism) — after all, we still use some of it 20% of the time!
However, I DO think our homes and lives could benefit from a little more intentionality as to what we are willing to make space for.
How the 80/20 rule works in my favor:
Instead of keeping 8 spatulas when I really only use 1, I now keep 3.
Instead of a closet full of clothing, I donated over half of it last year and have enjoyed wearing my favorites on a regular basis — with a few extra items available for special occasions.
Instead of becoming an ultra-minimalist-mom and forcing my children to get rid of everything, I simply encourage them to think through what clothing, toys, books, games, and crafts they actually need, want, and use, and consider donating the rest.
Instead of feeling guilty about all the sentimental items in storage, I make a point to use and display my favorites throughout my house and donate the rest.
Instead of mindlessly buying whatever looks good to me or whatever great bargain I find, I think through the true costs of the item — Where will I store it? Will I want to clean it a year from now? Is it even something I need?
What can you do to get started?
As I mentioned earlier, there's no massive rush to declutter every single thing you don't use on a daily basis — just take your time so you don't get overwhelmed.
Start with the drawer in your kitchen that doesn't open well, or maybe the catch-all shelf in your closet or pantry, or even in your purse!
As a general guideline, you can probably get rid of an item if:
You have multiples… and really only need 2 or 3.
You don't remember the last time you used or wore the item.
You don't really even like it all that much.
It's broken, stained, ripped, or non-functional in some way.
You find yourself moving this item out of the way to get to a different item you use/wear more often.
You feel guilty getting rid of it (usually a sign that you're saving it for all the wrong reasons).
The item causes mental or physical struggles for you.
You'd rather make more space for other items you enjoy, use, wear, or simply like more.
Just pick ONE small area in your home to start with… and then pick another, and another.
Before you know it, you'll have an entire room decluttered using this 80/20 mentality.
As a result, you'll enjoy more time, energy, money, and space for the things you use most and benefit from most… and you won't be bogged down trying to clean, organize, and store the things you DON'T use.
Moving forward, I encourage you to continually view your possessions with an 80/20 mindset — recognizing when an item falls into the 80% of things you rarely, if ever, use.
In my experience, it's so much easier to remove an item from my home when I realize I don't use it and won't miss it.
NOTE: if you're unsure if you'll miss the item after a few months, my suggestion is to box up all your "maybe" items and put them in the back of the basement or garage. Write a reminder in your planner or set an alarm on your phone for 6 months from now. If you make it that long without digging through your maybe box, I'd strongly encourage you to donate it WITHOUT even looking inside!
Living with an 80/20 mindset is one concept that helps me continually pursue a simpler, more organized, more intentional life.
It's a wonderful mindset to pass on to our children, an instant reminder of how blessed we are, and a helpful "trigger" to stop consumerism and materialism from taking over our thoughts and lives.
What about you…
Have you noticed that the 80/20 rule applies to areas of your home and life?