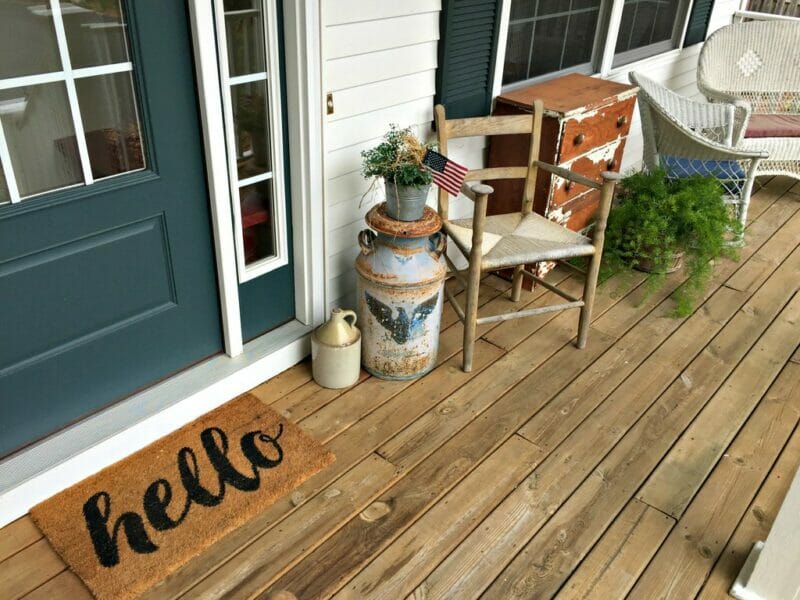 This month we'll enjoy all the niceties of summer while excitedly stocking up on school supplies, shopping Costco for all the snacks, enjoying front porch picnics, and making our favorite zucchini recipes until we can't look at another zucchini.
Hello, August!
It's one of my favorite months of the year — I love summer break, I love back-to-school shopping, I love sitting on our front porch, and I (mostly) love zucchini.
More of my favorites below…
---
FAVORITE MOMENT = Class Lists!
Is there anything more exciting for a child (or their mother) than finding out who their new teacher and classmates will be for the coming school year?
I think not.
As a child, I can remember riding my bike to school day after day to see if the class lists were posted on the office window yet… and now, we check the online portal day after day, waiting for them to pop up (which they did yesterday afternoon!)
This year, all 4 kiddos got in on the excitement — SO MUCH FUN!
FAVORITE ROUTINE = Cereal For Breakfast
For the last 7 years, I've made an intentional effort to prepare a hot breakfast for my family every morning.
Weirdly enough, this is something I decided I wanted to do way back when I was in college… and once we had kids who were old enough to eat hot breakfasts, I turned my strange college goal into a reality.
Up until this summer, our kids had never eaten cereal — true story!
They are old enough now to know what cereal is, and they've asked for it several times, so I purchased several boxes of cereal the first week of summer break and we've "enjoyed" cereal for breakfast one morning each week.
They think it's so fun to mix and match different types of cereal together in one bowl, they love drinking the milk afterward, AND they love that they get to sit at the island counter to eat their cereal.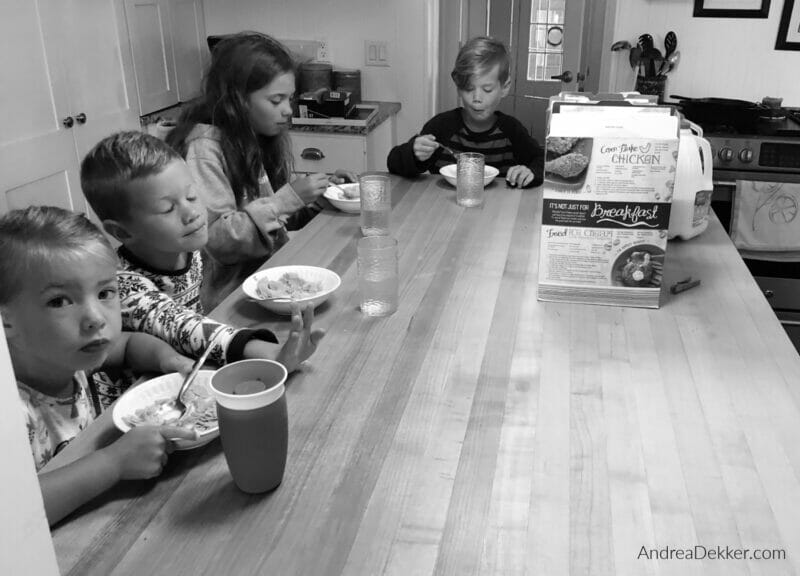 While it's nice to have a little break from cooking breakfast once a week, I'm not ready to give up hot breakfasts just yet.
Not only is cereal more expensive than eggs, pancakes, waffles, etc. it also doesn't fill us up, so we're all super hungry an hour later (which means I'm making and cleaning up snacks).
It's been a really fun summer routine… maybe it could become a Saturday morning tradition once school starts!
FAVORITE SEASONAL ITEM = Turkish Towels
Earlier this summer, I ordered a big set of Turkish beach towels — both for our family and so we'd have extras when people came to swim.
In short… we LOVE them!
They are extremely absorbent, they dry in minutes, they get softer with every wash, and they hardly take up any space at all! Below you can see 6 of our regular beach towels next to 6 Turkish towels (folded the same way).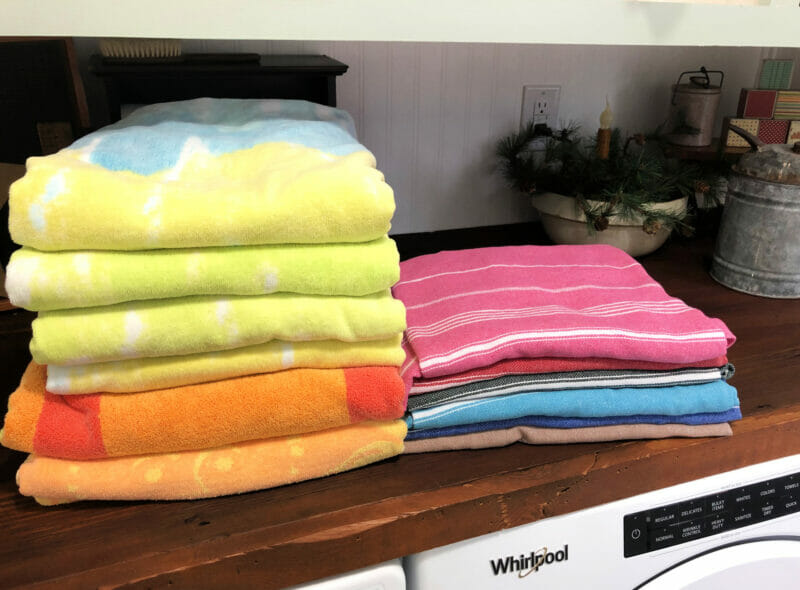 FAVORITE ONLINE TOOL = Venmo
I've been a huge fan of PayPal for as long as I've had an online business… but over the last 18 months (basically, since COVID started) I've utilized Venmo much more often to send and receive money from friends and family, as well as to do cashless transactions for the things I buy and sell on Facebook Marketplace.
I rarely ever keep cash with me, so Venmo has made buying used and secondhand items even easier because I don't need to swing through the bank first.
But I think the biggest "plus" for Venmo (more so than PayPal) is that they don't take any fees. Yes, PayPal offers the option to "pay family and friends" which won't take any fees out, but it's really easy to click the wrong option, and then incur a 2% – 3% fee (which always bugs me!)
With Venmo, I don't have to worry about the fees, and I don't need to make extra trips to the bank — win, win! It's also super easy to quickly transfer my balance to my bank account.
If you're new to Venmo, they'll credit your account with $5 if you sign up here, download the app, and send at least $5 to someone with 14 days (it could even be a friend who then sends you $5 back).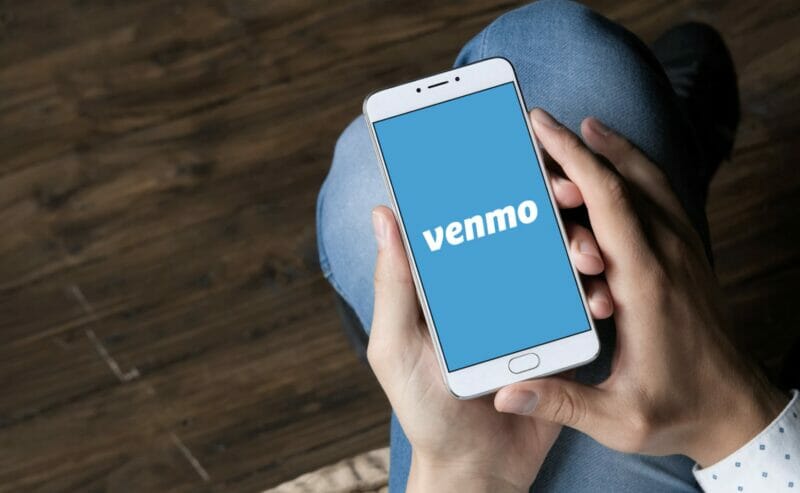 PAST FAVORITE = Our Huge Dining Table
It's been almost a year since I first shared pictures of our massive 11-foot long dining room table (built by my uncle), and I think it's safe to say that we use and love this space more and more every week.
But it's not just the massive table we love, it's the fact that our dining room table is now in our "living room"!
Yup, you read that right!
Right after COVID happened and everyone was home for several months, Dave and I decided to rearrange our entire main floor… which included turning the living room into a massive dining room.
Since then, SO many of you have asked if we regret that decision or if we would have done anything differently… my answer is a resounding NO!
If anything, I wish we had made the switch years earlier (logistically, we had to wait until we were done using our nursery for all the rooms to make sense.)
Not only do we love the massive space our dining room provides — perfect for crafts, Legos, art projects, and (of course) inviting company over — we also love the little living area in our kitchen, as well as our cozy den.
It's a much better use of space for the current stage of our family, and I'm so thrilled we made the switch (even if it is a little strange).
---
FAVORITE THRIFT FIND = White "Kid" Plates
After years of using brightly colored non-breakable plates for our kids, I came across some really great, kid-friendly WHITE plates at a thrift store a few years ago (I honestly can't believe I'm just sharing them with you now! )
I can't find a link to our exact plates, but after reading through many descriptions on Amazon, I feel confident that these are almost the exact plates we have.
We have 24 plates and usually go through 12-18 every day.
The plates are shatter-proof, really light-weight, yet still dishwasher-safe and microwave-safe — making them perfect for indoor and outdoor dining (especially since we don't want anything breakable by the pool).
The kids use them for all 3 meals. Dave and I often use them for breakfast and lunch (portion control!) And we love having extras for when friends come over, or for larger snacks when a small plate is easier to manage.
I'm so glad I snagged all 24 plates at the thrift store as they are one of our most-used kitchen "tools". There's not a day that goes by when our dishwasher isn't filled with at least a dozen!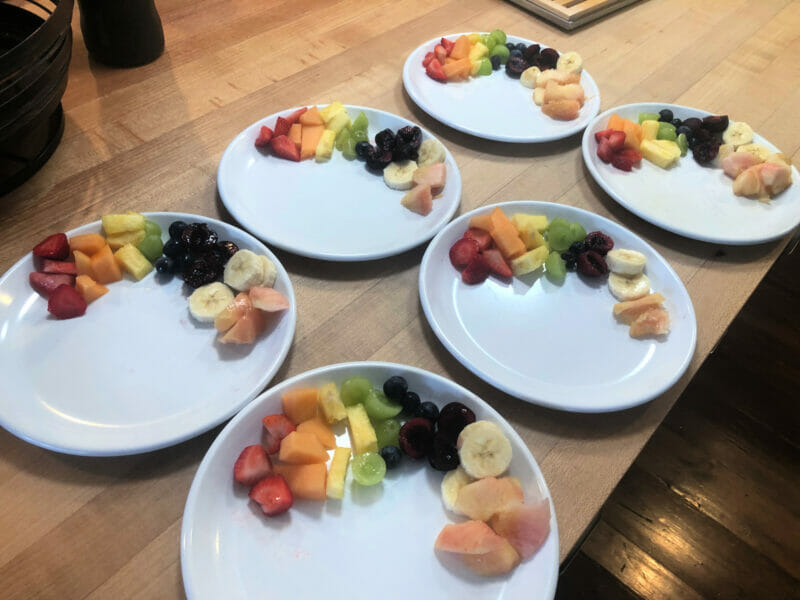 ---
FAVORITE BOOK = The Chronicles of Narnia
I officially switched to reading fiction for the months of July and August (I'm much more of a non-fiction person) with a goal to re-read all The Chronicles of Narnia.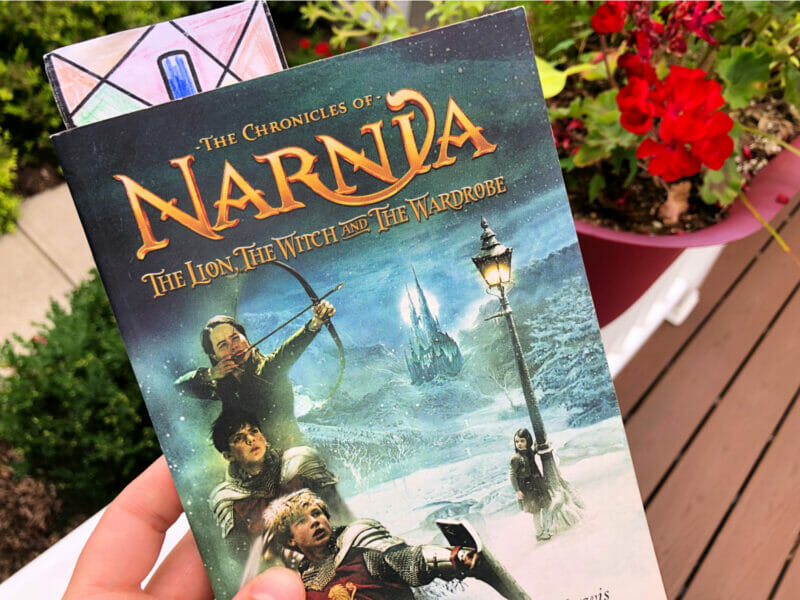 I remember thinking the books were SO long back when I was a child, but now, I'm loving the super short chapters and exciting narrative that always leaves me wanting to read "just one more page" — even though I already know what's ahead.
We haven't read them to our kids yet, but it's on our future "to read around the table" book list!
---
FAVORITE MEDIA = ThriftStored.com
Believe it or not, I've gotten about a dozen emails from readers who traveled to Michigan over the summer and wanted to know my favorite thrift stores so they could check them out!
I happily shared a few of my favorite stores… but I also directed the ladies to ThriftStored.com as a quick and easy way to find a whole bunch of thrift stores in a specific area.
If you're looking for thrift stores ANYWHERE in the United States, you should check out ThriftStored.com — you're bound to find at least one treasure!
FAVORITE HOBBY = Gardening with the Kids
This is the time of year when it's really hot and humid and working outside isn't quite as nostalgic as it was back in March and April (when all I wanted to do was GET OUTSIDE.)
I need more motivation to get outside and work in the flowers and vegetables — but my one saving grace is that the kids are so excited to pick the vegetable garden each day.
When I see their excitement and eagerness to find the reddest tomato, the longest bean, or the prettiest flower, it makes the process more enjoyable for me too.
Gardening is something they've all loved to do since they were very little — and I love looking back through all the sweet pictures I have of them in the garden!
FAVORITE RECIPE = No Sugar Jam with Honey
It's that time of year again — time for canning and preserving!
If you want to try a simple, no-sugar jam recipe (using honey instead of refined sugar) I've got just what you need.
I've made dozens of jars of jam using this recipe and they all turn out delicious every time.
I've also gotten so many emails and comments from first-time canners who have successfully made my no-sugar jam without any issues!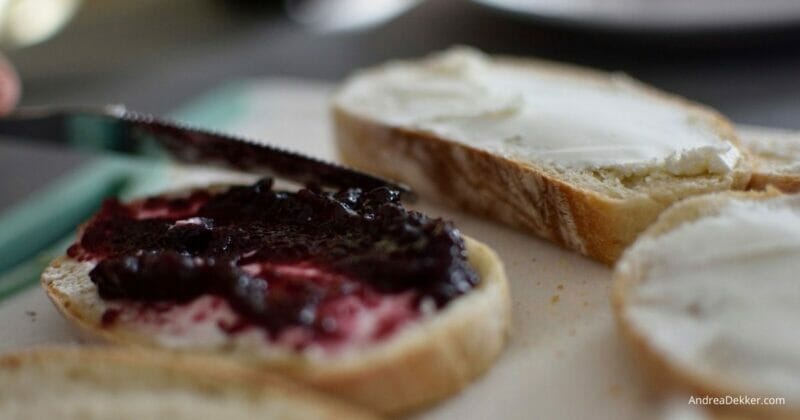 FAVORITE ARCHIVED POST = Focus On What You Do Well
I loved re-reading this archived post from 2018 — it was a great refresher for me as life is getting "back to normal" after COVID and all the programs and events and groups are starting back up again.
SUMMARY: I don't need to be the best at everything (or even anything) to make a difference… if I simply focus on what I'm already doing well (instead of lamenting my various shortcomings) I will not only be happier, but I'll also be more effective and efficient.
If you're feeling unsatisfied or discontent, I'd say it might do you some good to read that post too!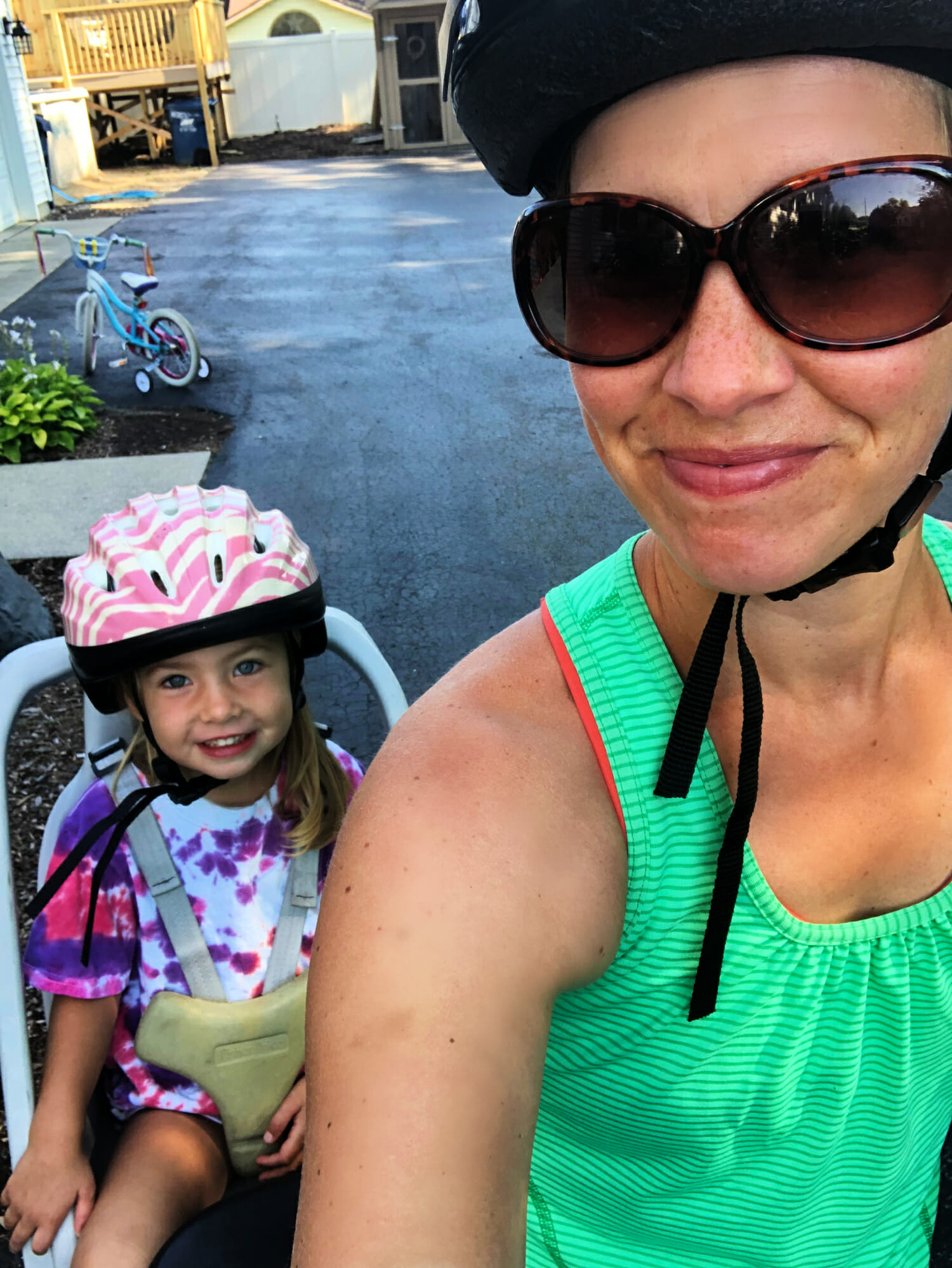 ---
FAVORITE QUOTE = Anne of Avonlea
"After all, I believe the nicest and sweetest days are not those on which anything very splendid or wonderful or exciting happens but just those that bring simple little pleasures, following one another softly, like pearls slipping off a string." – L.M. Montgomery, Anne of Avonlea
Years ago, I wrote about my love of "Upgrading the Everyday" as a way to make our everyday life at home more special, fun, and enjoyable.
At the time, I figured it might only work for younger kids… but as it turns out, older children (and even us grownups) still get excited about simple pleasures too.
For example, I picked up 6 donuts on a whim last week (they were 1/2 off right before closing) and brought them home for an afternoon snack. The kids (and Dave) were thrilled!
We also love eating outside by the pool, having a spontaneous campfire with S'mores, staying out extra late and swimming under the stars, surprising the kids with a special after-school snack, giving them a double allowance "just because", riding bikes to a local park, picking up a bin of craft supplies at the thrift store and letting the kids go crazy with them, cutting fresh flowers to put in their bedrooms, or letting them eat cereal for breakfast one day a week!
It's nothing fancy or expensive or time-consuming… but as the quote above notes, all these simple little things add up over time — teaching us to not only notice, but also appreciate, the small blessings in our lives each day.
Yes, my kids will still be quick to tell you that we didn't go on a "vacation" this summer, but I know by the sparkle in their eyes that they love our sweet days at home filled with simple little pleasures!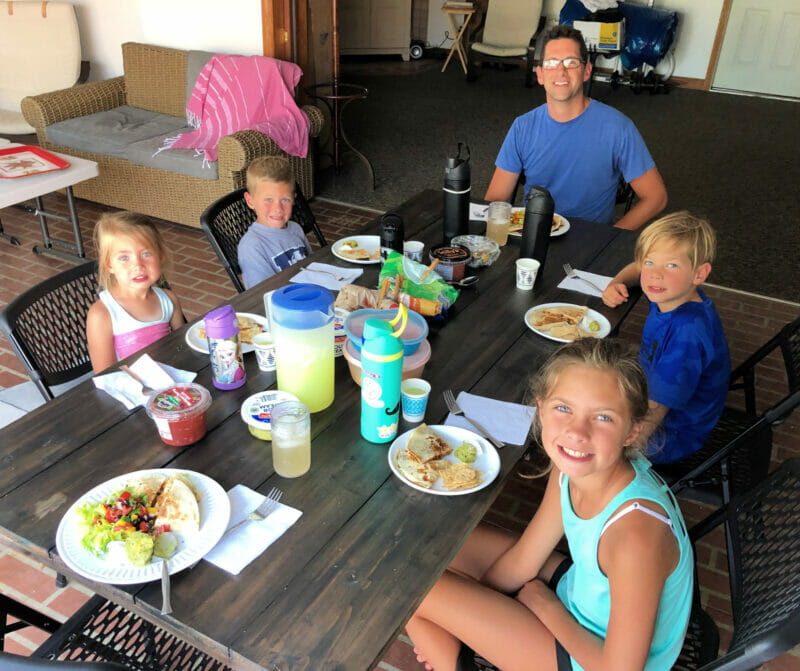 That's all for me this month. 😆
Scroll through ALL my Favorite Things posts HERE.