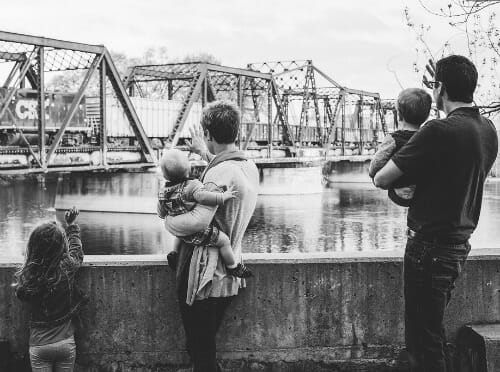 When I first started my business back in 2007, it didn't take long before I was asked the dreaded question… "so, what exactly are you doing now?"
In the beginning, I often fumbled over my words and gave long-winded explanations — after all, I barely even knew what I was doing! However, I soon crafted my "elevator speech" — or a one-sentence summary of what I was doing.
From then on, every time I was asked that question, I simply said, "I've started a business helping others simplify and organize their homes and lives."

Now, I usually say something like, "I run a blog where I share tips, resources, and encouragement to help others simplify their homes and lives."
Done!
No fumbling over my words, no stuttering and stammering trying to think of something smart to say, no long-winded explanations. Just short, simple, and to the point.
I know what I do, and I embrace it — and in the process, my answer to this ever-recurring question is drastically simplified.
Similarly, we can drastically simplify many other areas of our life if we KNOW what we want or who we are and EMBRACE it.
Let me explain…
PERSONALITY TYPE:
Are you an introvert or an extrovert? Are you more analytical or more emotional? Are you a workaholic or do you have lazy tendencies? Do you like to take charge or work in the background?
If you don't know your personality traits, characteristics, strengths, and weaknesses, you are doing yourself a HUGE disservice.
I don't think we should necessarily let our personality traits put us in a "box" or serve as excuses for our behavior based on what our perceived strengths and weaknesses are. However, I DO know that my life has been simplified because I have made an effort to better understand and learn about my specific personality.
If you haven't taken a personality test in a while, I would highly encourage you to do so! There are so many free quizzes online that just take a few minutes, and can open up a world of information for you and for those around you. Here's one free online test I like because it offers a detailed summary of each personality type to help you better understand your personality.
By knowing and understanding your own strengths and weaknesses, you can work intentionally to develop your strengths, be aware of (and seek help for) areas you aren't as strong in, and avoid situations that could cause unnecessary stress and pressure on your life.
Also, if you're interested in a few more resources:
.
LOVE LANGUAGE:
When I was in college, I had to read The 5 Love Languages for one of my psychology classes… and it just so happened to be soon after Dave and I got engaged. I got Dave to read the book too — and 11 years later, I STILL reference tidbits of information from that book on a regular basis.
It was SO interesting for me to learn more about what makes me feel loved, why certain acts of love and friendship resonate more with me than others, and how I can do a better job of showing love to others in THEIR love languages.
In case you're wondering, my main love language is Acts of Service, and my lowest love language is Physical Touch (I have a VERY large personal bubble!)
The book is a super fast read (even for someone like me who doesn't love reading) and very eye-opening! I honestly can't recommend this book enough!
More 5 Love Language Books:
.
CLOTHING:
Until a few years ago, I never really considered how much I could simplify my life by knowing and understanding more about my clothing and wardrobe choices.
I didn't pay any attention to why I wore certain things, certain colors, or certain styles — or why I didn't wear other colors and styles. I didn't think about mixing or matching, about trying to buy coordinating colors, or about making sure I had something my new clothing item would look nice with. I just always looked for clothing on the clearance rack that fit and was somewhat comfortable — and tried to get in and out of the store as quickly as possible!
I felt bad that I wore black, grey, navy, and white almost all the time, and I often tried to buy brightly colored clothes to "liven up" my wardrobe… but those were the pieces that ended up sitting in the back of my closet until I finally decided to donate them.
Now, after working with a personal stylist 2 years ago, I have a completely different outlook on my clothing!
My closet is less cluttered, I actually wear and love my clothing, I've embraced the fact that I prefer neutral colors with small pops of color (like a scarf), I know what styles look good on me, I know what brands fit me well, and I know that most of my items mix and match quite well together.
My goal is NOT to have a capsule wardrobe, or an extremely minimalistic wardrobe, but rather to simplify the process of shopping for clothing and getting dressed each day (both of which I have accomplished).
(p.s. Later this week, I'll be sharing more about how knowing and understanding and embracing my personal clothing style has allowed me to save BIG on secondhand clothes!)
.
FOOD:
Lately, I feel like I spend half of my waking hours planning, preparing, making, serving, feeding, and cleaning up food for myself and my family — I'm sure some of you can relate!
I've taken many steps to simplify and streamline the "food" in our home — and it all started with acknowledging and embracing that our family likes very simple meals, we don't like going out with all 3 kids, and we aren't health nuts.
I'm not going to stress about buying everything organic, making everything from scratch, or making fancy meals or baked goods.
We eat some processed foods, we make quick and simple weeknight meals, and we occasionally enjoy Culver's, Arby's, and Little Caesar's AT HOME, where our kids can be as crazy and as messy as they want without totally embarrassing us!
I know we have friends, relatives, and blog readers who think our food choices are unhealthy and who choose to eat much differently than we do, but that's totally OK with us. We are doing what feels right for our family and our stage of life, and I cannot tell you how much this has simplified our lives.
There is no way I could commit to making everything completely from scratch without giving up several other things I do — and frankly, I'd rather eat some processed foods than give up all the other things, people, and activities I enjoy!
.
GOALS:
Over the past few years, I haven't had many big, huge goals that are fun to share here on the blog — mostly just a few home renovations, funding our retirement accounts, keeping children happy, safe, and fed, etc.
I have intentionally scaled back my goals because of the season of life I'm in, and the fact that I'm not willing to spend countless hours pursuing big business, personal, or life goals right now.
There will be time again for my big huge goals; and when that time comes, I will acknowledge and embrace those big huge goals — and work hard to achieve them. But for now, I have acknowledged and embraced the fact that my current goals are daily and weekly (sometimes hourly) and I can't tell you how freeing that is for me.
I don't feel the pressure to push myself to work towards something big right now — instead, I can just continue moving forward on an hourly basis and making it to bedtime 🙂
If you're in a completely different stage of life, working towards a big huge goal, or even a medium-size goal, I think you'll also find it freeing to acknowledge and embrace that goal — and then say no to anything else that might prevent you from hitting that goal.
.
Do you "know" and "embrace" yourself?
I realize how ridiculous it might sound to "know and embrace yourself" but you'd be surprised how many adults don't know what to say when asked about their personality type, their love language, their food preferences, their clothing style, their goals, and more. They stutter and stammer as they try to come up with something to say — just like I stuttered and stammered when people asked what I was doing with my new business.
However, by learning more about ourselves, and embracing who we are (instead of trying to be or become something we're not) we can simplify our lives by taking so much "guesswork", confusion, and frustration out of the equation.
I know Dave and I both have introverted tendencies — so I won't schedule activities for our family every night of the week because I know we would both be tired and cranky by the 2nd night.
I know Dave's lowest love language is Gifts — so I don't let myself get offended or upset when he doesn't remember to get me gifts throughout the year.
I know what my clothing style is… that I like to wear black, grey and navy; that I prefer skinny jeans and v-neck shirts; and that scarves and earrings are really the only accessories I wear — so I don't waste my time looking at other items, and I save time and money shopping online at stores like ThredUP, where I can search for my specific styles.
I know our family prefers simple meals and LOVES Culver's and Arby's — so I stick to very basic and simple menu plans each week and we don't really try any new restaurants with 3 little children.
I know I tend to be a workaholic — so I consciously set a few boundaries for myself so I get to bed at a reasonable hour, take breaks, and leave my phone and computer turned off for parts of the day.
.
By knowing, understanding, and embracing who I am, who Dave is, and who our children are, it is SO much easier for me to plan our days, our schedule, our meal plan, my wardrobe, my work life, etc.
Life is less stressed, our days are simpler, and we're ALL a lot happier!
How well do you "know" and "embrace" yourself?