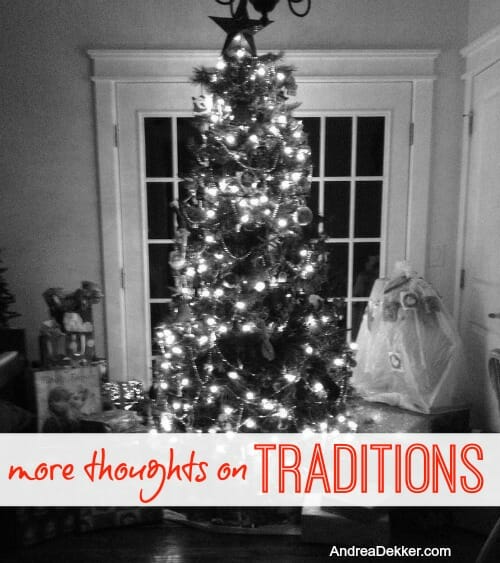 As many of you know, I'm a HUGE fan of basic systems and routines…
I feel confident that my systems and routines help to simplify and streamline almost every single aspect of my life.
However, when it comes to "traditions" my feelings are slightly different.
Yes, some traditions help to simplify and streamline (like cinnamon rolls every Sunday morning), and some traditions are just super fun and exciting (like the Memorial Day parade). But there are so many other traditions that seem to "weigh me down". They do not simplify or streamline my life… and they aren't anything I look forward to or anxiously anticipate all week, month, or year long.
.
I'm sure many of you can relate to feeling bogged down by long-standing traditions that continue on and on and on, just because "you've always done it that way"… am I right?
Changing or stopping a long-standing tradition can be difficult and emotional — especially for more sentimental folks. However, in my experience, when it's obvious that a certain tradition is just not working, a change is SO freeing and refreshing.
Maybe you skip book club this year.
Maybe you quit your current volunteer position.
Maybe you resign from the party planning committee at work.
Maybe you pass up the girls' weekend to spend a little extra time at home.
Maybe you forgo holiday cards this year and go easy on seasonal decorations.
Maybe you let your gym membership expire.
Maybe you get together on New Year's day instead of Christmas morning because it fits better with everyone's schedule.
I could go on, but I think you get the idea here.
Traditions CAN be fabulous, but they can also be a huge pain in the butt!
As we enter another holiday season (filled with lots and lots of traditions) I encourage you to evaluate your own traditions. Do you actually enjoy the traditions or benefit from them in some way? If not, the traditions will become just one more to-do to check off your list — and I don't think any of us need or want more unnecessary to-do's.
Of course, there are times when we continue to follow certain traditions simply because our children, our spouse, our parents, or our friends love the traditions and we love these people… but when traditions become a burden, cause unnecessary stress, or just aren't fun anymore, it might be time for a change.
You might get a little push-back from friends and relatives… but you might also be surprised by the fact that several others were thinking the same thing, and were just too afraid to voice it.
Have you recently changed or stopped any traditions? Do you have any you're dreading this year? Or any you're REALLY looking forward to?