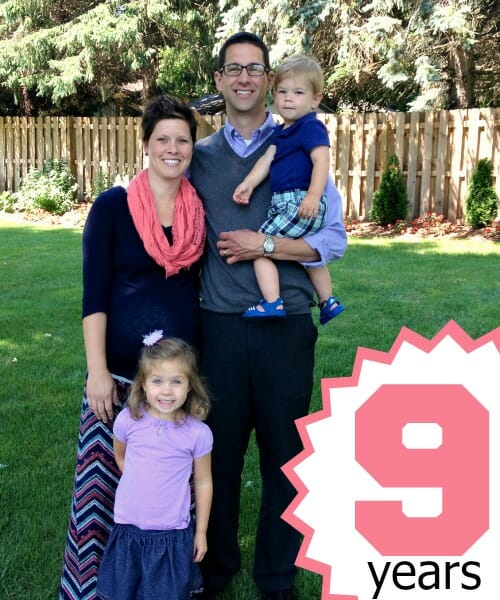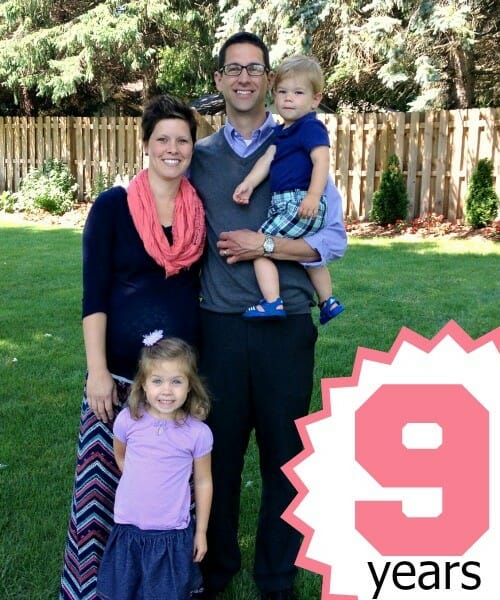 Today is Dave and my 9-year anniversary. Seriously, time flies!
For those of you who might be newer readers, you can check out my past anniversary posts via the links below:

8 years :: I shared 8 of our favorite FRUGAL date ideas

7 years :: I told our engagement story (it's seriously so good!) and shared our family photo shoot that went terribly wrong 🙂

6 years :: We were at Dave's brother's wedding that weekend (his brother's anniversary is June 29, our's is June 30, and his sister's is July 1 — crazy huh?!)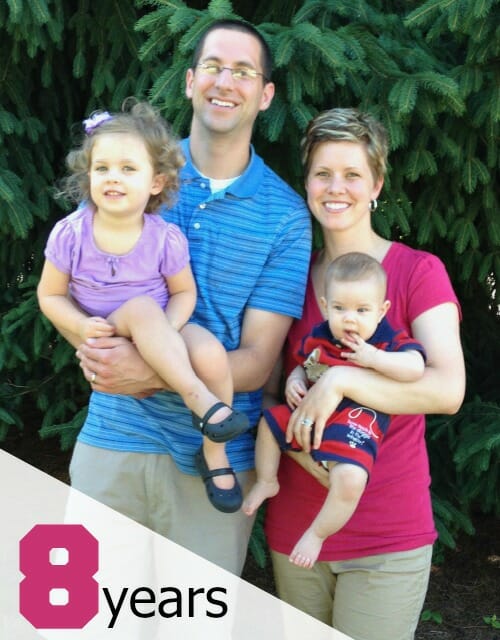 Since I don't really feel qualified to give marriage advice after only 9 years, and since I'm not really a "mushy" sentimental type of writer… I thought I'd share some general relationship "insight" I've been thinking about for a while now (actually, for many years).
My Insight = Life is not fair!
Brilliant… I know 🙂
I don't say this to be harsh, or cruel, or negative, or overly "black and white". I just say it because it's true.
As kids, we quickly learn that everything in life is not fair. Some kids get better grades, some are better musicians, some are better athletes, some have all the cool clothes and shoes.
As parents, we cannot (and probably should not) try to make everything fair for all our kids all the time.
As adults, we know very well that life isn't always fair — the jerk at work gets the promotion over you, your neighbor's tree falls on your house, you get the traffic ticket, your dearest friend gets cancer, you can't get pregnant, you lost a spouse or child way too young.
As married couples, we know that everything won't always be fair. There are often times when one person takes on more responsibilities and obligations than the other — and one person seemingly has more fun, more free time, more leisure, etc.
The list goes on.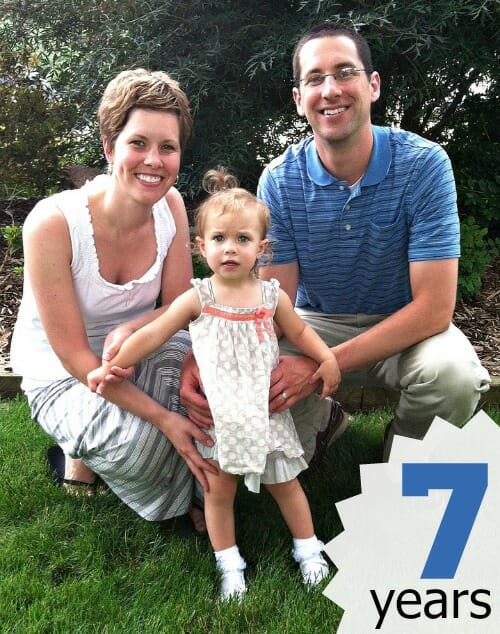 I think most of us would agree on the fact that life is not fair… which is why I'd like to take it one step further and say:
The quest for "fair" can ruin our relationships.
Since it's our anniversary today, my examples below will mainly focus on how the quest for fair can be very detrimental to a marriage relationship… but I personally feel that this concept can be applied to almost any relationship between any number of people.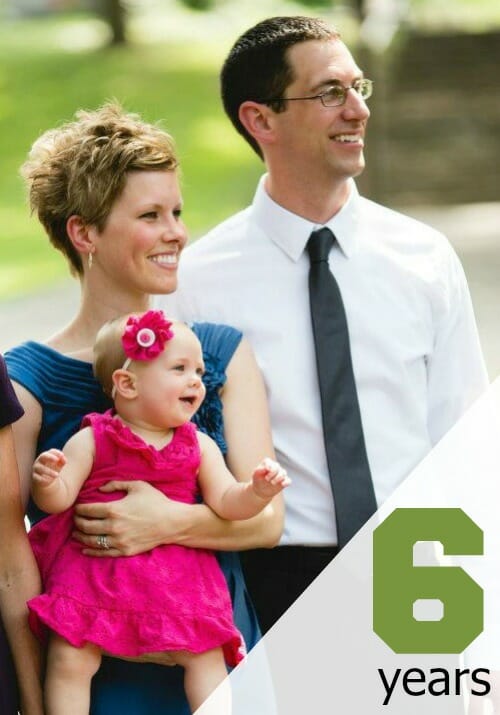 Let me explain…
The Lazy Spouse Example:
This is probably the #1 most complained about thing I hear when people talk negatively about their spouse.
He (or she) is messy, they are a slob, they don't help out around the house. They watch TV all night long and walk right past the laundry basket full of clean clothes. They leave their dirty dishes sitting out all over the house and never put their dirty socks in the hamper.
I could go on and on and on about ALLLLLLLL the complaints I heard when I worked more regularly with in-home organizing clients. Life wasn't fair because the one spouse seemingly did more of the house work than the other spouse.
However, what we often don't realize is that sometimes, they are doing other things we don't necessarily see or notice. Maybe it's not inside housework, but instead, they are doing a bunch of weeding, trimming bushes, shoveling snow, or fixing the roof. Or maybe it's something completely different… the point is that in many situations, although you might feel your spouse is being lazy, they might just be focused on other tasks that aren't as important to you.
When we were first married, I told Dave that "it wasn't fair" that I had to do so much of the house work when we were both working full time out of the home. Dave said he honestly didn't notice those "little things" like when the trash was full or when the dishwasher was clean. He told me that if I wanted him to do something around the house, I had to ask him directly otherwise he wouldn't notice… and as you probably know, he is now VERY helpful around the house now — most times without me even asking. I am SO grateful for this, and I do not take it for granted!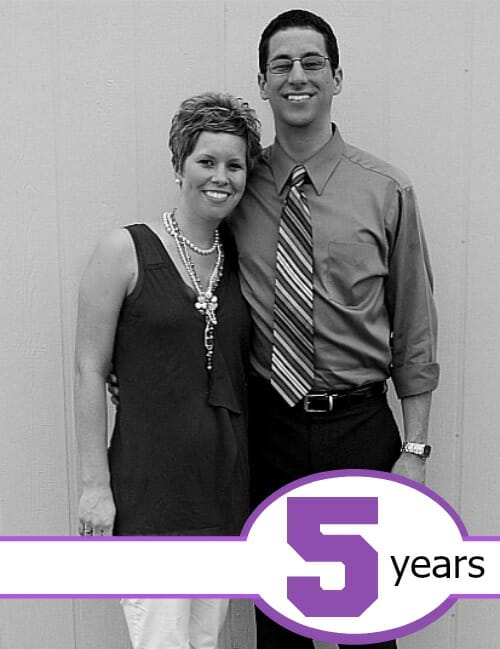 The Lazy Parent Example:
Another "lazy" example comes into play after kids are born — because one parent is almost always doing more with the kids than the other (even if both parents work full time or are both home full time).
In our case, I am definitely the parent who spends more time with the kids and takes on more of the child-raising responsibility (even though Dave and I both have careers.)
And even though Dave definitely pulls his weight when he's not at school and is an amazing dad for our kids, there are STILL times when I think things like "We're both working…. it's not fair that I'm stuck with the kids all day PLUS I need to keep the house clean, make all the meals, and run all the errands."
Obviously, I have nothing to complain about — but sometimes those "life isn't fair" thoughts still creep in and make me feel more negative towards Dave than I should.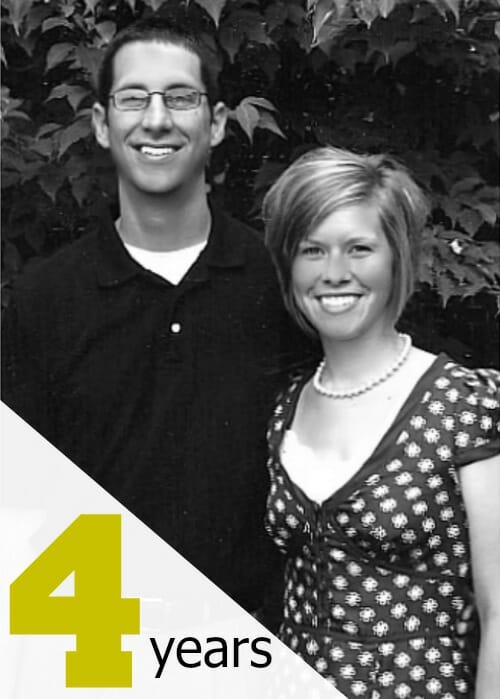 The Stay At Home Versus Working Parent Example:
This is another huge "life isn't fair" example that I hear all the time…
The one spouse is home with the kids ALLLLLLL DAY LONG and feels like they are literally going to go crazy if they need to be cooped up with kids and laundry and dishes and dinner prep for 10 more minutes… while the other spouse "gets" to have leisurely "free time", lunch out with clients, grown up conversations, and a quiet drive to and from work.
Yes, I get it!!
Meanwhile, the other spouse is thinking about how amazing it would be to stay home all day, sit around in your pj's, watch TV with the kids, play outside, not be locked into a specific time schedule, not have to deal with the pressures of work, etc.
Both sides could easily focus only on the negative aspects of their position and the positive aspects of the other spouse's position and life is instantly not fair.
But what they might not realize is how different things are when the tables are turned…
I have a friend who stays home with 4 kids all day. Her husband travels a lot for work in a pretty important job. She told me that she CONSTANTLY played the "it's not fair" card and often bemoaned the fact that he had such an exciting business life. Until one weekend when she got to go away with friends and he stayed home with the kids. She said she missed the kids so much and was SO excited to get back home. She realized that being away wasn't all she thought it might be… and yes, her husband realized how much work his wife really did on a daily basis to take care of the house and the kids!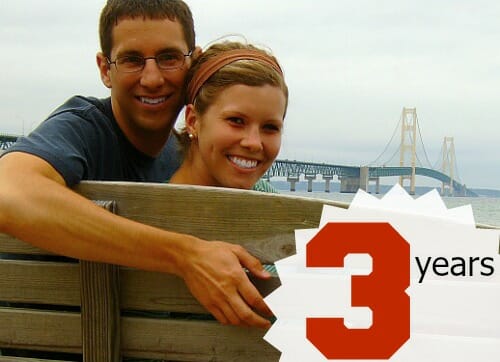 The He Spends / She Spends Examples:
Money is almost always a hot topic in marriage relationship — and it's unfortunately one of the main reasons for divorce in our country today.
I know of a married couple who tells each other everything they spend (which is awesome). However, the reason they do that is so the other person can then go spend a similar amount of money on something else — just to be "fair"!
Yes, I'm serious!
If the husband spends $100 on a new golf club, the wife gets $100 to spend on anything she wants — and vice-versa. And although they do make really good money, I personally think that's a really bad financial plan because LIFE ISN'T FAIR so who cares if the other person spend a few dollars more than you!
On the flip side, I know many other couples where one person only wants to save, save, save, while the other person is much more free with their spending. This almost always causes the "it's not fair" issue because each spouse is seemingly doing the opposite of the other spouse.
I'm certainly not a financial coach, but in these situations, I do think the most helpful thing is, once again, to just sit down and talk about it with each other — and actually try to understand the other's point of view. Most of the time, the other person is not purposely trying to upset you or cause issues — we're just all wired differently (especially when it comes to financial matters).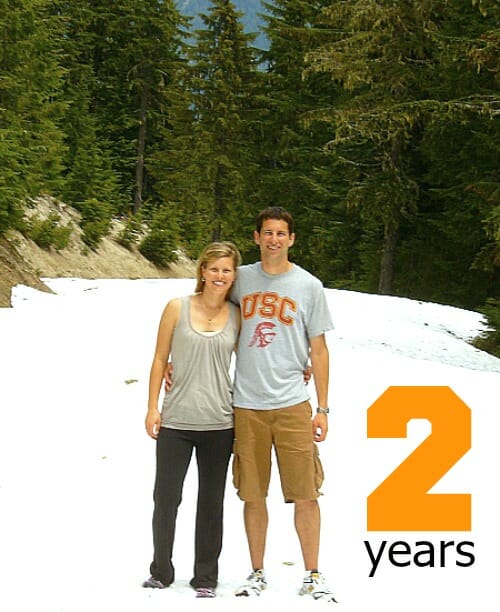 I could probably keep going and going with various examples, but I think you get the idea!
Life is not always fair. Relationships are not always fair.
If we always focus on how the other person in our relationship seemingly has it easier or better than we do, we will constantly think how unfair our life is. And in my own experience, that often leads to begrudging the other person… and can even end up ruining the relationship.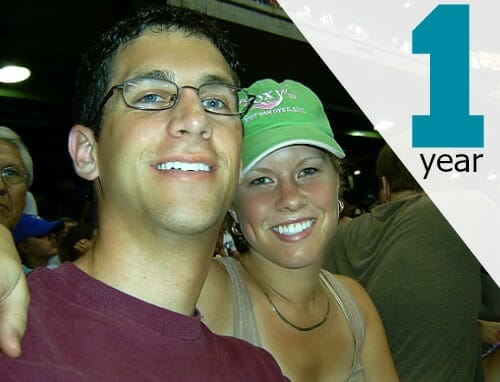 And like I mentioned at the beginning of this post — this quest for fair DOES NOT ONLY apply to marriage or dating relationships. It can be true of siblings, parents and children (especially grown children), friends, neighbors, extended family members, coworkers, and even casual acquaintances.
It's SO much easier to jump to conclusions and assume the other person has it better than we do… but the only person we're hurting when we focus on the potential "unfairness" of our own life is OURSELF!
Happy Anniversary Dave!
Here's to many more unfair and happy years together.