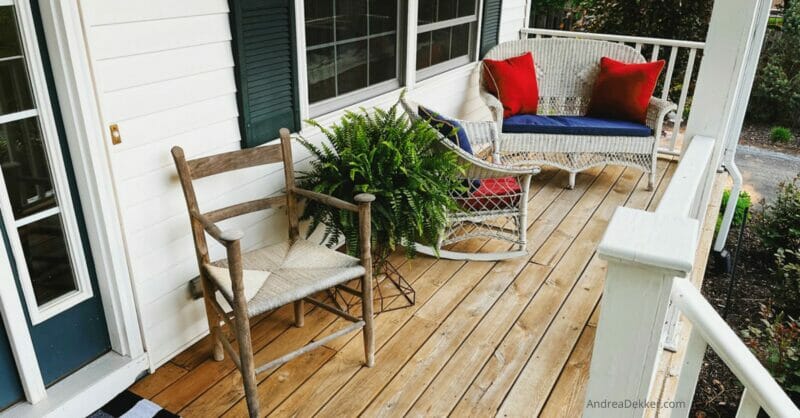 For as long as I can remember (for sure back to age 7), I have dreamed of renovating an old white farmhouse with a giant front porch… emphasis on the "giant" front porch.
When Dave and I purchased our first home, the cement stoop out front didn't quite fit the bill… but I wasn't discouraged.
I scoured all the homes for sale online and "flagged" almost every farmhouse I found.
I convinced a realtor friend from church to bring me through dozens of homes… until this little gem practically fell right into our lap about 4 years later.
Never mind the fact that the entire inside needed to be gutted and the landscaping fully redone… I had my front porch!
Now, 12 years and thousands of manhours later, I figure it's high time I dedicate a full blog post to our beloved farmhouse front porch!
Welcome to our front porch, friends!
Our front porch is just about 50 feet long and 6 feet deep.
For reference, I would highly recommend a deeper front porch if you're in the process of building or renovating. Ideally, 8 feet (or even 10 feet) would allow for a picnic or farm table with chairs or benches.
However, we've still been able to do a lot with just a 6-foot depth.
In addition to bringing loads of charm and curb appeal to our home, our porch also serves as a functional living area for our family and friends from May through October.
I personally enjoy being out on the front porch during the day and the kids love playing out there with neighbors (especially playing house).
It's also a great hangout spot when it's raining and they still want to get outside.
Our Porch Decor
I've switched up our porch decor quite a bit over the years — all with freebie hand-me-downs or thrift store finds.
I kept telling myself I'd eventually "splurge" on over-stuffed patio furniture, a swinging daybed, loads of cute decorations, and oodles of live plants and ferns.
However, that day has yet to come.
I guess I just decided a porch is a porch and all we need are a few places to sit, a rug to wipe our feet, and a couple of planters to make it look inviting.
Someday, I might do more decorating, but for now, I've come to enjoy a simplified front porch (especially now with a puppy — you'll see why in a minute!)
Obviously, I've kept up my patriotic color scheme on the front porch!
The white wicker loveseat and rocking chair were thrift store purchases over a decade ago (I think they were $10 each). I simply replace the cushions and pillows every few years, or whenever they get faded.
The planter was from a junkyard, and the tan wicker armchair was from a garage sale — both back when we lived in our first house.
We've had various tables, chairs, armoires, and church pews on the far side of our porch, but there's never really been enough space for comfortable dining, and the other stuff just attracts leaves and helicopter seeds.
So I've simplified things by removing almost all the furniture except for a gliding bench at the far end…
… and a big washtub planter by the door.
For the last several years, I've put a giant Costco fern on the left side and planted my traditional "patriotic flowers" on the right side.
My Patriotic Planters:
Since I get so many questions about my patriotic planters, I thought I'd share more about them in this post (I have 4 or 5 similar planters throughout our yard).
Here are the plants I purchase for one 22″ x 22″ planter.
3 Americana Red Geraniums (clustered together in the back corner area)
1 large Blue Wave Petunia (in the center – it will really spread out)
3 green Sweet Potato Vines (one in each of the other 3 corners)
2 White Blush Verbena (alternating between the sweet potato vines)
This is what it looks like right after I plant it.
And this is what it will eventually look like in another month or so… AH-MAZING!
More recently, we've also turned this side of our porch into our puppy's outdoor haven!
For those of you who don't get my weekly emails (they're free and fun!) we recently got a puppy. His name is Buster and he LOVES being outside.
However, since he's so small, he could easily get picked up by a hawk if we aren't constantly watching him. He also tries to eat everything, so for now, he needs to stay off the grass and out of the planting beds.
The front porch was an easy solution for us — and with a simple barricade by the steps, he has the run of the porch — complete with a bed, toys, water bowl, and his own piece of astroturf for his "bathroom".
The covered porch protects him from the sun and rain, and makes night-time bathroom visits a breeze. It's also nice to be able to let him out the front door any time of the day without worrying.
In case you're wondering, the turf is working out marvelously well. We pick up the poop right away and spray off the turf every week or so. It's nice that we never need to worry about stepping in poop in the yard!
The Back "Porch"
While I'm sharing about the front porch, I thought I'd share a couple of pictures of our much smaller back entrance — it connects the garage to the mudroom.
Another Costco fern in a red child's rocking chair and silk Geranniums in a galvanized watering can (sometimes fake is the way to go!)
The Outbuilding Porch
I plan to share updated pictures of our pool and outbuilding later this summer — I shared a few pictures back in 2021 if you're interested.
Porch Maintenance
There's definitely a decent amount of maintenance required for porches — it's surprising how quickly they get gross!
We sweep and blow our porches off several times a week — sometimes daily — and it seems there is always more to sweep and blow.
We powerwash the siding at least once a year and wash the pillow and cushion covers whenever they get dirty (I replace them every 2-3 years as needed). We store most of the furniture in our outbuilding over the winter months.
We deal with pollen, helicopters, oak "strings", cotton, so many leaves, bird poop, and lots of dirt and dust… which is one reason why I continue to scale back on the amount of stuff I keep on the porch. Yes, it looks nice — but then it all needs to be cleaned over and over again!
But I'm not complaining. 😊
I waited 25 years to enjoy a big front porch, and you better believe I've enjoyed it for the last 12 years.
It's a pretty cozy place!