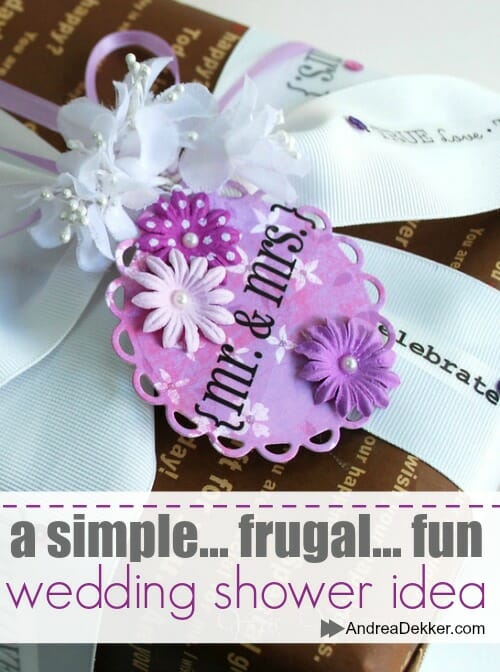 WAAAAAAAY back when Dave and I were engaged, we were thrown a very frugal, very simple, but very fun AND practical wedding shower by my parent's church.
Back then, my parent's church threw a "one-hour shower" for engaged couples, shortly before they were married. They encouraged everyone from the church to attend, BUT they did not list the registry and instead, told people to bring a gift that was valued at $5 or less.
At the time, I remember thinking, "O great, now I'm going to get a huge number of random things I don't necessarily want or need."
I asked the people in charge if I could put my own spin on the shower — when they agreed, I explained that I'd prefer a PANTRY SHOWER versus an "anything under $5 shower".
So instead of giving ANYTHING under $5, they would give various non-perishable pantry staples under $5, along with a recipe that went with those ingredients.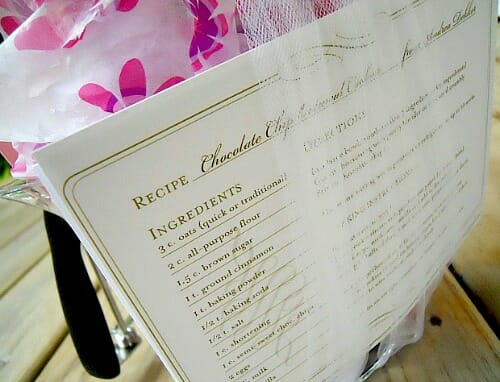 NOTE: The church liked this idea so much, they continued to do it for many future one-hour-showers!
.
At the time, Dave and I had just purchased our first house and we were in the process of quickly painting and moving furniture in before our wedding just a few weeks later.
A Pantry Shower was a fantastic way to quickly fill up our pantry and kitchen cabinets with a huge variety of foods, and especially helpful for us as I had just graduated college and we were on a really tight budget.
.
How A Pantry Shower Works:
Everyone attending the shower brings at least one recipe card with a written (or typed) recipe and clear instructions for a dish they personally love to make and eat.

They also include several of the non-perishable ingredients for that recipe along with the recipe card.

Make sure to include your name and contact information on the recipe, in case the recipient has questions.
THAT'S IT!
So simple!
There's no need to check with a registry, no need to spend $50 or more on a gift, no need to wrap and deliver a huge gift, etc.
For the bride and groom, there's no need to do any returns, no need for a truck to take all their gifts home, and no need to hang onto gifts they don't really want or love out of guilt or sentimentality (they can give any food they won't use to a food pantry).
On the flip side, the new couple (or new homeowner) now has a fabulous start on stocking their pantry and they have countless tried-and-true recipes from their favorite relatives and dearest friends.
A Few Pantry Shower Gift Ideas:
While it's not necessary, I personally love giving a "themed" food gift, along with 1 or 2 recipes related to that theme.
Here are a few relatively straight-forward ideas…
Baking Basket = flours, sugars, baking powder/soda, oil, shortening, salt, cocoa, chocolates, boxed brownie or cake mix
Sweet Basket = variety of sweet sauces, syrups, jams, honey, molasses, etc.
Savory Basket = variety of olive oils, vinegars, spices, seasonings, bread crumbs, marinades, etc.
Salty Basket = chips, pretzels, crackers, popcorn, peanuts, etc.
Salad Basket = bacon bits, croutons, salad dressings, slivered almonds, Craisins, and other non-refrigerated salad toppings
Spices & Seasonings Basket = any number of herbs, spices, seasonings, extracts, vinegars, etc.
Condiment Basket = ketchup, mustards (all different types), pickles, relishes, mayo, olives, BBQ sauce, pizza sauce, etc.
Picnic Basket = non-refrigerated meats, cheeses, crackers, wine, etc.
Snack Basket = nuts, dried fruits, snack bars, trail mix, beef jerky, chocolate covered raisins, packaged cookies
Breakfast Basket = cereal, granola, PopTarts, muffin mix, pancake mix, syrup, etc.
Canned Goods Basket = canned soup, meats, fruits, veggies, beans, broth, etc.
Pizza Basket = pizza dough mix, sauce, pepperoni, spices
Pasta Basket = pasta noodles, marinara sauce, pesto sauce (non refrigerated), spices, and parmesan cheese
Candy Basket = gum, mints, movie theater candy, bulk candy, or any other sweets you know the couple likes
Cookie Decorating Basket = sugar cookie dough mix, frosting, piping bags and tips, sprinkles, candies, etc. etc.
Paper Products Basket (1) = disposable napkins, plates, cups, cutlery, paper towel, toilet paper, etc.
Paper Products Basket (2) = snack/sandwich bags, freezer bags, plastic wrap, wax paper, aluminum foil, parchment paper, kitchen twine
Cleaning Basket = dish soap, scrubber sponges, disinfecting wipes, counter spray, hand soap, rubber gloves etc. (I've done this one a few times and put everything in a laundry basket.)
FUN FACT: I actually got one of my Pantry Shower gifts in a picnic basket, and we still use that basket in our home today for various decorative storage needs (most recently as a little diaper changing station)!
The beauty of a Pantry Shower is that it can be as simple and frugal as necessary… but easily adaptable for bigger budgets as well.
For example, you could ask everyone to ALSO include a gift card to a local grocery store, take-out establishment, or restaurant. You could also ask everyone to include some sort of kitchen tool (preferably from the registry) that goes with the recipe and pantry items (cookie sheets, pizza pan, candy jar, measuring cups, spice rack, popcorn bucket, skillet, cookie scoop, etc. etc.)
I've even been to a Pantry Shower that the host mailed out matching recipe cards and "assigned" each guest to a specific type of basket so the bride-to-be didn't get doubled up on.
She got a HUGE assortment of pantry staples, a pile of delicious recipes, and a bunch of awesome gift cards.
She was absolutely THRILLED!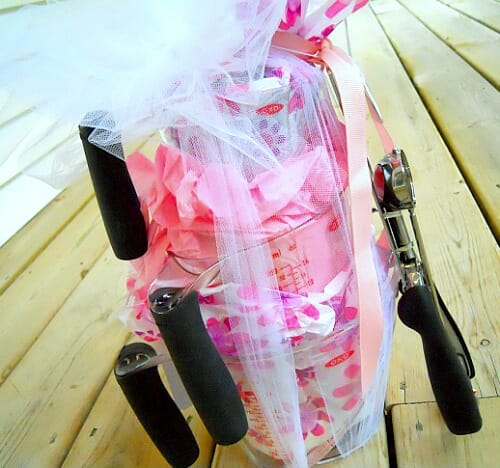 .
I personally enjoy Pantry Showers so much more than traditional, buy-a-gift-off-the registry showers because they feel more personal, yet they are SO practical and useful for the recipient.
Of course, Pantry Showers work best for those without food allergies or sensitivities — and they are ideally given fairly close to the wedding date so someone doesn't have to store massive amounts of food and paper products for a full year before the wedding!
Dave and I were so thankful to have such a nice pantry stockpile right before our wedding — it was one of my most favorite (yet very simple) showers, and I have since recommended this type of shower to so many people. I'm honestly not sure why I haven't shared it on the blog yet!
If you're looking for fun, frugal, practical, easy-to-put-together shower ideas for almost any new couple (or new homeowner) THIS is it!
As long as they eat food, you really can't go wrong with this concept!
Have you ever been to a Pantry Shower?
What are your favorite types of pantry gifts?