Easy Italian Chopped Salad
posted by Andrea | 08/28/2018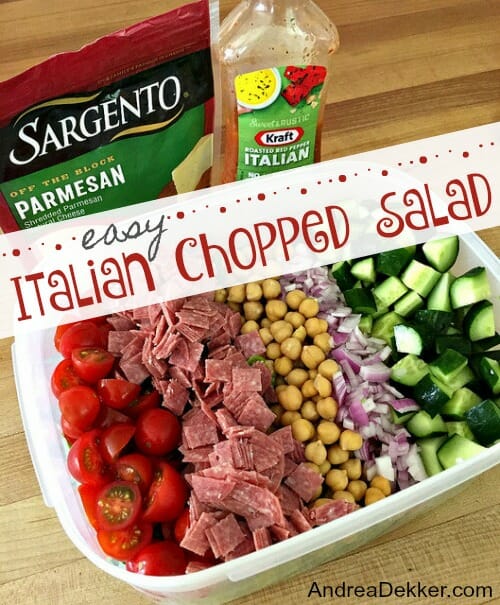 As many of you know, our little vegetable garden is producing like crazy this year — which means we're eating crazy amounts of cucumbers and cherry tomatoes!
We eat SO many raw veggies these day (the kids will actually eat lots of cucumbers, carrots, and peppers… not tomatoes yet) and I'm trying a variety of different salad recipes to use up even more of our garden vegetables.
Dave is not a picky eater, but when it comes to salads, he definitely prefers one with a fair amount of meat and cheese to go along with the vegetables… so this Italian Chopped Salad is a win-win for both of us.
It's also extremely quick and easy to put together, and can be assembled several hours (or even a day) in advance without sacrificing freshness!
Recipe for Easy Italian Chopped Salad
serves 4-6
INGREDIENTS: 
ALL ingredients should be chopped into fairly small, bite-size pieces… hence the name "Chopped Salad"!
6-8 c. crunchy lettuce (iceberg, romaine, etc.); chopped
1 can (15.5 0z) Chickpeas (Garbanzo Beans), drained and rinsed
1/2 of a red onion; diced
2-3 cucumbers; diced
1 pint cherry tomatoes; halved
4-6 oz. salami; diced
1 c. shredded Parmesan cheese (I usually serve this on the side)
Italian dressing (store bought or homemade)
Feel free to add or omit any veggies you have in the house — green or red peppers would be good, canned or roasted artichokes, avocados, etc. Just make sure you start with a good crunchy lettuce (not spinach or fancier leaf lettuces) so the salad has a nice crunch to every bite!
DIRECTIONS: 
Chop lettuce into small, bite-size pieces and place in the bottom of a platter or a food storage container.
Layer with chickpeas, onion, cucumber, tomatoes, and salami.
Cover and refrigerate until ready to eat.
Serve with Parmesan cheese and Italian dressing on the side.
Refrigerate leftovers to enjoy the next day!
This is a really hearty salad that's full of protein AND veggies. It pairs especially well with pizza, and it's also a fantastic main-dish salad all on its own.
And yes, you can easily make it ahead… just hold off adding the cheese and dressing. As I mentioned above, I usually serve the cheese and dressing on the side, simply because I feel like it tastes better with fresh cheese and dressing added at the time of serving. I also think it helps the salad keep longer for leftovers.
If I'm taking the salad to a party, I'll serve it in a pretty glass or decorative container, but for our own consumption, I simply assemble it in a food storage container (see pictures above) to keep it fresher longer in our own fridge.
Also, if you're looking for salad dressing recommendations…. the Roasted Red Pepper Italian dressing from Kraft tastes FANTASTIC with this salad. That said, pretty much any Italian dressing will work. I've even made my own Copycat Olive Garden Italian Dressing a few times with great results!
We have enjoyed this salad many times over the summer as the perfect way to use up lots of our cucumbers and cherry tomatoes!
I do often think of it as a 'summer salad', but I have a feeling I will continue making it this fall and into the winter months because we like it so much (and it's SO easy!)
What are your favorite chopped salad ingredients?
Visit my virtual recipe box for more simple, delicious, family friendly recipes!