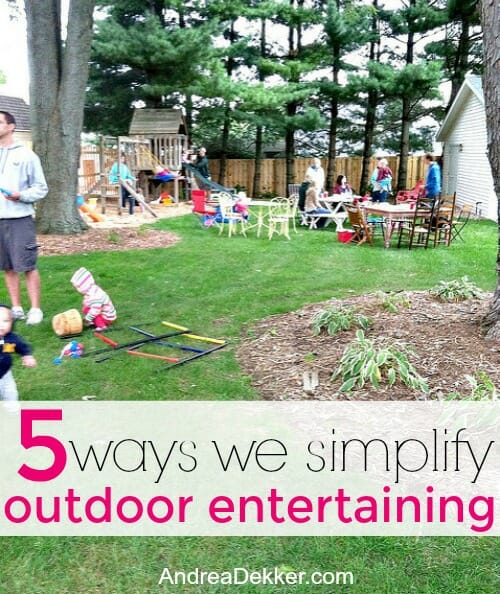 Dave and I enjoy having people over in the warmer months — mainly because our shady yard, huge driveway, and extra outbuilding (with fridge, TV, tables, seating, etc.) lend themselves really well to spending time outside with our friends and family (almost all of whom have lots of crazy little kids that want to run around)!
When we're outside, we don't have to worry about kids breaking anything, we don't have clean up spilled food or drinks, we don't have to deal with the logistics of finding enough space for everyone, we don't have to clean the house, and we don't need to fuss with decorations (thank you flowers!)
The only downside to planning outside parties is the potential that the weather might not cooperate, but even then, we can move the cars out of our garage and fit a bunch of people in there and in the outbuilding right next to the garage!
The photo above is for a party we hosted 4 years ago when it was pouring rain (it's fancier than we would usually have).
The photo below is of our completely un-renovated "mancave" outbuilding. We have big plans for this space… eventually! For now, it's just a good hangout space when the weather is not so nice. Eventually, we want to put a kitchen and bathroom in here and use it as a "pool house"!
I realize we're already nearing the end of July (sniff) and I probably should have shared this post a couple months ago — but if you're planning to do any outdoor entertaining later this summer or fall, I hope the tips in today's post will help simplify the process for you.
They are things we always do when entertaining outside (and yes, many of them would apply to entertaining inside as well).
1. Stock up on quality paper products.
For our family's daily meals, we always use regular dishes, silverware, and even cloth napkins. However, in order to drastically simplify our outdoor entertaining, we resort to paper products most of the time.
I try to get really heavy-duty disposable plates, napkins, and cups so they don't blow away if a light breeze pops up. I also try to keep a variety of different sizes on hand (smaller for little kids, larger for adults).
Sometimes we use real silverware (depending on what we're eating) but most of the time, I buy heavy-duty plastic forks and spoons (we rarely need knives).
I have a specific place in my kitchen and in our outbuilding where I keep paper products, so it's extremely easy to grab a stack when it's time to eat.
Although it is more wasteful to use paper products, it saves a TON of time on cleanup at the end of the night!
2. Minimize food and drink options.
Whenever we host a party, I always make all the food — I know that's not always necessary, but many of our friends and family members don't enjoy cooking, many of them have little kids, and it's just easier if they can simply show up and eat.
That said, I'm not going to make 15 different side dishes for every meal! So I minimize the options to keep things simple (for me and for them).
I always have a raw veggie tray and a couple types of fruit ready to go (sliced watermelon, fresh berries or cherries, sliced apples) depending on what's in season, so even if there are picky eaters or if someone is on a diet, they can at least choose some fruits and veggies. And honestly, I've found that if people know their kids are super picky or they have a very restrictive diet, they bring their own foods to supplement.
I usually have one hot side dish, one additional cold side dish (like a lettuce salad), some sort of bread or bun, and 2 dessert options.
As for drinks, we usually have the fridge in our outbuilding fairly well stocked with different options; however, depending on the group, I usually just set out water, lemonade, and juice boxes for kids. If they want something specific, they can look in the fridge or bring it themselves!
Oh, and I should mention that I almost always email or text out my menu plan a couple days in advance so our guests know what to expect. That way, they can bring their own "extras" if need be.
You could also just do appetizers or just desserts as a way to minimize your workload — just make sure you let your guests know what to expect so they don't come ready to eat a full meal!
Here are my favorite "fool proof" appetizers.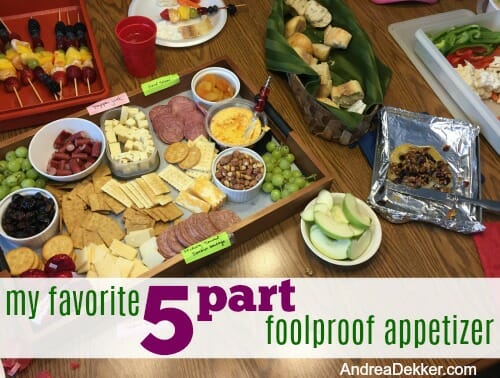 3. Plan low-maintenance, make-ahead foods.
Since the weather is usually very warm (sometimes super hot and humid) I have to consider this when planning the menu for outdoor entertaining.
I'm not going to serve ice cream cake that will melt all over everything. I'm not going to serve a salad that's full of mayo, sour cream, or yogurt, because it might be sitting out for a while. I'm not going to serve chocolate fudge that needs to be cold.
Instead, I'll choose items that can stay hot in a slow cooker (even if people arrive late), items that can be served at room temperature, and items that won't "melt" or get soggy in hot humid weather.
Some of my favorite outdoor entertaining foods are:
You'll notice that I don't have burgers or brats on my list — and that's because those usually require a fair amount of last-minute work and Dave doesn't exactly love grilling in the heat and getting super sweaty when we have people over. Plus, burgers and brats are time-consuming to assemble with all the toppings and condiments.
We find the meals run a lot smoother when we make something that can be fully prepared ahead of time and kept warm in a slow cooker.
NOTE: Here's a HUGE list of all my favorite make-ahead foods — perfect for entertaining inside or outside!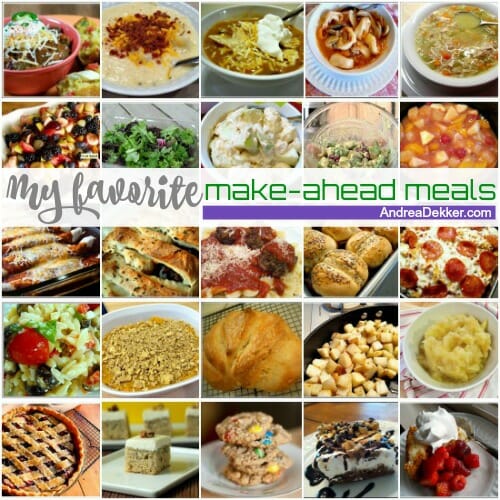 4. Choose foods you will enjoy eating as leftovers.
This one might sound silly, but I usually end up making too much food for our parties — which means we end up with lots of leftovers for later in the week (or month if I choose to freeze them).
That said, when I'm planning my menu, I try to think of foods our family really likes and foods that will reheat well if we have tons of leftovers.
Of course, you could alway send extra food home with guests, but sometimes that just complicates things more!
5. Line trash cans with 3 or 4 trash bags.
There are two reasons I do this — the first is so that changing the trash becomes a five-second chore. I simply lift out the bag and we're ready to go again. The second reason is because it prevents messy leaks from one or more bags tearing.
I know this sounds like a really small detail, but it does make a difference when you're entertaining… especially for larger groups.
.
Entertaining is a lot more enjoyable for Dave and for me if we plan ahead and think through these tips each time.
When I plan ahead, I have much less to do while my guests are around, so I can actually talk with them for a bit instead of scurrying around making food or preparing last-minute items.
I know entertaining can often feel overwhelming and stressful — but my hope is that these tips will help alleviate some of that stress for you!
What are your best tips to simplify outdoor (or indoor) entertaining?