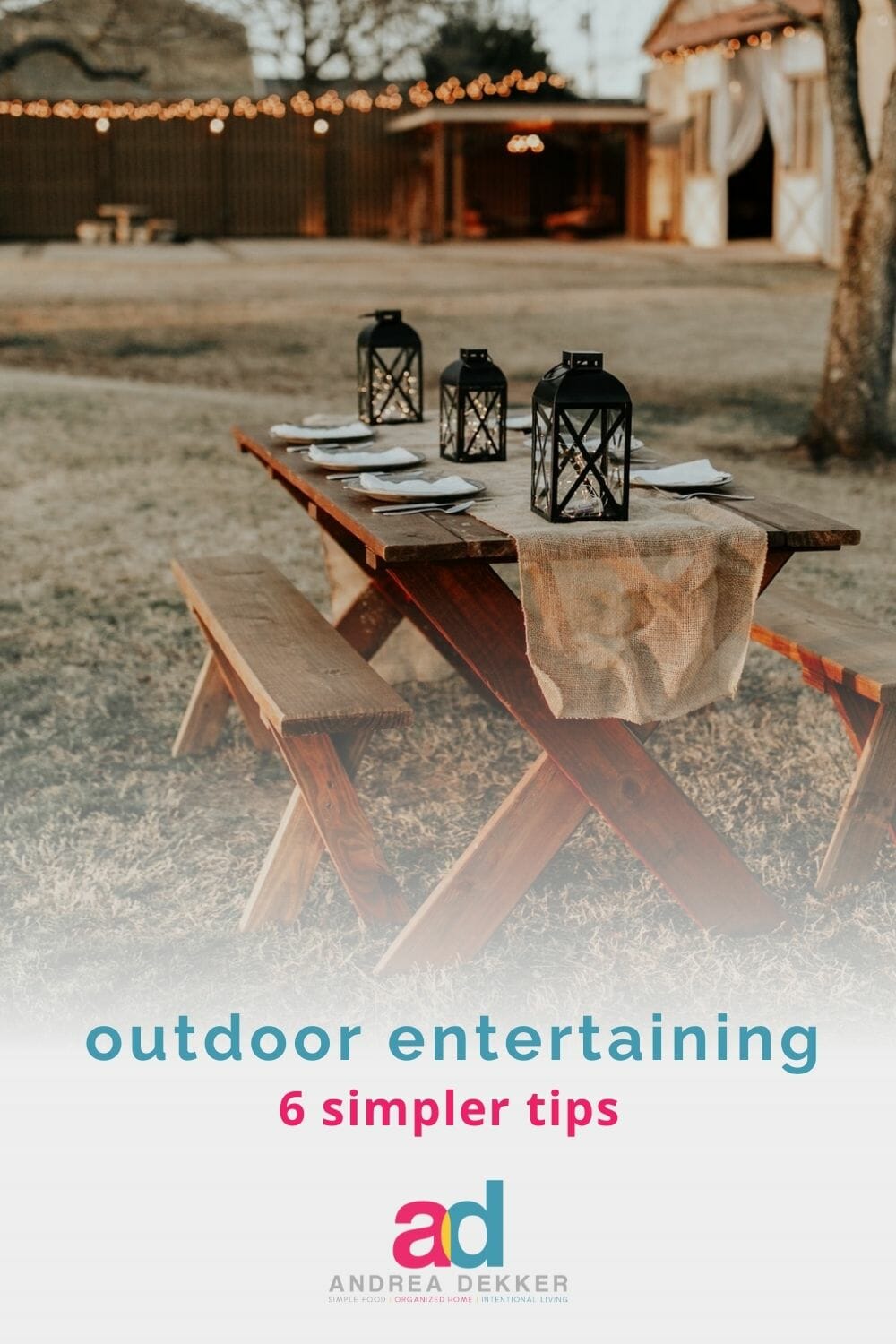 Do you love the idea of entertaining but feel too overwhelmed to invite others over? If so, my tips for simpler outdoor entertaining will help!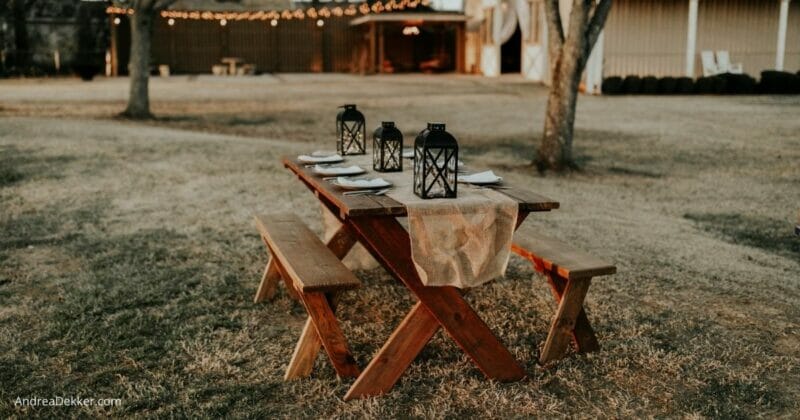 As much as it pains me to admit it, I do not describe myself as an overly amazing hostess.
I love the idea of entertaining big groups of people and being the "hostess with the mostest" who dutifully serves everyone else. But in reality, I'm not that nice!
I'll make the food, I'll stock up on water and paper products, and I'll provide a location… but after that, I just want to hang out.
If I'm really honest, I feel claustrophobic when large groups of people are inside our home, the noise from so many children drives me crazy after a few hours, and I don't like the clean-up.
Dave feels the same way.
So we usually stick to outdoor entertaining.
When we're outside, even the biggest crowds can spread out in our large shady backyard, kids are free to be loud and crazy, and spills are rarely noticed.
Yup, outdoor entertaining has become our specialty.
Our Outdoor Entertaining Spaces
This year has been extra fun as we have the added bonus of our new pool, our (still-in-progress) deck, our new patio, and the attached outbuilding that we're finally putting to use as a pool house!
Here are a few pictures of the progress (NOTE: nothing is 100% finished yet).
Like I mentioned above, none of the pool, deck, patio, outbuilding areas are complete — but I've been excited to share some of these updates on the blog! At least now you can get more of a feel for how things are shaping up with our pool situation.
I probably won't be able to share the full "after" pictures until next spring/summer because some of our decking and railings have been back-ordered and we won't get them until fall.
But, rest assured, we are loving the pool area, with or without the finished deck!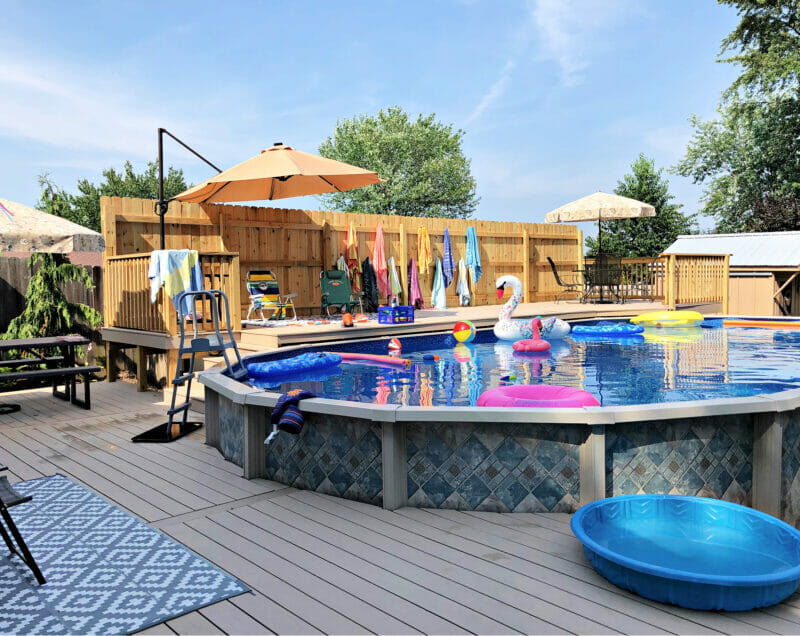 Back to my outdoor entertaining tips…
Although I might not be the world's most amazing hostess — I am a practical one and I've figured out ways to host large groups outdoors with very little prep work, minimal expense, and almost no stress.
Here are a few of my tips for simpler outdoor entertaining:
Use quality paper products.
Costco is my go-to source for large quantities of sturdy paper products. I stock up every spring and enjoy hassle-free entertaining all spring, summer, and fall. (NOTE: We really like the Chinet brand of paper products — they are super durable).
I like to keep a variety of sizes on hand too — especially smaller cups and plates for younger kids.
Although it is more wasteful to use paper products, it saves a TON of time on cleanup at the end of the night.
Limit your drink options.
Drinks are almost always the most expensive thing on the menu (even if you buy them in bulk).
We're not big on alcoholic drinks but even pop, Gatorade, juice pouches, and lemonade add up after a while. I suppose it depends on your crowd, but I definitely don't think you should feel pressured to provide alcohol for your guests — especially not if you're already providing the food and the location.
I often fill a large clear drink dispenser with lemonade or juice and another with water + various cut-up fruit (lemons, limes, orange, cranberries, etc). It looks festive and it's super frugal.
I love the Mason jar set pictured below.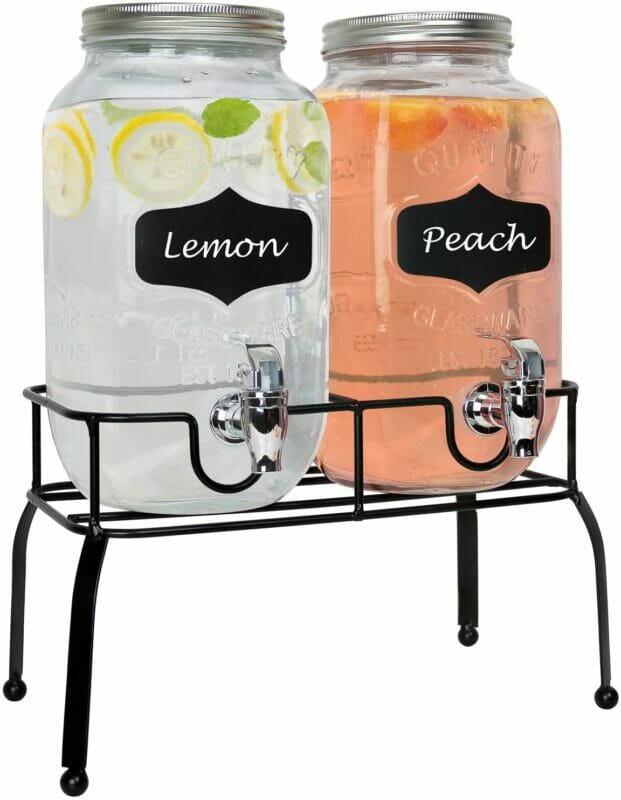 Then, set out colorful plastic cups with a Sharpie so people can write their names on their own cups.
We also have a bunch of plastic water bottles in our outdoor fridge for anyone who'd rather drink filtered water.
Plan low-maintenance, make-ahead foods.
Considering the weather is usually warm, I try not to serve high-maintenance foods like ice cream cake or a cheese platter — both of which get really soggy and melty after just a few minutes outside.
Instead, I like to utilize my slow cookers, plan food that tastes great at room temperature, and make side dishes that can easily take the heat and humidity.
Here are a few of my favorite outdoor entertaining foods:
You'll notice that I don't have burgers or brats on my list either — that's because those usually require a fair amount of last-minute prep-work. Plus, they are somewhat time-consuming to assemble with all the toppings and condiments, and it really bogs done the buffet line (especially with kids!)
We find that meals run a lot smoother when we make something that can be fully prepared ahead of time and kept warm in a slow cooker or just covered in tinfoil.
Related Reading: Our Favorite Make-Ahead Foods — perfect for entertaining inside or outside!
Make it a potluck.
Although I often enjoy making the majority of the food, I don't think it's bad to turn your event into a potluck and ask others to pitch in with the food (and drinks).
If it's a smaller group, you might consider providing the main dish and sending an email, text message, or Google doc to the group so people can sign up for various side dishes and desserts.
If it's a larger group, I've found that there's always a great variety and no one goes hungry.
Make foods you enjoy eating as leftovers.
This tip might sound silly, but chances are pretty good that you'll end up with a decent amount of extra food at the end of the night (I always make too much).
Our plan is to either freeze the food for later or eat it as leftovers the next day. Either way, I always try to make foods our family enjoys because we're the ones who will be eating it as leftovers.
Of course, you could also send extra food home with guests — but sometimes that turns into a hassle.
Line all trash cans with 3 or 4 bags.
When it's time to change trash bags, I don't want to deal with leaking bags or frantically search for another trash bag.
As a result, we've developed the habit of lining each trash can with multiple bags so we can simply pull one bag out and be right back in business.
If by chance, the first bag leaked, we simply grab the next bag to catch the drips and we're still good to do.
This is such a simple thing, but you'd be surprised how helpful it is. Someone almost always comments on how smart it is to have extra bags in the trash can!
Oh, and if you're looking for a great outdoor trashcan, this one is really nice.
Outdoor Entertaining for the Win!
I know entertaining can often feel overwhelming and stressful — hopefully, these tips will help alleviate some of that stress for you!
Also, I've found that the more I entertain, the easier it feels… and the easier it feels, the more I want to entertain. So if outdoor entertaining is something you WANT to enjoy more, it might be one of those things that requires you to get out of your comfort zone and force yourself to do it a few times (even if it feels stressful or awkward).
With a little planning and some intentional thought, outdoor entertaining can be a lot of fun, virtually stress-free… with very little cleanup — now that's my type of entertaining!