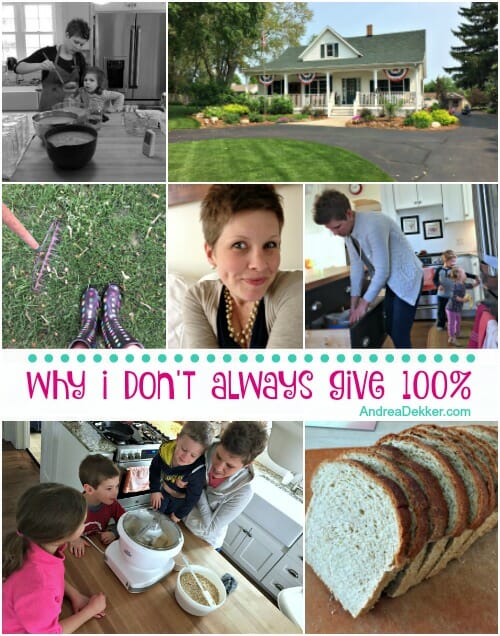 While I regularly say "no" to many requests for my time, I've also taken on many new and exciting challenges these past few years.
I'm glad I didn't miss out on these different opportunities; but at the same time, the extra items on my to-do list have forced me to cut corners and regularly give less than 100% to many things throughout the day.
But is that bad?
Honestly, I'm not sure.
I posed this question to Dave and we both decided that at this point in our lives, we are happier to have do more of what we love (even knowing we're giving less than 100% effort) versus completely dropping many of the tasks, jobs, duties, and relationships that we enjoy in order to give 100% to the remaining few.
It means I will speed-clean my house on a regular basis so I have a relatively clean house all the time, versus meticulously dusting baseboards or cleaning behind my couch each week!
It means I serve some processed and convenience foods so I can get our meals on the table ASAP without spending all day in the kitchen.
It means I will bake bread as often as I can… but I'll also keep a loaf of store bought bread in the freezer "just in case" we run out and I don't feel like baking.
It means I "only" write 5 blog posts a week, do less with social media, and turn down many fantastic business opportunities because I don't want to devote as much time to my job as I have in the past.
It means the kids watch some TV pretty much every single day.
It means we sometimes cut a few corners on landscaping or house projects (within reason!) to finish faster..
It means I throw everything in the laundry together without sorting or pre-treating.
It means I'm satisfied with an ugly vegetable garden in order to give our kids that experience without a huge extra time commitment.
It means I practice what I preach when I say "all things in moderation".
put more hours in at work…
take on one more volunteer opportunity…
read one more book…
save a little more money…
clean our home more often…
be more organized…
make more of our food from scratch…
plan more creative activities for our kids…
spend more time with our spouse…
Realistically though, there are only 24 hours in a day, and while we CAN work to increase our productivity and improve our efficiency, there really is only so much we can accomplish in the leftover waking hours.
In my own life (especially after having kids) I've had to realize that "good enough" really IS good enough and not beat myself up if I can't give 100% to everything all the time.
My mission has always been to do as much as I can in as little time as possible — not because I'm lazy, but because I'm efficient!
I do the things I need to do, the things I want to do, and the things I love to do, giving as much effort to each individual activity as I feel necessary, and saying "good enough" to the rest.
At the end of the day, I usually feel pretty good about everything I accomplished — if I doubt myself for a minute, I just take out my pen and paper and scribble out a "done list". Then I look back at everything I've accomplished for the day and realize that I shouldn't be so hard on myself!
What about you?
Are you a "do more at less than 100%" person? Or do you find life to be simpler when you can devote 100% to fewer activities?
NOTE: There's really not a "right" or "wrong" answer, nor is one option necessarily better then the other. I think it's all how we're wired, what our personality traits are, what the specific task is, and how we best function.