Why I'm a "do more at less than 100%" person
posted by Andrea | 06/18/2014
About a month ago, a blog reader emailed me asking for time management tips as she felt like she never had enough time to give 100% to everything she was doing. After a few emails back and forth, it was quite clear that this lady worked VERY hard around the home, with her children, volunteering, and in a part time job — she definitely was not lazy!
She admitted she had a lot on her plate, but like so many of us, she loved everything she did and didn't want to give up any of it — boy can I relate to that! 
After thinking a little bit more about her email and her request for "more time", I realized that over the past few years, I've struggled with the same feelings of guilt for not giving 100% to everything I do.
I often wonder if it would be better to do less, but give more effort to each thing on my plate — or to continue doing everything I love doing (and have gifts for) but at a less-intense, less-than-100% pace.
Obviously, at this point in my life, I've chosen the "do more at less than 100%" option and I think part of that is because I'm still somewhat young and still trying to discover what my real gifts and passions are.
While I have said "no" to many requests for my time, I've also taken on many new and exciting challenges these past few years (both in my business and personal life). I'm glad I didn't miss out on these different opportunities; but at the same time, the extra items on my to-do list have forced me to cut corners and regularly give less than 100% to many things throughout the day.
Is that bad?
Honestly, I'm not sure.
I posed this question (and much of what I said above) in my response to the concerned reader, and she admitted that she had never thought about it that way before.
We both decided that at this point in our lives, we were happier to have more activities and obligations on our plate (even knowing that we were giving a less than 100% effort) than to completely drop many of the tasks, jobs, duties, and relationships that we enjoy just so we can give 100% to the remaining few.
So what does that mean for me?
It means I would rather speed-clean my house and end up with a relatively clean house than spend exorbitant amounts of time cleaning with less time left over for so many other activities.
It means I would rather use some processed and convenience foods to get meals on the table ASAP than to spend all day in the kitchen and miss out on many of the other jobs, people, and activities I enjoy.
It means I would rather write only 5 blog posts a week, do less with social media, and turn down a few virtual assistant opportunities than to give up so many other things I love doing to spend more time on my work.
It means I would rather cut a few corners on landscaping or house projects (within reason!) to finish faster versus meticulously agonizing over every single detail while I miss out on a bunch of other opportunities in the mean time.
It means I would rather throw everything in the laundry together and finish faster than worry about sorting and pre-treating everything first.
It means I would rather plant a tiny, ugly vegetable garden to give Nora that experience than stress about having a perfectly planned, perfectly groomed garden that I won't have time to maintain.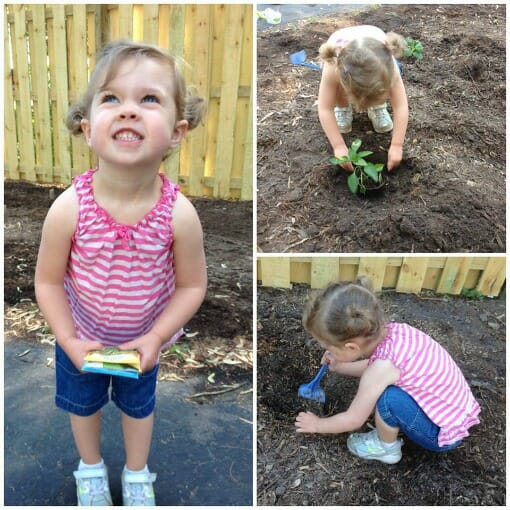 As I look back on my own life, I think giving 100% to anything is pretty difficult to do — if you think about it, there's almost ALWAYS more we could be doing.
We can always spend more hours at work, take on one more volunteer opportunity, read one more book, save more money, clean more often, be more organized, make more of our food from scratch, plan more creative activities for our kids, spend more time with our spouse, etc. etc. etc.
I think we've all gotten so used to hearing "give it your all" and "you need to give 100%" that we start to feel bad if we're not giving 100% of our effort 100% of the time.
I know that in my own life (especially after having kids) I've had to realize that "good enough" really IS good enough and not to beat myself up if I can't give a 100% effort to everything all the time.
My mission has always been to do as much as I can possibly do in as little time as I can possibly do it — not because I'm lazy, but because I'm efficient. 
So I do everything I love doing, give as much effort to each individual activity as I can, and say "good enough" to the rest.
At the end of the day, I usually feel pretty good about everything I was able to accomplish — and if I doubt myself for a minute, I just take out my pen and paper and scribble out a "done list". Then I look back at everything I've accomplished for the day and realize that I shouldn't be so hard on myself!
What about you?
Are you a "do less and give 100% effort all the time" person? Or a "do more at less than 100%" person?
There's not a "right" or "wrong" answer. One option is not necessarily better then the other, I think it's all how we're wired and how we best function.
If you have any perfectionist tendencies at all, you'll definitely fall under the "do less and give 100% effort" category. Or if you're like me and love productivity and efficiency, you'll most likely find yourself in the "do more at less than 100%" camp.
And sometimes, I think it can depend on the activity. Maybe you give 100% effort to your job or your family but then less than 100% effort to cleaning, cooking, or other daily tasks. Maybe you give 100% effort to a volunteer position or maintaining your garden but less than 100% effort to exercising and various other hobbies.
In my opinion, it doesn't really matter WHERE you fall on this spectrum. I think it's most important to simply realize WHY you fall where you do in terms of what you are and are not willing to spend time on. That way, you won't feel guilty cutting a few corners because you know you're just making more time for the activities you want to give 100% of your efforts too.