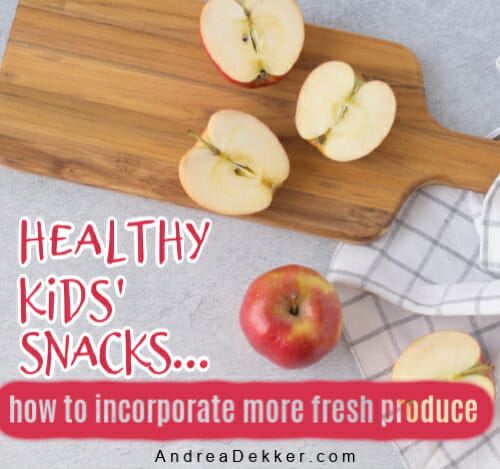 When it comes to healthy kids' snacks, I feel like it can be a never-ending battle… with the parents often on the losing end!
Can you relate?
As many of you know, I worked hard to incorporate more produce into our family's daily diet… but snacks still seemed to be an "issue" for us.
However, over the past 2 years, I've managed to incorporate healthy kids' snacks into our routine with very little push-back.
This is NOT to say we don't allow sugar. And it's not to say we don't have "fun snacks" or special treats.
However, if they ask for a snack these days, they know I will almost always say yes to a request for fresh produce!
I figure, if they are hungry enough to ask for a bowl of cucumbers or a banana… then I'll give them a bowl of cucumbers or a banana!
Believe it or not, Clara really likes eating roasted sweet potatoes straight from the fridge!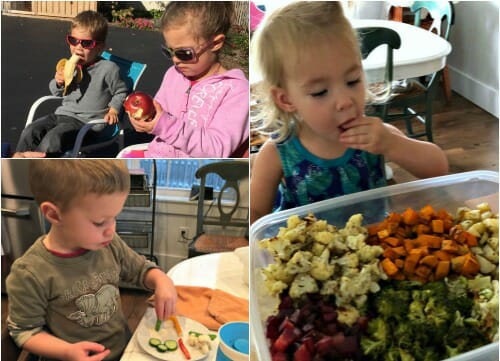 My "healthy kids' snack goals" have been to:
Limit snacking to when we are actually hungry… not just tired, bored, or see someone else eating.
Incorporate fresh produce into every snack we eat.
Help my children ENJOY every food they eat with an "all things in moderation" attitude.
If you'd like to incorporate more fresh produce into your kids' snacks (without whining, complaining, or tantrums), these 5 helpful tips are exactly what you need!
.
5 Tips to Serve Healthy Kids' Snacks
This post may contain affiliate links. Please read my disclosure.
1. Have Fresh Produce Visible At All Times
In my experience, kids want what they see! This is true at the mall, in their friend's playroom, as they watch commercials on TV, and in your kitchen.
If they see granola bars, crackers, cookies, chips, candies, and other high-sugar, high-salt, high-calorie snacks in your cabinets, in your fridge, on your counters, etc. THOSE are the snacks they will instinctively crave. I can't really blame them… I have the same cravings myself!
However, if all they see are bowls and containers of fresh produce, there's a significantly higher chance they will naturally request the produce instead.
Now, before you roll your eyes thinking your child would never actually "crave" fresh produce… please read the rest of this post FIRST!
NOTE: I found my lovely 2-tiered fruit stand from Costco, here's a similar one on Amazon.
.
2. Keep Fresh Produce Washed, Prepped and Ready to Eat
This step is so important for serving healthy kids' snacks — and I'll be honest, the vast majority of this task will fall on YOUR shoulders.
You are the one who will buy the produce, wash it, slice it, prep it, store it, and remember to serve it!
In my experience, keeping our refrigerator fully stocked with fresh, READY-TO-EAT produce has been a time-commitment for sure.
But it's one I feel is worth it for me and for our family — especially considering I'm home all day.
If you do not have the luxury of "more time in the kitchen", you might consider serving easier options like bananas, apples, blueberries, cherry tomatoes, or carrot sticks.
Either that or spend a little extra money for pre-washed, pre-cut produce at the grocery store. Just remember this produce will "ripen" much faster, so only buy what you can eat within a couple of days.
It's SO much easier to dump a handful of Goldfish in a bowl or dole out a few cookies — which means that if I'm in the middle of something, there's no way I'm going to stop, wash a bunch of fruit or veggies, get out my cutting board, and "quickly" chop up a few strawberries, cucumbers, or peppers.
Since I know I must have ready-to-eat produce, I diligently keep a variety of our family's favorites in the fridge at all times. I estimate this takes me an average of 30 minutes per day — but often I do a bunch on one day and then nothing for 2-3 days.
Related posts:

How I Store, Prep, and Serve All Our Fresh Produce
.
3. Make Gradual Changes Over Time
Quick changes never go over well with my children… can anyone relate?
Since I did NOT want our transition to healthy kids' snacks to be a negative experience, I knew I had to move slowly (something I'm not accustomed to doing!)
I started by offering their normal snacks WITH AN ADDITIONAL fruit or veggie they already liked — sort of like a bonus.
I served up their favorite goldfish crackers with a few grapes on the side.
They got to enjoy peanuts and M&Ms with apple slices too.
We ate cheese sticks and pretzel sticks with carrot sticks for a "stick snack".
They got to choose a piece of candy to eat with their banana.
There was virtually ZERO protest to any of these snacks — which I considered a huge victory!
As time went on, I slowly increased the produce and decreased the "other". And when certain "other" snacks ran out, I just stopped buying them (or at least stopped storing them in the pantry where the kids could see them).
Now, 2+ years later, it is VERY normal for a variety of fresh produce to be our kids' snack requests.
Of course, they still willingly eat and enjoy non-produce snacks (which is TOTALLY acceptable in my opinion) but their first request is often for produce because they know it's what we have in the house, it's what I'm willing to serve, and (I hope) because it's something they actually like!
NOTE: The kids do NOT eat produce snacks for school as we pack their school snacks many days in advance in an effort to simplify!
.
4. Be Consistent (Especially for Snacks On-The-Go)
I've tried my best to be super consistent in my "push" for healthy kids' snacks — ESPECIALLY when we're away from home and the temptations for junk food are SO MUCH MORE!
Being consistent with healthy snacks at home is important. However, if you let down your guard every time you step out of the house, it will be very difficult to keep that consistency.
Our family is (surprisingly) on-the-go a lot these days! Now that the kids are older and more self-sufficient, and now that we don't have daily nappers, we can do SO MUCH MORE!
If I don't plan ahead and have ample healthy snacks for them, a fun day away can take a turn for the worse REAL FAST as our kids get "hangry" at a moment's notice!
Since I almost always have a wide variety of fresh ready-to-eat produce in the fridge (see #2 above) it only takes me 2 minutes to throw some fruits in a bag and veggies in another bag. Then I dole out the snacks in little Dixie Cups whenever a request is made for food.
I often take a small cooler (or the kid's insulated lunch bags) along with us to keep things fresh and cold.
.
5. Eat Fresh Produce for Your Own Snacks
I debated whether to share this point first or last — and although it's truly a prerequisite to the entire concept, I decided to share it last in hopes that it will stay lodged in your brain for a little bit longer!
I can 100% guarantee that your children will NOT jump on the "produce for snacks" bandwagon if they see you munching on chips, cookies, crackers, and candy.

If you want to serve healthy kids' snacks, you MUST eat healthy snacks too.

Period.

There is no way around this fact!
This is not to say you can't enjoy a sweet treat or salty snack too…
Eat an apple + peanut butter with your peanut butter cookie.
Have carrot sticks with Ranch or hummus with pretzel sticks.
Enjoy a handful of grapes with a handful of peanuts or candy corn.
Munch on a platter of raw veggies with hummus with a few of your favorite crackers or chips on the side.
.
What do you think… could these tips help you serve healthy kids' snacks in your home?
The goal of this post is not to guilt you for eating an Oreo or shame you for giving your children a few Goldfish crackers.
It's simply to encourage you to look for fun, family-friendly ways to integrate MORE PRODUCE into your family's diet — specifically with the addition of healthy kids' snacks!
What are your favorite ways to serve healthy kids' snacks?