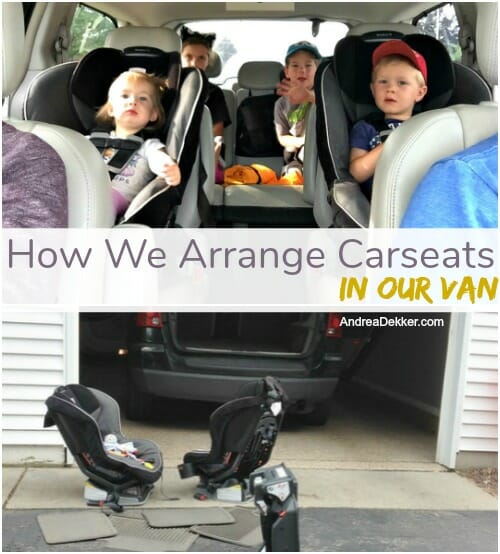 A few years ago, I shared a post about how we organized the inside of our van — all the various compartments, the massive trunk space, the space under the Stow 'n Go seats, etc. etc.
I still basically use the same organizational methods today — with a few tweaks after adding another child and rearranging the carseats.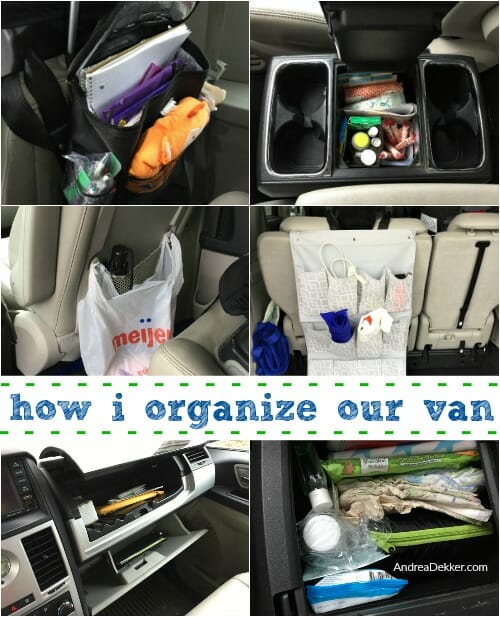 And speaking of "rearranging the carseats", I have gotten SO many questions over the years, asking how we rearrange the carseats in our van as we add more children and as our children get older…
So THAT'S what I'm sharing more about today!
When we first got our van in January of 2016, Nora (age 4) and Simon (22 months) sat in 5-point harness carseats in the back, while James (7 months) was in an infant carseat in the passenger side bucket seat.
I loved this set-up as it allowed us to "stow" the driver's side bucket seat to allow for a HUGE amount of space inside the van — which was SO nice with 3 very young children that required us climbing into the back to buckle both Nora and Simon into their seats.
Eventually, Nora switched to a booster seat and could buckle herself in… but the extra-large area to move around inside the van was one of the reason Stow 'n' Go seating was a must-have for us with this van purchase.
We used that extra floor space to change many diapers on-the-go, to change into (or out of) swim suits at the pool or beach, to feed babies, and as a massive amount of extra storage space for road trips and vacations (or just when I buy a bunch of flowers!)
When we found out we were expecting Clara, we knew our days of extra space in the van were over.
We rearranged the carseats yet again, and moved Simon into a high-back booster so both he and Nora could buckle themselves in the back. Clara was in an infant carseat in the passenger-side bucket seat and James was still in the same carseat in the driver's-side bucket seat.
Clara eventually switched to a rear-facing carseat (still on the passenger side).
This arrangement has worked well for us over the past (almost) 2 years — but mainly because both Nora and Simon can buckle themselves into the back.
It would be fairly tricky for an adult to get to the back to buckle them in… so I'm glad we don't have to do that!
Believe it or not, one of the (many) factors that played a part in Dave and my decision not to have any more children is the fact that we wouldn't be able to fit another carseat in our van! I know that might sound crazy, but we really like our van and we didn't want to buy a bigger vehicle to accommodate more children.
.
Eventually, once Nora turns 8 and no longer needs to be in a booster, we will switch her and James around (and transition James to a booster).
Then the 2 boys will be in boosters in the back, Clara still stay right where she is, and Nora can sit in the driver's-side bucket seat with no booster –meaning we have the option to "stow" that seat again when Nora isn't with us.
Nora could also squeeze between the boys' booster seats in the back if we wanted to keep the one bucket seat permanently stowed — but that would only work for short drives as it's definitely not super comfortable for longer trips.
.
It's crazy to think that in less than 3 years, we'll be FINISHED with carseats and only have 2 booster seats to work around!
Oh the freedom!
RELATED POSTS:
How We Buy and Sell Vehicles on Craigslist
How We Keep our Vehicles Neat and Clean
PRODUCTS WE LOVE:
Britax Marathon Convertible Carseat (we have 2 and have used them for all 4 of our toddlers)
The cup holders that attach to the Britax carseat
Trunki Tavel Neck Pillows (these are AWESOME for ages 2-6. They are getting small for Nora though)
Over-the door shoe organizers for the trunk
Back Seat Organizer (it's actually a "cooler" but it's just the right size to organize Nora and Simon's stuff they like to keep in the car — and it fits perfectly between their 2 booster seats)
I'm currently a huge advocate for minivans — something I never thought I'd admit to!
If you're in the market for a new-to-you vehicle to accommodate a growing family (or just something to easily cart a lot of gear around) I would highly recommend looking for a used minivan with lower miles!
We have been very satisfied with our van and all the many different ways we have been able to arrange and rearrange carseats to best fit our needs. I have a feeling that as our children grow out of carseats, the van will continue to "grow" with our needs!