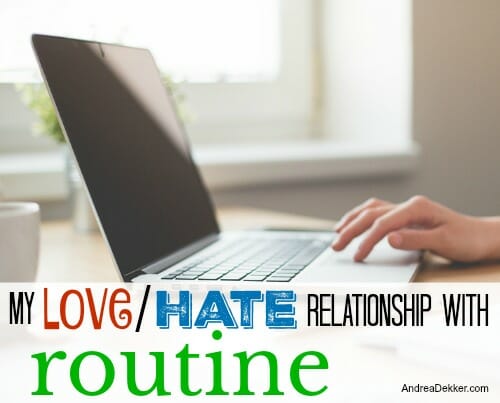 As many of you know, our family is very "routine oriented" — it seems to suit us all quite well.
Dave, the kids, and I all have various morning, nightly, daily, and weekly routines that help to simplify, streamline, and de-stress our lives.
These routines work wonderfully… until they don't!
For example…
Bedtime Routines:
For the last 18 months, we've had the most magnificent bedtime routine that almost always results in all 3 of our children soundly sleeping by 7:30pm EVERY night with little-to-no fuss!
However, whenever we go on vacation (like we did 2 weeks ago) or need to sleep somewhere other than our own home, the whole bedtime routine goes completely out the window and bedtime becomes a massive struggle — sometimes lasting hours.
James is the worst, but even Nora and Simon get all messed up when we're "out of our normal routine".
We've tried keeping the routine as similar to home as possible and we've tried completely throwing the routine out the window to let the kids stay up "extra late" on vacation — either way, the bedtime process is such a chore and often makes me wonder if it's really worth taking small children on vacation in the first place.
Meal Planning Routine:
I have my weekly meal planning routine down-pat — to the point where it only takes me 20 minutes on Sunday afternoon to make the meal plan, scan our fridge, freezer, and pantry for anything I'll need to buy, and add those items to my weekly grocery list.
I don't necessarily love meal planning and I certainly don't look forward to doing it every Sunday, but thanks to my routine, it's not horrible — and I know it saves me so much time and effort during the week.
But then we are gone for a week (or a weekend), we tackle a huge home renovation, or Dave and I have an extra busy week of work and I plan freezer meals or take-out every night… and just like that, I'm out of my normal routine and meal planning feels like a huge chore that I hate doing and procrastinate on until I realize we've completely depleted our freezer stash and spent more than I'd care to admit on fast food, pizza, or other convenience foods.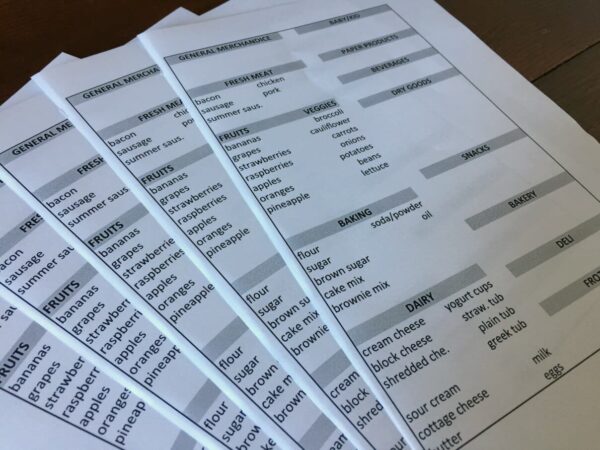 Bedroom Routines:
We are currently in the process of switching bedrooms at our house!
The kids are so excited to change things up again — but I'm honestly not sure how the switching process will go.
Nora has been sleeping in her new bedroom for almost a week now — and she and Simon miss being "roommates". I know they will get used to being separated, but it was so sad to see Simon cry that first night because he missed his big sister.
And just 3 days ago, we moved James up into Simon's room — the first 2 nights were VERY rough! Simon is the type who just lays down and immediately falls asleep. James, on the other hand, could babble, talk, and move around for up to an hour before he finally settles down to sleep. I think Simon is sleeping through James' talking and singing, but Simon told me he could hear James.
Dave and I thought about putting James in the new bedroom by himself (and who knows, we still might end up doing that) but we'd really like Nora to have her own room since she'll need to wake up early for school next year… and I definitely don't need Simon waking up early too!
Morning Routine:
Speaking of Nora starting school, this will most likely change up our fabulous morning routine.
Currently, I let the kids watch a show while eating a leisurely "first breakfast" (usually grapes or dry Cheerios). I finish getting ready during this time — and then get our "second breakfast" ready.
We almost always have a hot breakfast of eggs, sausage, pancakes or waffles — the kids LOVE their hot breakfast and they eat so much!
I know we will not be able to continue this routine once Nora starts Kindergarten in the Fall. As of right now, she will most likely need to leave the house shortly after 7:00 am 3 days a week — and my kids take FOREVER to eat, so everyone else would need to be awake and ready for a hot breakfast by 6:30am. That's not going to happen!
So our routine will have to change again — probably involving hot breakfasts on the days when Nora isn't in school and something I can make in "shifts" for the days she needs to be ready for the bus. I'm not sure how it will all work yet, but I do know our morning routine will look different this fall.
Family Life Routine:
It's hard to think that in 10-12 weeks, we'll be adding another person to our family — which means all our routines and our "normal" family life will change considerably.
Yes, I realize the new baby will often be "forced" to adapt to our current schedules and routines… but there will be many occasions when the baby's schedule trumps everyone else's schedule and our whole family will need to change or adapt to accommodate this new little person.
Honestly, I think the change of family life and routines is the hardest part for me after having a new baby — but I do think the fact that I've done this 3 times already will help smooth over this HUGE transition (at least that's what I'm telling myself!)
.
So you see, I LOVE how routines help to simplify and streamline our everyday lives — but I HATE how much of a disruption it causes when we're forced to (or choose to) change up our routines.
Obviously, I realize life is always changing and I truly don't expect us to have the same routines forever and ever… however, I sure do appreciate how much simpler and easier our lives run when basic routines are in place.
The trick for me is to develop our new routine as quickly as possible!
.
Dave and I have a few friends and relatives who are basically the EXACT opposite as us — maybe they are "Type Z" instead of "Type A"!
They often give us a hard time for all our routines, especially when we talk about kids not sleeping well on vacation or how much our routines will change once Nora starts school and once this new baby is born.
We laugh off their jokes because we know that although it IS a pain when our routines are "sabotaged", I am 100% positive our various routines are a HUGE asset to our lives 98% of the time.
They reduce decision fatigue, they reduce arguments and push-back from our children, and they reduce the amount of effort I need to plan and prepare for each day.
So even though I have a bit of a love-hate relationship with routines at this point in my life — there is NO WAY I plan to abandon our beloved routines any time soon.
That said, I would love to know how you handle times in your life when your routines need to change for whatever reason.